Air France - KLM: Attacking its debt mountain Jan/Feb 2012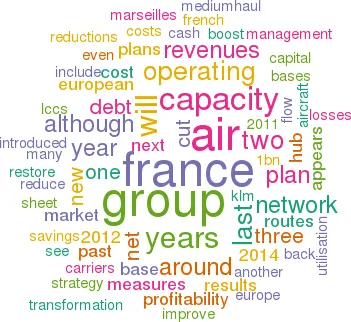 Air France-KLM's short financial year had barely closed (the Group last year changed its year-end to December from March) and the new(ish) management team announced what it calls an "ambitious" three year plan to restore profitability. Since the peak of the last cycle the Group has managed to generate net losses of €2.3bn (or 3.3% of revenues) and is expected to produce another significant loss for 2011. Restructuring plans seem a normal state of affairs for all the European legacy carriers (at the time of writing Lufthansa appears to be on the brink of announcing its own new one) – and this new one from Air France-KLM may appear as normal as its last one — introduced two years ago.
Its primary aim must be to attack its seemingly unsustainable debt mountain. Net debt on balance sheet probably stood at around €6.8bn at the end of Dec 2011, a little higher than balance sheet equity; although when adjusting for intangible assets and operating leases a more realistic net debt to equity ratio would come in at 265% (albeit mitigated by the value of its stake in Amadeus). One of the stated key priorities is to reduce on-balance sheet net debt by €2bn to €4.5bn by the end of 2014 – all through internally generated net cash flow.
There are two ways to improve cash flow: increase operating results and cut spending. There are two main ways to improve operating results: cut costs and increase revenues, if not absolutely then in relation to costs. In the past the favoured way to improve operating results has been to grow into cost reductions – especially when, as at Air France, faced with a highly unionised and militant workforce (the Air France pilots have just gone on strike without giving notice to protest against a proposed French law prohibiting their "right" to go on strike without giving notice).
Lower capacity growth
The Group has taken what it obviously sees as a radical decision, if not to cut capacity, at least to halt growth. It used to stick to a mantra of growing at the same rate as the industry as a whole (i.e. around 5% per annum) – in the vain hope of maintaining market share. This it has abandoned. It will cut back the fleet, concentrating on higher capacity aircraft and in the anticipation of improving utilisation (introducing inter alia greater seasonally directed route capacity and yet another wave at the CDG hub). This should have the additional benefit of reducing the gross capital expenditure requirement (before some €700m income from sale and leaseback transactions) over the next three years by around €1.2bn (to €4.8bn) – the Group appears to have 35 aircraft on firm order, 19 of which are due for delivery in 2012 (see table, page 3).
They have been known to cut capacity: for this winter season they had already coordinated with the joint venture partners on the Atlantic to reduce capacity by 7-9%. For the next three years, the Group is planning to grow total capacity by no more than 5% overall – 2% in 2012 and 2013 and a mere 1% in 2014 – and will be equally borne by both Air France and KLM; although notably this plan specifically excludes the development in the provincial bases in France (see below).
In the short run the Group is intensifying cost reduction plans (on top of the current 2012 cost savings plan) aimed at reducing current expenditure by €1bn over the three year period (although as usual with these announcements you can never be sure whether these are real cuts or reductions to planned spending of what otherwise would-have-been). The measures include a freeze on general pay rises for the next two years at Air France, a policy of "wage moderation" at KLM, and a continuation of the hiring freeze introduced last Autumn, all aimed to produce half the savings. The rest, apparently identified but not spelled out specifically, include another €350m targeted from overhead reductions and network "adaptations" (closing non-performing routes?).
The Group recognises that it needs to go further to restore competitive profitability in what it refers to as a "transformation" plan in order to boost free cash flow by an extra €1bn over the three years. This it states will involve a significant improvement in productivity in all parts of the Group; and dramatically, taking an aggressive stance for a former state-owned French company, this will mean tearing up existing collective agreements and the renegotiation of conditions with the main workforce. Union negotiations, it says, will begin rapidly.
Massive losses in Europe
Air France-KLM, like many network carriers, rarely gives any indication of relative profitability across its network. This time however, it has stated that the medium-haul operations (usually Europe excluding domestic France) will have produced operating losses of some €700m in 2011. This is against annual revenues of around €4bn for the segment (24% of the Group's passenger revenues) and would represent a 17% negative margin – or on the basis of back-of-the-envelope calculations a loss of over €20 per passenger.
Two years ago, the Air France group introduced its new European "NEO" concept (also described as a transformation plan) designed to restore profitability weakened by high fuel prices, the incursion of LCCs into its home market (even though this has one of the lowest penetrations by LCCs) and the new European post financial crisis operating environment. This included increased seat capacity and changes in tariff and marketing structures and had been designed to reduce manageable unit costs by 27% and generate cost savings of around €200m and revenue improvements of €300m a year. Even after such measures the Group acknowledges that there has been such a structural decline in unit revenues in the past two years that it will have to go back to the drawing board and recreate a new medium-haul offering all over again – with the hope of returning to break even by 2014.
As to how it will achieve this, apart from the usual comments on improving productivity, restructuring the network, and redefining the product, the management refer to rationalising the regional network (does this mean selling Britair, Régional and or CityJet?) and consideration of outsourcing.
Base Project
Meanwhile, excluded from the capacity strategy mentioned above, Air France appears to be continuing in its plans to develop "low cost-like" bases in the major provincial cities (see Aviation Strategy, December 2010) under the soubriquet of the "Base Project". France is heavily centralised on the capital and in the past Air France has concentrated on links from the regions into Paris (although it did have a go at a secondary hub in Lyons) with an emphasis on its "La Navette" shuttle services into Orly; and it has tended to ignore routes to or from other European countries to these cities. This of course left open incursion from the LCCs – and although France managed to oust Ryanair from operating a base at Marseilles, it has not been able to stop it, easyJet, Vueling or others from by-passing the capital and developing point-to-point markets.
All network carriers have the dilemma of making sure of their profitable presence in the market place to ensure that their frequent flyers choose their hub for long-haul – and some think it necessary to fly on direct routes that do not touch their hub. Air France in the past has emphasised that its métier is to provide transport links between Europe and the rest of the world – hubbing through Roissy CDG and Amsterdam Schiphol – and that the medium-haul operation fulfils two roles: feed onto the intercontinental hubs and market presence "essential" to their marketing tools.
Air France established its first such base at Marseilles last year – high utilisation, quick turnaround, locally based staff and equipment – and has plans to open similar bases at Toulouse, Nice and Bordeaux in 2012 with the idea of further extension to Orly and Lyons. The strategy is effectively to boost aircraft utilisation by up to 50% to twelve hours a day by using them on routes to non-French destinations as an in-fill between the shuttle operations. It currently operates to an eclectic group of 13 non-French destinations out of Marseilles – many on a low frequency basis (less than four times a week) – including Athens, Beirut, Copenhagen (on a Sunday), Eindhoven (on a Tuesday), Düsseldorf, Istanbul, Moscow, and Prague (Wednesday and Saturday).
Implementation delay
Many of the measures are to be implemented immediately but the management suggested that the details of the transformation plan to boost returns by a further €1bn would not be revealed until after the French presidential elections in June. These measures no doubt include the more socially contentious ideas the Group appears to be considering – and although with Spinetta back in control there may be a possibility of achieving them through negotiations with the unions, he would naturally like to be more certain of the political flavour of the President in power. This reticence has probably helped to reinforce the market's scepticism; analysts' median forecasts seem to point to the Group maintaining its EBITDAR margins at around 10% of revenues for the next couple of years, whereas to achieve the €2bn improvement in results by 2014, the Group would need to return to a margin of over 15% — last achieved at the peak of the last cycle.
AIR FRANCE/KLM GROUP FLEET
AIR FRANCE/KLM GROUP FLEET
Operator
Type
In Service
Order
Options/LoI
Total Result
PASSENGER
Air France
A320
146
8
16
170
A330
15
2
17
A340
15
15
A380
6
6
2
14
747
9
9
777
59
7
10
76
Brit Air
CRJ
39
3
2
44
Cityjet
RJ Avroliner
22
22
KLM cityhopper
E190
17
5
9
31
F100
5
5
F70
26
26
KLM
A330
11
2
18
31
737 NG
46
8
54
747 (pax)
5
5
747 (combi)
17
17
777
20
2
4
26
MD-11
10
10
Régional
E170
11
5
16
E190
10
4
14
ERJ
30
30
Transavia Airlines
737 NG
22
2
3
27
Transavia France
737 NG
6
6
FREIGHT/CARGO
Air France
747
3
3
777
2
2
Martinair
747
6
6
MD-11
6
6
TOTAL
564
35
83
682