Air Astana: Kazakhstan's dynamic airline Jan/Feb 2011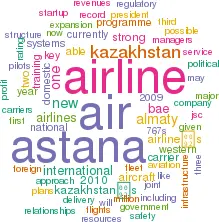 Air Astana JSC is a joint venture between Samruk Kazyna JSC, Kazakhstan's Sovereign Wealth Fund and BAE Systems PLC, the British defence and aerospace company, with shareholdings of 51% and 49% respectively. It is one of the few examples of an operationally and financially successful airline to have merged from the break–up of the former USSR.
Currently, Air Astana operates a network of 24 domestic and 27 international destinations from its hubs at Almaty, Astana and Atyrau. Air Astana flies an all–Western fleet comprising two 767s, four 757s, ten A320 family and six Fokker 50 aircraft.
The history of the airline is unusual. In mid–2000, Sir Richard Evans, then Chairman of BAE Systems, was asked by Nursultan Nazarbayev, independent Kazakhstan's founding president, to help start a new national airline for the fledgling state. The request resulted in a number of BAE managers being dispatched to Almaty. At that time BAE Systems were bidding for a defence contract, though one that failed to materialise. Both investors provided the airline with start–up capital of US$8.5m, and have never had to make further investments in the airline.
The presence of BAE Systems as a shareholder in effect frees Air Astana from political interference as the corporation requires a 66% majority for major investment and operational decisions. This, the airline says, is a major reason for its strong financial performance.
The country's civil aviation establishment had a short but inglorious history of failed airlines, a poor safety record, creaking infrastructure, and the remnants of a Soviet regulatory set–up totally unsuited to a new nation dragging itself into the modern world and striving to meet the needs of an increasingly prosperous and sophisticated population. There was huge resistance to the start–up Air Astana from the incumbent Air Kazakhstan, with its byzantine ownership structure, political patronage and Soviet–type inefficiency.
Had it not been for the critical support of President Nazarbayev and some of his closest advisors, including Karim Massimov, now Prime Minister, plus the persistence and resilience of BAE and the founding employees of the new airline, Air Astana could never have survived.
The brief was to set up an international airline to international standards. The airline's first flight was on May 15th 2002, and Air Astana grew rapidly to become the leading domestic carrier. When in February 2004 Air Kazakhstan became the third national airline since independence to fail, Air Astana emerged as the national carrier after the Government transferred all route authorities to the new joint venture.
Having quickly filled the void on key international routes to Moscow, Istanbul, Beijing and Dubai, the Air Astana fleet had expanded to 10 aircraft by 2005.
Management claim the joint venture has been a success as a result of three factors:
A comprehensive shareholder agreement giving virtually equal powers to both shareholders and a legal requirement for consensus with equal veto powers, and with a liquidation clause in the event of irreconcilable differences.
A very clear and simply articulated vision, understood by both sides, of what is to be achieved.
The development of strong relationships between the two parties at all key levels, not just at the very top. Balancing these relationships is crucial given that there are still influential voices in Kazakhstan who argue that the national airline should be a state–run agency operated by the Government, and that foreigners should have no part in it — but so far the strength of the key relationships and resulting success of the airline have withstood such pressures.
Air Astana has been able to cherry–pick the most able pilots and engineers from the other Russian and CIS airlines to make up the core technical cadre. The airline has supplemented this by "damp lease" agreements with western personnel suppliers to facilitate on–the–job training. The airline currently employs 90 foreign pilots to supplement the 230 locals.
In 2008, the airline introduced a cadet pilot training programme for young Kazakhstanis at the Pilot Training Centre of the Florida Institute of Technology, and the first eight cadets recently graduated and are now undergoing line training.
In terms of local managers, the approach has been to hire young, western–educated, bright but inexperienced staff who could be trained from a "blank page". These people, together with experienced foreign managers, such as the airline's president Peter Foster, formerly of Cathay Pacific, have forged an effective combination. The hiring policy has been greatly assisted by Kazakhstan's "Bolashak" programme — sending its best and brightest students to foreign universities, mostly in the US and the UK, on government scholarships. As of October 2010, the airline had a total of 3,103 employees of which 222 are pilots, 840 cabin crew and 203 engineers.
Air Astana differs from the approach taken by recent LCC start–ups. The LCC approach of minimising fixed costs and outsourcing as much activity as possible to competitive suppliers is not possible in Kazakhstan. Almost all service providers are monopolies and in most cases do not provide an acceptable level of efficiency or competence. Therefore Air Astana has built its own comprehensive infrastructure, which has not only improved safety and reliability but also reinforced Air Astana's position in the country.
There are 52 licensed airlines holding AOCs in Kazakhstan, many of which have ambitions to challenge Air Astana, but the airline's high quality infrastructure has proved a barrier to successful competition even for the most ambitious and well–connected challengers.
One of the recent challenges faced by the airline occurred in April 2009, when an ICAO audit of Kazakhstan's Civil Aviation Committee revealed significant deficiencies in the regulatory oversight structure. This resulted in a blanket ban of all Kazakhstan airlines by the European Union, with the exception of Air Astana. The airline was exempted on account of its track record, IOSA accreditation, and multi–state regulatory set–up, including registration of all aircraft with the DCA of Aruba, and an EASA part 145 licence. However, the airline remains on the EU's Annex B list, which restricts it from further European expansion.
This restriction means that some of the airlines' plans to expand operations to western Europe are on hold for now. Given a free hand the airline would probably like to increase frequencies to Heathrow (currently two flights per week) and start operating to new destinations such as Munich and Prague.
Air Astana has been working with the CAC to address the ICAO findings, but there remains the risk that if key safety concerns are inadequately addressed, Air Astana itself may be swept up in the ban. This would be serious for Air Astana, for Kazakhstan aviation in general and indeed for the reputation of the country as a whole.
In August last year, Standard & Poor's published the results of its audit of Air Astana JSC. S&P raised the level of corporate governance rating of the carrier to GAMMA 6, one of the highest ratings possible in an emergent market, and the highest rating of any company in Kazakhstan.
Caspian Basin opportunities
New opportunities for Air Astana are strong. Kazakhstan is rich in natural and mineral resources and as the global economy recovers, so demand for those resources will grow. Locally, the airline is looking further than Kazakhstan, with its small population of 16 million, for future expansion; 80 million people live within a 200 mile radius of Kazakhstan's borders, in south eastern Russia, western China, the neighbouring "Stans" and the Caspian basin. Not withstanding the present political and social turmoil in Iran, the overall economic potential, again driven largely by natural resources, is enormous. Because of its unique structure and strong reputation, Air Astana is looking to consolidate its position in what it refers to as "surrogate home markets".
Record profits announced
After a series of independent service delivery audits by the official World Airline Star Rating Programme, Skytrax Research, Air Astana was ranked third amongst carriers for the "Best Airline: Eastern Europe" award. No other carriers in the top three came from Russia/CIS. Average on–time performance for the period January to October 2010 was 84.1%, impressive given Almaty airport's foggy and harsh winter conditions. Air Astana has made a profit every year since 2003, with no subsidies and no additional equity beyond the initial start–up capital of $17m. In 2009 Air Astana recorded pre–tax profits of $48m from revenues of $553m. 2010 has proved to be a record year with the company recently announcing an unaudited pre–tax profit of $96m, up 59% over 2009, on revenues of $656m. Total capacity increased by 8% and Air Astana carried 2.6 million passengers in 2010 on domestic and international flights, an increase of 13% from 2009.
The $96m represents a 15% EBT margin, with the airline debt free. This profit for the airline is attributed to tight cost control, improved revenues, lower fuel costs, and economic recovery in Kazakhstan. However, the airline expects harder trading conditions in 2011.
In 2010 Air Astana increased frequencies on domestic routes from Astana and Almaty, as well as international connections to Frankfurt, Baku, Istanbul, Beijing and Kuala Lumpur. Air Astana already flies to Bishkek in Kyrgyzstan, Baku in Azerbaijan, Novosibirsk in Russian Siberia and Urumchi in western China. Delivery of the first (of two) leased Embraer 190LRs is scheduled for April 2011, the RJs will be servicing flights to Tashkent in Uzbekistan, Dushanbe in Tajikistan, Ekaterinburg, Samara, and Omsk in Russia this year, increasing the airline's footprint in the region.
Air Astana has ordered six A320s from Airbus, delivery beginning in 2012. The airline says it plans to spend $500m by 2015 on fleet expansion. Air Astana is also reportedly in talks to acquire three 787–8 aircraft, which would replace existing 767s. The airline will probably be able to pay PDPs from internal cash flow, and may finance the aircraft through ECA funding.
The airline is in the process of building up its in–house maintenance capabilities. It already provides line maintenance for KLM, Cargolux and Etihad, and sees third party work as a potentially strong new revenue source. The airline is hoping to be able to offer lower C checks for 767s in Almaty in the future.
There are no plans to join one of the major alliance groups, with the airline stating that such a move would be an unnecessary cost. The carrier has partnership agreements with carriers including Lufthansa, KLM and Austrian Airlines. Air Astana would like to join one of the frequent flier programmes, with the 'Miles and More' programme the most likely candidate. There is the possibility of the airline investing in airlines in the region, in the style of Air Asia, to gain footholds in markets it currently can't access.
Air Astana describes its relationship with the airport at its primary base at Almaty as "difficult". The airport is privately owned and does not offer a business class lounge service that the airline would like for its passengers. The airline is considering other options, the possibility to develop a former military airfield near Almaty being one.
The table above illustrates the management's SWOT analysis for the airline's Strategic Plan for the 2011–2020 period.