A mixed year for Airbus and Boeing Jan/Feb 2010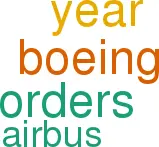 2009 was a varied year for the two manufacturers. Unsuprisingly cancellations accelerated throughout the year and, as many carriers re–evaluated their near and medium–term fleet requirements in the wake of the global recession and the drop in passenger demand, the orderbooks dried up.
Airbus, with 271 net orders (a 65% reduction from 2008) recorded almost double Boeing's 142 net orders (which represented an 80% year–on–year drop).
On the other hand, Boeing and Airbus slightly underestimated commercial aircraft deliveries for 2009, recording an impressive total of 979 deliveries. And the good new for Airbus was that it was the manufacturer's best year yet, with 498 units delivered.
However, both manufacturers agree that the recovery in orders isn't likely to come before 2012. Indeed, it is difficult to see where substantial orders are going to come from in 2010 now that Ryanair has pushed Boeing to the limit and reached an apparent impasse. But it is just possible that a new series of cancellations at Boeing will result in a return to the negotiating table by the manufacturer.