LOT up for sale – but who will buy it? Jan/Feb 2010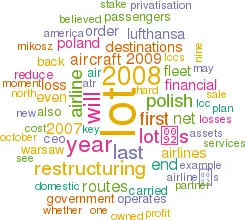 Prompted by troubles in its domestic economy, the Polish government appears determined to privatise LOT Polish Airlines in the next year or two. But will Poland's flag carrier attract any interest from other airlines given its creaking finances and the increasing attacks it is facing from LCCs?
Up for sale
LOT Polish Airlines was launched back in 1929 and has traditionally been a pioneer among eastern European airlines; for example, it was the first one to acquire a western aircraft, back in 1989. And in 1992 LOT became what is called a "joint stockholder" company, which was envisaged as the first step towards privatisation. But although the SAirGroup took an initial 10% stake in the airline in 1999 and increased this to 37.6% by January 2000, the shareholding was subsequently reduced to 25% and in June last year the Polish government acquired the SAir stake from its liquidators, thereby bringing the state's share in LOT back up to 93.1% (of which 68% is owned by the Polish Treasury and 25.1% by the "Finance Society Silesia", which is owned by the Treasury), with the remaining 6.9% owned by employees. At the end of last year the Polish government unveiled a new two–year privatisation programme, which includes full or part–privatisation of 740 state–owned entities in an attempt to reduce public sector debt in Poland that is reaching critical levels. LOT is on that list (and it is likely that the government will initially retain a 51% stake, which will reduce down to zero over the next few years), but CEO Sebastian Mikosz has stated that the airline has "a clear preference for an industry partner … and Lufthansa should obviously be the first partner we turn to".
The Lufthansa group, however, will be thinking long and hard as to whether it really needs to acquire its close neighbour. Financially, LOT is going through tough times at the moment — in 2008 LOT posted a 10% rise in revenue (in $ terms) to $1.2bn, but the operating result swung from a $34m profit in 2007 to a $45m loss in 2008. At the net level however, LOT's performance in 2008 was disastrous, with a $59m net profit in 2007 becoming a $304m net loss in 2008 thanks largely to losses in fuel hedging derivatives. Cash and cash equivalents fell from $55.2m as at the end of 2007 to $17.2m as at the end of 2008, and net assets plunged from $800m at the end of 2007 to $388m at end 2008.
That huge net loss, along with the fact that current liabilities as at the end of 2008 were greater than current assets by some $32m, prompted the company's auditors, PWC, to state that "there is significant uncertainty as to the company's ability to continue as a going concern".
The airline's financial difficulties were reportedly a key factor in the resignation last March of CEO Dariusz Nowak, along with the delay in privatisation, and he was replaced in an "acting capacity" by Sebastian Mikosz, who was previously at consultancy Deloitte. He became permanent CEO in May and just a few months later, in October, management was boosted further by the hiring of Bjorn Naf, previously CEO at Gulf Air until July that year, as a strategic advisor.
Unsurprisingly much of LOT's focus through the first half of 2009 was on financial liquidity and debt restructuring, and aircraft and other assets were sold and leased back in order to raise funds. With the immediate financial danger eased LOT then began to focus on a return to operational profitability, and key to this is the implementation of a major restructuring plan, with Mikosz saying: "Simple cost restructuring is not enough – we need a fundamental reconstruction of the business model and a radically decreased cost structure".
Fleet restructuring
Among a myriad of measures that have been or are being implemented are fare simplification, a restructuring of the schedule, better customer service and improved check–in facilities. And late last year LOT announced a plan to trim the 3,600–strong workforce by 400 by May 2010, following negotiations with trade unions. Those losses were agreed despite the anger of unions regarding LOT's dismissal of two union leaders for what it said was unauthorised absence from work. This led to demonstrations in Warsaw in September, but relations did cool enough for the job cuts programme to be agreed. "Fleet optimisation" is another key component of the restructuring plan, and LOT is currently re–evaluating its narrowbody fleet in an effort to reduce aircraft types (see chart, below). Regional subsidiary EuroLOT operates to 17 domestic and regional destinations with a fleet of 14 ATR 42–500s and ATR 72–200s, but it made a net loss of $2.5m in 2008 on a turnover of $51m (and with 1m passengers carried). EuroLOT's ATR 42–500s and the six ERJ–145s at the mainline are believed the types most at risk from a fleet reshuffle. LOT is also replacing its ageing 737s with smaller capacity E–170s or E–175s, and the first aircraft in an order for 12 82–seat Embraer 175LRs arrived last year.
On long–haul, delays in LOT's order for eight 787s (originally due to be delivered in 2008) — which are earmarked to replace LOT's 767s — means the first aircraft will not arrive until 2011, which has led to warnings from the airline's management that it might instead refurbish its 767s or even switch its order over to Airbus. It's believed to be a serious threat as in October 2009 LOT won permission to operate up to 10 services a week to Japan (Tokyo, Osaka and Nagoya), but the launch of these routes will depend on the delivery of the 787s – or an alternative solution.
An increase in frequencies to North America and a new route to Dubai are also under consideration, it is believed, while in November 2009 LOT started the first direct freighter routes between Poland and North America. The weekly Katowice–Toronto service uses a 767–200ER wet leased from Canadian airline Cargojet.
Is it enough?
Altogether Warsaw–based LOT operates to 10 domestic destinations and approximately 40 destinations throughout Europe and on long–haul to the Middle East and North America (New York, Chicago and Toronto). While this restructuring will help alleviate some of the financial pressures on the airline, others remain and, for example, LOT's ground services subsidiary was declared bankrupt last year.
There's little doubt that LOT needs more capital — but whether this will be through a trade sale remains to be seen. LOT joined Star in 2003 and fellow alliance partner Lufthansa is often mentioned as a potential investor/purchaser, with exploratory talks even taking place last year. LOT's hope is that Lufthansa would retain LOT as brand and some level of autonomy, similar to Swiss or Austrian, but the German flag carrier surely has other priorities at the moment, starting with sorting out bmi (see Aviation Strategy, November 2009).
LCCs target Poland
LOT appointed Morgan Stanley as financial advisor last year, but the bank will have a tough time whipping up interest from other airlines. As well as Lufthansa, Aeroflot, British Airways, Air France/KLM and even Emirates are also on LOT's wish list of potential investors, but in the present stage of the cycle few of these carriers have the finance available for such an acquisition even if the deal made strategic sense for them – and it's hard to make a case for that. LOT executives speak about developing Warsaw as a transit point, but geographically it is not ideally positioned (for example it's closer to Moscow than it is to London) and it's hard to see which passenger flows could connect through it, whether in an east–west or north–south direction. Also counting against LOT is the encroachment of LCCs, which started operating to Poland in 2004. That's not just Ryanair (which operates more than 80 routes to nine Polish destinations), Air Berlin (30 routes to one destination) and easyJet (nine routes to one destination), but most particularly Hungarian LCC Wizz Air, which operates a fleet of 23 A320s (and with 114 aircraft on order) on more than 80 routes to six destinations (with four bases in Poland — Katowice, Warsaw, Gdansk and Poznan).
Fierce competition from these LCCs was responsible for the demise of LOT's attempt at an LCC — Centralwings — which was closed down in May 2009. It racked up losses in every year of operation since its launch in February 2005, despite the goal of making a profit in 2007. The airline operated out of Warsaw, Krakow and Katowice with a fleet of nine 737–300s and 737–400s transferred from the mainline and around 400 staff, but it always struggled to reduce its cost base to that of a typical LCC, and after a restructuring it ceased to provide scheduled services in October 2008, instead concentrating on charter flights and wet leases. But even this didn't turn the airline's fortunes around, and after a loss of $29m in 2008 it was closed down in 2009, with charter operations being reabsorbed into LOT.
The relentless attack of the LCCs combined with the general downturn has meant that passengers carried continues to fall at LOT. LOT carried 4m passengers in 2008, compared with 4.3m in 2007, and in January–October 2009 passengers carried totalled 3.1m – some 10.6% down year–on–year – although the trend graph (below) suggests that the worst appears to be over for the airline, which is a lone bit of good news for an airline that is facing many challenges at the moment.
LOT FLEET
LOT FLEET

| | Fleet | Orders | Options |
| --- | --- | --- | --- |
| Mainline | | | |
| 737-400 | 3 | | |
| 737-500 | 6 | | |
| 767-300ER | 5 | | |
| 787-8 | | 8 | 1 |
| E-170 | 10 | | 11 |
| E-175LR | 10 | 8 | |
| ERJ-145 | 6 | | |
| EuroLOT | | | |
| ATR 42-500 | 6 | | |
| ATR 72-200 | 8 | | |
| TOTAL | 54 | 16 | 12 |