Boeing and Airbus Orders Jan/Feb 2009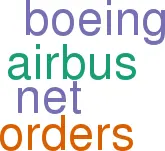 Boeing and Airbus managed to book 1,449 net new orders between them in 2008 — another impressive year. The situation is now reversing with negative net orders being recorded for January as cancellations start to accelerate.
Now the attention is on the delivery rate, which the two manufacturers are still estimating at around last year's level – 860 units – based on record backlogs. The threat is, however, that demand continues to weaken and, perhaps more importantly, the supply of primary finance dries up to such an extent that even the guarantees provided by Export Credit Agencies will not fill the funding gap. Steven Udvar–Hazy, the chief executive of ILFC, who normally gets these things right, foresees 30–35% production cuts at both Boeing and Airbus in 2010, with output being severely reduced in the final quarter of this year. He also notes that it is possible that there will be a negative net order total for 2009.