The German emergents: Germanwings, HLX, Gexx and dba Jan/Feb 2005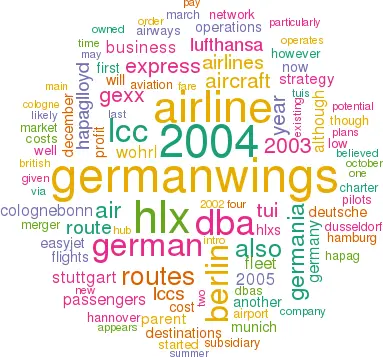 Aviation Strategy looked at Air Berlin in its last issue (December 2004), and here we examine prospects for the other emergent airlines in Germany — Germanwings, Hapag–Lloyd Express, Germania Express and dba — against the background of a stagnant German economy and intense competition from Ryanair and easyJet.
Germanwings
Germanwings is a fully owned subsidiary of German charter airline Eurowings (49% of which is owned by Lufthansa) based at Cologne/Bonn airport. It was created from the A319 charter business of Eurowings in October 2002, and adopted a low fare, low cost business model from launch.
The airline soon became embroiled in a fare war with the other fledgling German LCCs, particularly Hapag–Lloyd Express — which is also based at Cologne/Bonn — and dba, which offered fares as low as €10 on the key Berlin Tegel–Cologne route.
However, as an indirect subsidiary of Lufthansa, Germanwings has deeper pockets than most other LCCs, and though it operated at a loss though 2003 it kept expanding its route network.
Germanwings recorded turnover of €245m for 2004, 60% up on 2003, and the airline is aiming to reach €300m in revenue during 2005. The airline made a small operating profit in 2004 (estimated to be between €1m-€3m), but that is a solid achievement given the increasing competition in the LCC market as well as the rise in fuel prices last year.
Increased fuel prices cost Germanwings the relatively small amount of €0.8m per month in 2004 as the airline managed to hedge 90% of its fuel costs during the year.
The airline also faced the challenge of potential industrial unrest last year when the pilots union — Vereinigung Cockpit (VC) — lobbied Lufthansa to include Germanwings pilots in the Lufthansa group pay agreement. In December Lufthansa agreed a pay freeze with pilots at the main airline until March 2006, in return for pension improvements and the inclusion of Germanwings' pilots into the collective Lufthansa deal, which in effect raises pay levels for the LCC staff. As with all of the German LCCs, there are question marks as to whether Germanwings is a true low cost airline in the mould of a Ryanair or easyJet. For example, Germanwings targets primary rather than secondary airports, which inevitably raises costs. On the other hand, a considerable amount of Germanwings' revenue comes through its web site; unlike some of its LCC rivals, Germanwings does not distribute via travel agents.
The airline is also exploring other ways of low cost distribution, and now offers flight booking via mobile phones in partnership with T–Mobile.
Between 40% and 50% of Germanwings' passengers are business customers and the airline is keen to attract more, having corporate travel deals with more than 300 German companies. On the leisure side, as well as selling direct to the German public, Germanwings provides capacity to German tour operators such as Neckermann.
Germanwings operates a fleet of 14 A319 and A320 aircraft, 10 of which are based in Cologne/Bonn and four at Stuttgart.
Lufthansa owns part of the fleet and some of these aircraft have to return to the German parent shortly, so Germanwings has to find replacements for these as well as for the planned substantial expansion of its route network in 2005.
Germanwings has recently leased nine former US Airways' A319s through GECAS. The new aircraft are needed for planned routes to Birmingham, Catania, Dubrovnik, Leipzig, Lyon, Moscow, St Petersburg and Toulouse. The target is to carry between 5m and 6m passengers in 2005, compared with 3.5m in 2004 (when load factor was 82%) and 2.4m in 2003. Germanwings currently serves 34 different destinations — 31 out of Cologne and 16 from Stuttgart.
Germanwings accounts for 30% of flights at Cologne/Bonn, making it the most important airline at the airport, and is second only to Lufthansa at Stuttgart, where it started operations in August 2003.
Germanwings is making a big push to become the leading airline at Stuttgart and recently doubled its routes out of the airport through the addition of services to London Stansted, Madrid, Zagreb, Hamburg and Dresden as part of the 04/05 winter timetable. Germanwings plans to add another German hub this year. As Cologne/Bonn becomes more congested, Germanwings is looking at nearby Dusseldorf airport, where it has applied for slots.
That would be a direct challenge to charter airline LTU, which is based at Dusseldorf, but — problematically from Germanwings' point of view — also for Cityline, a Lufthansa regional subsidiary.
The search for a third German hub is partly necessary because Germanwings is vulnerable to easyJet or Ryanair starting base operations at Cologne or Stuttgart. Publicly, Germanwings' management maintains an aggressive stance towards the encroachment of easyJet in Germany, and the airline says it will fight the UK LCCs "route by route".
Indeed, when easyJet started a Cologne–London Gatwick service for £40 return, Germanwings reacted by cutting its fare on the route to £26. However, Germanwings' main strategy in dealing with the threat of the non–German LCCs is to avoid confrontation wherever possible. Germanwings has stayed away from easyJet's Berlin hub, stating that "they can keep Berlin …. there is not a good enough market there for a low cost airline". Germanwings argues that Berlin's catchment population of 6m shrinks to 1m when the income profile for the area is taken into account.
But Germanwings is also under attack closer to home, with continuing vigorous competition by German LCCs. Another key rival is the German railway company Deutsche Bahn, which in November 2004 offered 1.2m seats on German routes for a flat €29 one–way fare.
Though the immediate priority for Germanwings is another German hub (along with Dusseldorf, likely candidates are Hamburg, Nuremberg or Munich), the airline is also looking at potential hubs outside of its home country. Zurich is one airport believed to be under consideration — although how Zurich's very high landing fees fit in with the LCC business model is hard to see. Eastern Europe is a more promising area, and Germanwings added Zagreb and Split to its route network in the summer of 2004.
And Germanwings is keen to expand into the Polish market, which with a population of 40m already has LCC services to/from Germany through Air Berlin, easyJet and Wizz Air. In the summer of 2004 Germanwings operated from Cologne and Stuttgart to Warsaw and Krakow, and in October it added routes from Stuttgart to Gdansk and Lodz.
According to Dr Joachim Klein, Germanwings' managing director: "Poland is definitely among the interesting places, and we would also like to form a closer co–operation with an existing airline in central and eastern Europe".
In early 2004 Germanwings considered a potential partnership with LOT (like Lufthansa, a member of Star) , but has recently agreed a comprehensive sales and marketing arrangement with a LOT subsidiary, the LCC Centralwings. This agreement is aimed at developing a stronghold on low–fare traffic between Germany and Poland.
Germanwings is also considering a partnership with Snowflake, SAS's LCC. In Scandinavia, Germanwings launched routes to Oslo, Helsinki and Stockholm in 2004, and it is analysing other potential destinations in the region. In October 2004 Germanwings signed a sales and marketing agreement with UK LCC bmibaby, in which each airline will promote the other's routes. The move is linked to Star membership of both LCC's respective parent airlines (and Lufthansa's ownership of a 30% stake in bmibaby parent BMI British Midland), but Germanwings is likely to sign more deals with Star alliance members in 2005.
Thanks to the strength of its Lufthansa parent, Germanwings is one of the more secure German LCCs, and it is expected to grow substantially over the next few years. Longer–term, Eurowings also has plans to start mirror airlines in other countries.
Germanwings has registered naming rights for the "wings" brand in various European counties, which would allow the launch of airlines called Austriawings or Polishwings, for example.
Hapag-Lloyd Express (HLX)
Hannover–based Hapag–Lloyd Express (also known as HLX) started operations in December 2002 using four aircraft wet–leased from Germania, after an investment of €100m from parent company TUI, the German tour operator giant.
Today HLX operates a fleet of three 737–500s and eight 737- 700s to 24 destinations in nine European countries from Cologne–Bonn, Hannover, Stuttgart, Hamburg, Munich and Berlin–Tegel.
The 737–700s are operated for HLX under wet leases by Hapag–Lloyd and Germania, and HLX is planning to add another four aircraft for summer 2005, two of which may be F100s leased from Germania Express.
In January 2005 TUI placed an order for 10 737–800s, worth €494m and scheduled for delivery in 2006 and 2007, and some of these may be operated by HLX.
90% of HLX's bookings come via its website, and 35%-40% of HLX's passengers are business travellers, some of this coming through a contract with the German government (held jointly with dba) to carry government employees between Berlin and Bonn, the new and old capitals of Germany.
HLX has also been innovative through a deal with Buchclub, a German book club owned by media giant Bertelsmann. The club has contracted a block of 28,000 seats from HLX, which Buchclub has been selling from its retail outlets since December 2004.
HLX depends heavily on tourist traffic to destinations such as Majorca and Olbia (Sardinia). The airline also carries substantial leisure traffic to the Italian market — six of the 16 international routes out of Cologne/Bonn and seven of the 15 from Hannover operate to Italy — and it is expanding its network there all the time: for example, a Cologne- London route has been dropped in favour of a service to Palermo.
HLX's main hubs are Cologne/Bonn, Hannover and Stuttgart. Cologne/Bonn was its first base, followed by Hannover Langenhagen from March 2003. Routes out of Stuttgart started in July 2003 with services to four Italian destinations making HLX the first German LCC to operate out of southern Germany. In association with Air Berlin and Germania Express, HLX fended off entry from easyJet into its hub at Hannover (see Aviation Strategy, December 2004), much to the irritation of the UK LCC, which said that the defence of the airport from other operators was detrimental to passengers.
Like Germanwings, HLX has applied for slots at Dusseldorf airport, though this will not affect its long–term commitment to nearby Cologne/Bonn.
HLX, like Germanwings, has adopted a strategy of partnering with other LCCs across Europe, but unfortunately HLX uncannily manages to pick alliances with airlines that subsequently go under. In February 2004 HLX partnered with Italian LCC Volareweb, followed in June by an alliance with Air Polonia. Codesharing and marketing links between the airlines led to a so–called "three–way" alliance — an alliance that is pretty singular now that both Air Polonia and Volareweb have gone bankrupt (see Aviation Strategy, December 2004).
HLX reported a quarterly profit for the first time in July–September 2004, ahead of schedule according to its parent, TUI. However, as TUI now combines HLX's results with its other subsidiary, Thomsonfly, HLX's figures are not available.
Combined, HLX and Thomsonfly recorded revenue of €64m in the third quarter of 2004, 64% up on 3Q 2003, with 1Q–3Q turnover for 2004 totalling €142m. The combined net profit for 3Q 2004 was €1m, compared with a €10m net loss in the third quarter of 2004. HLX alone achieved a turnover of approximately €100m in 2003. On its own, HLX is unlikely to record a profit for the full year 2004, though it expects to do so in 2005. HLX is likely to report 2.7m passengers carried in 2004, 38% up on 2003, and is apparently targeting a 40% increase, to 3.8m passengers, in 2005.
Despite this growth, there has been speculation over the long–term commitment of TUI to HLX, given the growing relationship between Air Berlin and Hapag–Lloyd (see Aviation Strategy, December 2004). The original intention of HLX was to help reduce costs at TUI and Hapag–Lloyd, with HLX taking over routes to destinations within a few hours' flying time of Germany. Indeed, in early 2004 HLX did take responsibility for some of Hapag–Lloyd's airlift to Palma de Mallorca, which served TUI's charter passengers.
This was part of TUI's attempt to cut annual costs at Hapag–Lloyd by €70m in 2004, as well as longer–term plans for an IPO at Hapag- Lloyd, once all airline operations have been stripped away, leaving the subsidiary as a shipping–only business. Already a collective labour agreement enables TUI pilots to fly both HLX and Hapag–Lloyd aircraft, and as a next step TUI wants to standardise working conditions and salaries of pilots at both Hapag- Lloyd and HLX.
But doubt about the future of HLX as a separate brand was encouraged by TUI's announcement in September 2004 that from January 2005 HLX and the main Hapag–Lloyd airline would be integrated into TUI's "Central European division".
At the same time HLX and Hapag–Lloyd's operations would become closer via joint route planning, marketing and use of IT — although TUI insists that each airline's distinctive branding will remain. This appears an attempt to bring Hapag–Lloyd's cost structure more in line with HLX's, although how low HLX's cost base is, is open to debate (particularly given Hapag Lloyd's apparent preference to ally itself with Air Berlin).
But, crucially, it was announced that HLX CEO Wolfgang Kurth would have to report "every month" to Wolfgang John, the CEO of Hapag–Lloyd who would be given responsibility for all TUI's airline businesses in Germany. Shortly after this reorganisation Kurth — who had been CEO since the launch of HLX — resigned, and was replaced by another HLX executive, Roland Keppler, in January.
The distinction between Hapag–Lloyd (which operates a fleet of 34 aircraft) and HLX is even smaller now that the former has started selling flights to all its European destinations from as little as €29. Approximately 25% of seat sold at Hapag- Lloyd are "low–fare" tickets, but TUI wants to increase this to 40% within the next three years.
TUI claims that this will not have a negative effect on the business of the two airlines, but at the very least it's likely to sow confusion among German travellers.
HLX was one of the airlines rumoured to be interested in acquiring dba before it was sold by BA, but the agenda for HLX now appears to be as to whether or not it merges with Hapag–Lloyd's aviation assets, and if/when that happens, whether the HLX brand will remain. At some point TUI will have to make a strategic decision over the future of HLX, and that decision may be related to TUI's strategy for all the airlines in its group, which include not only Hapag–Lloyd and HLX, but also Britannia, Corsair, TUI Airlines Belgium, Britannia Nordic and Thomsonfly. In the UK, Britannia sells packages with Thomsonfly (a LCC) flights, so one possibility is that HLX becomes the main airlift provider for TUI instead of Hapag Lloyd.
Another possibility is a merger between Hapag Lloyd's aviation assets (i.e. both Hapag Lloyd and HLX) and Air Berlin, given that their relationship is closer than ever through code–sharing on more than 300 flights a week and via selling each other's tickets. However, Air Berlin's cost base is likely to be lower than HLX's, and the Berlin LCC may prefer continuing the existing relationship rather than pursue an equity tie–up.
Germania Express (Gexx)
Germania Express (also known as Gexx) started operations in June 2003 as the LCC subsidiary of charter airline Germania.
Gexx uses a fleet of 19 F100s, all of which were acquired from US Airways at prices believed to be deeply discounted. The LCC has three hubs — Berlin Tegel, Munich and Hamburg — and operates domestically to 10 German airports and to 13 destinations across Europe. After launching routes out of Berlin Tegel, a Munich hub was started in August 2003 with routes to Palma, de Mallorca, Ibiza, Alicante, Hamburg, Lisbon, Zurich and Thessaloniki. Flights to Russia were added from Munich (and from Berlin Tegel) the following month. Incidentally Gexx and its parent, Germania, offered to buy Berlin Templehof airport last year, which is closer to the city centre than the other Berlin airports, and its move was backed by rival airlines, including dba and Air Berlin.
Gexx's strategy differs from the classic LCC business model in that it sells tickets through travel agents. Traditionally, German air passengers (at least in the leisure sector, if not the business sector) have preferred to book flights through travel agencies rather than direct using credit cards — although other LCCs argue that this has changed. Gexx also operates largely to major cities, rather than secondary airports. Altogether, around 60% of its passengers are business customers; most of these using Gexx for their daily commute to and from work in other cities.
Despite increasing capacity by 30% in the winter of 2003/04 and with ambitious plans to expand its F100 fleet to 40 aircraft, last year saw a strategic about–turn for Germania Express. In March 2004 Gexx withdrew from five routes — from Hamburg, Dusseldorf and Berlin to Vienna and Zurich, and on Munich–Vienna — and instead signed a contract under which Air Berlin took responsibility for the routes to Vienna and Zurich using three wet–leased Gexx F100s. The aircraft are painted with Air Berlin livery. This appears to be consistent with the policy of parent airline Germania, which leases aircraft to rival LCC Hapag–Lloyd Express. Interestingly, at the time of HLX's launch (in December 2002), TUI claimed that Germania's operation outside of the HLX contract would be "very, very limited", so perhaps the contracting out of aircraft has always been the goal of the Germania management.
In the summer of 2003 Gexx was in negotiations with Zurich–based charter carrier Odette Airways over the launch of a new LCC for the Swiss market, then in November 2004 Swiss sources suggested Gexx would become a joint shareholder with Air Berlin in launching a new airline, to be called Air Zurich. The airline is aiming to start operations in 2005, it is believed, once the Swiss federal aviation authority gives approval.
With the available fleet decreasing rather than increasing, route expansion has been slow. In autumn 2004 only Berlin–Karlsruhe/Baden–Baden and Hamburg–Dusseldorf services were launched, bringing the number of domestic routes to seven, although there are plans to commence routes from Cologne and Stuttgart to Moscow and St.
Petersburg sometime in 2005, building on existing services from Berlin, Munich, Hamburg and Dusseldorf to Moscow Domodedovo. The Russian routes have been a success for Gexx, with its lower fares forcing Aeroflot to halve its own fares between Moscow and both Berlin and Munich. Gexx flights operate to Russia with reported load factors of more than 90%.
Despite a small profit and a forecast 30% increase in turnover in the 2003/04 financial year ending October 31, to around €130m, in October 2004 Jurgen Branse — the CEO of Germania Express since it was launched — resigned unexpectedly.
According to German sources this was because Branse wanted the airline to expand in order to beat off the challenge of rival LCCs, whereas parent company Germania — headed by Hinrich Bischoff — wanted German Express to lease out more of its fleet to LCC rivals in order to lock–in guaranteed revenues. That strategy is a long way away from the extra aircraft every three weeks that Bischoff said (back in 2003) that Gexx would be growing by. Added to this is the fact that although the airline carried 1.4m passengers during the 2003/04 financial year, its load factor was 72%, which is 10% less than at rivals Air Berlin and Germanwings.
Branse was replaced by Wolfgang Vieweg, the managing director of Germania, who says Germania Express will continue as a standalone LCC. But that seems unlikely, and at the end of 2004 talks were held with dba over a possible merger.
That would be an interesting combination, given that the two airlines' route networks overlap. Last year also saw a fare war between Gexx and dba on Dusseldorf–Munich, believed to be one of dba's profitable routes. But Gexx would benefit more from a merger than dba, as dba has more strategic options available (see below).
Another possibility is a merger into Air Berlin, building on the existing wet lease and sales & marketing agreements between the two, as well as the unofficial alliance Gexx made with the Berlin–based LCC in seeing off the threat of entry by easyJet at Hannover airport.
dba
Munich–based dba started operations as full–service Deutsche BA back in 1992, though its origins go back to 1978. However, after struggling against the might of Lufthansa in the German market and racking up years of losses, its owners — British Airways — decided to sell the company.
In 2002 easyJet paid BA more than €10m for an option to purchase Deutsche BA, but although the German airline's route network appeared to link well with easyJet's European routes, after a year–long close examination easyJet decided to proceed no further. BA looked elsewhere for a buyer, and in July 2003 Deutsche BA was sold to Intro Verwaltungsgesellshaft — a German consulting/investment firm owned by entrepreneur Hans Rudolf Wohrl — for €1.
A month later, 10% stakes in the airline were acquired by new joint CEOs Martin Gauss and Peter Wojahn. Wohrl is experienced in the airline sector — he was on the Deutsche BA board from 1994–2001 and previously founded Nurnberger Flugdienst, a charter airline that subsequently merged into Eurowings. Wohrl's plan for the renamed dba was clear: in the first year of operations he aimed to improve productivity by 20% and boost revenues by at least 10%.
The former Deutsche BA had tried to become a LCC in 1Q 2002 in an attempt by the BA–appointed management to take out around €80m in annual costs and achieve break–even by 2003, but execution was poor, and labour constraints were tight.
Under Wohrl, however, the drive to become a true LCC is more focussed and substantial. Fleet utilisation has been improved and 737 lease rates have been renegotiated, as have contracts with virtually every other major supplier to the airline.
There was concern by analysts as to whether employees would accept the LCC changes introduced by Wohrl and his team, particularly as easyJet's non–exercise of its option was partly due to unions' refusal to adopt the pay scales prevalent at the UK LCC without a guarantee that jobs would not be lost. In addition, British Airways annulled existing contracts with the Deutsche BA workforce in 2003, just before the airline was sold to Intro.
But after tough words from Wohrl — including a warning he might shut the airline down if he was blackmailed — matched by a warning strike by unions in November 2003, the two sides came together and held substantive negotiations.
Finally, the pilots' union — Vereinigung Cockpit — agreed a pay structure in the summer of 2004, and although details of the settlement are secret, it is believed that salary cuts of up to 20% were agreed, saving dba up to €10m a year in costs. The workforce also shrank from 800 at acquisition to 610, though this increased back to710 by the end of 2004 as the route network expanded, and 50 more flight attendants are being employed in the first quarter of 2005.
Wohrl is also targeting dba more at business customers, although here the airline is up against not just the might of Lufthansa, but also Deutsche Bahn, the Germany railway company.
dba now allows greater flexibility in changing reservations and, unlike most LCCs, dba offers some frills, such as free on board snacks and allocated seating.
Originally, after the change to a LCC model, these extras weren't offered, but apparently dba faced complaints from existing customers, and selected frills were reintroduced. A FFP is being introduced, and in June 2004 the new managing directors also said that dba would no longer compete against its fellow LCCs in destructive fare wars.
In October 2004 dba launched two more domestic routes, from Munich to Hannover and Dresden, and in December 2004 dba signed a contract to provide feed for Delta flights out of Berlin Munich and Stuttgart from Cologne–Bonn, Dresden, Dusseldorf, Hamburg and Hannover.
This follows similar dba feed contracts for five other international airlines operating out of Germany.
dba now operates between eight destinations in Germany, while internationally it has routes to Ibiza and Nice. With 95% of dba's flights being domestic, the airline plans to reduce this exposure by expanding its international network, particularly to major business centres. However, choosing the right routes isn't easy — a Berlin Tegel–London Gatwick route was axed in March 2004, just four months after it was relaunched after being previously dropped by the BA–owned Deutsche BA in 2002.
In the year to March 31, 2004, dba made a loss of €63m on revenues of €265m, although €25m of the losses occurred in the period when the airline was owned by British Airways, and there was an extra €15m of costs in the financial year due to one–off restructuring charges. The loss is higher than forecast by Wohrl after he acquired dba, but is still lower than the forecast for 2003/04 made under BA ownership, when a loss of up to €80m was anticipated.
For the first time ever, dba broke even on a monthly basis in September 2004, and the LCC is on target to make a small profit in the financial year to end of March 2004 — exactly as Wohrl targeted when he acquired the airline, and based largely on reducing annual costs by €40m — the first profit in 12 years. A significant profit is forecast for 2005/06.
Current load factors are low for a LCC, at around the 70% mark, but dba says it breaks even at a load factor of 65%.
dba's turnaround should allow Wohrl and Intro to make a successful exit at some point. Earlier in 2004 dba's management said it was planning for an IPO in 2006 or 2007, when Intro's stake would be reduced to 25%, but the exit strategy now appears to be via a merger or trade sale, possibly with a fellow German LCC. In November 2004 talks on a potential merger were held with Germania Express.
There is overlap between dba and Germania Express domestically, with four of dba's 14 aircraft currently on wet–lease from Germania, Gexx's parent company. However, Germania Express is also close to Air Berlin, with which it co–operates, and a Gexx/dba merger now appears unlikely.
Though it would be tricky politically, a revived dba could be an interesting acquisition for foreign network carriers looking to secure a foothold in a domestic market with 25m passengers a year. The British Airways' experience may put off many candidates, but as long as potential acquirers understand where BA went wrong and where Wohrl is going right, then acquiring dba would secure a vital share of one of the biggest domestic markets in Europe, as well as securing feed into international routes.
An IPO or trade sale will help fund fleet renewal at dba. It currently uses 14 leased 737s, but Wohrl prefers owned aircraft to leased equipment, and extra capacity is needed for route expansion, particularly internationally. An order for up to 30 aircraft is expected, dba is believed to be choosing either the A319 or the 737–700, and an order is likely to be placed in February or March, with the first aircraft arriving in the first quarter of 2006. With Airbus keen to grab yet another short–haul aircraft order away from the clutches of Boeing, the A319 is the favourite.
If — or when — Wohrl makes a profit on his investment in dba, he can partly thank BA for his good fortune.
Although Intro bought a loss–making airline, its risk was lessened by an agreement with British Airways whereby the UK airline paid £25m to Intro as well as agreeing to finance dba's entire fleet for 12 months, at a cost of another £24m. In return, BA receives 25% of dba's profits up until June 2006. While analysts praised the deal as getting rid of a major headache for BA, the deal looks remarkably good for Intro, having in effect been paid €75m to take an airline that today is starting to pump out profits.