Where's the ordering cycle trough? February 2004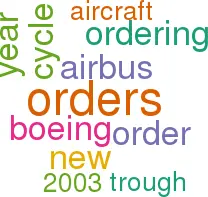 In 2003 Airbus out–delivered Boeing for the first time, with 305 units against 281. Airbus also won more orders than Boeing — 254 units against 239, after taking account of cancellations.
On historical analysis 2003 should have been the trough of the order cycle (the previous trough was 1994). However, it appears that the structural changes taking place in the commercial airline sector may have distorted the cycle. Quite simply it is very difficult to see where the major orders are going to come from this year and next.
The LCCs have dominated ordering activity in recent years, and even last year some of the biggest customers were JetBlue, Ryanair, Southwest and AirTran (some of these orders recorded in 2003 being part of previously announced mega–orders).
As the LCCs in this cycle have focused solely on heavily discounted new orders there remain a large pool of second–hand narrowbodies on the market. These are starting to be vacuumed up by the large number of new entrants. But overall there is still about 14% overcapacity in the jet market, and almost 500 of the 1,300 aircraft parked in the desert are likely to return over the next two years.
The lessors have their own aircraft placement challenges, not least because of the continuing bankruptcies among their lessee airlines, and will make only minor ordering forays.
Asia and the Middle East underpinned new ordering activity last year, with majors orders from CASC, China Airlines, ANA, Korean, Emirates and Qatar Airways. China may be starting to fulfil its potential as a generator of aircraft orders, but the long–awaited major order from Indian Airlines/Air India has yet to materialise. And it probably won't happen in 2004, an election year.
As for the exciting new projects: Emirates' order took the A380 backlog up to 129. With the first delivery planned for 2006, while the 7E7 has reached the "firm concept" stage and is expected to further firmed up to "authority to offer" status in the very near future.
The point–to–point versus hub–to–hub argument between Boeing and Airbus continues at an abstract level. Practical issues that need tackling include upgrading airport terminals and runways to service the A380 and getting the 7E7's operating costs down significantly below those of the A330.
See page opposite for the Airbus and Boeing net firm order tables.
AIRBUS FIRM ORDERS 2003
AIRBUS FIRM ORDERS 2003
A319
A320
A321
A300
A330
A340
A380
Total
Aer Lingus
7
7
Aeroflot
6
2
8
Iberia
6
9
0
0
0
5
0
5
European Total
5
20
CIT
4
4
Frontier Airlines
15
15
GECAS
4
4
JetBlue
67
67
US Airways
9
9
N.American Total
15
75
0
0
9
0
0
99
Lan Chile
3
3
Latin American Total
3
3
Air Caledonie Int'l
1
1
Air Hong Kong
6
6
CASC
16
10
4
30
China Airlines
14
14
Druk Air
2
2
Korean Airlines
5
5
MAS
6
6
Royal Thai Air Force
1
1
Thai Airways
8
8
Vietnam Airlines
5
5
Qantas
9
9
Asian Total
19
20
5
6
18
8
11
87
Air Algerie
5
5
Egyptair
7
7
Emirates
20
21
41
Qatar
1
2
15
2
2
22
Africa/M.East Total
1
0
2
0
27
22
23
75
Changes/Cancellations
-30
Net Total
44
104
7
6
54
35
34
254