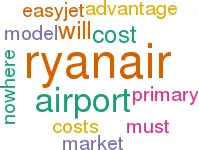 So the EC has ruled on Ryanair/Charleroi, declaring illegal part of the subsidy provided by the airport and the regional government of Wallonia, mainly because it contravened private market investor principles (see Aviation Strategy, September 2003).
The Commission has laid down the following ground rules for airport incentive deals:
Must be fully transparent and non–discriminatory;
Must last no more than five years for point–to–point European routes;
Any one–off start–up support must take account of the actual costs of opening the routes; and
Support packages cannot exceed 50% of net start–up costs. All this sounds eminently reasonable (but would that the EC had been so focused and logical in dealing with the €15bn–plus of state aid it allowed in one way or another to various flag–carriers).
Ryanair will only have to repay about €4–6m which will scarcely dent its cash balance of over €1bn. But its reaction has been vehement, over the top, forecasting the end of low fares in Europe, a claim that was immediately contradicted and undermined by easyJet.
The real issue, according to an incisive and detailed analysis by Andrew Lobbenberg of ABN Amro, is that the Ryanair model has hit a roadblock. Ryanair's expansion is taking it into the "nowhere to nowhere" markets, as opposed to the "London to nowhere" markets.
Ryanair itself gave a profits warning, reducing its profit guidance from €270m to €215m for the year to March 2004, because yields were expected to deteriorate 25–30% during January–March.
Lobbenberg argues that Ryanair is overplaying the yield decline and underplaying the cost pressures on the airline post the Charleroi decision: "Ryanair enjoys a 67% unit cost advantage over bmi British Midland, a full–service, short–haul network carrier, and a 33% unit cost advantage over easyJet. At the heart of the cost advantage are the negotiated airport incentive deals, which provide low airport charges, handling charges and marketing costs".
The net result, however, is not a disaster for Ryanair; the implication is that its operating margin will reduce to a still very respectable 15% from 20–30% in the recent past, and should be sustainable at this level.
Its stock–market capitalisation seems to adjusting to this new reality.
For the flag–carriers, the market dynamics are not fundamentally changed. LCCs, especially easyJet, whose model mostly focuses on primary airports, will continue to win market share and exert yield pressure.
Could Ryanair also modify its model to allow it to attack primary European destinations? When Go was up for sale two years ago, some analysts thought that it might be a good idea for Ryanair to buy it simply to get into the primary airport business, as the secondary and tertiary airport expansion strategy appeared to have limits, which may now have been exposed.