South African Airways - the new options February 2001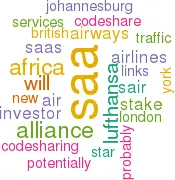 SAA decided on SAir as its strategic investor on the very logical grounds that it was the highest bidder in 1999, offering Rd 1.4bn ($230m) to buy 20% of the airline from the government holding company, Transnet, substantially more than the price proposed by Lufthansa, Singapore Airlines and others.
Now SAir will definitely not take up its option to increase its stake to 30%, and there is a strong possibility that it will try to sell off the existing shareholding. SAA's full privatisation has already been postponed from this year to 2002 because of unfavourable stock–market and exchange rate conditions. Without a strong trade investor, SAA's valuation will undoubtedly suffer.
However, SAA is potentially a very interesting target for those airlines that still are willing to take equity stakes in strategic partners. Firstly, SAA has succeeded in producing profits — R557m ($71m) on revenues of R12.5bn ($1.6bn) — for 1999/2000, though break–even is probably the best that can be expected for 2000/01.
Secondly, SAA is the pre–eminent carrier for the whole continent. Its plans include establishing two hubs on both the east and west coasts of Africa. On the east it has a 40% stake in Alliance Air based in Uganda. On the west coast, SAA has just won permission from the US DoT to code–share with Nigeria Airways to Lagos–New York (in effect using Lagos as an intermediate point on Johannesburg–New York). This is potentially a very lucrative route, but the political and administrative problems that accompany any Nigeria Airways venture are formidable.
From SAA's perspective one of the advantages of having SAir as an investor was the Swiss company's neutrality, which allowed it to continue building links with the truly global alliances. If SAA now has to sell itself to a new airline investor, it may risk damaging its other relationships.
Its options are as follows.
SAA is potentially a member of the Star alliance (Star's CEO was recruited from SAA). It code–shares on all services between Frankfurt, Johannesburg and Cape Town, and operates a joint cargo service with Lufthansa. The alliance extends to FFPs, shared lounges and ground handling. SAA itself does not fly to Germany but its London service has code–share and FFP links with British Midland, which is partly owned by Lufthansa.
Lufthansa has in the recent past made minority investments — in Air Canada and British Midland — to shore up the Star alliance. The pricing of SAir's stake in SAA is likely to be significantly below what SAir paid in November and probably below what Lufthansa was willing to pay then.
There are no formal links with British Airways, but there may be incentive to form some, as SAA will soon be facing home–based competition on the London route. Africa Star is scheduled to start up services from Johannesburg to London Stansted this spring using ex–SIA 747–300s.
Oneworld partner Qantas has recently begun code–sharing with SAA as apart of its rationalisation of its services between Australia/New Zealand and South Africa. There is also an agreement in place between Cathay Pacific and SAA, which would allow code–sharing between those two airlines. American was a bidder for the 20% stake in SAA back in 1999.
Divesting rather than investing in other carriers is BA's priority at present. Nevertheless, a good case could be made for an investment to consolidate the high–yielding business traffic on UKS. Africa. And if the investment were supported by Qantas and American, it would send a clear signal that the oneworld alliance was working again.
Air France too has a code–share with SAA on flights beyond Johannesburg. Equally significant is SAA's agreement with Delta which allows code–sharing between Cape Town and Atlanta and New York.
Air France and Delta are probably the most acquisitive of the major airlines at present as they seek to develop and add credibility to their SkyTeam alliance. CDG offers the best hub connections for medium–yielding continental Europe to S. Africa traffic, a role that is becoming more important with the recent withdrawal of Sabena and Alitalia from S. Africa (the really low yielding traffic will continue to be carried over Athens and Istanbul by Olympic and THY).