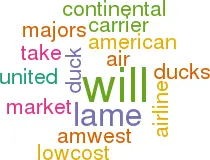 At the edge of a recession, the leading carriers should be getting more concerned about those pesky competitors who are going to make life more difficult in a downturn — the lame duck airlines. In the US the lame ducks are currently TWA and Northwest, Majors that are not likely to disappear but whose main strategy will be to survive through maximising short–term cash inflows — and this means focusing solely on price to capture traffic. In Europe the lame ducks used to rely on state aid but this time around they will have either turned into commercially viable companies or, more likely, will emulate the US strategy.
As it is practically impossible to take over the lame ducks, for financial and union reasons, the leading Majors are continuing with their consolidation strategies in other directions. But the logic behind some of the recent moves is not at all clear.
For instance, American is in the process of completing its purchase of Reno Air, a Nevada–based low–cost carrier. American's policy seems simply to be: drop the separate brand, integrate the airline into the mainline operations, gain a small increase in market share and remove one low–cost airline. Reno Air will definitely not be used as a base for American to develop a low–cost subsidiary.
Back in the late 1980s American bought out and quickly assimilated AirCal in an attempt to boost its presence in the California market. In the event no discernible synergies were achieved and American's performance on the west coast deteriorated.
Meanwhile, America West is being pursued by United. This move makes more strategic sense — Phoenix–based AmWest has little network overlap with United, it isn't a member of any of the global alliances (although it is the ninth largest carrier in the US) and there is fleet communality. It does, however, seem odd that one of the reasons quoted for United's interest is that it would immediately obtain the aircraft needed for a major expansion at its own Washington Dulles hub — this at a time when oversupply threatens the domestic market.
In any case it is highly unlikely that the United bid for AmWest will succeed as Continental has the right of first refusal to match offers for the 49% of AmWest shares owned by Texas Pacific. The main effect of United's move might just be to force Continental to pay out cash to Texas Pacific, which ironically is controlled by David Bonderman, a Continental board member.
Returning to Europe, a variation on the consolidation game is for the successful Majors to take a stake in formerly state–aided but now privatising flag–carriers — British Airways will take 8–9% of Iberia when it is floated. A US carrier may eventually get a small stake in Air France, and the Greek government is very keen on finding a foreign airline to invest in and help manage Olympic.
The problem is that nobody seems very sure about what these minority stakes mean. How much control will the investing airlines have in key strategic areas? And will they really be allowed to implement anti–lame duck strategies with their new partners?