Is the Asian depression contagious? February 1998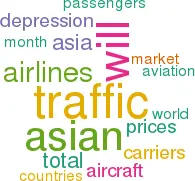 The period of denial is certainly over for Asian airlines. There is now a stream of reports of service cut–backs, delivery deferrals and cancellations, and even redundancies.
The big question is: will the Asian aviation crisis spread to the rest of the world? Most professional forecasters such as the IMF and the OECD are still confident that the impact of the Asian financial turmoil on the economies of North America and Europe will be minimal, with the possibility that lower import prices might even boost activity. But faith in such organisations has been somewhat shaken by their total failure to foresee anything going wrong in Asia.
It will be interesting to see whether the big manufacturers, who normally issue their forecasts in the spring but whose basic research and analysis is normally completed around the middle of the previous year, will publish as normal or whether there will be a precautionary delay.
Certainly the Asian picture is more complicated than just depression. Airlines in countries with large tourist flows — Thailand, the Philippines and Indonesia, for instance — stand to gain from currency devaluations (as long as political strife does not break out). And anecdotal evidence suggest that the business classes on intercontinental flights to many Southeast Asian countries are full — there is always money to be made in distress.
Freighter business in the region is set to boom with the expected surge in exports.
The problem is within Asia, previously the fastest growing region of the world, where some airlines are expecting a 10% annual decline in traffic in 1998. Cathay Pacific, which has the highest percentage of intra- Asian passengers out of total passengers carried — 78% — has reported annual traffic declines of around 15% every month since last August 1997.
Intra–Asian traffic plus domestic traffic accounts for about 70% of total passengers carried by the AAPO airlines, and intra–Asia routes, especially those to/from Northeast Asia, have been the most profitable for these carriers. To cast some light on the structure of the intra–Asian market (including Australasia) Aviation Strategy has constructed a traffic matrix based on AAPO city pair data.
Northeast Asia account for about 24% of the total, and it is the fall in this traffic from South Korea and Japan that has affected airlines like Cathay so badly. While Korean prospects are so gloomy that it is not at all certain that both Korean and Asiana will survive, Japanese traffic could well recover as the strengthening yen entices travellers to risk smog and chicken flu.
The deeply troubled Southeast Asian countries account for about 23% of the total while Singapore alone generates another 12% of the traffic flows.
Greater China — defined as the PRC, Hong Kong and Taiwan — accounts for about 25% of the traffic base. While attention is currently focused on the turmoil in Hong Kong, this number is a reminder of the huge traffic potential of China.
Given the complexity of the market, there are obviously no simple solutions to Asia's traffic depression. But solutions have to be found for the aircraft — particularly widebodies — that were ordered by Asian carriers on the assumption of perpetual 8%-plus traffic growth rates.
Over half the widebodies due for delivery in 1998 (including 1997 slippage) were destined for Asia. They will be absorbed through various mechanisms: they will be delivered and the airlines in turn will try to dispose of older equipment; they will be deferred (Boeing has announced that it is planning to reach peak production rates of 43 units a month by mid–year and has abandoned plans for a rate of 48 a month); or the new aircraft will be sold off to airlines in other parts of the world.
The market imbalance is already being reflected in aircraft values. Reports, unconfirmed as always when aircraft prices are involved, suggest that second–hand prices for 747–400s and 777s are down 10–20% on a few months ago.
This in turn has caused various financial institutions to examine more closely operating leasing to distressed Asian carriers — buying fleets at prices which allow the prospect of future capital gains and leasing them back at rentals that compare favourably with the carriers'current finance payments.
The availability of relatively cheap widebody equipment, either for purchase or lease, might prove too great a temptation for European and North American carriers whose long–haul capacity expansion has been restrained in recent years.
Then, if there is a traffic slow–down, overcapacity will reappear. In this manner the Asian aviation depression could be contagious
DELIVERY SCHEDULES
DELIVERY SCHEDULES
End 1997
Scheduled deliveries
Widebodies
fleet
1997/98
1999
2000
Asia/Pacific
1,084
143
72
44
Europe
780
55
35
18
North America
1,213
81
87
56
3,077
279
194
118
Narrowbodies
Asia/Pacific
1,075
140
75
51
Europe
2,419
204
127
63
North America
4,901
455
351
259
8,395
799
553
373
INTRA-ASIAN TRAFFIC FLOWS (PERCENTAGES OF 72m INTERNATIONAL PAX. IN 1996)
INTRA-ASIAN TRAFFIC FLOWS (PERCENTAGES OF 72m INTERNATIONAL PAX. IN 1996)
TO:
Austral- Oce-
Brunei Indon- Malay- Philipp- Singa-
Thai-
Others
SE-
PR
Hong
Rep.
Greater Korea
Japan
NE
Total
FROM:
asia
ania
esia
sia
ines
pore
land
Asia
China
Kong
China
China
Asia
Australasia
3.8
0.6
-
0.7
0.4
0.1
1.5
0.4
-
3.1
-
0.9
0.2
1.2
0.3
1.4
1.7
10.5
Oceania
0.6
-
-
-
-
-
-
-
-
-
-
-
-
0.1
0.6
0.7
1.4
Brunei
-
-
-
-
0.2
0.1
0.2
-
-
0.5
-
-
-
-
-
-
-
0.5
Indonesia
0.7
-
-
-
0.5
-
2.1
0.2
-
2.9
-
0.4
0.4
0.8
0.1
0.7
0.8
5.1
Malaysia
0.4
-
0.2
0.5
-
0.1
2.6
0.5
0.1
3.9
0.1
0.5
0.3
1.0
0.7
0.3
1.0
6.3
Philippines
0.1
-
0.1
0.1
0.1
-
0.4
0.2
-
0.8
-
1.1
0.4
1.5
0.1
0.6
0.7
3.1
Singapore
1.3
-
0.2
3.4
2.9
0.4
-
1.4
0.1
8.4
0.2
1.2
0.7
2.1
0.2
1.4
1.5
13.4
Thailand
0.4
-
-
0.3
0.5
0.2
1.4
-
0.6
3.1
0.3
1.8
0.9
3.0
0.5
1.1
1.6
8.1
Others
-
-
-
-
0.1
-
0.1
0.6
-
0.8
-
0.2
0.2
0.4
-
-
-
1.3
SE Asia
3.0
-
0.5
4.2
4.2
0.8
6.9
3.0
0.9
20.4
0.7
5.4
2.8
8.9
1.6
4.0
5.7
38.0
PR China
-
-
-
-
0.1
-
0.2
0.2
-
0.6
-
-
-
-
0.1
1.3
1.3
2.0
Hong Kong
0.9
-
-
0.4
0.5
1.1
1.2
1.9
0.2
5.4
-
-
3.9
3.9
1.1
2.5
3.6
13.7
Rep. China
0.3
-
-
0.4
0.3
0.4
0.7
1.0
0.2
3.0
-
3.9
-
3.9
0.4
2.5
2.9
10.1
Greater China
1.1
-
-
0.8
1.0
1.6
2.1
3.2
0.4
9.1
-
3.9
3.9
7.8
1.6
6.3
7.8
25.8
Korea
0.3
0.1
-
0.1
1.3
0.1
0.2
0.5
-
2.3
0.1
1.0
0.4
1.5
-
3.9
3.9
8.0
Japan
1.5
0.7
-
0.6
0.3
0.6
1.4
1.1
-
4.0
1.1
2.5
2.4
6.0
4.1
-
4.1
16.3
NE Asia
1.8
0.8
-
0.7
1.6
0.7
1.5
1.6
-
6.3
1.2
3.5
2.8
7.5
4.1
3.9
8.0
24.3
TOTAL
10.3
1.4
0.6
6.5
7.2
3.2
12.0
8.2
1.3
38.9
1.9
13.7
9.7
25.4
7.7
16.2
23.9
100.0