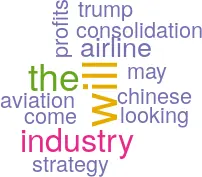 We failed totally to foresee the political upheavals of 2016. Unabashed, here are some of our predictions, or rather observations, for 2017.
Early signs are that economic prospects for the US under President Trump are looking disconcertingly rosy. Encouraged by a $1tn infrastructure spending programme, and a more nebulous feeling that Trump is, after all, a businessman, business confidence is up — the Dow Jones index has risen steadily from 18,000 just before the election to come close to knocking at the 20,000 level, while the US purchasing managers' index rose to 53.2 in November, above expectations and the highest level for five months.
The US airline industry continues to look solidly profitable, underpinned by market consolidation plus ownership concentration (Aviation Strategy, November 2016). Internationally, the Middle East super-connectors will face more effective opposition, but at least Norwegian's operating licence has been approved under the Obama Administration (and surely won't be revoked by Trump?).
If Trump's protectionist rhetoric is turned into policy, that will be a disaster, but we suspect rationality will kick in, particularly with regard to Sino-US relations. And, from a Chinese airline perspective, if the Chinese Yuan is pushed into a revaluation, making it more valuable against the dollar and related currencies, one possible effect will be to further boost Chinese outbound tourism.
On this side of the Atlantic, most normal people are feeling drained by the Brexit debate (for a comprehensive analysis of the aeropolitical fall-out, see the September edition of Aviation Strategy). The UK CAA, the UK Department for Transport and DG MOVE in Brussels seem to be taking a sanguine view, which may make sense as probably nothing will happen in 2017. This is because the UK airline industry will be competing with other industries — finance, car manufacturing, defence, etc — for negotiating space at the Brexit table, and all sectors, at least as an opening position, are looking to maintain as much of the status quo as possible.
The future of the continental European network sector could be a bigger issue. The Lufthansa Group and Air France-KLM have still not fundamentally restructured and have been plagued by union conflict (IAG isn't immune either); attempts to cut costs by using lower cost associates, Eurowings and Transavia, are running into brick walls. The consolidation strategy is no longer an option; if anything, de-merging KLM and Air France, might just happen.
Without UK influence, EU aviation policy may be more defensive, which is probably more bad news for the super-connectors, coming on top of a number of negative developments (see following article). But the super-connector model is economically robust, and could become stronger if some form of consolidation takes place in the Middle East.
The long-haul LCCs will be attacked by the incumbents but are not going to go away, although the full implications of this new model may only start to become apparent when the industry has gone through the next cyclical recession, and new and/or second-hand widebody capacity come onto the market. Ryanair's interlining agreement with Norwegian does not mean much in itself, but it is perhaps a warning that Ryanair, the archetypical second mover airline, is contemplating how this business could be made to fit its existing operations.
Industry profits globally are predicted to come under pressure, implying that 2015 will have been the peak of this cycle. In its latest forecast IATA is looking at total industry operating profits in 2016 of $58.3bn, down slightly from the record $59.5bn in 2015 but still on an 8.3% margin. For 2017 it is forecasting a further dip to $48.5bn (a 6.6% margin) and a decline in net profits to $29.8bn from $35.6bn. With assumptions of flat yields in the passenger and cargo markets, the risk is possibly on the downside.