Spring Airlines: International expansion,
e-commerce and succession December 2015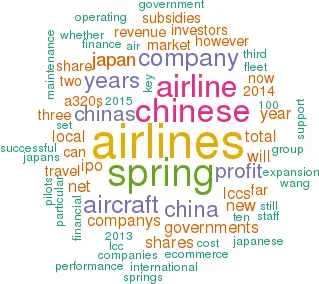 After ten years of consistent profitability, Spring Airlines, self-branded as "China's first low cost airline", achieved a successful IPO, floating 100 million shares in Shanghai Securities Exchange in January 2015 at CN¥18.16 per share. The shares, which were aimed at institutional and individual investors, were 150 times over-subscribed. Since then Spring Airlines' share performance has been more robust than that of the Chinese stockmarket in general.
After soaring to CN¥70 by mid year, the stock held relatively firm as the stockmarket crashed and now stands at CN¥63. This price still values the carrier at CN¥50.4bn (US$7.6bn) with an historic p/e of 39, a rating that would normally indicate strong growth prospects.
Spring Airlines' circulating shares, which account for one quarter of the company's total equity are held quite tightly. Among the largest investors are funds run by Chinese Social Insurance, China Securities Finance Company, Bank of China, Industrial and Commercial Bank of China and China Construction Bank.
The airline's financial performance appears impressive. Over the three year period 2012-14, it achieved an average net profit margin of 11.4%, an RoI of 14.3% and an RoE of 31.3%, according to Reuters. Its latest interim results, for the third quarter of 2015, show a very good performance defying setbacks in the Chinese economy: revenue at CN¥2.37bn ($355.5m), up 11% on a year ago, net profits at CN¥583m ($87.5m), up 51%.
A concern, however, among investors and local observers relates to the importance of regional subsidies to the airline. In 2014 when the company recorded a net profit of CN¥657.4m, subsidies from China's local governments totalled CN¥615.4m. The subsidy from governments in 2012 and 2013 was CN¥503.5m and CN¥522.2m, respectively. The company's annual net profits in these years were roughly at the same level. This implies that, without this support, the company could hardly make a profit from the airline business.
Spring always stresses that it has adopted Ryanair's business model whereby remote airports and their local governments support air services for essential regional development purposes, but the question remains as to how much and how long the authorities can finance the airline's operations, in particular considering their deteriorating fiscal situation. The company's 2014 annual report admits that expiry or termination of the financial agreements with local governments is a significant risk to the company.
Another concern is that China's emerging new LCCs will surely compete with Spring Airlines for the subsidies as well as its market share. So far, more than ten new LCCs, such as Jiuyuan Airlines and 9Air, have been set up in China. Some traditional carriers, such as West Air which is a subsidiary of Hainan Airline Group, are transforming into an LCC-type model.
Strong growth plans
Spring's passenger volumes have grown at a compound rate of 25% pa since 2008, with the 2015 total estimated at about 12.3m, but this is still modest by European or Indian LCC standards. However, it now plans to expand its fleet of 57 A320s aggressively. With the funds from the IPO the company paid back commercial loans for aircraft purchases and made significant pre-delivery payments to Airbus. In November the company announced an agreement to buy 45 A320neos plus 15 A321neos, subject to government approval.
Immediate plans are to add 12, 14 and 14 A320s in 2016, 2017 and 2018, respectively. The airline's aim is that, by the end of 2018 it will be operating 100 A320s (and be carrying about 20m passengers).
The company adopts an aircraft acquisition policy which combines aircraft purchase, aircraft finance lease and operating lease. This allows it to maintain a young fleet of only 3.4 years old, with low aircraft maintenance cost (only 5% of total operating costs in 2014) plus guarantee high level of aircraft despatch reliability. According to a government report published at the end of 2013, which appeared to endorse the LCC model for China, Spring's aircraft utilisation of 11.4 hour a day on average compares very well with the overall Chinese industry's 9.2 hours.
International expansion
Spring's network expansion focus has recently been on routes to neighbouring countries. In 2014 the airline's international revenue grew by 63% compared 2013, reaching CN¥947.7m and accounting for 14% of total revenue. With a population of 3.7 billion with a four-hour flight range of its Shanghai base, in particular in Northeast Asia where LCCs are far from being mature, the airline is striving to turn Chinese citizens' aspiration for foreign travel into real cash. The airline's prime focus is Japan, the favourite destination for richer tourists. Despite a certain political hostility between the two countries' governments, Japan's local authorities provide subsidies to the airline in return for bringing in Chinese tourists.
The strategy of growing Japan to the second most important market after the Chinese domestic market, however, has encountered political barriers. Spring Airlines, jointly with Japanese investors, set up a Japan-based airline — Spring Airlines Japan — two years ago in a hope that the Japan-registered airline would gain traffic rights to operate between Japan and China. Spring's share in the joint venture is 33%, for which it has so far invested CN¥222m, while the Japanese travel agency JTB and Japanese financial institutions hold the remainder. But Japan's Civil Aviation Authority has been reluctant to grant these rights and so Spring Japan has been constrained to operations within Japan's domestic market, which are limited (the airline has three 737-800s) and unprofitable. However, it is reported that international service from Tokyo Narita to Wuhan and Chongqing will start up in February 2016.
e-commerce
Another element of Spring's strategy is to commercialise the airline's support functions. Its Aircraft Maintenance & Engineering Department is selling services to third parties, hoping to turn a cost centre to a profit centre. The company has also decided to offer its in-house IT systems, such as the maintenance & engineering information system and despatch system, to any buyers whether they are competitors or not. Two aviation IT companies were set up in June this year, one focusing on developing software, the other for marketing and selling. So far, five of China's start-up airlines have purchased these systems.
The management team believes in the "Internet of Everything" and adapting the Internet to specific Chinese demands. Spring bought the domain ch.com and merged springairlines.com into it; the change of website name was because springairlines.com was difficult and time-consuming for the majority of Chinese passengers to remember and input. The airline now offers everything in the ch.com website, from selecting seats, hiring cars to applying for credit cards from Chinese banks. This is significantly different from China's legacy airlines and the other new LCCs, which have yet to do e-commerce.
Revenue generated from e-commerce, the company's "ancillary revenue", is around CN¥33 per passenger or CN¥350m in total, most of which is profit. So the equivalent of over half of the airline's net profit is generated by e-commerce.
Threats
Despite the successful IPO, the airline faces various threats beyond the subsidy issue and the Spring Japan problem.
The first is the company's ageing management team. The company heavily relies on Mr. Wang Zhenghua, the founder and Chairman of Spring Airlines and Spring Travel Group, who is 73 years old now. Mr. Wang forged the two companies' strategies in every detail from the very beginning, and still oversees their daily operation. Without him Spring would not have existed. The problem is that he is getting older. Can his hand-picked successors, including the current CEO, Ms. Zhang Xiuzhi, and his elder son, Mr. Wang Yu, the current Vice President of Spring Travel Group, take the companies to the next level?
The second is logistical — a lack of qualified pilots and in particular, a lack of mature and capable captains. CAAC requires any flight crew must contain a Chinese pilot to address the air traffic controllers' Chinese language barrier. This means Spring Airlines is not able to fulfill its cockpit crewing from foreign sources. Over the past ten years China has imported more than 100 mainline aircraft every year. With the continuous expansion of China's fleet, a shortage of more than 1,000 pilots is foreseen. With Spring taking its scheduled A320s deliveries over the next three years, it will require at least 120 new pilots, which is a problem in China.
The third challenge is retaining its experienced staff members. With Venture Capital backing, China's new generation LCCs are able to offer better salary packages to Spring Airlines' key staff executives, captains and IT experts. Following the IPO no key staff have left the company, but maybe because they hold restricted shares, which are not sellable for three years. The question is, once they are entitled to sell the shares, will they continue to stay with the company?
Despite the successful IPO and all these efforts and strategic moves, it remains to be seen whether the airline can continue to be the front-runner in the potentially huge Chinese LCC sector. The key to its long term success would appear to be whether it can achieve a LCC-type profit margin from transporting passengers and from e-commerce rather than from relying on the government subsidies.
SPRING: FLEET PLANS
| | | |
| --- | --- | --- |
| | In service | On order |
| Spring Airlines | | |
| A320 | 57 | 3 |
| A320neo | | 45 |
| A321neo | | 15 |
| | | |
| Spring Japan | | |
| 737-800 | 3 | 2 |