Norwegian Air Shuttle
set for long-haul sprint December 2015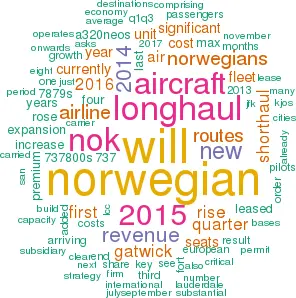 After a challenging 2014 Norwegian Air Shuttle has bounced back strongly in 2015, with a return to quarterly profitability in July-September and the winning of a UK Air Operator's Certificate in November. As a result, Europe's third-largest LCC now looks set to concentrate on the long-haul expansion that is its key strategy priority.
As we pointed out last year (see Aviation Strategy, December 2014), 2015 was a critical year for norwegian, having plunged into the red in 2014 for the first time in eight years and with plans to become the first European LCC to build up a significant long-haul operation hitting significant problems.
Those challenges appear to have been overcome. In the first nine months of 2015 norwegian reported a 15% rise in revenue to NOK 17.2bn (€2bn), based on a 7.1% rise in passengers carried to 19.6m. RPKs in the Q1-Q3 period rose by 12.4%, ahead of a 5% increase in ASKs and resulting in load factor rising by a substantial 5.7 percentage points to 86.7%.
That capacity growth is relatively small historically for norwegian — its average ASK CAGR was 35% from 2004 to 2014 (see chart) — and a sign that the airline saw 2015 as a year of consolidation as it added just four aircraft and instead concentrated on eliminating the negative gap between unit revenue and cost.
The capacity rise that did occur in 2015 was largely on international routes, and as a result international revenue rose by 18.1% in the first three-quarters of 2015, compared with a 4.1% increase for domestic routes. Domestic revenue as a proportion of all revenue fell from 22.7% in Q1-Q3 2014 to 20.6% in Q1-Q3 2015.
In the January-September period norwegian posted an EBIT of NOK 980.5m (€111.2m), considerably better than the EBIT loss of NOK 328.4m (€40m) in the same period of 2014, while at the net level norwegian turned a loss of NOK 91.4m (€11m) in Q1-Q3 2014 into a NOK 619.5m (€70.3m) profit in January-September 2015.
That's an impressive turnaround and is thanks to a combination of rigorous cost control and significant improvement in unit revenue (the latter partly due to the increasing importance of profitable long-haul routes).
As can be seen in the chart, unit costs rose from NOK 0.40 in the third quarter of 2014 to NOK 0.41 in July-September 2015; although fuel costs fell 22% year-on-year in the third quarter, this effect wasn't enough to completely negate other cost increases, including a depreciation of the NOK against both the Euro and the Dollar.
Unit revenue, however, rose from NOK 0.38 in Q3 2014 to a NOK 0.43 in Q3 2015, thanks to higher yield (up by NOK 0.03 year-on-year), the significant increase in load factor and a 4% rise in ancillary revenue to NOK 129 (€14.6) per passenger. As a result of these factors, in the third quarter norwegian's unit revenue crossed its unit cost for the first time since July-September 2013.
Norwegian's improving fortunes over the last 12 months have been reflected in the share price (see graph). After a substantial fall from the second quarter of 2013 through to late 2014, the price has recovered strongly since; the two largest shareholders (as at the end of the 3rd quarter 2015) remain HBK Invest (controlled by Bjørn Kjos, president & CEO of norwegian) with a 21% share, followed by Folketrygdfondet (which manages the Norwegian government's pension fund) with 8.5%.
But despite the significant improvement over the last 12 months, challenges remain for norwegian. The balance sheet situation is mixed. Cash and cash equivalents rose by more than 60% in a year to NOK 2.3bn (€0.3bn) as at the end of September 2015, but long-term debt increased by 74.3% over the year to September 30 2015, to reach NOK 14.3bn (€1.6bn). That was due to combination of a new bond issue of NOK 1bn, a tap issue of NOK 425m and substantial new borrowings to finance new aircraft.
Fleet expansion
Norwegian's network currently comprises 434 routes to 130 destinations across 39 countries, served by a 99-strong fleet with an average age of under four and a half years, comprising 91 737-800s and eight 787-800s.
Though fleet expansion essentially paused in 2015, it will gather pace in 2016 and beyond. Eleven aircraft joined the fleet in 2015 — 10 737-800s and one 787-800 — though seven leased aircraft were returned (including the last of the airline's 737-300s) and so the net increase was only four units.
Through 2016 Norwegian will receive 25 aircraft, comprising 17 new 737-800s (which will enable it to return six leased aircraft of the same model); four A320neos (which will be leased out) and four leased 787-900s.
Altogether the airline has 256 aircraft on outstanding firm order. For short-haul 37 737-800s are still to be delivered, and they will be joined by 100 A320neos from 2016 onwards. On long-haul, in October 2015 Norwegian placed a firm order for 19 787-9s (plus options for another 10 aircraft), worth more than $5 billion at list prices, with deliveries starting in 2017. Norwegian currently operates eight 787-8s, and another new 11 787-9s will arrive through lease deals in 2016 onwards (not shown in the table), which will result in a long-haul fleet of 38 aircraft by 2020.
Norwegian began operating 787-8s (configured with 32 seats in Premium Economy and 259 in Economy) in May 2013, and the impending 787-9s will have 344 seats, with 35 in premium and 309 in economy. The split is an acknowledgement that premium revenue is a key component of the long-haul revenue mix — and a vital one in ensuring profitability. While even the 787-9s will have fewer seats than, say, AirAsiaX's 20-strong fleet A330-300s (which have 377 seats), they have triple the number of premium seats (AirAsiaX's have 12 premium seats). There are also 100 189-seat 737 MAX 8s on firm order, arriving from mid-2017 onwards.
Long-haul ambition
That's a lot of new capacity being added, and quickly; by end of 2017 the fleet will rise to 146 aircraft, comprising 112 737-800s, 17 787-800s, 12 A320neos and five 737 MAX 8s.
Long-haul growth is the number one priority for the airline — in 2016 norwegian is planning a 12% rise in short-haul ASKs and a 40% increase in long-haul, and that type of relative growth will become the norm for the next few years. However, while norwegian's average sector length continues to rise — in the first three-quarters of 2015 it increased 5.7% to 1,413km –and the airline says long-haul has reached a "critical mass" that delivers profits, it should be noted that long-haul currently accounts for around a quarter of all ASKs and just 6% of passengers carried.
That will change as the new long-haul aircraft arrive. Kjos says that the 787s will be operated "everywhere", as "there is a lot of the world that we haven't even started with", while the 737 MAX 8s will connect smaller European cities to long-haul destinations, many of which will be smaller cities on the US's Atlantic coast according to norwegian's plans.
That's presuming the long-running delay in getting US regulatory approval for an application made back in February 2014 for a foreign air carrier permit for Irish subsidiary Norwegian Air International (NAI) is finally resolved. The saga clearly infuriates norwegian, and Kjos has been scathing in his criticism of how competitors have reacted to Norwegian's long-haul expansion, saying that "the three major airline alliances and their employee unions have spread slanderous allegations about norwegian in an attempt to stop Norwegian's EU-based subsidiary from obtaining its lawful US foreign air carrier permit. Allegations such as 'flag of convenience', 'race to the bottom' and 'social dumping' have frequently been featured in the media, and the reason is obvious: fear of competition".
However, a US permit is just one part of norwegian's long-haul plan. After a lengthy process norwegian won a UK Air Operator's Certificate (AOC) in November, and this creates significant new opportunities for an airline that currently operates from Manchester, Birmingham and Edinburgh, and — most importantly — is already the third-largest carrier at London Gatwick, where it carried 3.9m passengers over the last 12 months to 39 destinations.
Specifically, the UK AOC opens up access (via the UK's bilateral traffic rights) to a number of potential new markets in Asia, Africa and South America, and operations will begin under the license in the first quarter of 2016 via an entity called 'Norwegian UK'. Currently norwegian has 10 aircraft based at Gatwick, with 130 pilots and 300 cabin crew working from that location, and all these assets will expand fast as the airline grows its network considerably over the next few years. A Gatwick-Puerto Rico service was launched only in November and a new route to Boston out of Gatwick will commence in May 2016, with more long-haul routes being added once the 737 MAX 8s start arriving in 2017.
Strategic logic
The Gatwick expansion is a key part of norwegian's three-part strategy for long haul — the first was the launch of Scandinavia to North America services, which was started in 2013 and now comprises routes from Oslo, Stockholm and Copenhagen to Dubai, Bangkok, San Francisco Oakland, Los Angeles, Las Vegas, New York, Orlando, Fort Lauderdale, St Croix in the US Virgin Islands and San Juan in Puerto Rico. Nothing if not innovative, norwegian is treating Bangkok, JFK, Fort Lauderdale as aircraft bases; and it has also added routes respectively from Boston, JFK and Baltimore to Point-à-Pitre (Guadaloupe) and Fort de France (Martinique) — both of which being French départements d'outre-mer, are effectively in the EU. Gatwick is the second phase (norwegian already operates from there to Fort Lauderdale, Los Angeles, New York JFK and San Juan) and this will be followed by expansion of routes from other European cities direct to Asia.
The more efficient new long-haul aircraft are also a key component in norwegian's ongoing efforts to cut costs. Unfortunately, norwegian gives little or no split in its financials between short- and long-haul, so it's difficult to compare its cost position on long-haul operations with LCC competitors such as AirAsiaX or legacy carriers such as SAS.
However, the overall position is clear — Norwegian's unit costs so far in 2015 are averaging NOK 0.42, and the airline wants ideally to reduce that all the way down to NOK 0.25, which would be comparable to Ryanair's. Realistically though, that will never happen given its high-cost Scandinavian locations, and hence the push to build up its presence at bases outside of the Nordic region — and most particularly Gatwick.
In the third quarter of 2015 norwegian had a 40% market share (in terms of passengers carried) at Oslo, 23% at Stockholm Arlanda, 17% at Copenhagen and 12% at Helsinki. The Gatwick share currently stands at 9%, which is impressive given that norwegian's base was only launched there as recently as 2013 — and that figure will only rise as its Gatwick operation is expanded further.
Gatwick will see growth both in long-haul (with the 787-9s earmarked to be used on routes there to "higher-demand" destinations) and short-haul, because while Norwegian warns of "strong competition" on European short-haul it's clear that London is a cheaper location to operate short-haul from than Scandinavia.
The direction of travel is clear. A three-month dispute with 700 Scandinavian-based pilots kicked off earlier this year when Norwegian initiated a move to bring salaries and benefits of employees there in line with those employed at its UK and Spanish bases. This culminated in an 11-day strike organised by the Norwegian Pilots' Union in February and March that halted flights within Scandinavia — and which cost the airline NOK 350m (€40m) — but in the end a deal was agreed in which pilots accepted employment across different subsidiaries in exchange for three-year guarantees on job security.
How much Norwegian will be able to build up short-haul out of Gatwick (and connect in to its long-haul routes there) rather than at higher cost Scandinavian airports will be critical for the airline, and will go a long way to answering the question as to how many of its huge short-haul aircraft order book it will actually operate.
Norwegian plans to lease out short-haul aircraft it can't operate profitably, and already a deal has been signed by its leasing subsidiary — Irish-based Arctic Aviation Assets — to lease 12 A320neos arriving in 2016 and 2017 to HK Express. How many more A320neos arriving in 2018 onwards — plus older 737NGs that will be replaced by 737 MAX 8s — will have to be leased out is unknown yet, but aircraft lessors will be praying that Norwegian will be successful over the next few years and not have to dump a considerable portfolio of aircraft onto the global leasing market.
NORWEGIAN FLEET
| | | | |
| --- | --- | --- | --- |
| | In Service | Orders | Options |
| A320neo | | 100 | 50 |
| 737-800 | 91 | 37 | 6 |
| 737 MAX 8 | | 100 | 100 |
| 787-8 | 8 | | |
| 787-9 | | 19 | 10 |
| Total | 99 | 256 | 166 |