Emirates again signals its intent to dominate December 2013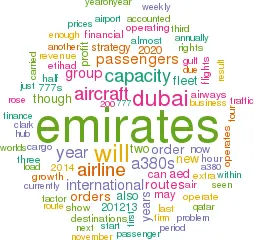 At the Dubai air show in November Emirates placed the largest ever order in aviation history — for 200 aircraft worth almost $100bn at list prices — as it targets 100m passengers carried annually by 2025. Is there anything that can stop Emirates' planned dominance of long-haul markets ?
The growth of Emirates is relentless. In the 2012/13 financial year (ending March 31st) the Emirates Group recorded its 25th consecutive year of profit (having made a loss in just one year since launching), with revenue up 17.2% year-on-year to AED 77.5bn (US$21.1bn) based on a 15.9% increase in passengers carried to 39.4m. Even more impressively, in 2012/13 Group operating profit rose 40.7% to AED 3,654m/US$995m.
Of that Group result, the vast majority came from airline operations, which accounted for 94.3% of revenue and 77.7% of operating profit in 2012/13 (with the rest coming from airport services subsidiary Dnata and other smaller business units).
The Group had an operating margin of 4.7% in 2012/13 — better than the 3.9% of 2011/12 though significantly less than the heady 10.4% margin of 2011/11. Relative to almost all other airlines that's still very good, though even the mighty Emirates is not immune to external factors such as currency exchange rates and in particular oil prices — fuel accounted for 39.6% of all its airline costs in the FY, which is up substantially from the 29.9% proportion they represented as recently as 2009/10.
During 2012/13 airline capacity rose by 17.9%, though RPKs couldn't quite match that and so passenger load factor fell slightly, by 0.3 percentage points to 79.7%. As can be seen in the chart below, after a steady rise since the late 1990s, the average load factor has levelled off at around 80% for the last three years. That perhaps hints at the challenges the airline faces in adding so much capacity year after year.
Indeed Emirates has increased its airline capacity by almost a third over the last two years, and ASKs have also doubled over the last five year period. But despite that pace of expansion and airline employees almost hitting the 40,000 mark, the carrier's productivity, as measured by ASKs per employee, has also continued to rise.
Fleet expansion
The group fleet currently stands at 210 aircraft, including 121 777s, 41 A380s, 23 A330s, 13 A340s, 10 777Fs and two 747-400ERFs. Emirates operates the world's biggest fleet of both A380 and 777 models, with more than one tenth of all 777s ever built and a third of all A380s produced.
Then, at the Dubai air show in November Emirates announced firm orders for 200 aircraft, comprising 115 777-9Xs (plus purchase rights for another 50 777Xs), 35 777-8Xs and 50 A380s. The firm orders are worth a staggering US$99bn at list prices, though of course at this level of aircraft bulk buying the discounts (over 50%?) gained from the manufacturers will be substantial.
These orders bring Emirates' total outstanding firm order book to 380 units, comprising 211 777s, 99 A380s and 70 A350s.
The 777Xs (an updated and more fuel-efficient version of the 777) will start arriving from 2020. Emirates actually negotiated jointly with Qatar Airways for the order (Qatar also bought 50 of the type at the Dubai air show) in order to get better terms and performance specifications. Whether that's the start of a longer-lasting co-operation between two of the three Gulf giants remains to be seen, but from a manufacturer's point of view it must be impossible to resist the joint demands of two such powerful aircraft purchasers.
As for the A380, the orders are due to be delivered in 2017, and from 2020 Airbus will start replacing its initial A380s as Emirates policy is to retire them at 12 years. Whether replacement or new capacity, the extra 50 A380s will be used on high density trunk routes into Europe and Asia.
As can be seen in the chart, page 9, Emirates' average fleet age had been creeping up over the last decade, but it has now started to come down and will keep falling as the mountain of new aircraft are delivered and the older widebodies (not only A380s but also A330s, A340s and 777s) are disposed of or come off lease.
Before the recent orders the medium-term plan was to operate a fleet of 250 aircraft by 2020, carrying 70m passengers in that year, which would consolidate Emirates' position as the world's largest airline in terms of international passenger traffic. the new orders will potentially result in a fleet of at least 400 and possibly 450 aircraft by 2020.
Nevertheless, concern by some analysts just a couple of years ago that Emirates would have trouble finding enough routes where the A380s could be operated profitably now seems unfounded — and clearly Emirates is confident enough of its business plan to order another 200 aircraft.
At the heart of Emirates' confidence is its oft-quoted statistic that more than a third of the world's population live within a four hour flight radius of Dubai, with two-thirds within an eight hour radius and 90% servable by non-stop flights from Dubai (such as Emirates' 16 hour route to Houston with a 777-300ER or the 14 hour A380 service to Sydney).
Emirates currently operates to 137 destinations in 77 countries, and in the first half of FY 2013/14 it added routes to Haneda, Stockholm, Clark, Conakry (in Guinea) and Sialkot (Pakistan). Routes to Kabul, Kiev and Taipei are being added in the second half of the financial year, and a daily route to Boston using 777-200LRs will launch in March 2014. That will be Emirates' 12th route to the Americas — of which eight are to the US. The unofficial target is 15 routes within the next four or five years.
A key problem for Emirates will be securing sufficient landing rights to markets into which it wants to expand. For example, while the UAE has an open skies agreement with the US, Canada restricts Emirates to just three flights a week, which infuriates the Gulf carrier.
India is another problem market. Emirates says it was invited to invest in Jet Airways prior to Etihad taking a 24% stake in the Indian airline, but declined as it didn't fit in with Emirates' strategy of instead concentrating on organic growth. Or, as Tim Clark, president of Emirates Airline, puts it: "If you get involved in management of other entities, it does take your eye off the ball."
Of course that strategy comes with a downside — Etihad is now getting an extra 34,000 weekly seat rights into India phased in over the next three years (additional to its existing 13,000 weekly seats), and Etihad will be able to operate into more than 22 destinations in India, compared with the 10 available to Emirates (though with a 54,000 weekly seat capacity). Emirates complains that it could easily fill twice the number of seats, but again emphasises that it will not "buy" such extra capacity through acquisitions.
The Dubai hub
While the landing rights problem is an irritation, Emirates is not being deflected from its core strategy of building up routes and traffic flows east-west (or west-east) through its Dubai hub, where approximately 70% of all Emirates passengers connect.
At some point — 2020 at the earliest — Emirates will transfer that hub from Dubai International to the new airport in Dubai — Al Maktoum International, which opened for passenger traffic this October, initially with capacity for 7m passengers a year. Facilities are still being built and capacity will rise to 160m passengers and 12m tonnes of cargo annually by the mid 2020s.
Emirates' cargo operation — called SkyCargo — will move its freighter hub to Al Maktoum International in May 2014 when it will operate out of a new dedicated freighter cargo terminal completed that month that will have a capacity to handle 700,000 tonnes of cargo annually. SkyCargo currently operates 10 777Fs and two 747-400ERFs to 43 destinations around the world.
In the meantime Emirates will continue to operate at Dubai International, at which an extension to Terminal 2 is due to be completed in the second quarter of 2014. However, the airport has limited apron capacity that limits the number of A380s in particular that can be parked overnight; Tim Clark says that the recently announced order for 50 A380s would have been 60 if enough room could be found at Dubai International. Ironically, in the period to 2020 Emirates may find extra apron space as other airlines move operations from Dubai International to Al Maktoum.
Emirates carries more passengers than its two Gulf rivals combined (Etihad Airways — see Aviation Strategy, November 2013 — and Qatar Airways), with the key difference strategically to those rivals being that Emirates has a widebody-only fleet. However, Emirates' associated LCC, FlyDubai, which is also owned by the emirate of Dubai, now offers an interline service with Emirates. On 30 routes that Emirates does not serve, mostly in the Middle East, Russia and central Asia, passengers can connect through onto Emirates flights, with baggage transfer being available on some flights. Also based at Dubai International, FlyDubai operates 33 737-800s to more than 65 regional destinations and has 128 737s aircraft on order (of which 111 were ordered at the Dubai air show this November).
Latest financials
Even before the recent orders Emirates would have had to raise at least $22bn over the next four years to finance its aircraft deliveries, but so far the airline has found little difficulty in raising finance via a diversified strategy incorporating bonds, operating and finance leases, and US export credit facilities. A substantial Islamic or conventional bond may be issued early in 2014 it is believed, and further bonds are likely to be issued through the rest of the decade.
In the first half of the 2013/14 financial year (covering the April-September 2013 period) Emirates Group revenue rose 13% year-on-year to AED 42.3bn (US$11.5bn), with net profit up by 4% to AED 2.2bn (US$599m). Of that Group result the airline operation accounted for 94% of revenue and 77% of net profit. Passengers carried increased by 15% in the first half of the financial year, to 21.5m, with load factor steady year-on-year at 79.2% after capacity growth of 16.9%. As at September 30th total Group employees were 75,800, 11.7% up on six months earlier.
Group cash as of September 30th was a healthy AED 18.2bn (US$ 4.9bn), though this was AED 8.8bn (US$ 2.4bn) down on the position six months earlier due to a US$1.9bn "injection back into the business to fund new aircraft, engines, spares and other projects" as well as a US$0.5bn repayment of a bond that matured in July.
There are recurrent rumours of an IPO. The equity may not may be needed now, but given the scale of its investments and growth plans, such a development might soon be desirable.