Hainan Airlines targets international markets; Parent HNA targets world December 2013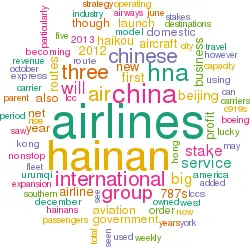 Twenty years after it was launched, Hainan Airlines has firmly established itself as the fourth Chinese carrier behind the Big Three of Air China, China Southern and China Eastern. Now, however, Hainan Airlines is focussing on international expansion in an effort to catch-up with the Big Three globally.
Based at Haikou in Hainan province (an island off the south coast of China), Hainan Airlines is listed on the Shanghai stock exchange but is part of the Chinese conglomerate HNA Group, which has stakes in various aviation, travel, logistics and finance businesses. Those include Haikou Meilan International airport (at which Hainan Airlines is based), and majority or minority stakes in carriers such as Grand China Air (which in turn combines the operations of three other Chinese carriers — Xinhua Airlines, Chang'an Airlines and Shanxi Airlines), Hong Kong Airlines, Hong Kong Express Airways, Tianjin Airlines, Lucky Air, West Air, Yangtze River Express, myCargo in Turkey, AWA in Ghana and Aigle Azur in France.
Some of these stakes are held directly by the HNA Group and some by Hainan Airlines, and to complicate matters further there are a complex series of cross-shareholdings between the shareholders in Hainan Airlines, Hainan Airlines' subsidiaries and the other aviation assets owned by the HNA Group (for further details see Aviation Strategy, Jan/Feb 2012). Cross-shareholdings are typical of doing business in China, though it can make ultimate ownership and control of entities somewhat difficult to unravel.
In 2012 Hainan Airlines saw its revenue rise by 9.9% to US$3.7bn as passengers carried rose 10% to 22.6m, but operating profit fell 37.6% to US$257m and net profit dropped by 31.4% to US$251m. However, that result needs to be compared to the Big Three — in 2012 China Southern saw net profit fall 48.2% to US$384m, Air China's net profit fell 33.8% to US$638m and China Eastern saw a 29.8% decline to US$442m — as the entire Chinese aviation sector suffered from the global economic recession and rising fuel prices in 2012.
Today Hainan Airlines flies more than 500 routes to around 60 destinations in China and more than 25 internationally, including Brussels, Dubai, Luanda, Seattle, Toronto, Moscow, St. Petersburg, Irkutsk, Chita and Almaty. Hainan operates out of nine bases in China, at Beijing, Haikou, Guangzhou, Shenzhen, Dalian, Lanzhou, Urumqi, Xi'an and Taiyuan using a 129-strong fleet (with an average age of less than six years) comprising 95 737-800s, five 737-700s, two 737-300s, two 737-400s, three 767-300ERs, four 787-8s, 15 A330s and three A340s.
There are 26 aircraft on firm order — 20 COMAC C919s and six 787-8s. The C919s are being built by the Commercial Aircraft Corporation of China (COMAC) as part of the Chinese state's attempt to break the duopoly of Airbus and Boeing. The C919 will have a range of 4,075 kilometres and capacity of between 156 and 174 seats, with the first aircraft forecast to roll off production lines sometime in late 2016 — if all goes to schedule. Just under 400 of the type are on firm order, although all but 20 of these have been placed by Chinese airlines or lessors. The exception, with an order for 20 C919s, is GECAS — though this could be seen as an astute political move in a market that is so important to the giant US lessor.
The HNA Group placed an order for ten 787s destined for Hainan Airlines back in 2005, but ongoing delays from the original delivery date of 2008 were followed by the lithium-ion battery problem earlier this year. Delivery to Hainan was postponed yet again when the Chinese authorities delayed issuing an airworthiness certificate for the model. As a result, completed Hainan 787s were parked in the US while frantic efforts were made to get the certificate issued.
Once that was done, Hainan received its first 787 from Boeing in July this year, becoming the second Chinese airline to receive the model (the first was China Southern, a few weeks earlier). Hainan's 787s are configured with 36 business class and 177 economy seats and were used initially on a three month trial basis on domestic trunk routes from Beijing to Haikou, Chengdu and Shanghai.
International focus
The 787s are now being used as the spearhead for Hainan's international expansion. In 2012 87.5% of Hainan Airlines' revenue came from domestic routes, and this proportion actually increased compared with 2011 (see chart below). Hainan's strategy is to reduce that reliance and build the airline into what it sees as a "premium brand" that can compete with the Big Three on the prestigious (and lucrative) international routes, in particular transferring its reputation for higher service standards domestically onto international services (where the standards of the Big Three are nowhere near those of their western competitors).
The first international service to use a 787 was a non-stop route Hainan launched between Beijing and Chicago in September 2013. It initially used A340s on a twice-a-week service before doubling the weekly flights when it switched to 787s in December (before becoming a daily service from June 2014).
North America is a key market for Hainan, which is targeting both business and leisure passengers to/from China. Until this year Hainan operated only to Seattle and Toronto in North America, but after Chicago it will launch a route between Beijing and Boston in June 2014, to be operated four times a week using 787s, while in the same month a twice weekly Beijing-New York Newark service will launch, again using 787s, although this service faces competition on the route from United, with Air China also operating from Beijing to New York JFK.
Hainan is particularly keen to add non-stop transpacific destinations that aren't already served by the Big Three, and Boston is in this category — and with a large Chinese student population studying in colleges in New England it is seen by Hainan as being underserved (the only other non-stop route into Asia is from Japan Airlines on Tokyo-Boston). Even the Big Three operate relatively few non-stop routes into North America, and Chinese business and leisure travellers often travel there via Hong Kong or Seoul.
North America is not the sole focus of its international ambitions — over the summer a weekly charter service was commenced between Haikou and Donetsk in the Ukraine, primarily aimed at Russian tourists to Hainan island (which has a tropical climate), while a Beijing-Bombay-Nairobi service will start in August 2014.
As with all the international airlines operating out of China, a key challenge facing Hainan is a shortage of experienced flight crews, which has significantly inflated pilot pay in China. More specific to Hainan though is the problem of securing international traffic rights; the airline does not have the same political clout nor government backing that the Big Three do, and it has to fight very hard to secure access to anything other than secondary destinations abroad. On the other hand, Hainan has an advantage in that the Big Three's hubs at Beijing, Shanghai and Guangzhou are all close to full capacity whereas Haikou has spare capacity. Indeed, a new international terminal with 10 aircraft stands opened at Haikou Meilan International in August.
Prospects
The future of Hainan Airlines is of course dependent on the wishes of its parent, the HNA Group, and its ever-changing shuffling of its aviation assets and new acquisitions. For example, so far this year:
HNA bought the 49% stake it did not own in cargo operator Yangtze River Express (which has 12 Airbus and Boeing aircraft), with the airline thereafter becoming a 100% subsidiary of Hainan Airlines.
In May Hainan Airlines invested $216m into Tianjin Airlines to increase its stake to 30.7%, and added another 14% in the carrier in October after buying that stake for US$141m from parent HNA Group, lifting its total shareholding to 44.7%.
In December 2013 Hainan Airlines announced it was buying a 52.9% stake in Yunnan-based Lucky Air for US$219m from Grand Air China, which added to its existing stake in Lucky Air will bring its total holding to 86.7% (with the rest owned by the Yunnan provincial government). Lucky Air operates 18 737s and A320 family aircraft on domestic routes.
Earlier this year HNA Group also stated it wanted to launch five new airlines in China — Urumqi Airlines, Heilongjiang Airlines, Chang'an Airlines, Fuzhou Airlines and Guangxi Airlines. Each of these would be substantial start-up; for example, the airline in Urumqi — the capital city of the Xinjiang region — is getting US$271m from HNA for a 70% stake, with 30% going to the Urumqi city government in exchange for US$116m. The launch of these carriers will again undoubtedly impact on Hainan Airline's domestic strategy.
The HNA Group is becoming particularly active in encouraging the LCC business model. HNA is investing US$129m to increase its stake in Chongqing-based West Air to 29.4% and fund a transformation of the airline into a LCC. West Air is increasing its daily utilisation rate (which reached 12 hours in the first half of the year), stripping out costs and increasing its ancillary revenues at the same time as expanding its fleet from 10 to a targeted 100-strong fleet. The only true LCC in China is Shanghai-based Spring Airlines (with 38 A320s), but West Air will be also joined by another LCC Hong Kong Express Airways — which is also owned by the HNA Group.
Chen Feng, HNA Group chairman, says the rise of LCCs in China is inevitable even though the Chinese aviation industry has been painfully slow to adopt the business model — but that has primarily been because the state has "protected" the industry from competition from foreign LCCs on all but a handful of routes. Moreover, domestic high-speed trains are stealing customers away from short-haul domestic services. However, the Chinese government now says it will introduce measures that will aid the rise of LCCs, such as reforming airport slot allocation, cutting administrative red tape and easing restrictions on imported aircraft. The government is also building 70 new airports in the 2011-2015 five year plan, with the total number of airports set to reach almost 250 by 2020. Most crucially of all, in May the government lifted a ban against the launch of independent airlines that had been imposed in 2007 to protect state-owned airlines. All these measures are likely to encourage a flurry of LCCs in the next few years, and the HNA Group wants to establish its own low cost airlines before others arrive.
The HNA Group also has international ambitions — it bought a 48% stake in Paris-based Aigle Azur in October 2012 (the first time a Chinese entity had invested in a European airline), and will use that airline's traffic rights to launch a service between Beijing and Paris Orly from June 2014 using A330s wet-leased from Hainan Airlines. The three times a week service will compete against Air China and Air France routes between Beijing and Paris CDG. And in October rumours circulated in Italy that the HNA Group was interested in acquiring Alitalia, though this was denied by the Chinese. In December it was reported that HNA had agreed to buy a 35% stake in Cargolux (this was stake formerly held by Qatar Airways before a dispute with Cargolux management led to Qatar exiting).
There is some opaqueness surrounding the financial situation at the HNA Group. The conglomerate has been expanding rapidly for a while, investing in everything from property in New York City to Spanish-based NH Hoteles, and it is reported to be heavily indebted thanks to moves into the shipping industry that haven't been too successful .
Hainan Airlines itself has substantial amounts of debt — US$3bn of long-term debt and US$2bn of short-term borrowings as at December 31st 2012 — and its interest costs of US$470m were almost twice as large as its net profit in 2012.
Hainan Airlines has no direct influence on the strategy of the HNA Group, and can only concentrate on its international expansion. In the first three quarters of 2013 Hainan Airlines recorded a 3% rise in revenue to US$2.9bn, with net profit up by 28.4% year-on-year to US$281m. Though no figures are available for Q1-Q3, in January-June 2013 period Hainan carried 12.5m passengers, 13.4% up on the first half of 2012, with load factor up by 0.9 percentage points to 84.6%.
While the July-September period is traditionally the most profitable quarter for Chinese airlines as it is the peak travel season, Hainan Airlines particularly benefited from currency gains from a stronger Yuan as well as the replacement of business tax with value added tax in China. Those external factors alone accounted for US$116m of the net profit in the January to September period for Hainan.
Investors in Hainan Airlines have seen a reasonably steady recovery in the share price since the slide of 2008 (see chart, page 5; the data is adjusted for a recent stock split), but the future may be more volatile given the investments the carrier will need to keep on making in order to build up a strong international presence to truly rival that of the Big Three.