AviancaTaca and Avianca Brazil: Synergy's investments December 2012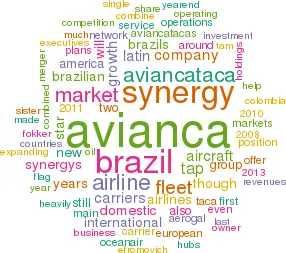 Brazil's Synergy Group, the majority owner of AviancaTaca Holdings and Avianca Brazil, has made what is believed to be a €1.5bn ($1.9bn) binding offer for all or most of Portugal's TAP. Two months ago the Portuguese government named Synergy the sole bidder in the flag carrier's privatisation, which it hoped to complete by year-end. The offer reportedly consists of assumption of €1.2bn of debt and a €300m capital injection. As required, Synergy would maintain TAP's flag carrier status, Lisbon hub and independent operations and finances.
It is obviously not certain that the Portuguese government will accept the offer, but if it does, the proposed deal is interesting in many respects. It would be the Brazilian conglomerate's first foray into the European market. To qualify for a larger than 49% stake in an EU airline, the offer was made through a Luxembourg-based entity and the key executives — Synergy's founder, owner and CEO German Efromovich, and his younger brother Jose Efromovich, Synergy's chairman and Avianca Brazil's CEO — added Polish citizenship to their roster of nationalities. Poland was the country of origin of their parents. Avianca's website describes German Efromovich as "Bolivian by birth, educated in Brazil and Colombian by conviction".
It would mark the first time a Latin American company invests in a European flag carrier. It would represent an interesting shift in the balance of power between Europe, which is in severe economic doldrums, and Latin America, where GDP growth has slowed but is still projected to average 3.5-4% this year and in 2013.
But most importantly, if the Synergy Group's accomplishments with its airline investments in Latin America are anything to go by, TAP would be in safe and capable hands. It would gain an owner with a strong track record of investing heavily in the airlines that it acquires and turning them around financially (or at least doggedly pursuing that goal).
When affirming AviancaTaca's ratings in July 2011, Fitch praised Synergy/Avianca for the "high grade of control and integration that exists between the parent company administration and its subsidiaries".
Synergy's original airline acquisition Oceanair, now known as Avianca Brazil, has found the going somewhat tougher in the Brazilian domestic market, which is dominated by Gol and TAM, has significant competition from new-entrant carriers, periodically sees fierce fare wars and is now seeing slower demand growth. But there, too, Synergy has invested heavily to re-fleet and grow the airline and is believed to be on the verge of making it profitable.
In the past two years Synergy has also made a major effort to restructure Ecuador's Aerogal, which has been part of AviancaTaca Holdings since Synergy exercised an option to fully acquire the lossmaking carrier in 2010. Aerogal was pulled out of the US markets, had its workforce reduced by 10% and had most of its fleet replaced.
In addition to re-fleeting, the efforts at Avianca Brazil and Aerogal have included investment to upgrade systems. Among other things, these small carriers are being prepared for Star membership.
So, even though the jury is still out on Avianca Brazil, Synergy Group clearly takes its duties seriously, adopting a hands-on
Of course, the TAP acquisition is attractive to Synergy because it provides a "European entry point" and potential synergies with the Avianca brand airlines, particularly Avianca Brazil. TAP's number one position in the Europe-Brazil market, operations to as many as 10 cities in Brazil and its 46 European routes, plus a modest African network, make it an ideal partner to help Avianca Brazil consolidate and expand its market position in Brazil.
Rio de Janeiro-based Synergy Group is a diversified business conglomerate (oil and natural gas exploration, hydroelectric power plants, telecommunications, shipbuilding, pharmaceuticals, etc.) that originally got into aviation when it started flying oil companies' workers to oil fields. Subsequently it began to spot opportunities to rescue and turn around carriers in the region that still struggled with old fleets and questionable management practices and strategies.
AviancaTaca's transformation
Tracing its roots back to 1919, Avianca is the oldest airline in the Americas. The company lost its NYSE listing when it filed for Chapter 11 in 2003, but it was able to emerge from bankruptcy the following year thanks to Synergy's investment (reportedly $63m in cash and assumption of $220m in debt).
Synergy turned Avianca around quickly, improving efficiency and customer service, renewing its fleet and expanding its network. In 2008 Synergy also acquired Colombian carrier Tampa Cargo.
In October 2009 Synergy announced plans to merge Avianca with El Salvador's old-established Grupo TACA — an early pioneer of the multi-country, multi-airline strategy in Latin America. The merger, which was completed in February 2010, created a holding company for (currently) 11 airlines from nine countries Avianca Brazil remains a sister company, directly owned by Synergy.
After five years of solid profits with annual operating margins in the 7-13% range, Synergy took AviancaTaca public in Colombia in April 2011. The offering was more than five times oversubscribed, though it represented only 11.1% of the company's stock (as of June 30, the free float was 13.7% and Synergy held 58.6%).
Since then AviancaTaca Holdings has been integrating, expanding the network and consolidating its position as the second largest airline group in Latin America. It has simplified the combined fleet from 11 to four aircraft families, moved to a single technological platform for customer service, adopted a single FFP and make strides towards integrated freight operations. In the past three years, the combine has grown capacity by 37% and launched 45 new routes. Synergies from the merger have vastly exceeded the original estimate of $200m annually.
As the last major step in merger integration, the combine is moving to a single brand in the first half of 2013. The seven main carriers (Avianca, Tampa Cargo, Aerogal, TACA, Lacsa, TACA Peru and Aviateca) will adopt "Avianca" as their commercial name, while maintaining their separate legal and labour structures.
With the branding, associated product improvements and network expansion, the new Avianca is striving for an upmarket image, aiming to be "the leading airline in Latin America" and "renowned for the superior quality of service".
Still, AviancaTaca is much smaller than Latam, earning $3.8bn of revenues in 2011, compared to LAN's and TAM's combined $13.5bn. AviancaTaca airlines have a combined fleet of around 150 aircraft, but a third of those are regional aircraft. The airlines operate through hubs in Bogotá, San Salvador, San Jose and Lima, serving 100-plus destinations in 25 countries.
But AviancaTaca continues to achieve strong financial results and has promising growth potential. Last year its revenues surged by 25% — double the IPO business plan's projection — and its operating margin was an excellent 12.8%. As a result, the company paid a dividend for the first time in 28 years. Operating margin in the latest (September) quarter was 14%.
Growth opportunities abound throughout the region. AviancaTaca's current focus is on expanding domestic operations in Ecuador and Peru, boosting domestic services in Colombia to maintain market share in the face of competition from new LCC VivaColombia, and further strengthening its position in Latin America's international markets. Avianca will also be looking to take advantage of the full US-Colombia open skies regime that will become effective at year-end, though that will also mean more competition from the US legacies and LCCs from both countries. AviancaTaca will also be relying heavily on its new Star partners in the international arena. AviancaTaca's main challenges are the new competitive scene domestically in Colombia and infrastructure constraints at key hubs.
The combine is essentially maintaining the fleet renovation plans started independently by Avianca and Taca. This has meant a rapid streamlining of the passenger fleet on the A330, the A320-family, the E190 and the Fokker 50. In January 2012 the group placed a new order for 51 A320s, including 33 A320neos. Last month Avianca ordered three additional 787-8s, bringing the total firm orders for that type to 15, for delivery from 2014.
Even though AviancaTaca is in no hurry to return to the US stock market, it is preparing for that by strengthening the organisation, corporate governance and accounting practices. Among other things, it is in the process of moving its financial statements to international IFRS standards.
Avianca Brazil's progress
Synergy's wholly-owned Brazilian airline has had a rough ride, reflecting a tumultuous decade in the Brazilian airline industry. Established in 1998 as an air taxi company, Oceanair began scheduled services in 2002. Synergy grew it rapidly in the wake of Varig's contraction in late 2007, even taking it to international markets with 767-300s. That was a mistake and led to a sharp contraction in 2008. Oceanair ended international flights and shed its 737s, 757s and 767s, leaving only a fleet of 14 Fokker 100s. There was no growth in 2008-2009. Curiously, though, in 2008 Synergy ordered ten A350s, saying that it would decide later which airline would operate them (the orders are firm, according to Airbus).
In early 2010 Oceanair was rebranded as Avianca Brazil and resumed expansion with the help of A318s, A319s and A320s (some from AviancaTaca, some used aircraft). Avianca Brazil more than doubled in size in less than two years. Its fleet has grown from 14 aircraft at year-end 2009 to 34 at present. Synergy's current plans envisage a $1.5bn investment in the fleet in 2011-2016 (A320 family aircraft).
But profitability has been elusive, so Avianca Brazil is trying to reign in growth in the short term. The plan is to keep the fleet roughly flat in 2013; however, with A320 family aircraft coming in to replace much smaller Fokker 100s, next year's capacity growth is still expected to exceed 30%.
Avianca Brazil's main challenge is its still-small size – revenues of $420m in 2011 — and weak market presence – only 24 domestic points and a 5%-something market share. Two recent airline mergers – Gol/Webjet and Azul/TRIP – have pushed Avianca Brazil to a distant fourth rank in terms of domestic market share. On the positive side, Avianca Brazil has a decent portfolio of slots at main hubs. Unlike Azul and TRIP, it focuses on Brazil's larger cities. Its executives have often said that returning to international markets, even long-haul, remains a possibility.
The business model is slightly unusual and not proven – though potentially well suited for cooperation with legacy carriers. Avianca Brazil offers full service, even on the shortest hauls. It operates single-class but offers the most generous domestic economy seat pitch. It consistently achieves higher than average load factors.
Cooperation with TAP and other Star partners seems like the obvious solution to Avianca Brazil's challenges. Currently it feeds only to its sister carriers, while TAP works closely with TAM. But TAM is expected to leave Star, and then Avianca Brazil would be the obvious candidate to ensure Star, including TAP, access to the huge Brazilian market. So Avianca Brazil is preparing for an anticipated entry to Star.
Having TAP as a sister airline would, of course, be much better. TAP could really help Avianca Brazil grow in the Brazilian market. According to Bloomberg, Synergy executives have called the two airlines potentially a "wonderful complement to each other".