Air France-KLM: Transforming 2015? December 2012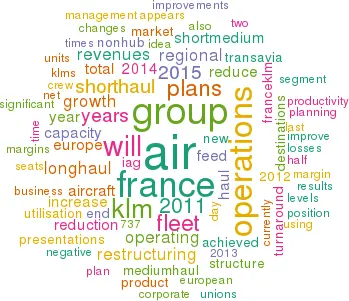 Early in December Air France-KLM hosted an Investor Day — its first such in two years. During the day's presentations the management reinforced its strategic aims to return to a reasonable level of profitability by 2015; and taking a leaf out of current right wing politics emphasised its own "austerity" measures to reduce outstanding debt, enforce improvements in productivity, and counter the structural changes in the industry. The restructuring plan imaginatively is called "Transform 2015".
Recognising that it is the most highly geared of the European major carriers, one of the prime designs of the restructuring plan are to reduce net debt by €2bn by 2015 (from €6.5bn to €4.5bn, against equity at the end of 2011 of €4.8bn net of goodwill and intangibles) and return operating margins (currently negative) to a positive 6-8%. This appears very similar to the targets suggested by the restructuring plans at IAG and Lufthansa — at least according to Air France-KLM's own calculations for adjusted operating margins for itself and its peers — except that Air France-KLM has a lot further to climb.
In the past five years the Air France-KLM group has managed to lose a magnificent net €4.1bn — slightly short of the profits it had achieved in the previous five years. This roughly equates to the shareholders of the group having paid €11 for each of the passengers it has flown in the period. Last year it announced that it had lost some €700m at the operating level on medium-haul operations in 2011; this year it clarified that the Air France group accounted for €500m of the losses and KLM the remaining €200m. The short-medium haul losses in 2011 may have represented an operating margin loss of 4.3%; long-haul operations in the same year achieved an operating profit margin of 4.5%. Neither of these ratios can be said to be satisfactory.
In the anticipation of sluggish economic growth in Europe, the group hopes that it will achieve its "Transformation 2015" plan by a limitation on capacity growth, reduction in capital expenditure, modest improvements in yields and significant additional cost savings. In all, the group has given itself the target to reduce non-fuel operating costs by an aggressive 10% (or nearly 15% reduction in manageable non-fuel unit costs) over the three years to end 2014 (a pretty staggering €1.8bn at 2011 activity levels). Given the industrial position (at Air France in particular) this has meant the renegotiation of collective agreements with all unions — so far achieved at Air France with all save cabin crew.
Faced with these losses on short-medium haul operations, the group (in common with competitors IAG and LHG) is planning significant restructuring of its operations within Europe. Along with a hoped-for cargo turnaround, improvements in MRO profitability, and an attention on improving long-haul results it is targeting to get to the point of improving EBITDA returns by 2015 back over the €3bn it achieved at the peak of the last cycle in 2007/8 (against the €1.3bn it returned in 2011). The plans assume an effective break even on short-medium haul operations by 2014 — a €700m turnaround dwarfing the plans at IAG to restructure Iberia (see Aviation Strategy November 2012).
Overall the group plans to cut staffing levels by 8% — 6,300 full time equivalent positions are to go at Air France (-9%) and 2,100 from KLM (-6%) from the 2011 levels by 2014. This it is estimated will save some €400m from the total wage bill (5.5% at Air France and 4.3% at KLM). Implicit in the presentations was a suggestion that capacity will still grow over the planned period by 6% — just short of 2% a year — but that this will provide an improvement in employee productivity (in terms of capacity per employee) of 15% at Air France and 12% at KLM.
In negotiations with the unions the group has been pushing for acceptance for salary freezes, a halt to automatic promotions and increments and further increases in working times — and concentrating on productivity. Air France has successfully negotiated with all but the cabin crew unions (while KLM is still in negotiation with its pilots) — and the management was adamant that should an agreement not be reached with this group by the end of March, they will impose the new working conditions and withdraw any favourable redundancy/early retirement packages currently on the table.
On the fleet (see table, page 4) the main emphasis is on the short-medium haul. Air France plans to reduce its A320 fleet by 19 units from 146 in 2012 to 127 by the end of 2014 (it made no mention of the long-haul plans). It is also redesigning its network structure planning to improve turnaround times and aircraft utilisation; with the aim to increase typical daily flight hours by 60 minutes to nearly 10 hours a day. It seems from the presentations that this is primarily aimed at the operations at Orly and regional bases; with a planned 9% reduction in medium-haul capacity at Roissy CDG, an 8% increase at Orly and a 36% growth at non-hub bases (most of which came in 2012).
Two years ago Air France announced the idea of transforming its non-hub flying to counter the encroachment of the LCCs into its home market. Its idea was to increase utilisation initially at Toulouse, Marseilles and Nice by basing crew at the outstations and using off-peak aircraft downtime to boost utilisation, gain non-hub based market share and maintain FFP market presence. The group has not quite admitted that this project has failed — although the results can hardly be inspiring: it is withdrawing four aircraft (out of a total 29 operated in Summer 2012) from the programme and stated that it will be reviewing the whole idea in 2013.
For the Air France loss-making regional operations there are significant restructuring plans. It aims to combine the domestic Brit Air, Régional and Airlinair operations under a single regional "brand" while maintaining the disparate company structures; Cityjet (reputed to be up for sale) will be kept separate. The plans suggest a reduction in overall regional fleet from 123 units to 102 (including 26 at CityJet) with a change in inter-company charging: a 15% reduction in wet lease charges, a shift to wet lease on all but what they term "smaller flow business routes". Implicitly Air France appears to be pushing the regional operations also to provide a 15% unit cost saving.
At KLM there may be less available to do. It is planning a stable fleet structure over the next few years at a total of around 162 units. It has already phased out the 767s and is in process of phasing out the MD11 passenger and combi fleet bringing in A330s and 777s. On medium-haul it has got rid of the 737 classics with 737NG replacements. On the regional fleet it has disposed of its last F100s, and is in the process of replacing the F50s with E190s. However, it is making some major changes to medium-haul configuration to increase seat density — removing the coat cupboard on its 737 fleet and replacing with an extra row of three seats; and will be adding a further row of seats to the NGs progressively over the next two years. (Incidentally this will automatically add some 6% in short-haul capacity in 2013 and a further 2% in 2014). In addition KLM says it has managed to reduce turnaround times on its E190 fleet by 15 minutes; while the introduction of a 7 1/2th wave at Schiphol in 2011 was designed apparently further to improve aircraft utilisation.
At the same time KLM pointed out that it saw itself in a slightly better position than its big brother Air France, in that it had a greater focus on the north west European markets which at the moment are showing moderate economic outlook (against AF's greater focus on Italy and southern Europe). In addition it highlighted that it was emphasising growth into secondary and tertiary airports in the search for feed — on the assumption that destinations such as Manston or Norwich in the UK, Stavanger and Aalesund in Norway, would be so under the radar that they would not attract competition from the LCCs nor the Middle East 3. It was a bit of a surprise to find in KLM's presentation that in 2011 half of KLM's short-haul destinations were to the primary cities in Europe and together provided €1.5bn of feed revenue but returned a negative 15% margin; whereas the other half were to secondary destinations generating €900m of feed but with "only" 6% negative margins.
For Transavia France the group continues to push growth — as a stand-alone point-to-point operator in the "price-sensitive" segment. It will be increasing the fleet from eight 737 aircraft to 20 by 2015 — with four coming in 2013. It has not yet quite got to the point of considering using Transavia as a substitute for its mainline non-hub operations in the way that Lufthansa has with its own germanwings. In contrast KLM's Transavia operations at Amsterdam are increasingly providing feed and infill to the KLM mainline operations — with interline code shares currently on 12 unique Transavia destinations apparently providing up to 8,000 bookings a month.
It is the dilemma of the network carrier in Europe; is it possible to maintain profitable short-haul feed to ensure profitable long-haul operations? For Air France 38% of total revenues come from short-medium haul operations and half of these revenues relate to connecting traffic, whereas 52% of its long-haul revenues are connecting. The position at KLM, lacking the strong real O&D demand of the Paris catchment area, is more severe; short-haul accounts for 31% of total revenues and 60% of its short-haul revenues connect to 70% of its long-haul revenues. Both carriers are implementing tariff changes to try to improve the attractiveness of their short-haul offering: the new Air France European product to be introduced in the New Year. In this they are moving the short-haul product closer to the LCC model — and it appears that AF and KL will be following the unbundling route while at the same time increasing business pricing points: the aim professed to be to "capture the growth in the price sensitive segment" and "increase revenue in the business segment".
At the investor day there were also some presentations on the product, brand and marketing — which were frankly unimpressive. Neither Air France nor KLM have ever really been market leaders in product development; and most of the developments they are introducing are for the purpose of catching up with the competition (such as lie flat J-class seats or using the FFP to encourage upselling and ancillary sales). Sadly missing, however, was any mention of the performance of the North Atlantic joint venture with Delta, any real discussion of the plans of the link with Etihad and Air Berlin, or indeed anything on the Delta/Virgin link up.
More intriguingly the AF-KL group is restructuring its corporate structure more towards the lines operated by IAG. The Group management structure will be divorced from the day-to-day running of the individual airlines: individual airline CEOs and CFOs for each airline; group corporate responsibility to deal with group strategy, joint functions and optimising group results. Through this Group Chairman & CEO Spinetta hopes to be able to install a new corporate culture "to remain nimble and be able to adapt on a permanent basis".
AIR FRANCE/KLM GROUP FLEET
AIR FRANCE/KLM GROUP FLEET
Operator
Aircraft Type
In Service
Order
Option
LoI
Storage
Total
747
9
2
Air France
11
64
4
10
777
78
A380
4
2
8
14
A330
15
2
17
A340
13
13
A320 family
143
6
10
6
1
166
KLM
747
22
22
777
22
2
1
25
MD-11
6
2
8
A330
14
2
18
34
737 (CFMI)
3
3
737 (NG)
46
8
54
Martinair
747
5
5
MD-11
6
1
7
Transavia Airlines
737 (NG)
28
3
31
Transavia France
737 (NG)
6
6
Airlinair
ATR42/72
23
2
25
Brit Air
CRJ
38
1
2
3
44
Cityjet
RJ Avroliner
19
2
21
Regional
E170
16
5
21
E190
10
4
14
ERJ-134/145
24
1
25
KLM cityhopper
F100
3
3
E190
22
9
31
F70
26
26
TOTAL
585
17
75
7
20
704