LAN Airlines: How to prosper through the global recession December 2009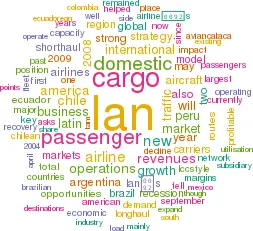 Chile's LAN Airlines, one of Latin America's largest carriers, has once again demonstrated its unique skills in manoeuvring through an economic slump. It has remained solidly profitable through the global recession – a remarkable feat given its extensive international footprint and heavy exposure to cargo. LAN has even found growth opportunities in the toughest of business environments, enabling it to bolster its market shares and long–term strategic position in South America.
How did LAN do it? A highly flexible business model, superior management skills, a unique multi–hub/multi–airline strategy developed over the past decade, a timely switch to LCC–style low–cost operations in the short–haul market – it all helped.
A quick recap of how the year progressed : in early 2009, the outlook was truly dismal. LAN's monthly cargo revenues had begun to plunge in the 30–40% range — a potentially dire scenario given that cargo accounted for 34% of the airline's total revenues in 2008. International passenger revenues were plummeting in the 20%-plus range — very bad news when 70% of your total ASKs are produced on international routes.
But because LAN already had passenger airline units in place in Chile, Peru, Argentina and Ecuador and cargo airlines in Chile, Brazil and Mexico, it was able to quickly find profitable new niches and growth opportunities. It grew domestic passenger operations in Chile, accelerated its entry into the Ecuadorean domestic passenger market, launched domestic cargo operations in Brazil and acquired a new cargo subsidiary in Colombia.
Continued healthy profits
The most interesting question now is what LAN's next empire–building moves will be. Consolidation is heating up in Latin America, with the recent Avianca/TACA merger announcement, Aeromexico's stated interest in stock deals, etc. LAN has the resources and is in a perfect position to make further acquisitions to consolidate its leading position in the region. Will it be Brazil or the northern parts of Latin America? Founded in 1929 and privatised in 1989, LAN has been consistently profitable since its current majority shareholders assumed control in 1994. However, it has not been immune to the effects of downturns. Its earnings fell sharply in 1998 and remained weak in 1999–2002 because of the Asian crisis, Chilean recession, Argentine crisis and post–September 11 effects.
LAN staged a strong recovery in 2003- 2004 as economic conditions improved in most of Latin America. Since 2003 its revenues have grown at a compound annual rate of 21%, almost tripling in the five–year period to $4.5bn in 2008. The past three years have seen especially strong profitability, with operating margins reaching double–digits (10–12%) for the first time in the airline's history and net margins reaching the high single digits.
Like its peers, LAN has faced tough challenges in 2009. In addition to the recession, countries such as Argentina and Chile had severe outbreaks of the H1N1 flu in July and August, which significantly reduced travel in some key intra–Latin America routes. On the cargo side, LAN has been hit by a sharp decline in salmon exports from Chile as a result of outbreaks of the ISA virus (salmon exports accounted for 8% of the airline's cargo revenues last year).
But LAN has remained profitable throughout 2009. The only sign of weakness was in the June quarter, when operating and net margins dipped to 4.4% and 0.5%, respectively. The September quarter saw the margins recover to a very healthy 10.1% and 5.7%. The latest operating margin was among the highest in the industry, possibly only bested in the Americas by COPA's spectacular 18.7% margin and the 16% margins achieved by US niche operators Allegiant and Alaska.
Among the Latin American carriers, LAN has always been considered less risky than Gol and TAM because its revenues are diversified across several economies and because it has a lesser degree of foreign currency mismatch between revenues and costs. Now LAN is also outperforming the Brazilian carriers on the earnings front.
What has made LAN unique this year is that even though its cargo traffic has declined in line with the industry, its passenger traffic continued growing when industry traffic declined (see charts, below). In the first nine months of 2009, LAN's FTKs fell by 15.9% while its RPKs grew by 9.8%. The net effect was a modest 4.3% decline in total traffic (RTKs). In other words, LAN has outperformed its peers this year in part because it has very successfully compensated for the collapse in cargo demand by growing its passenger segment.
However, LAN has not escaped this year's yield pressures. In the September quarter, its cargo yields plummeted by 35% and cargo revenues by 40%. Passenger yields fell by 16%, though the growth in traffic volume helped limit the decline in passenger revenues to 10%. Total revenues fell by 19%, but the impact was to a significant extent offset by a 14.3% decline in operating expenses, reflecting mainly lower fuel costs.
Most importantly, LAN has maintained its financial strength. Its liquidity position has actually improved, because in the spring the airline prudently decided to borrow $250m from local banks in Chile just to boost its cash reserves to 17–18% of annual revenues from the earlier 10%-level. It did not need extra funds because its near–term obligations were very modest. LAN has mainly long–term debt related to aircraft financings.
The balance sheet is relatively strong, with total assets of $4.9bn, long–term liabilities of $2.4bn and shareholders' equity of $1.1bn at the end of 2008. As of September 30th, LAN had $638m in cash and a lease–adjusted debt–to capital ratio of 79%. LAN is one of the few airlines in the world to benefit from investment grade credit ratings, which have been affirmed this year.
Recession-busting strategies
Based on a strategy set in place in 1994, LAN has developed a distinct business model that combines passengers and cargo, provides a comprehensive network in South America, uses airline subsidiaries to maximise coverage in the region, operates LCC–style in the short–haul, offers a strong premium product in the long–haul and relies on alliances to cover the globe. LAN benefits from a competitive cost structure, high labour productivity, significant fleet flexibility, a strong brand and one of the best management teams in the airline industry.
The key strategies that have helped LAN escape the recession so lightly include the following:
Combining passengers and cargo
LAN is a rarity among airlines in that it treats passengers and cargo as two equally important business units. In 2008 cargo accounted for 34% of its total revenues, compared with 19–22% for SIA and Cathay and less than 7% for most US and European carriers. Having fully integrated passenger and cargo businesses helps the airline increase aircraft utilisation, maximise revenues, lower break–even load factors and minimise risk.
The strategy has also given LAN more flexibility to adjust to market conditions. On many occasions in the past, the cargo market remained strong when passenger demand weakened, and LAN was able to maintain stable earnings by switching capacity and even aircraft orders from the passenger to the cargo business.
In this year's very unusual scenario of both cargo and passenger demand being sharply down simultaneously, LAN has still benefited from the flexible business model. This year the airline has essentially focused away from cargo in favour of growing promising pockets of its passenger business. Its cargo revenues fell to only 24% of total revenues in the September quarter. Being able to implement such a major shift so swiftly and with little adverse impact on profit margins certainly validates the business model.
On the cargo side, LAN has implemented obvious measures such as cutting back drastically the amount of wet leases provided by third parties. But LAN has also found new cargo opportunities. It has acquired a new cargo airline subsidiary in Colombia, begun domestic cargo operations in Brazil with its existing affiliate ABSA and launched 777 freighter operations to Europe.
The airline believes that the two new 777 freighters, which were delivered in the depths of the worst cargo slump in April and May, will give it a significant competitive advantage in terms of unit costs and position it well for economic recovery. LAN is the first airline in the region to operate the type, which has almost double the 767's capacity and a longer range. The 777Fs currently link Santiago and other South American points to Miami, Amsterdam and Frankfurt and also operate in key regional markets.
Tapping domestic growth opportunities
One special characteristic of the 2008- 2009 recession has been that airlines that operate mainly domestically have generally fared much better than global airlines. LAN has undertaken some serious domestic expansion this year – possible because of the multiple airline subsidiaries in place in other Latin American countries, the LCC–style business model in short–haul operations and the relatively resilient economies of the key countries in the region.
Just looking at the September quarter's figures, LAN's domestic passenger capacity (in Chile, Peru, Argentina and Ecuador) was up by 20%, compared with 5% growth for international ASKs. Domestic passenger traffic grew by 15.6%, compared with 4.5% growth in international RPKs. The biggest capacity additions were in Argentina and Chile, where ASKs rose by 36% and 19%, as well as in the Ecuadorean domestic market, which LAN entered in April.
The result was that domestic ASKs' share of LAN's total passenger capacity rose by three percentage points to 31% (Chile 13%, Peru 9%, Argentina 8% and Ecuador 1%). Long–haul international's share declined by one point to 47% and regional international's share fell by two points to 22%.
Going LCC-style on short-haul
LAN introduced a new business model for its domestic and short–haul operations during 2007. The goal was to improve efficiency and profit margins, especially in the Chilean and Peruvian markets. One of the key objectives was to increase narrowbody aircraft utilisation to about 12 hours per day through increased point–to point operations, overnight flights and faster turnarounds. The airline targeted a 30% reduction in its short–haul non–fuel CASK between 2006 and 2008. As part of the remodelling, LAN retired its 737–200 fleet by May 2008 in favour of focusing on a single aircraft type, the A320–family. And the plan included reducing and simplifying fares, which the airline hoped would boost short–haul demand by 40% over the two–year period. In other words, LAN copied the key aspects of the JetBlue/Gol–style short–haul business model.
Although LAN may not have fully reached its cost–cutting targets (its daily A320 utilisation was 10.4 hours in 2008), the benefits of the remodelling have been significant. The cost cuts enabled the airline to offer much lower fares, which resulted in traffic growth that far exceeded expectations. Passenger numbers in all of the domestic markets surged between 2006 and 2008: Chile was up by 40%, Peru 76% and Argentina 150%.
The LCC–style short–haul business model came in especially handy in the depths of the recession this year. It has enabled LAN to offer special low fares to attract first–time flyers, stimulate recession- impacted travel and to profitably expand domestic operations when global demand collapsed.
Multi-hub/multi-airline strategy
LAN's unique multi–hub/multi–airline strategy dates back to its acquisition of Chilean cargo carriers FastAir and Ladeco in the 1990s. In 2000–2001 LAN bought 100% or majority stakes in Mexican cargo carrier MasAir and Miami–based Florida West, as well as a minority stake in Brazilian cargo airline ABSA. All of those airlines have extensive Latin American and some US and global operations, enabling LAN to dominate the cargo market in Latin America. The operations are marketed primarily under the LAN Cargo brand and benefit from synergies derived, for example, through the interchange of 767–300ER freighters.
This year LAN has made two major moves to expand its cargo business (both in March). First, it acquired a new subsidiary in Colombia, the largest cargo market in Latin America in terms of exports to the US. The 100% owned venture, LANCO, currently operates the Medellin–Miami and Bogotá–Miami routes. Second, LAN began domestic cargo operations in Brazil with the help of its existing subsidiary ABSA, which had previously only operated international routes. These growth opportunities cushioned the impact of the global recession and position LAN well for economic recovery.
The multi–airline strategy in the passenger segment dates back to 1999, when LAN saw an opportunity to establish a Perubased airline as a joint venture with local partners (LAN Peru). Other similar ventures followed: LAN Ecuador (2003), LAN Dominicana (2003) and LAN Argentina (2005). The airlines have benefited from a common brand since 2004, but it has not all been plain sailing. LAN Dominicana was not viable and it ceased operations in May 2004. Making LAN Argentina profitable has been a struggle (strict domestic fare controls, the earlier 737–200 fleet), but the LCC–style business model, re–fleeting and many authorised fare increases in recent years have helped.
The new ventures have been the key driver of LAN's growth and profitability in the past decade, because the Chilean market is relatively small — just 4.7m domestic passengers and 5m international passengers in 2008. The multi–airline strategy has enabled LAN to operate a comprehensive network and multiple hubs. The airline has intra–Latin America flights out of Chile, Peru, Ecuador and Argentina, and is developing Lima into a regional hub. Its four main hubs — Santiago, Lima, Guayaquil and Buenos Aires – all have services to the US, and the first three also have European flights. Santiago additionally has South Pacific services to Australia and New Zealand.
This strategy of blanketing the region with overlapping air service is aimed at enhancing the value proposition by offering customers more destinations and routing alternatives. There are also important synergies and economies of scale. The strategy has helped LAN maximise aircraft utilisation, increase load factors, leverage complementary seasonal patterns and optimise marketing efforts.
The strategy has been possible because of Chile's early liberalisation policies, including open skies ASAs with countries such as Peru and the US well before the rest of the region jumped on the bandwagon. LAN has also benefited from liberal laws on the foreign ownership of airlines in some countries.
The past couple of years have seen LAN consolidate its positions in the Chilean and Peruvian domestic markets. In Chile the strategy is to offer frequent service on the key routes (currently 15 destinations). In Peru operations cover all 14 main cities that can be served with the A319 and frequencies are now being built up. In Argentina operations focus on the 12 main routes that can be served profitably; the network currently includes 12 cities.
The Ecuadorian domestic opportunity came when LAN Ecuador, which had hitherto operated only internationally, was authorised to serve the country's main trunk routes linking Guayaquil, Quito and Cuenca. The routes are highly competitive, with also TAME, Aerogal and Icaro present, but are believed to be profitable. LAN entered the markets in April 2009 with two A318s and will also begin serving the Galapagos Islands in January on a code–share basis with TAME.
As a result, LAN has consolidated its dominance of the southern cone. As of July 2009, it held 80%, 89%, 26% and 14% shares of the Chilean, Peruvian, Argentine and Ecuadorean domestic passenger markets, respectively. It also has the largest market shares of international passenger traffic to and from Chile, Peru and Ecuador: 50%, 39% and 27%, respectively, at year end 2008 (its share of Argentine international traffic was 17%).
The network is now more balanced than a decade ago. In the late 1990s, LAN was primarily a long–haul international carrier with domestic operations only in Chile. Now its ASKs are distributed as follows : long–haul international 46%, Latin America international 24%, Chile domestic 13%, Peru/ Argentina domestic 17% and Ecuador domestic 0.2% (first–half 2009 figures).
On the long–haul front, LAN has relied increasingly on alliances. It has been a member of one world since 2000. Since its 1997 agreement with American, which secured antitrust immunity in the US in 1999, LAN has forged code–share deals with global carriers such as Iberia, Qantas, BA and Korean Air. LAN Peru and American have had an immunised alliance in place since 2005.
Where next?
But LAN has also done alliance–building in the largest Latin American markets. In 2004 it tackled Mexico by both expanding its existing code–share deal with Aeromexico and forging FFP cooperation with Mexicana. In December 2007 LAN entered into a code–share alliance with Brazil's TAM. With Latin America leading the way in global economic recovery, LAN has seen steadily improving demand trends in recent months, although yields have remained weak. The airline's October traffic results were highly promising: domestic passenger traffic up 14.1%, international passenger traffic up 10.8%, system passenger load factor up 3.9 points to 80.2% and cargo traffic down by only 6.2%.
On the passenger side, LAN currently expects to grow its ASKs by 10% in 2010, the same as this year. The fastest growth is likely to be in long–haul international markets, with new destinations such as San Francisco possibly coming on line; domestically, growth will continue but at a lesser rate because of tougher comparisons.
LAN is predicting a strong recovery in global cargo volumes in 2010 and expects its own cargo capacity (FTKs) to grow by 16–18%, after a 7–8% decline this year. Next year's capacity increase will be mainly due to the full–year impact of the two new 777Fs.
To accommodate the robust long term demand growth expected in both the passenger and cargo segments, LAN has a $5.1bn aircraft order book in place for the 2009–2019 period which will expand its fleet from the current 94 (as of September 30th) to 147 aircraft at the end of 2019.
The current fleet plan includes 15 more A320–family aircraft to be delivered in the next two years, nine more 767–300ERs by 2019 and 32 787s in 2013–2019. On the freighter side, currently there are only two new aircraft scheduled for delivery (in 2011- 2012), though six of the 767 passenger aircraft due in those years may be converted into freighters.
While LAN is always keeping a close eye on potential acquisition opportunities in Latin America, this effort has probably intensified. First, LAN is in a strong buying position and wants to take advantage of the slump. Second, in October Colombia's Avianca and El Salvador's TACA announced plans to create a new regional group that could rival LAN in size. The group would bring together 13–plus airlines from multiple countries: the operators under the TACA banner, Avianca and its Brazilian unit OceanAir, Ecuadorean carriers Aerogal and VIP, plus various cargo and feeder operators.
The Avianca/TACA plans are not a threat to LAN. First, LAN is one of the largest and most successful carriers in the region. Second, the geographical areas are different: LAN dominates the southern cone; Avianca/TACA would be strong in the northern part of the continent. Third, the economic potential of the Avianca/TACA group may be limited by the fact that it includes a rather disparate group of small airlines and some questionable markets. Fourth, in a region where economic indicators are so strong, there is probably enough growth for several large players.
Perhaps the most immediate negative for LAN will be the strengthening of Aerogal, LAN Ecuador's direct competitor. The Quitobased carrier will receive more aircraft from its new partners that will allow it to expand internationally (New York from December 7th, with destinations such as Madrid and Los Angeles being considered). TACA Peru may also gain strength, though LAN Peru is well–positioned with its Lima hub and domestic service. And there is talk that Avianca may be looking to establish a new airline in Paraguay.
But at this point LAN's management does not see any obvious major negative impact from a future combined Avianca/TACA network. When asked about Aerogal's New York launch, LAN's CFO Alejandro de la Fuente said at the airline's 3Q call that Guayaquil–New York, where the two will clash head–on, is an under–served market and operating at very high load factors, so the impact should be minimal.
Therefore LAN is unlikely to feel any pressure to make major consolidation moves; rather, it will continue to search for smaller–scale merger or acquisition opportunities that will give it access to attractive new markets. Based on comments made by its top executives this year, LAN is particularly interested in two areas: the region "north of Ecuador" (Colombia, Mexico, Central America) and Brazil.
Noting that LAN already has cargo subsidiaries in Brazil and Colombia, AvGroup's Bob Booth suggests that the airline may first add LAN–branded passenger units to its existing cargo presence in those countries. There may be opportunities available in Central America and Mexico, and Booth says that he would not discount LAN doing something with TAM or Varig/Gol in Brazil.
Brazil represents a major gap in LAN's passenger network. It is the largest domestic market in Latin America. Having lost an opportunity to invest in Varig in April 2007, and with the Brazilian carriers now emerging as a major force on the continent (TAM, Varig/Gol, new–entrant Azul, revitalised OceanAir, etc), LAN needs a strategic foothold in Brazil's passenger market more than ever before.
LAN'S FLEET PLAN
LAN'S FLEET PLAN
Number of aircraft at year-end
2008
2009
2010
2011
2012
2019
A318/319/320
50
53
59
68
68
68
767-300ER
26
27
28
30
33
34
A340-300
5
5
5
5
5
0
787
0
0
0
0
0
32
767-300F
9
9
9
10
10
10
777-200F
0
2
2
2
3
3
Total
90
96
103
115
119
147
Source: LAN Airlines.