Europe's charter industry and the internet generation December 2007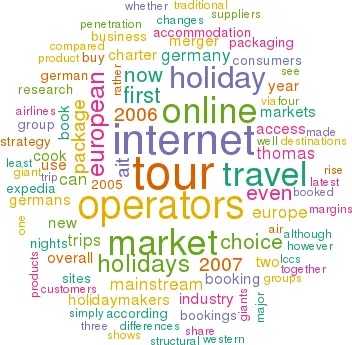 The continuing decline of the western European package holiday market spurred the merger of four large tour operators into two giants in 2007 — Thomas Cook/MyTravel and TUI/First Choice. What does this mean for the groups' charter airlines, and for the other remaining charter carriers in Europe? In the first of a two–part series, Aviation Strategy looks at the overall market and the new Thomas Cook Group.
Although many tour operators initially buried their heads about the issue, today the steady shrinkage of the all–inclusive tour (AIT) market in western Europe is recognised by everyone. While tour operators release statistics that prove the overall European AIT market is growing, that's only because their definitions now include the new east European markets (and whether the mainstream tour operators can really win a significant share of those emerging markets is open to doubt). But the contributing factors for the decline in the western European market are all too obvious: the impact of the LCCs, the rise of internet booking, a change in preference for certain holiday destinations and — perhaps most important of all — a rejection by holidaymakers of the one–size–fits–all package holiday (for a more in–depth discussion of these trends, see Aviation Strategy, June 2005).
What's making the situation worse for the handful of giant tour operators that remain in Europe is that some of these structural changes have become even more pronounced in the last couple of years, and most particularly the rise of holidays booked via the internet. For example, internet penetration in the UK and Germany — the two largest AIT markets in Europe — continues to grow, and in 2007 42m Germans have regular internet access (representing 51% of the population), compared with 37.2m in the UK (61.2%). Research shows that it's the more wealthy, those with free time (for example, the so–called "empty–nesters" — those whose children have left home) and young urban professionals who use the internet to arrange holidays more than other groups, and those same groups now tend to book three or more shorter holidays per year rather than the single one- or two–week package that was traditional a couple of decades ago.
The core problem for tour operators is the continuing penetration of internet bookings into overall travel bookings. As can been seen in the chart, opposite, the proportion of travel expenditure made online has risen from nothing 10 years ago to 15.5% in 2006, where €38.3bn of travel bookings in Europe were made online, out of a total European travel spend of €247bn. That's a staggering amount of online expenditure, and that percentage is forecast to rise to 21.1% by the end of 2008. Of this total travel market, 56% is for air travel, 16% for hotels and 16% for package tours.
Internet booking on its own would not be a such a problem for the tour operators if it was "just" another distribution channel, but of course the major disadvantage for suppliers (and the major advantage for consumers) is that the internet facilitates simple price comparisons, and research shows that customers who buy online tend (whether they initially intend to or not) to pick products with the cheapest price. And consumers now use the web much more for actually booking travel than merely for research purposes (i.e. gathering information prior to booking a trip offline). Certainly the future of the high street travel agent looks doomed: according to a survey by travelsupermarket.com, whereas 50% of 25–34 year olds booked a holiday via a travel agent in 1999, in 2007 only 16% did so; the rest preferred to book via the internet (68%) or through other means, such as call centres.
At the very least, the way that consumers now routinely use the internet to book holidays appears irreversible, although there are differences in the main European markets, Germany and the UK (Eurostat data shows that more than 50% of all outbound holiday trips by EU citizens are taken by German and British holidaymakers — around 77m trips a year by Germans and 48m trips by the British). According to research from IPK International, in 2006 45% of all UK outbound trips involved online booking for at least part of the trip, while another 10% of trips used information found on the internet — so that the overall "online market share" can be stated as 55%. The respective online market share in Germany is lower: 30% (which is beaten by the 40% in the Scandinavian market), and this reflects a relative reluctance by Germans consumers to use credit cards online or other e–payment mechanisms, as well as the lower internet penetration rate in Germany compared with the UK.
As a result, "in the UK more than twice as many online buyers and regular internet users buy travel than in Germany", according to a report by PhoCusWright released in September 2007, and while the German and UK markets combined accounted for 54% of the €38.3bn online travel market in Europe in 2006, the UK's spend was €13bn (34%) compared with Germany's €7.7bn (20%).
This, however, is only a relative difference — in absolute terms, even in Germany this translates into 35.1m holidays booked online by Germans in 2006 (see chart, right).
But there are other differences. According to Eurostat, in 2005 (the latest year for which data is available), 69% of German holiday trips were for four nights or more and 31% for three nights or fewer, while for UK holidays, 54% were for four nights or more and 46% were for three nights or fewer. That gap is rising as UK holidaymakers increasingly use the internet to book short breaks in European cities as well as further afield. In terms of destinations, in 2005 UK holidaymakers headed for Spain (31.8%), followed by France (11.5%) and then the US (7.4%), while for Germans the spread of top destinations is more even: Spain (15.9%), Italy (14.4%) and Austria (14.4%).
Those differences between the UK and German market are important, because they are encouraging the remaining tour operator giants to treat those countries in subtly different ways, even given the underlying structural changes in the AIT market.
The fight back?
What, if anything, can the tour operators do in the face of these structural changes, other than manage a declining market as best as possible? PhoCusWright says that tour operators have been late in responding to online distribution although they are now catching up fast, and adds the big two UK tour operators are "extremely powerful" and are a threat to online sites such as Expedia and Travelocity. Indeed while in 2002 46% of all online internet holiday bookings were made through third–party sites such as Expedia, and 54% though suppliers' (i.e. tour operators' and airlines') own websites;by 2005 the suppliers' percentage had risen to 65%.
But that misses the point somewhat — while Expedia and the third–party sites are of course a competitor for tour operators, it is the airline sites (and specifically those of easyJet, Ryanair, Air Berlin etc.) that have been peeling away large amounts of business from the tour operators.
This summer easyJet launched easyJetHolidays.com, which competes directly against the mainstream tour operators (and online rivals such as lastminute.com and Expedia) by packaging flights with hotel accommodation.
Tour operators, however, are working on their strategies. Peter Long, CEO of First Choice prior to the merger and now CEO of the new TUI Travel, believes that air travel is not the first item that holidaymakers buy when putting together a trip, but rather it is accommodation. That's why the latest buzzword in the tour operating industry is so–called "dynamic packaging", which allows customers to bolt together a holiday package, based primarily around choosing accommodation. This is undoubtedly a more sophisticated response by tour operators to the challenges they face, and is at the very least a recognition that seat–only sales by charter airlines is simply no longer good enough in today's ultra–competitive holiday market.
At the Thomas Cook Group, the other new tour operator giant, which continues to adhere to traditional assumptions about the European holiday market. In a strategy presentation given in November this year, TCG argued that that traditional tour operators in general — and TCG in particular — are still well placed in the overall market now (and for the future) since internet retailers have limited access to content and no packaging expertise, while the LCCs also have limited access to content, and offer a commoditised product.
This seems to miss the point that neither internet retailer nor LCCs need to have all–encompassing product as it is the customer who now has all the tools needed for the buying process, and he/she simply wants to put together whatever package of travel and accommodation he or she wants from whatever sources can provide them.
TCG's new strategy of being relatively asset–light and having access to product rather than owning all of it (see below) is simply not the same as giving access to a much wider range of products — which customers can easily do themselves by using the internet.
The key question, however, is whether dynamic packaging, asset–light strategies or anything else will shore up the wafer–thin margins of tour operators? 2006 was a tough season for the European charter holiday industry, with margins under pressure even despite a relatively disciplined restraint in capacity by the major players, and this pattern was repeated in the summer of 2007, when the slowdown in demand for package holidays was most marked at the cheaper end of the market, where margins are the thinnest anyway. That's a result of even the most technophobic of holidaymaker realising that it is a simple process to book a flight and a self–catering apartment at almost any destination online, and even at the very last minute.
Acquisitions merry-go-round
Against this background, 2007 saw the biggest upheaval in the AIT industry since the early 2000s, when TUI/Preussag bought the Thomson Travel group and C&N Touristic bought Thomas Cook (before also adopting its name).
The latest merry–go–round of acquisitions started with attempts by both the MyTravel Group and Thomas Cook AG to buy the "mainstream" holiday business of UK–based First Choice Holidays in November 2006.
First Choice had previously built up a presence in the specialist and niche holiday sectors (such as activity holidays) in order to lessen its dependence on classic AIT products, and in 2006 decided to offload its low margin mainstream business. Preliminary talks were held between First Choice and a number of interested parties, but Thomas Cook and MyTravel dropped out of the running after announcing their merger in February 2007. The only other substantial bidder for First Choice mainstream assets was reported to be Virgin Holidays, but they too pulled out in February, and in the same month First Choice issued a terse statement saying that "talks regarding the possible sale of the mainstream business have been terminated."
First Choice then went on to agree a merger with TUI AG, thus completing a massive restructuring of the European AIT industry into two giant blocks — and one that if not successful will surely be followed by the merger of even these two giants into one company in the long–term.