Iberia: strong on long-haul, vulnerable in Europe December 2006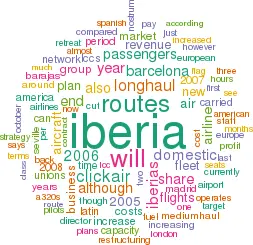 Iberia has almost completed the first 12 months of its latest three–year "Director Plan", but do its cost–cutting measures go deep enough? And will network restructuring give Spain's flag carrier a defendable niche position?
Though the Iberia group includes handling and maintenance operations, the vast majority of revenue is provided by the transport operations — i.e. passenger airlines and cargo. But as can be seen in the table below the transport business only produced a 1.5% operating margin in 2005 (no profit breakdown by business areas is available in the 2006 quarterly reports). While the Iberia group almost doubled net profits in 2005, to €396m, this was due largely to the sale of stakes in Amadeus and Savia (which between them brought in €663m).
Iberia calls these programmes its "Director Plans", and after the third Director Plan of 2003- 05, another one was drawn up for the 2006–08 period. It was unveiled in October 2005 and includes no less than 10 strategic targets and 230 specific measures to be achieved by the end of 2008. Most tangibly these include a ROE of 10%, an EBITDAR margin of 16%, a reduction in unit costs (excluding fuel) of between 8% and 10% in nominal terms, and an improvement to Iberia's bottom line of up to €600m by 2008.
Network restructuring
To achieve these aims, this latest three–year plan has four so–called "pillars" — network restructuring (which aims to improve the bottom line by €126m a year), revenue improvement (€163m), better productivity (€142m) and cost–cutting (€159m, of which €68m comes from staff costs and €91m from other costs). The Director Plan covers the entire Iberia group, but 70% of the improvements are targeted at airline operations, and as of mid–December this year (almost one–third of the way through the three–year plan), there's enough evidence to see whether the plan is being achieved. Essentially Iberia has decided to expand significantly in the one area where it has higher margins and defendable market share — i.e. long–haul, and specifically Spain–Latin America routes — while maintaining European routes and cutting back on loss–making domestic routes (other than key feed routes into the intercontinental network).
Iberia has steadily been adding routes to Latin America and now offers 118 flights a week on the sector, compared with 51 in 1996. As a result, over the last eight years Iberia has increased its share of the market (in terms of ASKs) from 13.7% to 18.7%, and this year has overtaken the combined Air France/KLM (which it has trailed ever since the airlines merged in 2003) as the market leader on routes between the two regions — see chart, opposite. Iberia has been helped by a "strategic retreat" from Lufthansa on Europe–South America routes, as well as by the crisis at Varig, which has seen its capacity to Europe cut by at least 80% over the last year. Iberia has also benefited from BA's willingness to hold back on route development into Latin America in favour of Iberia (BA's capacity to Latin America remained flat in the summer of 2006 compared with 2005).
On the other hand, TAP is starting to make a major push into Latin American routes, while — more worryingly — Air Madrid had been increasing capacity at Barajas. It offered 12 routes to Latin America, providing direct competition to Iberia for business travellers who wanted a cheaper alternative to the flag carrier — but in mid–December Air Madrid suddenly ceased operations, with Spain's CAA immediately revoking its air operator certificate, citing increasing delays and worries over maintenance. Nevertheless, Iberia currently operates to 17 destinations in Latin America,and boosted by product improvements (see below) Iberia is targeting a market share of 20%-25% on Europe–Latin America within two years.
Outside Latin America, the main long–haul routes are to Chicago, Miami and New York JFK, with a handful of routes to sub–Saharan Africa. Another 20 US cities are available via a code–share with American, but Iberia is believed to be analysing the launch of routes from Madrid to Boston, San Francisco Los Angeles and Washington.
Overall, Iberia says its unit revenue on longhaul routes increased by 17.3% in the nine months to end of September 2006 (higher than even Iberia expected), although this has to be compared to the general fuel surcharge–related increase in unit revenue on long–haul routes out of Europe, estimated to be in the region of 10%-12% in the first three quarters of 2006. Nevertheless, this is still a very good performance by Iberia, and long–haul accounted for 40% of Iberia's earnings in the first nine months of 2006, compared with 35% in the same period of 2005.
Iberia is under much more pressure in domestic and European markets, due primarily to fierce competition from LCCs at Madrid and Barcelona. Iberia currently has around 22% of the domestic market, but itself forecasts that by 2011 almost 60% of domestic traffic will be carried on LCCs. Vueling opened a base at Barajas in November and raised flights on the Madrid–Barcelona route to five a day (compared with 60 a day from Iberia). The airline has a fleet of 14 A320s and carried out a successful IPO in early December, raising €100m from selling 42.6% of equity. Vueling expects revenue to almost double in 2007, reaching €427m compared with a forecast €238 in 2006, and to achieve this it will need to win a much lager domestic share. Meanwhile, although not an LCC, Spanair — a subsidiary of SAS — is turning Barcelona into a hub operation as it seeks to increase its share of the Spanish market from 5% to more than 25% over the next four years. Spanair operates a fleet of 64 aircraft and sees Barcelona as its "main source of expansion", with a target of 5.5m passengers a year out of El Prat airport through a doubling of domestic destinations served to 40, as well as more international routes.
Iberia also faces increasing competition from high speed trains in Spain, and at least €40bn is being spent on improved rail links in 2006 and 2007 that will see all regional cities linked on the AVE high speed network. High speed trains could take as much as 70% of traffic on some domestic city pairs.
Iberia no longer has an interest in domestic market share as a strategy. Fernando Conte — Iberia's CEO and chairman — says that: "We don't want routes that are losing money systematically." The airline is therefore staging a managed retreat from selected routes in the domestic market, while at the same time shoring up its European networks, which provides vital feed/onward flights for passengers on long–haul services (see below).
Clickair hopes
Key to Iberia's revised strategy on both short and medium–haul is Clickair (briefly known as Catair in its planning phase), a new low cost subsidiary. Iberia's own calculations estimate a 60% difference in its costs and those of LCCs, and in 2005 Iberia briefly contemplated buying an LCC or even forming a partnership with Vueling. Instead, the Iberia group decided on the more "controllable" option of building its own LCC.Clickair is based at El Prat airport in Barcelona and operates five leased A320–200s (all of which have come off lease from Iberia) from Barcelona to Geneva, Lisbon, Seville and Zurich, from Valencia to Paris Orly and Rome Fiumicino, and from Seville to Paris Orly. It launched flights on October 1st (in its first month of operation recording a 70.8% load factor) and all aircraft offer a single- class, although flights also carry Iberia's code, thereby allowing travel agents to book seats for business clients (with tickets booked that way more expensive than those booked direct).
Clickair's CEO is Alex Cruz, who previously worked for American Airlines and for the airline department at Accenture Consulting. But even before the airline first got off the ground, SEPLA, the pilots' union, carried out a strike in July at protest at the LCC's impending launch, which it believes threatens the jobs of its members.
That unease is understandable. Clickair aims to have a fleet of 30 A320s by 2008 (crewed by 300 pilots and 600 cabin crew), operating 70 routes to 55 destinations and carrying 10m passengers a year, thus making it the third or fourth largest LCC in Europe. The airline is expanding by around one aircraft a month and will have 20 A320s by the end of 2007, when it expects to record revenue of at least €250m. It aims to break into profit in 2008, with a revenue target of €560m and a net profit of €37m (giving a net margin of 6.6%).
From January to March next year 12 more routes are being rolled out, including Barcelona to Malaga, Munich, Porto, Prague, Berlin, Frankfurt, Amsterdam, Dublin and Basel; from Valencia to London Heathrow and Milan Malpensa; and from Seville to London Heathrow. This will bring the total network to 20 routes, with a target of 4.5m passengers carried in 2007, up from 0.3m passengers in 2006.
Clickair will serve a mix of new routes and services previously operated by Iberia, and it is the relative emphasis between the two parts of this strategy that most concerns unions. Clickair has already taken over Iberia's routes from Seville to Barcelona (Iberia withdrew from the Barcelona- Seville route the day before Clickair started) and Paris, and in 2007 will take over further routes, potentially to include Seville to London Heathrow and Bilbao, and Valencia to London Heathrow. Just how cheaply Clickair can operate into Heathrow remains to be seen, but the point is that it can operate the route more cost effectively than Iberia can — and that is the whole point of Clickair for Iberia.
Barcelona is the initial focus for Clickair, as LCCs already account for approximately 50% of capacity to/from Catalonia — easyJet operates to Barcelona, Ryanair uses Girona and Zaragosa; Air Berlin operates to Reus; while Vueling has also increased routes out of Barcelona (it is now the third largest airline at the airport). These airlines have dented Iberia's profitability on routes to/from Barcelona significantly, so the introduction of Clickair will have little impact on revenue while reducing the costs of operating routes (as they are transferred from Iberia mainline). Unsurprisingly, Iberia's plans to cut mainline capacity out of Barcelona has caused controversy locally, although the flag carrier argues that with Clickair and extra flights from franchise affiliate Air Nostrum, total flights out of Barcelona on a group basis will rise by 50% by 2008.
Clickair insists that taking over Iberia routes is only a means to "jump–start" its operations, and that it will concentrate on routes of up to four hours flying time that are currently under–served out of Spain. For example, it has plans to operate longer routes into eastern Europe (with Moscow one possibility), although inevitably this will reduce the number of daily flights per aircraft.
Whatever the route strategy, Clickair appears a serious attempt by Iberia to set up a lower cost airline. Iberia has a 20% stake in Clickair, with 20% being held by each of Quercus Equity, Nefinsa (which owns 98% of Air Nostrum), tour operator Iberostar and construction firm ACS Group. Between them they have invested initially around €50m, although it is believed that Iberia is contributing around half of that, in return for which it will secure 80% of future financial returns (despite only having 20% in equity). According to Iberia it limited its voting share to 20% because if it took more "the unions can then ask for more rights", which would undermine the low cost basis of the airline. According to one of its shareholders, Quercus Equity, the long–term plan for Clickair is to IPO in between four and six years from now.
With Clickair now up and running, Iberia can increase the pace of its retreat from domestic routes, with selected routes transferred to Clickair and Air Nostrum, the latter of which is based in Valencia and operates a fleet of 61 aircraft to more than 50 destinations in Spain and internationally. The pace of Iberia's retreat can be seen at Seville airport, where Iberia's share of passenger traffic has fallen from 40% to 21% over the 12 months to November 2006 — with Clickair rising to 19% after just two months of operation.
Its not necessarily the case that passengers will move across to Clickair or Air Nostrum automatically. Rafael Aragones, managing director of Spanair, says that as flights out of Seville have passed from Iberia to Clickair, Spanair has seen an increase in passengers, with a 30% rise in passengers carried on Seville–Barcelona in the last two months. Spanair believes it will oust Iberia as the top domestic airline by the end of the decade, partly because it will keep expanding as Iberia contracts and partly because it believes the domestic market will grow 75% by 2020 thanks to falling domestic air fares.
Over the period 2006–08, Iberia plans to cut domestic capacity by 15.7%, though according to the Director Plan most of the domestic cuts will occur in 2007 and 2008, with the priority in 2006 being long–haul expansion. According to one Iberia source this restructuring order makes domestic reductions "easier" for unions to accept, and the domestic retreat is also more palatable now that Clickair is up and running.
Over that same three year period, mediumhaul will increase by 1.8% and long–haul ASKs will go up by 12.4%, giving an overall capacity increase over the three years of 3.4%. But while the rationale for long–haul expansion and short–haul retreat is sound, Iberia's strategy for the medium–haul network (i.e. Spain–Europe) is more problematical.
In the total Spain–Europe market (which includes the large charter segment), the share of the Iberia group (Iberia plus Air Nostrum) has fallen "only" from 10.3% in 2003 to 9.8% in Q1–Q3 2006, with LCC share going from 20.4% to 32.3% over the same period, though at the expense mainly of charter airlines. That's because the main non–Spanish LCCs — Ryanair, easyJet and Air Berlin — have concentrated largely on leisure routes into Spain. However, this strategy is changing as the LCCs are also targeting business passengers, and in the face of more direct competition from LCCs then surely Iberia cannot expect to maintain its market share on Spain–Europe? Even Air Nostrum has problems competing against the LCCs, and very demonstrably pulled its London- Gatwick to Asturias service in 2005 after easyJet announced it would serve the route.
The increasing threat from the LCCs is probably the rationale behind a medium–haul retrenchment at Madrid Barajas, and it's obvious that the Clickair "experiment" at Barcelona is not just about domestic routes but international routes too, with Clickair likely to expand from Barcelona and Seville into other regional cities. Indeed within its overall medium–haul increase of just 1.8%, over 2006–08, Iberia says it will increase Madrid- Europe capacity by more than 30% over the period, which directly implies that European routes out of other Spanish airport are going to be cut substantially and/or transferred to Clickair, while Iberia concentrates on building up the Madrid hub.
But is this feasible, given that in the Madrid- Europe market, Iberia group's share has fallen already from 43.3% in 2004 to 41.1% in Q1–Q3 2006, with LCC share rising from 8.8% to 11.2% over the same period? Ryanair is opening a hub at Barajas in November, (with 14 routes expected to carry 1m passengers a year) and easyJet following suit in February 2007 (with 16 routes and 1m+ passengers a year targeted). Vueling also has a base at Barajas and increased routes this year from four to 11 (including services to Amsterdam Schiphol, Lisbon and Milan Malpensa), with long–term plans for another 30 routes out of Madrid.
The key factor for Iberia is holding onto feed and onward connections for its long–haul network out of Barajas. At Barajas, 30% of Iberia's passengers are travelling point–to–point (which is most at risk form the LCCs) but 60% are connecting passengers to/from higher margin, long–haul flights. However, Iberia has had a major boost in holding on to these connecting passengers thanks to the new €6bn fourth terminal that opened at Barajas in February,. The 38–gate main terminal can handle up to 20m passengers a year, while an accompanying 26–gate satellite terminal is being used for long–haul flights and can handle another 15m passengers. Although other airlines are allowed to use the new terminal, Iberia and its oneworld partners will operate around 90% of the capacity at the new facilities. While the development frees up slots elsewhere at the airport, the new terminal makes it very easy for Iberia's European and domestic passengers to transfer onto the flag carrier's long–haul flights. Iberia's transition to Barajas cost the group an estimated €60m but will boost profit by an estimated €20m a year, according to Fernando Conte — although that may well be a substantial underestimate if a calculation for "saved" long–haul revenue is included.
In terms of the fleet, this network restructuring will be accompanied by a scaling back of both aircraft types and numbers. Iberia currently operates 153 aircraft (see table, above) , which have an average age of just over eight years, but the fleet still remains a mish–mash of different types.
Under the 2006–2008 plan the fleet will be cut from 152 as at end 2005 to 132 aircraft over the period (a 13% cut), with the short–and long–haul fleet shrinking from 122 to 101 and the long–haul fleet rising from 30 to 31. However Iberia adds that its fleet plans are flexible and that it has the ability to increase the fleet to 162 aircraft by the end of 2008 if market conditions improve. Just 24 aircraft are on outstanding order, and the last major order placed was back in the summer of 2005, when Iberia ordered 10 A318s, seven A319s, 10 A320s and three A321s. They began arriving in mid–2006 and are replacing MD–87/88s, 757s and the oldest of the A320s. On long–haul, the last 747 went in 2004, but in short- and medium–haul there is still a mix of Boeing and Airbus models, and the last Boeing aircraft will probably not leave the fleet until 2008 at the earliest — though once that happens, medium- and short–haul costs per seat will fall by around 7.3%, Iberia estimates.
Revenue improvement and productivity
On revenue improvement the key priority is improving the proportion of business travellers, particularly on routes to Latin America. A €100m investment in upgrading the business class product on long–haul aircraft began in May 2005 and was completed this spring, and this included flat seats, in–flight personal communications systems (with e–mail and instant messaging) and video–on–demand. Iberia says the long–haul business upgrade has contributed to a significant improvement in the amount of business passengers carried and that a Director Plan target of increasing Iberia's share of business class traffic to Latin America by 2.5% has already been achieved. However, though Iberia's business class is currently on a par with Lufthansa and Air France, it still trails behind the product offered by British Airways, the standard the airline is aiming for.
On short- and medium–haul, further differentiation between economy and business products is being attempted through a €50m investment in upgrading cabins across Iberia's short- and medium–haul fleet, which includes a new business class seat. Iberia is also increasing the number of seats per aircraft — the airline estimates it can increase revenue by €20m a year by increasing configuration on A319s from 132 to 141 seats, on A320s from 162 to 171, and on A321s from 194 to 200 seats, all at a one–off cost of some €33m. Finally, Iberia is working on a new revenue management system, although this will not be introduced until the end of 2007 at the earliest.
Cost-cutting
On productivity, via shorter turnaround time and better punctuality the aim is to increase hours flown per aircraft from 8.5 hours to 8.7 hours a day on short–haul and medium–haul over 2006–2008, while long–haul will rise from 13.8 hours to 14 hours. Employee productivity has improved steadily over the last six years, although the number of employees at September this year was little more than 1,000 fewer than in 2000. This will improve significantly however — by up to 20% — given the cuts in the workforce that Iberia is currently implementingThe 2006–2008 plan calls for a cut of 2,164 jobs from the 24,300 employed as at the end of 2005, thereby reducing the workforce to less than 22,200 by the end of 2008. This 9% cut will fall entirely on flight crew (867 positions) and ground staff (1,298), and although 833 of these positions were to go in 2006, almost 1,300 had gone by the end of October after more people than expected took up the redundancy terms. The staff cuts will save €122m in 2008, although the airline will pay around €280m for the cost of the redundancies.
Also €68m is to be saved by freezing salaries and from changing the basis by which they are calculated from fixed to variable (linked to performance targets) and through imposing new conditions for new hires. Obviously this needs agreement from unions, but so far only one category of staff has signed up to this — in February 18,500 ground staff represented by three unions agreed a two–year pay deal with Iberia that includes a pay freeze but is softened by the award of a €18m bonus payment to the workforce.
Iberia also wanted new collective deals signed with pilots and flight attendants by the end of the first quarter of 2006, but the timetable has been eased back time and time again after negotiations with unions failed to achieve agreements — and now no deals are expected until the beginning of 2007 at the earliest. Although Iberia is also dangling bonus payments to the unions concerned in exchange for pay freezes, neither group of workers appears particularly disposed to management. Negotiations with pilots have been going on for more than a year and a half on both a wage freeze and improvements in productivity (e.g. by reducing stopover time and increasing flying times), but as mentioned earlier SEPLA members carried out a strike in July in protest at Clickair (and prior to this action SEPLA proposed to reduce the pay of pilots operating Iberia flights out of Barcelona to "7% lower" than easyJet's pilot costs — although this was rejected by Iberia).
As for flight attendants, in the summer Iberia only narrowly avoided a strike by cabin crew unions STAVLA and TCP, again in protest at the launch of Clickair. Since then both the cabin crew and pilots unions have since come to "an understanding" with Iberia on the new LCC, which union sources say amount to explicit job guarantees and which were witnessed by representatives of the Spanish government, but this will make little impact on whether/when unions will sign new agreements on pay. In June flight attendants also carried out a 24 hour strike at protest at Iberia's decision to expand a wet lease deal with Gestair to from two to 10 757s. Union officials are worried that Iberia will make increasing use of wet leases over the next few years as it seeks to increase it fleet flexibility. Iberia previously had a major wet lease contract with Air Europe, but this capacity was quickly eliminated after September 11. Currently Iberia wet leases a handful of aircraft with Air Atlanta, and with Gestair Iberia passes on to it (and then leases back) aircraft whose leases have expired with the flag carrier. A union official say its members are not opposed to wet leasing as a principle — but only as long as it does not lead to more redundancies.
In July Iberia also suffered from a wildcat strike carried out by more than 1,000 Iberia ground handlers (represented by the UGT and CCOO unions) at Barcelona airport, carried out in protest at the awarding of AENA (the Spanish airport operator) handling contract to a different company after public auction, part of a move to liberalise ground handling at state–owned airports. The loss of this contract cuts Iberia's third party handling revenue by 25%, and Iberia called the decision "unfair". (However, under Spanish labour laws the new holders of the contract have to re–employ the staff employed by the previous contract holder.)
Elsewhere in the cost–cutting "pillar", €22m is to be saved from reduced commercial costs, €18m from reduced lease costs and €15m from lower cargo costs. Iberia has also been cutting back travel agents commission since 2004, but has not been able to eliminate them completely — after a meeting with travel agent associations in October, Iberia put off reducing the current 1% level from 2007 to January 2008, with the rate falling to 0.4% in 2007.
Iberia is also lagging behind its European rivals in terms of internet sales, although Iberia web site sales have risen from 9.1% in 2004 to an estimated 19.5% in 2006.
Is it doing enough?
Iberia says it will have completed around 70% of the measures outlined in the 2006–2008 plan by the end of 2006, and while this is obviously good news, the question has to be asked: has the airline set itself challenging enough targets?
The cost–cutting pillar of the Plan is its weakest part. On staff numbers, for example, by 2008 the workforce will be 13% lower than in 2000, which compares poorly with a 30% cut in the workforce at BA in the 2000–2006 period. And in terms of productivity, Iberia is also behind its major rivals; for example, it has 30% fewer ASK per employee than Lufthansa. In many other areas — distribution costs, fleet mix etc — Iberia simply lags behind the best practice of the leading European majors, and while Iberia is improving all the time, so are its rivals.
Still, the senior management team at the airline today is much improved, and the benefits of the network restructuring will "hit home" over the next few years. Previous CEO Angel Mullor resigned at the end of May after three year's in the position, and he was replaced as CEO by chairman Fernando Conte. At the same time the group revamped its senior management team and reduced the number of directors in order to improve the decision–making process.
In the January–September period revenue rose 11.4% to €4.1bn and operating profit fell 32.7% to €73.5m, with net profit down 83.5% to €66.3m. Unsurprisingly Iberia has been hard hit by rising fuel costs, up 43% in Q1–Q3 2006 compared to the same period in 2005, although fuel surcharges were eased back in October from €65 to €63 on long–haul flights and from €23 to €21 on European (although domestic surcharge stayed the same, at €10).Iberia has hedged around 50% of its fuel needs for 2007 at $61 per barrel, and with fuel prices continuing to fall management is much less concerned about this than it was previously.
Iberia's finances are also improving: cash and cash equivalents stood at €876m at as the end of September 2006 (compared with €821m as at the end of 2005), while long–term debt totalled €1.9bn at end of Q3 2006 (€2.1bn at end of 2005).
For the whole of 2006 a net profit for €140m is expected by the airline, and although Iberia regards 2006 as a "transition year", the implementation of the Director Plan has helped Iberia's share price rise from €2.27 at the end of 2005 by more than 15% over the course of 2006 (though it briefly fell to a low of €1.86 in July after the industrial disputes), with many analysts now bullish on the stock. After the third quarter results Merrill Lynch upgraded its target price for Iberia shares from €2.40 to €2.70, citing a background of lower fuel costs and good prospects for unit revenue growth, and indeed as at early December the share price broke through the €2.70 level.
The increased confidence in Iberia is also leading to rumours of acquisitions for the group. Over the summer Conte said that the group has €2bn to invest in Latin American acquisitions, though it had no specific targets at that time. In 2005 Iberia was interested in the privatisation of Aeromexico and Mexicana, though Iberia dropped out of the bidding race in October, while in the same year Iberia was also touted as a buyer of Varig's 49% stake in Uruguayan airline Pluna — though again nothing came of this. Closer to home, Iberia firmly denies all interest in buying a stake in TAP when it is privatised in the next year or so, although sources suggest it will look closely at the opportunity when it does arrive.
Iberia may be a merger target, with British Airways long–touted as a prospective buyer (and Air France/KLM recently touted as an alternate). BA increased its share of Iberia to 9% in November after buying the 1% stake previously held by American Airlines for €19m — in order to keep two seats on the Iberia group board after American indicated it wanted to sell its stake.
But the reality is that — at present — a merger between the two airlines is not logical. Iberia and BA currently share cost and profits on flights between London, Madrid and Barcelona, but BA would gain relatively little for a large investment now, and at a time when it has other problems to overcome. From Iberia's point of view, a merger with BA (as opposed to a less–acceptable "acquisition") might make strategic sense in that it would secure the Spanish flag carrier's future, but in the short–term its finances are improving and it will want to complete the medium–term network restructuring before deciding if a merger makes sense (or put another way, before being able to obtain the best "price" for its shareholders in any equity tie–up).
IBERIA GROUP RESULTS 2005
IBERIA GROUP RESULTS 2005

| | | | |
| --- | --- | --- | --- |
| | Revenue | Operating | Operating |
| | share | profit share | margin |
| Passengers & Cargo | 89.3% | 55.4% | 1.5% |
| Airports and Handling | 6.6% | 21.3% | 7.7% |
| Maintenance | 3.4% | 21.3% | 14.7% |
| All other | 0.7% | 2.0% | 6.4% |
IBERIA'S FLEET
IBERIA'S FLEET
A319-100
Fleet
Orders
Options
11
13
73
A320-200
56
10
A321-200
18
1
A340-300
15
A340-600
14
7
757-200
7
MD-87
19
MD-88
13
Total
153
24
80