Cathay Pacific: Reduce costs, retain revenues, build Hong Kong hub December 2005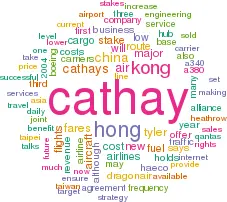 Cathay Pacific's strategy has three main planks, first to reduce its cost base, second to preserve its revenue premium, and third to build the Hong Kong hub. Its strategic direction is buoyed up by a complex range of subsidiaries and cross–holdings in aerospace–related companies that provide strong secondary revenue streams to and through Cathay Pacific.
Unit cost targets
Reporting a year on year 239% improvement in net profits of HK$4.4bn (US$565m) on a HK$39.1bn turnover, Cathay has set itself a target of reducing unit costs per ATK from the 2004 year end level of HK$2.07 to HK$1.80 by 2007. This target was affirmed in the interim results presentation which was made in August 2005 for the first half of the year despite actual costs/ATK rising to HK$2.19 largely because of the increase in fuel costs. Tony Tyler, Cathay's Chief Operating Officer, downgraded the hopes of reaching a cost base of HK$1.80 as now a "goal rather than a target".
Historically Cathay has covered about one third of its fuel buying forward for a six–month period, using a model developed by Morgan Stanley. Since the spike in oil prices Cathay has abandoned this strategy and chosen not to hedge at all. Cathay has recently decided to take a new approach to fuel hedging. This has involved the airline taking out a series of collar and caps options to cover once again about a third of their fuel requirement, giving the airline a more defensive position which should ensure some protection on any major spikes in the fuel price.
With fuel accounting for some 30% of total costs, Cathay is redoubling its efforts to make cost savings elsewhere. The next largest cost case is personnel. Growing the airline assists here as new staff are recruited at lower than average salaries. A major initiative is streamlining the airline's supply base. A special task force has been set up to ensure that all new contracts with suppliers lead to a "continuous improvement" in the airline's cost base.
Fleet
On December 14, Cathay placed a firm order for 12 777–300ERs and is also leasing four 777–300ERs and three A330–300s from ILFC in a decision that has been six years in the making. Tyler says that the six–year delay has benefited Cathay as there have been significant advances in both planes' in service development. This delay especially benefits Cathay, which has to operate its aircraft at the limit of their payload range due to Hong Kong's geographical position.
The airline would appear to be a natural customer for the A380, especially as many of its nearest competitors have ordered the aircraft, notably Singapore Airlines, Malaysian, China Southern and Qantas. Cathay chose to model the impact of adding an additional A340 frequency versus putting an A380 on a given route. Larger financial benefit was gained from the additional A340 frequency and this has been borne out at London Heathrow where Cathay has just been awarded a new slot which will allow it to offer four daily services. With this frequency Cathay feels comfortable that its offer will be superior to a potential Virgin Atlantic A380 operation on the route.
Cathay will assess the merits of the A380 versus the 747Adv, but it has appeared to rule out being a launch customer again for a new type after having experienced problems in the past with both Boeing and Airbus introductions. Cathay was the lead operator of the Rolls powered 747–400 and the Trent powered A330.
Route development
Cathay is presently trying to obtain passenger rights to fly to Shanghai and wants to increase frequency on its Hong Kong — Beijing service from its current level of three flights per day.
Increased access to Chinese markets requires "patience". Cathay is working with Dragonair and Air China to drive this process forward. A long–term shareholder in Dragonair, Cathay has recently purchased a 10% stake in Air China at a cost of US$400m. Cathay's action was a significant factor in helping make the Air China IPO a success. Air China and Cathay now code–share and participate in each others' FFPs.
Cathay intends that Hong Kong's home carriers, itself and Dragonair, will continue to play a vital role in maintaining Hong Kong as the regional hub and gateway to China. Hong Kong is likely to remain for the foreseeable future the hub with the most connecting opportunities to China and Cathay is determined to ensure the airport keeps ahead of its nearest competitor at Guangzhou.
The carrier's busiest route is Hong Kong — Taipei, on which Cathay offers 16 daily flights. The absence of any direct flights between China and Taiwan means that carriers such as Cathay, Dragonair and Air Macau provide the air link between the two countries. Although there is no immediate prospect of direct flights being permitted, it would appear that the current political climate would suggest that they may be allowed to in the not too distant future.
Cathay acknowledges this would impact the airline, but believes that it will still be an important player in the market given that a total of 48 Chinese cities are served out of Hong Kong and this could not be replicated from Taiwan. Also Cathay contends that a Sino — Taiwanese agreement would be a major boost to economic growth in the region and significantly stimulate traffic growth. Hong Kong and the US have been in protracted talks about "open skies" for many years and the talks are ongoing.
Cathay has taken a consistent line, it has no problem with progressive liberalisation but considers the US line unfair. Cathay sees little use for any beyond–US traffic rights it receives. However if US carriers were to receive fifth freedom rights beyond Hong Kong these could be damaging to Cathay's business, particularly concerning is the action that cargo operators such as Fedex and UPS could take.
Cargo accounts for about one third of Cathay's revenues. Tyler says that "very few" of Cathay's flights would be profitable without the contribution of cargo. With Fedex and UPS primarily making their money from carrying small packets, Cathay is concerned that these carriers, who are making aggressive inroads into the South East Asian area, could price the carriage of general cargo at much lower rates.
Alliances
Cathay is a founder member of the oneworld strategic alliance. Tyler describes oneworld as an "alliance of successful airlines", driven for the benefit of the participating airlines, suggesting that some other alliances are driven more for the benefit of the alliance itself.
The oneworld alliance has grown this year with the announcement of new members Royal Jordanian, Malev and JAL. Although oneworld members have indulged in some joint purchasing in order to save costs, Tyler says the vast majority of the benefits are derived from increased revenue.
Although Cathay and BA compete aggressively with each other the code–share feeds (from/to Europe and Asia) they provide each other is very valuable.
Through a series of straight rate and prorate agreements Cathay takes many BA passengers on to Taipei for "not very much" but in turns pays BA not very much for the European passengers it feeds onto Cathay flights at Heathrow.
These agreements allow Cathay to compete effectively for European traffic with Air France and Lufthansa. And with an annual passenger load factor of 77.3%, Cathay has the capacity to take some low yield traffic.
The co–operation with BA stops short of the sort of Joint Service Agreement (JSA) that BA has with Qantas on the kangaroo route. It has been considered, but Cathay regards the regulatory price it would have to pay for such an agreement, for example a loss of slots at Heathrow, would be too high. Indeed, because Hong Kong is a designated stop on the kangaroo route, Cathay would probably have to include Qantas in such an agreement adding to the complexity.
With Cathay owning minority stakes in both Dragonair (17.8%) and Air China (10%) there is always speculation that the airlines may consolidate at some time in the future. Cathay has no plans to increase the size of the stakes it already holds in either carrier.
Tyler says that Cathay has no plans to invest in any carrier although if ownership and control would be available then a review of this stance may occur. It may well be the result of a successful outcome in the EU — US open skies talks that may be the catalyst to such a change taking place.
Secondary revenue streams
Cathay is unusual in the amount of stakes it holds in non–airline businesses.
The primary business of Cathay Pacific Catering Services (CPCS), wholly–owned by Cathay, is flight kitchens at Hong Kong airport. CX Catering also has smaller kitchens in Canada, Cebu in the Philippines, Vietnam and Taipei in Taiwan.
HAECO is a separately listed company on the Hong Kong stock exchange in which Cathay retains a 27% stake. Cathay's major shareholder, the Swire Group hold a 59.9% stake in HAECO giving the two effective control.
HAECO is Asia's largest aeronautical engineering company in terms of capability. It performs major airframe checks on 747s, 777s and the A320, A330 and A340 aircraft and provides line and base maintenance at Hong Kong airport, and performs component overhauls at a cheaper external site.
The business is very successful, producing profits of HK$451m (US$58m) on turnover of HK$2153m (US$277m) in 2004. Major checks are performed in 14 days compared to a 21–day wait for a comparable check at some US–based maintenance bases.
The success and reputation of HAECO (which was founded in 1950) has led to a couple of offshoots. A joint venture founded in 1997 between HAECO (45%), Rolls- Royce (45%) and SIAEC (SIA Engineering Company — 10%) called HAESL provides aero engine repair and overhaul services based in Hong Kong's New Territories. Tyler describes HAESL as "the best managed joint–venture business in China".
TAECO (Taikoo Xiamen Aircraft Engineering Co.) in which Cathay holds a 9% stake, but also has exposure through HAECO's 54.5% stake, has been set up in Xiamen which offers labour rates well below those in Hong Kong. The company has just opened a fourth hangar and now can simultaneously accommodate eight widebodies and three narrowbodies. TAECO has won a contract from Boeing to perform 747 freighter conversions. Boeing has committed to converting 34 747–400s into Special Freighters and options exist on a further 29 aircraft. The first 747SF of six ordered in January 2004 was delivered to Cathay on December 19, which marks the first time that Boeing has completed an aircraft certification outside the USA. The aircraft will be added to Cathay's current cargo fleet of 13 747–200/400Fs.
Cathay's other major shareholdings are in Air Hong Kong in which it holds a 60% stake and holds a 53% stake in the CRS provider, Abacus. Cathay has had approaches to sell off its FFP, Asia Miles, but has no intention to sell the business.
Distribution
Another unusual feature of Cathay is its strategy towards distribution. Tyler says that Cathay's online internet sales are in the "low single digit figures". Instead Cathay relies on the "very efficient" Hong Kong travel agency businesses for most of its sales. Many tickets are sold on a net fares basis with travel agents putting on their own markup.
Cathay is unconcerned with its low level of internet sales, and is convinced that if it alienated the travel agents then it would lose revenue. Some distressed inventory is sold via the internet, "fare 48" being fares available for a two–day period.
LCC competition
Although Cathay is a primarily long–haul carrier it is not immune from competition from LCCs. On one of its trunk routes, Hong Kong–Singapore, JetStar Asia operate a double daily service. In the past fares on this route would be sold at around HK$ 2,500, today Cathay has to offer fares at HK $900. This is having a knock–on effect in other markets. With low fares available in the Singapore market, Cathay feels obliged to offer lower fares elsewhere, for example to Bangkok where fares are as low as HK$ 1,800.
On the Hong Kong–Singapore route, Cathay is relying on its ability to carry a large share of business traffic, 30 tonnes of cargo and the offer of some low fares to keep a lid on LCC capacity.
CATHAY PACIFIC'S FLEET
CATHAY PACIFIC'S FLEET

| | | |
| --- | --- | --- |
| A/C family | Fleet | Orders |
| 777 | 17 | 13 |
| 747 | 35 | 0 |
| A330 | 26 | 3 |
| A340 | 18 | 0 |
| Total | 96 | 16 |