Air Berlin battles through Germany's LCC wars December 2004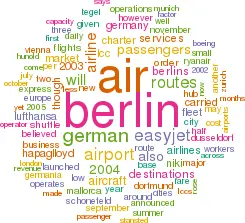 Air Berlin has grown steadily to become not just the second–largest airline in Germany in terms of passengers carried, but also the third–largest LCC in the whole of Europe.
But can the Tegel–based airline retain its independence against the onslaught of easyJet and Ryanair into the lucrative German market? Air Berlin was founded by Kim Lundgren in 1978 as a charter airline based in the US, since only aircraft owned by the Second World War's Allied nations were allowed to land in Berlin. Once this rule ended, German investors bought into the company in 1992, and today Air Berlin is owned by Reidun and Kim Lundgren (26%), Severin and Rudolf Schulte (25%), Hans–Joachim Knieps (25%), Werner Huehn (15%) and Joachim Hunold (9%), who is also the airline's managing partner.
Originally Air Berlin sold its capacity to German package tour operators, but seat–only tickets began to be sold direct to the public once the airline had built up frequencies on key routes such as the so–called "Majorca Shuttle", which today links the popular Balearic island with 12 cities across Germany through more than 200 flights a week in the summer season.
Mallorca is also a major hub for Air Berlin, and the island is linked with 12 destinations in the Iberian peninsula as well as to Austria, Switzerland and the UK. In the rest of its charter network, Air Berlin connects 16 German cities with holiday destinations across the Mediterranean and north Africa.
However, in the early 2000s Air Berlin realised that prospects for the charter market were not good — both in the short–term, given the recession in the German economy and in the long–term given the structural drift away from packaged holidays — and in October 2002 the airline launched the first of its City Shuttle services. The shuttles provide daily services between key cities and offer both business passengers and leisure travellers a low fare product. Today there are shuttles between nine major German cities and Barcelona, Budapest, London Stansted, Manchester, Madrid (starting December 18), Milan Bergamo, Rome, Southampton, Warsaw, Vienna and Zurich. Air Berlin claims that its City Shuttle services have already recouped their initial investment, and are profitable.
Altogether, as both a charter airline and a low fare carrier, Air Berlin operates to 57 destinations across Europe, and in 2003 carried 9.6m passengers — a substantial 43% rise on 2002. Of those, 4.8m were scheduled passengers (2.3m in 2002), making Air Berlin second only to Lufthansa in the German market in the non–charter market (Lufthansa carried 45.4m passengers in 2003), and ahead of DBA, which carried 3.1m passengers in 2003.
But though scheduled passengers are now the future for Air Berlin, the charter sector is still substantial, and in 2003 the number of passengers carried to Mallorca rose by 53%, to 2.9m.
Air Berlin expects to carry around 11.6m passengers this year, and in January- September passengers carried rose 38.5% compared with the same period in 2003. In September the airline's load factor reached 87%, and for the first nine months of the year load factor was 81%, two percentage points up on the same period in 2003.
The airline has 2,200 employees, half of whom originate from the former East German state, but as Air Berlin is privately owned, its financial position is difficult to assess.
Although revenue rose 26% in 2003 to €894m, it is believed to have made a small net loss that year thanks to the Gulf war and a downturn in tour operator business. For 2004 the airline is expecting revenue to top the €1bn mark (€1.07bn is the latest forecast), and in the first three–quarters of the year revenue rose by 19% to €797m — though this is still dwarfed by Lufthansa's annual turnover of €15.9bn.
Full year profit of up to €40m is forecast, though Air Berlin says 2004 profits would have topped the €100m level if it were not for the increase in fuel prices — a statement that implies Air Berlin has little hedging against fuel price rises.
The Lauda link
In January 2004 Air Berlin bought a 24% stake in Niki, the airline launched by Niki Lauda in November 2003 out of the Austrian assets of failed German charter airline Aero Lloyd. At the start of 2004 Niki operated just one A320 and one A321 on charter flights from Vienna and Salzburg to Mediterranean holiday destinations, but the link with Air Berlin enabled Lauda to move the airline towards the LCC model.
Air Berlin and Niki agreed to co–operate in a number of areas, including shared sales and marketing, CRS, co–ordination of schedules and joint logistics. Following the partnership, Niki acquired two more A320s and in May launched City Shuttle services from Vienna to Rome, Warsaw and Zurich. A fourth city shuttle came in November with the launch of a daily Vienna–London Stansted route, while a daily Vienna–Paris service will start in February 2005. Niki's flights to Mallorca have also been integrated into Air Berlin's hub operation there.
Up until October 31st, Niki carried 970,000 passengers and had revenue of €70m, producing a small net profit, it is believed. Both airlines state that Air Berlin has no plans to raise its stake in Niki in the future, and in any case Lauda would be reluctant to lose a controlling stake.
From Air Berlin's point of view, the partnership secures access to the Austrian market and enables the airlines to co–ordinate the launch of new routes into eastern Europe, where growing demand from the new EU nations is still outstripping capacity being added by western airlines. Air Berlin operates to Warsaw (from BerlinTegel) and Budapest (from Berlin Tegel, Dusseldorf and Munich), both of which commenced in the summer after Poland and Hungary joined the EU, while Air Berlin and Niki are examining services out of Vienna to Russia sometime in 2005.
The fleet
Air Berlin operates a fleet of 42 737s with an average age of less than three years, around half of which are leased. Air Berlin also wet leases three Fokker 100s from Germania as part of deal to operate Germania Express (Germania's LCC) routes from Berlin Tegel, Hamburg, Munich and Dusseldorf to Vienna and Zurich.
In 2003 Air Berlin experimented with the wet lease of three BAe 146s on a City Shuttle route out of Monchengladbach (also known as Dusseldorf Express Airport), but switched the service to 737s out of nearby Dusseldorf airport after finding the aircraft "very expensive".
After months of speculation, in November 2004 Air Berlin announced it had completed what was a "complex decision" and was ordering up to 70 A320 family aircraft — 60 for its fleet and 10 for partner Niki — with options for another 40 aircraft. All the aircraft will contain 174 seats in a single–class configuration.
Niki currently operates two A321s and three A320s, but these will all be replaced by the new arrivals, so its fleet will expand to 10 aircraft.
For Air Berlin, the move away from Boeing to Airbus is a major change, and yet another blow for Boeing, which had expected — at worst — that the order would be split between the two manufacturers.
Inevitably, Boeing claims that Airbus only won the order after dropping its price per aircraft to a very low level — though Air Berlin insists that other issues, such as delivery slots, were an issue. A decision on engines has yet to be made, and again there is a difference between the prior policies of the two airlines: Niki's Airbuses use International Aero Engines V2500s, while Air Berlin's Boeing fleet uses CFM engines.
The firm order is believed to be worth around €3.4bn, and aircraft will start arriving in the third quarter of 2005, continuing until 2011.
A consortium of banks is financing the order, and it is believed that Air Berlin will buy around half of the new aircraft and lease the other half.
Final decisions on the models have yet to be made, and Air Berlin has not yet made clear how many of the 60 A320s will immediately replace existing 737s (some of which are leased) and how many will be for fleet expansion — though it's likely that many of the aircraft will be used for new routes and extra frequencies on existing services. Air Berlin has already announced it is expanding its workforce by hiring another 350 flight personnel in 2005.
Seven extra aircraft will be available by the end of summer 2005, bringing the fleet up to 52, and this capacity will be used on routes to eastern Europe, and — in a direct challenge to easyJet — on extra flights to London Stansted, Manchester and Southampton.
This will come on top of four new routes launched to the UK in November 2004 — daily flights on Berlin Tegel–Manchester and Dusseldorf- Manchester, a three–times–a week service on Paderborn–Southampton and a four–times–a week service on Paderborn–Manchester.
The Dusseldorf–Manchester route competes against both Lufthansa and British Airways CitiExpress, while Berlin Tegel–Manchester is also served by CitiExpress. These routes joined Air Berlin's existing services to the UK — routes from six German cities and Mallorca, all to London Stansted, and which between them generated almost three quarters of a million passengers in 2003.
Air Berlin is also expanding its Spanish operations. In September Air Berlin announced it would build up Madrid airport into a hub operation, connecting the airport to 24 destinations in Germany, Switzerland and Austria, with all routes going via Mallorca. And in the same month Air Berlin launched a Bilbao–Mallorca route, allowing passengers from Bilbao to connect with 18 destinations in Germany, Austria and Switzerland.
Air Berlin is launching a daily Berlin–Madrid shuttle on December 18, though in September it complained about the inefficiency of Spanish airports, which was forcing it to increase fares by up to 8% on routes to the country, as well as the need to improve the facilities at Palma airport on Mallorca, home of its hub operation.
Air Berlin is looking to build hubs elsewhere in Europe. Basel is one destination under consideration, and the airline is believed to be talking to the airport authorities there.
However, this appears a pretty unlikely candidate for major operations, given its proximity to Niki's operations in Zurich — unless Basel airport can come up with lower airport charges.
A real LCC?
With lots of capacity being added and with tour operator business looking less than robust in the long–term (as the trend towards self–assembly holidays continues), Air Berlin will expand its City Shuttle network of low fare routes aggressively. Although its City Shuttles are a recent concept, in many ways Air Berlin has been ahead of its time.
Before the LCC model came to Europe, Air Berlin was offering flights from secondary German airports such as Dresden, Munster/Osnabruck, Paderborn and Nuremberg, although now its strategy is much more about major city–to–city routes popular with business travellers than flying between secondary airports. Another difference with the traditional LCC business model is that Air Berlin has a strategy of signing simple partnerships (it dislikes what it calls complex interline deals) with other airlines. These deals feature one partner completely taking over services from the other on selected routes, and vice versa.
But is Air Berlin a true low cost airline? Given the lack of publicly available information, it's difficult to verify, but Air Berlin probably does have the lowest cost base of any airline in Germany, thanks to (at the moment) a young, all 737–fleet and relatively low labour costs. But as much as Air Berlin says it is now targeting Lufthansa on city–to–city routes, it's not the costs of the German flag carrier that Air Berlin has to beat, but those of easyJet and Ryanair. Certainly in terms of productivity, Air Berlin lags behind easyJet — Air Berlin's passengers carried per employee will be around 5,300 in 2004, compared with approximately 10,000 for easyJet (and 1,300 at Lufthansa, albeit on a global network).
The question of how low Air Berlin's costs are is crucial, since LCCs are starting to flood a market where fares have traditionally been high. Rivals include not only German competitors such as Hapag–Lloyd Express and German Wings, but also foreign LCCs, crucially easyJet and Ryanair.
Michael O'Leary, CEO of Ryanair, says that there will be a "mother and father of all wars" in the German aviation industry, while Ray Webster, CEO of easyJet, has stated "it is not possible for small companies to survive in Germany". easyJet entered the German market in a big way in 2004 (after not taking up its option to buy DBA) by opening a hub at Berlin Schonefeld (also known as Brandenburg International) in April — a direct challenge to Air Berlin, Germania and Condor, all of which operate out of the airport (as well as out of Tegel). Six easyJet aircraft are stationed at Schonefeld, operating to 20 destinations throughout Europe.
The latest tranche of routes were launched on November 25, with services between Berlin and Bratislava, Geneva, Ljubljana, and Riga. After Berlin, easyJet started operating out of Dortmund in July (and now operates to 9 destinations from there) and it also has four routes from Munich and Cologne/Bonn to the UK.
Ryanair started flying to Germany way back in 1999, and in July 2004 passed a total of 10m passengers carried to–from Germany.
It has a major base at Frankfurt Hahn airport, (with five aircraft operating to 22 destinations), plus smaller operations at Dusseldorf Weeze airport (five destinations), Hamburg/Lubeck (five destinations). It also flies into Karlsruhe/Baden, Friedrichshafen, Berlin Schonefeld, Altenburg/Leipzig and Erfurt (though its London Stansted–Erfurt route is closing in January as part of a "weeding out of under–performing routes").
It is almost inevitable that there will be casualties in the German LCC sector. According to some analysts, there is overcapacity of more than 20% in the German low–fare market, and that's before easyJet's full entry — it alone expects to carry 1.5m passengers to and from Germany in the first 12 months of business.
easyJet says that its average fare (across all routes) is €58, whereas it claims Air Berlin's average fare is €93, DBA's is €111 and Lufthansa's is €268.
However, the growth of foreign LCCs in the German market is starting to unite domestic airlines that otherwise would be loathe to cooperate with each other. Initially, Air Berlin was on its own in resisting easyJet. In February 2004 Air Berlin said it might pull out of Dortmund airport (its second most important German base) in favour of Paderborn or Munster/Osnabruck, after easyJet stated it would establish a hub there as well as Berlin Schonefeld. But once easyJet started operations in Dortmund, Air Berlin was quickly backed up by Lufthansa, and the two rivals complained about what they saw as the more favourable charges levied by the airport on easyJet.
Air Berlin and Lufthansa — and then Hapag–Lloyd — unilaterally declared they would not pay Dortmund airport the same fee per passenger they had previously been paying — whether the airport agreed or not — and would instead only pay landing fees in line with the charges being levied on easyJet.
In Air Berlin's case, in September it declared it would pay €2 per passenger instead of the €15 per passenger it had been charged previously.
Between them, Air Berlin and Lufthansa account for two–thirds of Dortmund's 0.9m passenger movements per year, and the unilateral fees reduction is forecast to cost Dortmund airport around €12m per year. Whether Dortmund airport will fight these unilateral reductions, accept them or (as the German airlines may prefer) raise easyJet's fees, remains to be seen.
The battle against easyJet has spread to other German airports. Hapag–Lloyd — TUI's charter airline — threatened to leave its base at Hannover airport if the authorities allowed easyJet to also establish a hub there. Air Berlin and Germania Express backed up this threat.
TUI employs 1,100 staff at Hannover, and the airport announced that its overriding concern was to protect those positions. Shortly afterwards, in July, easyJet dropped its plans for Hannover operations.
The increasing threat from easyJet is a key factor between a growing relationship between Air Berlin and Hapag–Lloyd. Since July Air Berlin has been code–sharing with Hapag–Lloyd on selected charter routes, and from November 2004 that was extended to the summer of 2005, with code–sharing on approximately 300 flights on popular holiday routes out of Munich, Nurnberg and Stuttgart, with Air Berlin focusing on routes to Mallorca and mainland Spain, and Hapag–Lloyd focusing on services to the Canary Islands.
The airlines are also selling each other's flights.
There was speculation over the summer that this might lead to a full merger, or at the very least that TUI would acquire a stake in Air Berlin. In the past Air Berlin has held talks about strategic partnerships with the giant tour operator, but that appears unlikely in the short and medium term given that Air Berlin has the finances it needs for its large fleet order and it can get substantial benefits from code–sharing with Hapag–Lloyd, without the need for equity ties. However, a growing relationship between Air Berlin and Hapag–Lloyd could spell the end for TUI's LCC, Hapag–Lloyd Express (HLX).
Hapag–Lloyd Express was launched in December 2002 at a cost of €100m, but its ongoing cost base may well be higher than Air Berlin's.
Elsewhere, the battle against easyJet continues.
In October 2004, after a complaint by Air Berlin, a German court ordered Berlin Schonefeld Airport to change the prices it charges to LCCs. Air Berlin argued that Schonefeld charged easyJet less than Air Berlin was being charged (by the same airport operator) at Berlin Tegel airport, and again, Lufthansa backed up Air Berlin's complaint. Air Berlin has hinted it might have to think hard about whether to switch all its Berlin services to Tegel, but this is not believed to be a serious option.
In October 2004 Air Berlin also entered into talks over an expanded sales and marketing agreement with LCC Germania, building on the existing wet lease agreement between the two airlines.
Up for an IPO?
In early 2004 Air Berlin said it was considering a stock market listing in the next 18 months, in order to raise the capital needed for its impending fleet order, and reports out of Germany say it began preliminary discussions with UBS.
At the time the airline stated that its current owners could not afford to invest further into the company, so that was why an IPO was being examined. In September however, the airline announced it would not be seeking a listing in the short- and medium–term, as it had come to an agreement with a consortium of banks for financing of its impending fleet order.
The owners, which include managing director Joachim Hunold, may be keen to keep the airline away from the scrutiny of analysts and financial reporting requirements, though German analysts believe there may be a split among the shareholders, with Hunold believed to be less cautious about a flotation that some of the others, such as the Schulte brothers.
A complicating factor is that Air Berlin is aggressively anti–union, and is reluctant to allow its workers to have representation.
Through 2004, Vereinigung Cockpit, the German pilots' union, has been trying to unionise workers, though Air Berlin is deliberately organised into small business units, each of which are too small to come under the effect of Germany's union laws.
However, German law requires companies undergoing a flotation with more than 2,000 employees to allow workers' representatives to have half the seats on the supervisory board.
A way round this would be to float in another country, though that would strain relations between management and workers even further.
But with Hunold reportedly saying that "I'd destroy everything I built up if workers entered the boardroom", it's difficult to see how the relationship could get any worse.
If Air Berlin doesn't go for an IPO, then an alternative for long–term funding would be a partial trade sale. Given the right strategic investor, this would also secure Air Berlin's future, and so seems its most likely option.
Air Berlin's fleet
Air Berlin's fleet

| | | Orders |
| --- | --- | --- |
| | Fleet | (options) |
| 737-400 | 5 | |
| 737-700 | 3 | |
| 737-800 | 34 | (2) |
| A320 family | | 60 (40*) |
| F100 | 3 | |
| Total | 45 | 60 (42) |
Note: *Options shared with Niki