Opportunities at Chicago Midway December 2004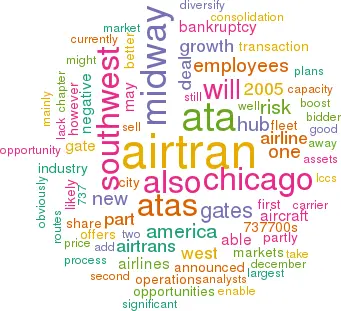 ATA Airlines' decision to sell its Chicago Midway hub operations — announced in conjunction with its Chapter 11 filing on October 26 — has opened up a uniquely attractive growth opportunity for one or more of the financially stronger LCCs.
While AirTran is the front runner, having already signed a $90m asset acquisition agreement with ATA, Southwest and America West may also submit bids for all or part of the bankrupt carrier.
The deadline for the bids is December 10, and ATA's bankruptcy judge is expected to pick winner on December 16.
However, there is potential for complications and delays, because the decision will also have to be approved by the City of Chicago — the party that ultimately decides how the Midway gates are reallocated.
If AirTran emerges as the winner — a potentially good scenario for all ATA stakeholders except possibly employees — the competitive implications are significant. It would set the stage for a mighty clash with Southwest, which is Midway's largest operator with a 42% passenger share (compared to ATA's 39% share, plus 5% held by its commuter unit Chicago Express Airlines) and is keen to expand significantly at that airport. It would be the first major confrontation between a strong new–generation (post- 1990) LCC and Southwest.
After ATA's bankruptcy filing, Southwest immediately announced that its number one priority is Chicago Midway. It has some room to grow there within its existing 19 gates and has already announced plans to add 24 new daily flights in the first quarter, to boost its total Midway frequencies from 145 to 169. Essentially all of its 10 new 737–700s scheduled for delivery in the first quarter will go to Midway.
If Southwest gets the 6–7 additional gates it is believed to be seeking, it could over time build Midway into its largest hub. This would obviously have negative impact on United's and American's important Chicago O'Hare hub.
America West is known to be interested in ATA's 14 Midway gates, as well as its ETOPS certification. It does not currently serve Midway (only O'Hare) and would like a mid–continent hub. However, it may not be able to justify it to its shareholders.
The scenario of America West successfully bidding for all or a substantial part of ATA has met with disapproval in the financial community.
This is mainly because of the substantial risk involved in integrating the acquisition, including employees and a new fleet type — a risk that seems unacceptable in the current industry environment. Also, although America West is used to competing with Southwest in Phoenix and Las Vegas, it might be a better idea to diversify away from that exposure.
JetBlue has also been mentioned as a potential bidder for some of ATA's gates.
However, building Chicago operations is not a priority for the New York City–based carrier, which has lots of exciting growth opportunities lined up elsewhere for its rapidly growing A320 fleet. It is also busy planning for the start of E190 operations in the latter part of 2005.
Mesa's name was also mentioned earlier in the ATA context, partly because the large regional is an old hand at M&A and partly because it is looking to diversify risk away from US Airways, United and Delta feeder operations. The most likely way it would get into Chicago would be as America West's feeder partner.
For its part, ATA has certainly played its cards right. It may or may not succeed in reorganising, but the bankruptcy process will at least give it a chance.
Chapter 11 will enable it to implement a fleet and aircraft lease restructuring — ATA's 737–800s are too large for the Midway markets, and its leases exceed market rates to the tune of $100m annually.With the AirTran deal, ATA secured a buyer and a good price for the assets that it feels it can part with, while still keeping the door open for better offers.
The Bankruptcy Code generally provides for an auction to allow higher and better offers — from the point of view of all stakeholders — when a company in Chapter 11 seeks to sell assets.
AirTran will be the "stalking horse" bidder, but it will be able to collect a $3.75m termination fee and up to $1bn of expenses if another offer is accepted.
Selling the Midway operation will enable ATA to focus on its home base and main hub at Indianapolis. It also plans to continue operating Hawaii service, military charters and some commercial charters.
The ATSB has provided some flexibility in respect of ATA's $168m partially government–guaranteed loan, while Indiana Transportation Finance Authority has provided a $15.5m secured DIP financing (via an aircraft–part sale–leaseback transaction).
The deal with AirTran, which the two parties hope to close by December 23, would mean the Orlando–based carrier taking over ATA's gate leases and routes at Midway, as well as slots at New York LaGuardia and Washington National. Initially, AirTran would wet–lease up to 12 of ATA's 18 leased 737- 800s for the routes, before introducing its own 137–seat 737–700s from June 2005.
ATA's 3,200 employees in Chicago would not be guaranteed jobs with AirTran, but many would obviously be taken on.
The two airlines would forge marketing and code–share pacts, including a link between Chicago Express and AirTran.
The deal would provide an immediate liquidity boost. AirTran would pay $42m in cash to ATA at closing, plus $7m to the City of Chicago to retire airport facility debt, followed by $19m of further payments to ATA by April. The remaining $22m of the $90m purchase price would be paid over an eight–year period, subject to AirTran being able to continue to use ATA's slot exemptions at LaGuardia and National (over which there is some uncertainty).
This is a very attractive opportunity for AirTran to diversify risk away from Atlanta, get a second hub, establish a significant presence in one of the nation's largest travel markets, and find somewhere to put the 100 737–700s it has on order or option. Currently, the airline operates just one gate at Midway, though it is able to add a second gate and some new flights in January, independent of the ATA transaction. The ATA deal would enable AirTran to reduce Atlanta's share of its total capacity from 70% at present to 55% by the end of 2005.
AirTran expects to operate the ATA routes profitably, thanks to its smaller aircraft and better lease terms. It will minimise risk and start–up hassles by entering the markets gradually — and not having to integrate aircraft and employees in the longer term.
Analysts do not expect the transaction to have negative profit impact in 2005, and in the longer term it should significantly boost AirTran's earnings. Since the deal was announced, AirTran's share price has surged from around $10 to the $12–13 range.
Credit rating agencies have not been quite as negative about AirTran's proposed transaction as they usually are about acquisitions.
Notably, Moody's reportedly acknowledged that it is not every day that gates and capacity become available at one of the country's most desirable airports, and that the airlines need to take the opportunity as it arises. But AirTran's credit ratings now have negative outlooks, as the agencies worry about AirTran's debt leverage, Southwest and other risks.
Among equity analysts, UBS' Robert Ashcroft has probably taken the most negative view. He downgraded his AirTran stock rating in late November, partly on valuation and partly because he felt that AirTran has underestimated the risk of contracting with ATA in the interim and the pain that Southwest can cause. Ashcroft suggested that AirTran should give Southwest some of the gates and only build an 8–10 gate Midway operation, which would "provide AirTran with sufficient shelter from the storm in 2005 while exposing it to less risk".
AirTran executives have brushed off concerns about Southwest, saying that AirTran has a similar low cost structure and has competed very successfully with Southwestin East Coast markets.
A heavy exposure to Delta in Atlanta is also risky, and Chicago would not become AirTran's primary hub. Also, as president Robert Fornaro pointed out in a recent conference call: "Southwest will be everywhere eventually, so you have to be able to compete with them".
Some analysts have made the point that the AirTran deal might be the best for the industry, because it would remove capacity from the domestic market through the use of smaller aircraft.
While Southwest and America West are also mainly interested in Midway gates, they could also bid for some of ATA's 737–800s.
Southwest's CEO Gary Kelly noted recently that the airline might have to add a different 737 model, such as the 800–series, for any additional near–term growth, because there are not many 737–700s available in the used market. However, bidding for ATA's 737- 800s will not improve an offer's chances, because the lessors should have no difficulty placing those aircraft with new customers.
But the situation is obviously different regarding employees. The City of Chicago has reportedly said that it wants any gate bidder to also take on ATA employees.
This is one area where there could be significant disagreement, with ATA and its creditors backing the AirTran bid but the City preferring one from America West.
Regardless of who ultimately wins, the ATA bankruptcy process offers some pointers for things to come further down the airline consolidation road, for example with US Airways. First of all, it is becoming clear that the immediate beneficiaries from airline failures will be the LCCs, rather than the legacy carriers.
Second, consolidation is likely to take place through asset buyouts, not mergers. Most airline mergers have been difficult and expensive, with complicated fleet and labour issues, and have typically not created value for shareholders. Now there is also a lack of investment funds, lack of management time (with focus still on liquidity and survival issues) and lack of goodwill on the part of employees (after all the sacrifices made).
Third, Southwest is definitely becoming more aggressive and is likely to play a greater role in the industry consolidation process. Whether this is because a more assertive CEO is at the helm, because other LCCs are gaining ground or because good opportunities are presenting themselves (mainly the latter two), Southwest's ASM growth is likely to well exceed its customary 10% annual rate in the next few years.
Currently, its plans still envisage 10% growth in 2005, following 6.9% this year. Calling this a "period of unbelievable change in the airline industry", Kelly said recently that the company is keeping an eye on growth opportunities that may open if other airlines sell assets.