Robust results in Asia/Pacific region December 2004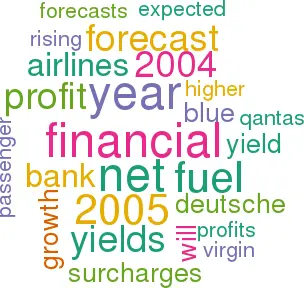 In a recent research note by Deutsche Bank it is reported that the global airline industry will likely lose (according to IATA) over $3bn this year, due largely to escalating fuel prices. This comes as no surprise, but it is important to separate the Asian carriers, which are seeing some of the most robust travel demand in years, from the US and European carriers, which continue to face yield pressures and are operating on thinner margins. Most major Asian airlines will remain profitable in 2004.
Cathay Pacific
Deutsche Bank forecasts Cathay's net profit for the 2004 financial year at around HK$3.7bn ($480m) with the 2005 forecast coming in at HK$4.8bn. The bank assumes that passenger yields will rise 6.8% year–on–year in the 2004 financial year. From this assumed profit base of HK$3.7bn, there is now upside surprise potential, as yields and/or surcharges could come in stronger than expected.
Korean Air
The 2004 financial year forecast for net profits was W51bn ($48m) and net profits for2005 were forecast at W143bn.
These forecasts reflect higher fuel price assumptions, which are partially offset by assumed higher yields. Passenger and cargo yield assumptions for the 2004 financial year were raised by 1% in November, and Korean Air is expected to make a small profit of W72bn in the second half of 2004 (versus a W22bn loss in the first half of 2004).
Malaysia Airlines
Malaysia Airlines still looks likely to record a small net profit of around RM29m ($7m) for 2005, compared to 2004's RM481m ($126m). The airline's overall traffic growth looks healthy and Deutsche Bank forecasts a RPK growth of 20% for the 2005 financial year. however the net financial result will be close to break–even.
Qantas Airways Ltd.
Excellent hedging, fuel surcharges and the rising strength of the Australian dollar are all mitigating the fuel price impact for Qantas in the 2005 financial year. Despite domestic yield pressure, a net profit of A$765m ($573m) is forecast for 2005, compared to the announced A$648m in 2004.
This expected strong result is also due to improving yields and strong growth in its international business.
Singapore Airlines
Showing sequential growth despite rising fuel prices, SIA net profits are forecast at S$1,041m ($632m) for 2005 against 2004's S$849m. Cargo yields grew 7% for the second quarter 2005 over the first quarter with passenger yields three points up, suggesting that fare hikes and surcharges are being passed through. With better hedging the fuel expense was lower than Deutsche Bank had expected.
Virgin Blue Holdings
Virgin Blue is forecast to make a net profit of A$165m ($125m) in the financial year 2004/05 and A$200m in 2005/06.
The current leisure focus of Virgin Blue makes it more difficult to pass on rising fuel costs to passengers via surcharges than for Qantas, leaving it at some risk. Also, higher than expected domestic yield pressure is affecting Virgin Blue as well as Qantas.