EU airlines: financial results surprisingly resilient December 2002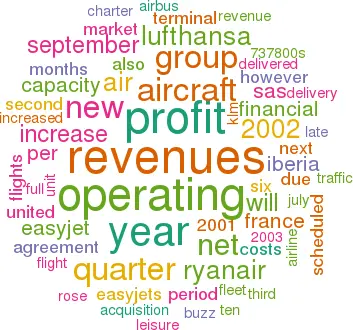 There is an ironic contrast between the July- September results of the leading European carriers and those of the US majors (see previous issue). They are generally profitable at the operating and net levels, and in contrast to the US majors they have not this time turned to their governments for aid. Mostly as a consequence of increased load factors, unit revenues exceeded unit costs for both the main flag–carriers and the dynamic LCCs.
Air France
Despite a pilots' strike in early September, which had a €55m impact on turnover, the Air France group posted a 0.9% increase in revenue to €3.24bn. Pre–tax profit rose 28% to €113m. Long haul and international medium–haul revenues rose by 4.9% in total, partly compensating for a weaker French domestic market (down 8.3% compared to the second quarter of 2001).
In a move due to be finalised in January 2003, SkyTeam partners Air France and Alitalia are to take a cross–equity shareholding of 2% in each other. Air France chairman Jean–Cyril Spinetta states that Air France is on track to post its sixth consecutive positive financial year.
Iberia
On revenues of €1.23bn, the Iberia Group achieved an operating profit of €127m, a 140% rise from a year ago. The Iberia Group is anticipating pre–tax profits of €230m for the full year 2002, reaping the rewards of a successful €580m cost- cutting programme and a faster then anticipated traffic recovery. The company expects lower revenues than the €4.7bn reported in 2001 because of reduced capacity and the sale of its subsidiary Binter Canarias in the summer.
Iberia has delayed delivery of Airbus A320s and A321s, terminated a wet–lease agreement with Air Europa, retired some older A300s, and cut some 2,300 positions company–wide. Iberia expects to make its selection between Airbus and Boeing by year–end to acquire up to ten long–haul aircraft for delivery starting in late 2004. The airline is evaluating the A340–600, the 777–300ER, and the 747–400 to replace its fleet of six 747- 200s.
Recent reports suggest Iberia appears to be edging closer to bidding for a stake in code–share partner TAP Air Portugal after CEO Angel Mullor stated that the carrier is analysing participating in the privatisation process.
KLM
Dutch flag–carrier KLM increased its second quarter operating income by 70% to €141m and more than trebled net profit to €27m, despite a costly strike (€9m of charges). Load factors system–wide was a remarkable 82.7%. Group operating revenues were the same as from last year.
However, KLM is unlikely to turn a positive net result for the full year and faces a serious fine relating to the terminated Alitalia alliance. KLM has recently outlined its plans to expand its UK–based budget operation buzz and to concentrate its Amsterdam–based Transavia unit on charter and scheduled flights to leisure destinations.
The Dutch leisure market seems to be recovering, with volume increases in both charter and scheduled services. Transavia's operating revenues improved considerably in the quarter.
It will now scale back some of its existing scheduled services and concentrate solely on charter operations and scheduled flights to leisure destinations.
Buzz increased its network capacity by 20%, reflecting the start up of high frequency, short–haul routes focused on the French market.
In August, buzz announced a new lease agreement for six 737–300s; the airline also plans to establish a second UK hub at south coast airport Bournemouth.
Lufthansa
Lufthansa achieved group revenues of €4.47bn, an operating profit of €458m and a net profit of €372m for the quarter ended September 30. Strong capacity growth continued in the third–quarter, and Lufthansa is planning to expand its flight schedule in the winter of 2002/2003 by 13%, almost equalling the winter 2000/2001 timetable.
In the quarter Lufthansa ordered ten A330–300s, which are due to be delivered from 2004.
A new flexible pricing concept was introduced in the late summer in reaction to the threat from LCCs. With easyJet likely to exercise its purchase option on DBA, Ryanair established at Frankfurt Hahn, and local LCCs like Air Berlin and Hapag Lloyd Express expanding aggressively, the German market is going to be very interesting over the next 18 months.
United and Lufthansa plan to strengthen their immunised transatlantic agreement. United, teetering on the edge of Chapter 11, says closer relations with Lufthansa will increase revenues by approximately $90m a year, once all tenets of the pact are in place. As part of the enhanced agreement, United and Lufthansa will share revenues on North Atlantic flights, align North Atlantic pricing and sales strategies and "work even more closely in areas such as scheduling, customer service and marketing". United is looking for financial support from its Star partner. Lufthansa has also completed the acquisition of a further stake in bmi, giving it a shareholding in the UK airline just below 30%.
SAS
The third quarter produced group operating revenues of SEK16.6bn (€1.8bn) and an operating profit of SEK1,041m (€132m) leading to a 3.1% net profit of SEK506m (€56m). Traffic figures for the SAS Group rose by 32%, compared to the third quarter 2001, due to the acquisition of Braathens and Spanair. However, the SAS Group's own traffic fell 7.3% while capacity was down 6.7%.
Short–term improvement measures, initiated in late 2001, have been judged insufficient to lift the Group to profitability. So, earlier this year a number of restructuring measures were undertaken.
The SAS Group is laying off 300 full time pilots, part of a company–wide reduction of SAS' workforce as it cuts its fleet from 199 aircraft to 153. SAS still has a firm order book of 20 aircraft, 737–800s, A321s and A330s, due for delivery until 2005.
Ryanair
Ryanair turned in an operating profit of €122m and a €112m net profit, an annual increase of 73%, on total operating revenues of €270m for the quarter ended September 30. Operating margins have risen to 45% from 37% in the comparative period.
Ryanair has recently opened its eighth European base at Milan Bergamo. Average fares have fallen 2% over the past six months, but operating costs have fallen by 11% on a per passenger basis. Ryanair is set to carry more than 9,000 passengers per employee by the end of the year (a figure twice that of Southwest and ten times BA).
The new 737–800s in the fleet have added 45% more seats per flight than existing 737–200s while still maintaining 25–minute turnarounds. 13 more 737–800s will be delivered over the next six months.
The Irish government is evaluating 13 proposals for a new private terminal at Dublin. Ryanair will be in the bidding for the construction of the new terminal and values the development costs of the terminal at €114m. Ryanair has been a harsh critic of Aer Rianta, arguing that its airport charges are prohibitive. It says that if a new low–cost terminal is built it would double the number of aircraft based there. CEO Michael O'Leary said ""If approved Ryanair will respond with the largest single investment in Irish tourism by placing up to 20 new 737- 800 series aircraft in Dublin and opening up a wide range of new low fare routes between Ireland and Continental Europe."
easyJet
The third quarter also coincides with the end of easyJet's financial year; a net profit of €77m was reached for the year. The period April to September 2002 contributed the bulk of the year's profit with a net profit of €76m recorded. This profit came from revenues of €579m and an operating income of €106m.
On 31 July 2002, easyJet completed the acquisition of Go for £374m (€579m) to become Europe's largest LCC. This was partially funded by a rights issue that raised £277 (€429m). Two months of Go revenues contributed a further £66m (€102m) to the company's revenues in the period July to September 2002. However, easyJet estimates the cost of integrating Go also added £7.1m (€11m) to its costs in the 2002 financial year. Newcastle has become easyJet's latest UK base, and next year should see further development of Paris Orly and Munich (if it goes ahead with the DBA purchase).
In October 2002, easyJet selected Airbus for supply of its next stream of new aircraft. The proposed order is for 120 A319 aircraft to be delivered over a five- year period from the second half of the 2003. In addition, easyJet has options with price protection on a further 120 A319 aircraft, valid until 2012, and options to switch to larger sized A320 and A321 aircraft.
Stockmarket analysts focused on an 8% yield decline in easyJet's latest numbers, and the stock price suffered consequently. However, easyJet's own analysis links the yield changes with capacity growth — a 45% increase in sectors, as in 2002, equates with a 6% decline in revenue per flight while a 25% increase in sectors, which is planned for 2003, should be associated with a 2% increase in revenue per flights.