Market regeneration after death of a flag-carrier December 2001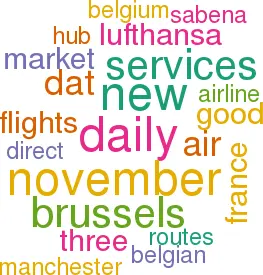 When Belgian flag–carrier Sabena collapsed on November 6 local observers fretted that essential air links to European and overseas capital cities were at risk. Little did they realise how quickly market forces would work. Literally overnight, EU carriers already serving Brussels stepped in with increased capacity, mainly by using larger aircraft. Soon thereafter, higher frequency on existing routes and brand new services became the typical market response.
By November 12, Lufthansa was operating three additional daily flights to its Frankfurt main hub, bringing the daily total to ten. On the same day, in cooperation with Eurowings, Lufthansa started to offer four daily flights to Nuremberg. On the Berlin, Munich, Hamburg and Stuttgart routes, Lufthansa increased aircraft size — from A319 to A321. And on November 26, Lufthansa introduced three daily flights from Brussels to Hanover.
Air France was not to be left behind. On November 19, the airline initiated new direct services from Brussels to the UK cities of Birmingham, Edinburgh and Newcastle through a code–share agreement with British European. Air France also started two daily flights to its centrally–located Clermont–Ferrand domestic hub, offering good connections to 17 other French regional destinations.
To restore African links, Air France announced a reinforcement of its African schedule from Paris CDG in January 2002 that will include the reopening of the Kinshasa route (twice weekly) and new direct services to Bamako, Ouagadougou and Conakry. To make the point clear, Air France currently widely advertises in Belgium the 415 destinations from its Paris CDG main hub which has a fast (1 hour 15 minutes) direct rail link with central Brussels.
Bmi British Midland too has responded. On November 12, it launched new services to Manchester and Leeds. The three daily services to Manchester are operated on 80- seat BAe 146s and on 49–seat Embraers to Leeds, matching capacity to market demand. The Manchester connection offers connections to Chicago and Washington D.C. Bmi also proposed to launch a new service to Birmingham in December.
Local Belgian airline VLM commenced flying three times daily from Brussels to London City on 9 November.
Virgin Express, while engaged in schizophrenic negotiations with Sabena's successor designate DAT, quickly moved in with new services to Geneva, Stockholm and Zurich, while continuing to serve, in a code–share with DAT, London Heathrow, Barcelona and Rome, as it did with Sabena.
Never had it so good
Not only is Belgium still connected to the world, it is connected on a much cheaper basis than when Sabena was around. New routes are stimulated by promotional campaigns and Virgin Express and DAT vie to offer the lowest fares. Lurking in the background is, of course, Ryanair operating from Brussels South Charleroi Airport. The Belgian travelling public, business and leisure, has probably never had it so good.
While the competition has moved in aggressively, and apparently successfully, DAT continues to be hampered by its poor distribution system. Passenger loads are still hovering at 30% (up from 10% in mid- November). This means that DAT is haemorrhaging money on every flight. Not a good sign when the only capital the airline now has is a government bridge loan that is to repaid by next spring. Considering the former Sabena network has already been rebuilt, albeit by different actors, perhaps permanently, few in Belgium will mourn the demise of the national carrier.
LATEST ECONOMIC FORECASTS - REAL GDP
LATEST ECONOMIC FORECASTS - REAL GDP

| | | | | | | |
| --- | --- | --- | --- | --- | --- | --- |
| | US | UK | Germany | France | Japan | OECD total |
| 2000 | 4.1% | 2.9% | 3.0% | 3.4% | 1.5% | 3.7% |
| 2001 | 1.1% | 2.3% | 0.7% | 2.0% | -0.7% | 1.0% |
| 2002 | 0.8% | 1.7% | 1.0% | 1.6% | -1.0% | 1.0% |
| 2003 | 3.8% | 2.5% | 2.9% | 3.0% | 0.8% | 3.2% |
FORECAST ASSUMPTIONS
FORECAST ASSUMPTIONS
Traffic*
Yield
Unit cost
Jet deliveries
Op. Profit
Margin
Netprofit
Margin
(RPKs)
(Cents/RPK)
(Cents/RPK)
(units)**
($bn)
($bn)
2000
7%
-1%
3%
1105
11
3%
5
1%
2001
-6%
-8%
-3%
1000
-3
-1%
-9
-3%
2002
-5%
-5%
-3%
800
-8
-3%
-13
-5%
2003
17%
7%
0%
1500
0
0%
-5
-1%