European tour operators: consolidation and confusion December 2000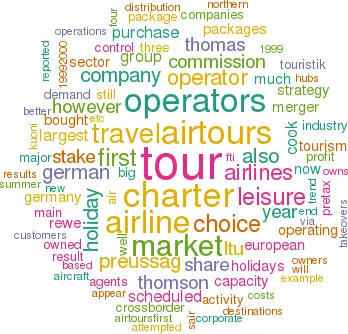 The Northern European tour operating/ charter airline industry is consolidating rapidly, overcoming cross–border restraints much more easily than the scheduled airlines.
Yet the process is certainly not smooth — new problems appear as old ones are solved, overall profitability of the sector still looks shaky.
The M&A game
In order to sketch out the complicated relationships between the leading British, German and Swiss operators, the chart opposite indicates the main shareholdings between the major groups as well as their links into the various charter airlines. And to explain the recent history we start with Airtours, Europe's second largest tour operator and owner of the airline Airtours International plus three smaller carriers, which towards the end of November reported its 1999/2000 results (year to the end of September). Airtours' underlying pre–tax profits were down by about 32% to £91m (€150m) (however, the net result looked much better as the result of an exceptional net gain of £133m related mostly to the sale of its 50% stake in Costa Cruises). The disappointing result is being blamed on unexpected costs associated with its purchase of German tour operator Frosche Touristik (FTI).
Airtours' share price had been badly tented by a series of profit warnings that preceded the official results, and its stock–market valuation has halved to about £1.1bn (€1.8bn) since the summer of 1999 when it was in merger talks with First Choice. Speculation is mounting that offers for the company around the £2bn mark would be favourably entertained. The big question is who would have the appetite for Airtours, following the series of mergers and takeovers that have already occurred or been attempted in this sector?
As mentioned, in the summer of 1999 Airtours attempted to merge with First Choice, the second largest UK tour operator and owners of the charter airline Air 2000. To the chagrin of both companies, that transaction was blocked by the European Commission, which decided that a merger would be anti–competitive in the UK market. There would have been, according to the Commission, an unacceptable degree of monopoly power both in the provision of package holidays and in the control of travel agents.
First Choice's stock–market value has also halved since that time. A minority holding in the UK company by Preussag and Thomas Cook has now been divested and taken up by the Barcelo Group, the largest Spainbased tour operator which has indirect links into Air Europa, the Palma–based charter/scheduled airline currently being courted by Iberia. Barcelo's stake in First Choice, presently 13%, is planned to grow to 21% next year.
The Commission has had fewer reservations about cross–border M&A activity. Prior to the Airtours offer for First Choice, it approved a potential take–over of first Choice by the Swiss–based Kuoni Group, which was never consummated. Kuoni is currently growing aggressively through acquisition, and its corporate strategy states that it is looking to buy out any tour operator that is in the top three in its national market and is profitable. However, Kuoni has also stated that it is no longer interested in acquisitions in the UK or Germany (it has a 49.9% stake in TUI Suisse, the rest being owned by Preussag — see below).
C&N Touristik, which is a 50/50 joint venture between Lufthansa and German retailing company Karsdadt Quelle had made a bid for Airtours earlier this year, but was apparently deterred by a £2.5bn valuation. C&N, which mostly utilises the Lufthansa Condor charter fleet, is now concentrating on finalising the purchase of Thomas Cook. This deal is estimated to be about £650m and would also bring C&N the charter airline JMC (which evolved from the merger of Caledonian and Flying Colours).
The reason that Thomas Cook/JMC is up for sale is because the European Commission might have insisted that Preussag divest the British tour operator/travel agency when it bought out Thomson Travel Group for about £1.8bn this summer, having outbid C&N in a keenly fought contest.
This means that Preussag, a conglomerate whose corporate strategy is based on a shift from heavy manufacturing to travel, tourism and media, will have control of three major tour operating/charter airline entities.
These are: TUI, Germany's and Europe's largest tour operator, which owns the charter airline Hapag–Lloyd Flug; TTG, which owns the charter airline Britannia; and Nouvelles Frontières, the French company in which it has just bought a 34% stake, which in turn has two charter subsidiaries, Corsair and Aerolyon.
Underlying forces
The final option for Airtours might be Rewe Touristik, Germany's third largest tour operator. However, Rewe is fully occupied trying to sort out serious problems at LTU, the Dusseldorf–based charter airline/tour operator, in which it bought a 40% stake three months ago. SAir owns 49.9% of LTU, having bought out the original family owners and some of WestDeutsche Landesbank's share in 1998 for an undisclosed fee. What strategic direction lies behind the frenzy of M&A activity?
The tour operating companies have two fundamental aims — to achieve economies of scale through increased size and to squeeze out overcapacity from the market. The tour operators have themselves grown through acquisition in their domestic markets. Airtours is the most dramatic example — it started in the mid 1980s by buying up individual family owned travel agent shops and consolidating them. Volume enabled the tour operators to achieve better rates with hotel owners, to negotiate better terms of seat purchase from the airlines or to build up their own charter airlines, and to be able to advertise and distribute more effectively.
Over the past ten years the UK's big four operators — Airtours, First Choice, Thomson and Thomas Cook — have all built vertically integrated empires, in which they control the supply of holiday packages, the distribution of the holidays through travel agencies and airline capacity required to carry their customers. This structure makes life very difficult for the smaller tour operators — they may have to pay higher commissions to sell their packages through the main travel agents that are owned by the big four and they may have to buy airline seats from the airlines owned by their larger rivals. In the end they tend to be swallowed up.
The problem for the big UK operators has been how to get bigger. If they try to increase capacity beyond expected demand, they risk inducing overcapacity. And as the supply of holiday packages is in effect largely fixed 12- 18 months before the selling season, the inevitable result is discounting, particularly of "lates". The impact goes to the bottom line of all the main players. Until the recent German take–overs the same institutional investors held about 40% of the shares in all four main UK tour operators and, naturally, disapproved of excessive expansion on the part of any single company.
The Airtours/First Choice merger proposal did then appear strategically strong. However, the Commission concluded that the merger would lead to an acceptable dominant market position in the UK short–haul holiday market.
In retrospect Airtours could have presented a much more persuasive argument to the Commission than that produced by its advisors — after all the combined market share of Airtours/First Choice in this sector would have been about 32% against 27% for Thomson and 20% for Thomas Cook.
The Commission's decision has had various repercussions. Most importantly, it promoted cross–border investments: in its Airtours decision and in its approval of Kuoni's unconsummated offer for First Choice, the Commission established that it did not think that there were any major competition issues in cross–border take–overs.
There are important commercial issues, however. Airtours' purchase of FTI has proved a very expensive move. The German tour operator had hugely overbooked capacity, and as a consequence, lost some €170m in 1999/2000. It looks as if Airtours simply didn't understand the intricacies of the German market and is now having to recover the situation by taking 100% control of FTI.
The driving force in German expansion has been Preussag. Having bought Thomson for €3bn, it is raising a similar amount by divesting its drilling and metals businesses as well as its controlling stake in Thomas Cook. According to the company itself, its strategy now centres on "the further focusing of Preussag's business on tourism activities". This is a major piece of corporate reinvention: it intends to increase the share of tourism in its €21bn turnover from 42% pre the Thomson take–over to 77%, with another 21% coming from logistic operations. In the first half of its 1999/2000 financial year (ending September 30), Preussag reported an operating loss on tourism of €72m against an overall pre–tax profit of €147m. Thomson, based on pre–sale forecasts, should make a pre–tax profit contribution to Preussag of €160–200m next year.
While the M&A activity has been characterised as part of a rationalisation trend of the European leisure industry, there is also a large element of bargain hunting prompted by the depressed share prices of the UK companies. Ironically, it was Thomson's announcement that it would fight to regain its number one position in the UK market if Airtours/First Choice went ahead that prompted fears of another market share and precipitated its share price decline.
There is also an old–fashioned battle for market leadership in Germany between Preussag and C&N. In C&N's first year of operation, 1999, it reported a pre–tax profit of €102m and stated that it would reach an agreement with Thomson. In the event it has had to settle for Thomas Cook, which in expansionist terms is a second–best.
What is happening is that higher cost operators have been taking over lower costs ones.
And, at a time when the leisure industry is supposed to be revolutionised by e–distribution, the key consolidation trend is being driven by companies based in the construction and department store businesses.
The outlook for the sector is further complicated by uncertainty over underlying demand trends. While the demand for leisure is strong — growth in leisure travel spending continues to rise at twice the rate of personal consumption in Northern Europe — the structure of leisure spending is changing.
E-questions
The traditional two–week seaside holiday in Spain or Turkey is still hugely popular but there is also a rapidly growing trend for shorter breaks at a wide range of destinations throughout the year. Whether these new–style holidays will erode the mainstream holiday market or complement it is uncertain, but the low–cost scheduled airlines have a clear advantage in this sector. The tour operators simply cannot market their seat–only sales via the internet anything like as effectively as the low cost scheduled airlines. They have to reserve the vast majority of their charter airline capacity for holiday packages, either their own or those contracted to other operators, and their websites — Britannia Direct, for instance — have a very low profile compared with easyJet, Ryanair, Go, etc..
Nevertheless, the charter airlines are persisting with semi–scheduled products. For example, Air 2000 has reconfigured some of its A321s with 30 scheduled class seats (33 inches as opposed to 28in charter class), and offers flights to a wide range of Mediterranean destinations from UK airports such as Birmingham, Bristol, and Newcastle as well as London Stansted (where it comes up against Go and Ryanair). However, this is essentially a marginal activity, a means of enhancing revenue by attracting a relatively small number of higher–yielding passengers who want more flexibility than the seat–only charter product.
The tour operators are also developing e–distribution strategies for their package holidays. Here they have to tackle similar types of conflicts of interest as the traditional scheduled carriers. Putting brochures on the web and enabling customers to book directly is an obvious way to cut distribution costs. But it also undermines the business of the travel agent chains that they own. There is an unsatisfied demand for customised packages, provided via the tour operators' websites, with holidaymakers selecting their own options for flight times, length of holiday, extras, etc. But the risk here is that the tour operators' bulk purchasing strategies will become so much riskier if they promote such options.
In any case, at present only a minuscule proportion of package holidays are booked online in the UK and even fewer in Germany. Buying a holiday package is usually a much bigger investment than an airline ticket.
Customers still tend to require personal attention from travel agents, or travel consultants as they are being re–branded. SAir's incursion into the tour operating market represented a bold attempt to exploit changing trends in leisure travel. Following the purchase of 49% of LTU, 34% of Volare and 49% of Air Europe Italy, it attempted to integrate their operations with those of its own charter subsidiary Balair CTA and Sabena's Sobelair. Elements of the strategy included:
Feeding traffic into 'leisure hubs', for example, Crossair now code–shares with LTU, facilitating connections from Basle to long–haul destinations via LTU's bases at Dusseldorf and Munich.
Balancing the whole leisure network towards long–haul operations from southern Germany, Switzerland and northern Italy to the Caribbean. Florida, East Africa, Thailand, etc.
Standardising aircraft types and improving utilisation by being able to schedule aircraft from a destination airport to any of the SAir Group hubs (Zurich, Brussels, Milan, Munich, Dusseldorf).
SAir's approach was essentially to apply a scheduled airline strategy to the tour operating industry. It does not appear to have worked. The idea of building "leisure hubs" runs contrary to one of the central tenets of charter airlines operation — 100% load factors on point to point routes. Cross–utilisation of aircraft between operators is theory attractive but has not been widely implemented, possibly because of union resistance.
Most importantly, SAir underestimated the depth of the financial crisis at LTU (the German company does not reveal its results). However, a three–year productivity improvement regime as been agreed with the unions there in return for guarantees on employment, as well as a capacity reduction programme. And this persuaded Rewe Touristik to purchase a 40% stake in LTU from WestDeutsche Landesbank (which still retains 10%). SAirGroup and Rewe are restructuring the leisure group, disbanding LTU Touristik's holding company and integrating the airline within the new tourism group under a co–operation agreement.
Rewe, which controls the largest chain of travel agents in Germany, should bring much–needed distribution power to the new entity.
AGE AND UTILISATION DATA
AGE AND UTILISATION DATA
Narrowbodies
Av. Age
Utilisation (hrs/day)
Air 2000
8.8
10.8
Airtours
8.3
10.0
Monarch
9.7
9.7
Britannia
5.8
9.6
LTU
7.3
9.5
Hapag Lloyd
3.1
8.7
Condor
5.3
8.0
Volare
5.1
6.5
Widebodies
Britannia
6.6
13.2
Condor
8.6
13.1
Air 2000
4.1
13.0
Air Europe
4.1
13.0
LTU
6.5
12.1
Airtours
7.6
9.4
Monarch
11.3
9.2
Hapag Lloyd
12.2
8.9
Source: ACAS
NORTHERN EUROPEAN CHARTER FLEETS
NORTHERN EUROPEAN CHARTER FLEETS
A320
737
757
A300/
A330
767/
Other
Total
family
A310
777
widebodies
Preussag
1
33
22
8
2
16
9
91
Airtours
28
1
6
3
8
3
5
54
SAir
19
11
16
7
17
TD class="tr14 td92">
70
C&N
10
54
1
9
7
81
Kuoni
6
2
8
First Choice
9
13
4
26
Cosmos
8
7
4
2
2
23
(Monarch)
Total
81
45
118
16
21
49
23
353
Source: ACAS, Nov 2000 Notes: Preussag=Britannia, Hapag Lloyd, Corsair, Aerolyon; Airtours
=Airtours Int., Premiair, FTI, Air Belgium; SAir= LTU, Balair, Sobelair, Volare, Air Europe; C&N=
Condor, JMC; Kuoni= Edelweiss, Novair First Choice = Air 2000. Monarch is the main supplier of
marginal capacity to the main tour operators.