Deconstructing the manufacturers December 2000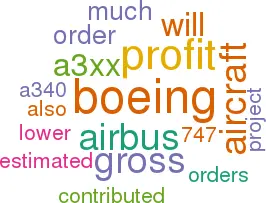 With Qantas announcing its order for 12 A3XXs the project has now gained 44 firm commitments and will be given the final go–head. And the trouble with an Airbus is that you wait for ages then several turn up at once.
Another Airbus contender to take on the 747 is ready and waiting in a Toulouse hangar, having final systems tests done ahead of its test flight in May. This is the latest version of the A340, the A340–600, which will carry around 388 passengers in standard tri–class configuration, which makes it comparable with earlier 747s and only about 30 seats short of a 747–400. While the A3XX project naturally grabs the attention, it is often overlooked that the big A340 is also attacking from below.
Boeing's own 777s are selling extremely well: indeed Boeing is expected to announce soon that it has landed orders for 113 such aircraft this year, worth some $18bn, which it claims this as a record for aircraft in this category. However, Airbus's A330 and A340 orders had also already topped 100 by early November.
Boeing can take a great deal of comfort from Qantas's order, announced at the same time as the A3XX (and A330) order, for six longer–range 747–400s. But so far there are no signs of orders for the new 747X.
Profit analysis
Boeing may be holding its fire in order to distract attention from the formal industrial launch of the A3XX in January. A war of claims and counter–claims has Airbus estimating the A3XX operating cost advantage over the 747–400 at 17–20%, while that the 747X will be only 10%. This apparent advantage for Airbus will be mitigated by a lower Boeing price for a 747X, reflecting the fact that its development cost will be much lower than that of the A3XX. Away from the marketing hype, some key questions remain surrounded in mystery — like how much profit does each aircraft production line actually produce.
This problem has been tackled by ESG, the results are summarised opposite. ESG's methodology is to start with estimated discounted prices that airlines actually pay for aircraft by comparing totals delivered against reported commercial aircraft revenues. (The sum of the various aircraft types has to reconcile with the total revenues, but the individual totals are estimated.)
The next stage is to calculate gross profit for each type. This is done for Boeing by separating out reported R&D, depreciation, administrative and interest charges. Using Boeing as a rough guide, the equivalent gross profit numbers are calculated for Airbus, on the assumption that margins would be probably than at Boeing at similar stages of maturity. Until Airbus publishes, through EADS, detailed P&L accounts, this is probably the closest we are going to get to understand the company's business.
According to this analysis, the A320 family contributed about 55% of Airbus's gross profit in 1999, compared to 40% for the A330/340 project.
At Boeing gross profit is much higher — $5bn against $2.9bn — and there is also a much more even distribution among the programmes. The narrowbodies, 737NGs and 757s, accounted for about 26% of the gross profit, a little lower than the 31% contribution from the 767s and 777s.
The 747 is estimated to have contributed $1.3bn or about 26%. This contrasts with the situation ten years ago — then the 747 contributed $2.2bn or 56% of Boeing's gross profit.
ESTIMATED PROFIT COMPONENTS IN MANUFACTURERS' 1999 RESULTS (US$ m)
ESTIMATED PROFIT COMPONENTS IN MANUFACTURERS' 1999 RESULTS (US$ m)

| | | | | | |
| --- | --- | --- | --- | --- | --- |
| BOEING | | | | | |
| Type | Units | Av. Unit price | Sales | Gross profit | % Contrib. |
| 737 | 295 | 34.6 | 10,207 | 1,313 | 26.1% |
| 747 | 47 | 152.0 | 7,144 | 1,322 | 26.3% |
| 757 | 67 | 51.0 | 3,417 | 513 | 10.2% |
| 767 | 44 | 80.0 | 3,520 | 528 | 10.5% |
| 777 | 83 | 115.7 | 9,603 | 1,056 | 21.0% |
| MD-80/90 | 39 | 32.8 | 1,279 | 154 | 3.1% |
| MD-11 | 8 | 105.0 | 840 | 101 | 2.0% |
| 717 | 12 | 25.0 | 300 | 36 | 0.7% |
| Total aircraft | 595 | | 36,310 | 5,023 | 100.0% |
| Spares, parts, bizjets | | | 2094 | 328 | |
| Total commercial | | | 38,404 | 5,351 | |
| Govt. & others | | | 19584 | 2967 | |
| Total sales | | | 57,988 | 8,318 | |
| R&D, Dep,, G&A, Interest | | | | -5,579 | |
| Other income | | | | 585 | |
| Pre-tax income | | | | 3,324 | |
| AIRBUS | | | | | |
| Type | Units | Av. Unit price | Sales | Gross profit | % Contrib. |
| A300 | 8 | 85.0 | 680 | 136 | 4.7% |
| A310 | 0 | 67.0 | 0 | 0 | na |
| A319 | 88 | 34.0 | 2,992 | 449 | 15.4% |
| A320 | 101 | 37.0 | 3,737 | 897 | 30.8% |
| A321 | 33 | 48.0 | 1,584 | 253 | 8.7% |
| A330 | 44 | 106.0 | 4,664 | 793 | 27.2% |
| A340 | 20 | 114.0 | 2,280 | 388 | 13.3% |
| Total aircraft | 294 | | 15,937 | 2,916 | 100.0% |
| Spares, parts, bizjets | | | 763 | 185 | |
| Total commercial | | | 16,700 | 3,101 | |
| R&D, Dep,, G&A, Interest | | | | -1,700 | |
| Pre-tax income | | | | 1,401 | |