Outlook for the PRC's airlines December 1999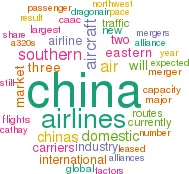 In November China (PRC) finally reached agreement on joining the World Trade Organisation (WTO), potentially bringing the country into the capitalist world and opening up full trade relations with the US. Its airline industry — in particular the Big Three, China Southern, China Eastern and Air China -is going to have to rationalise rapidly to meet the new challenges. Recent and future developments in this sphere have just been analysed in a comprehensive report by Deutsche Bank*.
Over the last few years, most of China's airlines have aggressively added capacity in anticipation of fast–growing markets Domestic ASKs rose by almost 50% during 1994–98 but demand has not kept pace, even before the impact of the Asian crisis.
However, the mainland airlines have now started to curtail capacity, largely under instruction from the aviation regulator, the CAAC. Key factors include:
A freeze on new aircraft purchases and a postponement in deliveries until 2002 was imposed by the CAAC in February 1999;
A less growth–obsessed and more commercially- orientated management mindset following the Asia crisis has resulted in a greater willingness for domestic airlines to cut back excessive capacities through the disposals of older aircraft, early retirement of leased aircraft, and short–term leasing out of aircraft;
The conversion of more passenger aircraft into dedicated freighters to operate on regional and international routes;
A reduction in the number of flights on routes with low load factors — the CAAC has demanded cutbacks on routes where the passenger load factors is less than 60%.
Overall, capacity in China is expected to decline modestly, by approximately 4% this year, despite previously ordered aircraft continuing to be delivered. In 1999, China's airlines are expected to take delivery of 43 aircraft, while 65 older aircraft should be removed from service during the year. In 2000 a further fall of 5–6% due to the expected removal of some wide–body aircraft and more cuts in the number of scheduled domestic flights.
China Southern, having taken delivery of three A320s in August, has no further expansion plans. Indeed, it is looking for sub–lease opportunities for some of its 777s (two have been leased out on short terms to Biman Bangladesh and another two to Cathay), while Swissair is currently operating two of its A320s.
China Eastern is still planning on a net capacity increase, though modest by past standards. It will dispose of 13 MD–82s by the end of next year but it will lease in ten A320s. Air China has signed an LoI for the sale of four 747–200s, has leased out three A340- 300s to Cathay Pacific, but intends to lease in three 777s for 3–5 years.
Consolidation
There has been considerable discussion over recent months about potential mergers within the PRC airline industry. Southern Airlines Group (the parent of China Southern) confirmed earlier that the company has been in discussions with Air China about a possible merger of the country's two largest airlines.
Other speculation has had China Eastern looking at a take–over of Shenyang–based China Northern and Xian–based China Northwest, while CNAC has been linked with a take–over of Chengdu–based China Southwest.
The main issue is whether a merger of the country's two largest carriers will be the first step of a profound restructuring of the industry and will result in the industry rationalised into a few major airline groups, possibly led by the top three — Air China, China Southern and China Eastern.
The Chinese industry is currently highly fragmented. Of the 34 carriers operating under the CAAC, only 12 have a market share in excess of 1%. China Southern, Air China and China Eastern between them controlled over half of China's total passenger traffic.
The three second–tier airlines, China Northern, China Northwest and China Southwest command a further 20%. The other 14 carriers — the largest of which are Yunnan Airlines, Hainan Airlines and Shanghai Airlines — are left to compete among themselves for the remaining share.
Although the big three six may appear large within the content of the domestic market, on a global basis they are still minnows. For instance, ranking China's airlines on a global basis based on traffic (RPKs) is only 24th. China Southern, the largest airline, is just over half the size of Cathay Pacific.
Consolidation through acquisitions and mergers will take time — particularly since many airlines wish to hold onto their independence and to maintain jobs. Major obstacles that need to be overcome include:
Many smaller carriers are controlled and funded by provincial governments, which are accustomed to collecting taxes from "their" airlines;
Most airlines in China, including the majors, are highly geared and hence would find it difficult to generate sufficient amounts of cash to embark on major acquisitions; and
The wide array of aircraft types currently employed by China's airlines would undermine the potential for cost savings from mergers.
The proposed merger between Air China and China Southern could help quicken the pace of industry consolidation and result in more disciplined growth for the domestic aviation market. The combined operation of Air China and China Southern would account for about 41% of total domestic traffic in China, significantly ahead of its closest competitor, China Eastern, which has a market share of only 16%.
The proposed merger should result in a direct feed of international passengers from Air China's international network into China Southern's comprehensive domestic network.
The new airline should also benefit from the new ASA recently signed between the US and China, which allows the number of weekly round–trip flights between the two countries to double from 27 currently to 54 by April 2001.
Global and strategic alliances
Currently, global alliances lack airline members from China. Although the major international carriers should be interested in gaining access to China's huge and immature air traffic market, China's airlines themselves do not view admission into global alliances as being particularly urgent. Most of them are still focusing primarily on the domestic market and have limited exposure to the international market.
However, there will be more co–operation on specific routes between international airlines and Chinese carriers. For instance, China Eastern has a code–sharing alliance with American Airlines on routes between US points and Beijing and Shanghai. China Southern has feed agreements, block seat arrangements and some code–sharing with Delta and United. Air China code–shares with Northwest on flights to four US cities.
Recently, Dragonair participated in the Asia Miles frequent flyer programme, implying that it may move toward the oneworld alliance. But this probably will not happen in the near future as Dragonair has openly stated its intention to remain independent (it derives equal amounts of its feeder traffic to China from member airlines of the oneworld and Star). If Dragonair does join the oneworld alliance, this would accelerate the pace of Star's search for a new partner in China.
MAINLAND CHINESE AIRLINES
MAINLAND CHINESE AIRLINES

| | | | |
| --- | --- | --- | --- |
| | Pax. (m) | RPK (bn) | RPK share |
| | 1H99 | 1H99 | 1H99 |
| China Southern AL | 6.98 | 8.56 | 21.9% |
| China Eastern AL | 4.04 | 6.12 | 15.7% |
| Air China | 3.05 | 7.25 | 18.6% |
| China Southwest AL | 2.19 | 2.92 | 7.5% |
| China Northern AL | 2.07 | 2.94 | 7.5% |
| Yunnan Airlines | 1.76 | 1.67 | 4.3% |
| China Northwest AL | 1.27 | 1.70 | 4.4% |
| Hainan Airlines | 1.10 | 1.17 | 3.0% |
| Shanghai Airlines | 0.99 | 1.26 | 3.2% |
| Sichuan Airlines | 0.60 | 0.80 | 2.1% |
| Xinjiang Airlines | 0.58 | 1.32 | 3.4% |
| China Xinhua AL | 0.54 | 0.66 | 1.7% |
| Shandong Airlines | 0.46 | 0.50 | 1.3% |
| Shenzhen Airlines | 0.42 | 0.57 | 1.5% |
| Wuhan AL | 0.42 | 0.38 | 1.0% |
| CNAC Zhegiang | 0.39 | 0.40 | 1.0% |
| Zhongyuan AL | 0.24 | 0.25 | 0.6% |
| Quizhou Airlines | 0.18 | 0.31 | 0.7% |
| Air Great Wall | 0.14 | 0.17 | 0.1% |
| Changan Airlines | 0.06 | 0.03 | - |