Latest alliance convolutions December 1999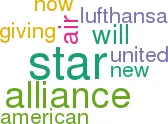 It would appear that Star is in the ascendancy. This is partly because the Lufthansa, United and SIA are all the best or close to the best financial performers in their respective regions. It is partly because Star gives the impression of cohesiveness and common purpose.
On the Atlantic Lufthansa and United will soon start up their first true joint venture service (Dusseldorf–Chicago) à la KLM/Northwest. The two airlines are seeking what Chris Tarry, analyst at Commerzbank, describes as a state of "double indifference" whereby it doesn't matter whose aircraft an alliance passenger flies on.
Star is also winning the high–profile battles. Onex's leveraged attempt to merge Canadian with Air Canada failed on a legal technicality. But it would very probably have failed anyway as United and Lufthansa had backed Air Canada with equity stakes (financed through stock buy–backs) and would raised the stakes further if Onex has persisted.
American makes the valid point that the two Star airlines are stuck with the costs of the stock buy–back, and that this has set a precedent for unplanned equity purchases in other weaker Star members (Thai's privatisation, for example). But American is in a more difficult situation. Does it give up its position in nearly–bankrupt Canadian, so devaluing its investment in the Vancouver gateway and losing the Sabre contracts, or does it fight Air Canada's new bid for its national rival?
American's other alliance moves are scarcely conducive to harmony in oneworld, despite the recent AA/BA code–share applications. As well as continuing to explore closer links with US Airways, it has now applied for antitrust immunity for its new alliance with Swissair/Sabena, a development which BA says it is not worried about. However, as Aviation Strategy has argued in previous issues, this will be a very significant move giving American the potential of building frequencies at relatively uncongested Brussels hub in some degree of competition with Heathrow.
So will SAir now join oneworld? The answer is probably not, but SAir is suspected of exploiting its indeterminate status re oneworld in negotiations with some of its new alliance partners — perhaps giving LOT the impression that it was heading in that direction and so assuring the Eastern European airline of a place in a global alliance.
Meanwhile, British Midland's imminent Star entry is causing aeropolitical repercussions. The clear desire for Star transatlantic services from Heathrow is giving further impetus to the EC's policy of negotiating a transatlantic open skies agreement (see page 6).
Alitalia has also now come out strong in support of such a policy, seeing the necessity of this radical regulatory change for its virtual merger with KLM to succeed. Should Virgin Atlantic reluctantly give up its independence and join up with Air France/Delta or Star, then the pressure on the UK authorities to concede on Bermuda 2 will be extremely powerful.