Euro-regionals: marriages, divorces and spouse-swapping December 1998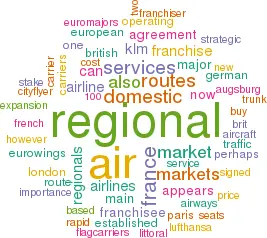 The European regional airline industry is undergoing rapid growth, with equally rapid changes in the alliances between them and the Euro–Majors.
For the regionals the key to survival and the road to prosperity lies in their ability to transfer from own–operations to being a franchise partner of one or more of the Euro–Majors. Under a franchise agreement the regional operates a route. with its own aircraft painted in the livery of the franchiser (the cabin crew and check–in staff usually also wear the major airline's uniforms). While the franchisee bears all the operating costs of the service the franchiser is responsible for the marketing and also may play the lead role in planning the route development and traffic forecasting. Usually the franchisee is allowed freedom to set fares and the franchiser gains its income from a fee which ranges from 3% to 8% of revenue, depending on the characteristics of the route.
The Euro–Major's brand is a guarantee of additional traffic for the regional. Apart from the comfort factor of the established name, there is the critical importance of participating in the Major's FFP (though the regional has to buy the rewards from the Major). Brit–Air, for example, experienced an overnight 15% increase in traffic on Brest–Lyons when it moved from operating this route on its own behalf to being an Air France franchisee. Augsburg Airways contrasts the growth rate on its own established services in southern Germany — 8% in the first half of the year — with those on its new Team Lufthansa routes — 78% in the first six months of 1998.
However, getting to the point where a regional is accepted as a fully–fledged can be a difficult process. The regional has, in effect, to prove to the Major that it is capable of operating services to the required levels of service quality, technical reliability, etc. Wet–leasing can be used as an intermediate step, reducing the risks for both parties.
This 'investment' period can prove to be a severe drain on the regional's resources. And, as regional carriers are typically thinly capitalised to begin with (having frequently been originally established by local businessmen and/or pilots), they start to face a cash problem just at the time when they are breaking through into the franchise world. They inevitably are also looking to order regional jets at this point.
The equity markets have proved to be remarkably receptive to IPOs from regional airlines, perhaps gaining some confidence from the stock price performance of US regionals (see pages 10–13). Brit Air and Regional Airlines have both completed successful flotations on the secondary market of the Paris Bourse. British Regional, comprising the former turboprop subsidiaries of British Midland now franchised to BA, was listed on the London stock exchange this summer at a price that capitalised the group at £97m ($157m).
Eurowings, which is currently totally owned by two individuals — the founder and the managing director — has stated that it intends to partially float on the German stock–market in order to raise funds for its jet expansion plans. But floating on the Frankfurt markets will present more difficulties than on the London or Paris exchanges, so this flotation, like the one mooted for Augsburg, is currently scheduled for the long -term. Proteus Airlines may soon be seeking additional capital to fund its rapid expansion on Air France–franchised routes.
CityFlyer Express had been widely expected to go for a flotation before BA agreed in late November 1998 to buy out its franchise partner for a reported £75m ($120m). This appears to be a very lucrative deal for the airline's founders, who are the senior manager, plus their venture capital backers. They sold the original version of this carrier to Air Europe in the late 1980s, then bought it back at a bargain price when Air Europe went bankrupt in 1991.
From the perspective of the major airline, the strategic importance of controlling its regional carriers is linked to the following factors:
Maintaining a dominant share of the domestic regional market;
Developing routes and carrying its brand into markets that it does not have the aircraft nor cost structure to operate;
Feeding not only its main hubs but also its regional hubs, linking in with the flag–carrier's services on domestic trunk routes;
Preventing incursions from rival carriers into its home territory or penetrating into new markets;
Capturing the loyalty of passengers on regional services, who are typically high–yield, price–insensitive business travellers; and
Outsourcing routes if market developments do not make them viable for the parent airline.
However, this does not imply that a flag–carrier can automatically expect full control over its domestic regional markets. There have been some surprising developments in the three main national European markets. The charts on page 3 give a snapshot of the French, German and British markets. Here we have broken down the number of seats in the fleets (turboprops and jets of under 100 seats) of the main regionals and indicated the regionals' main allegiances.
France
It appears that Air France, perhaps diverted by the difficulties of absorbing Air Inter, has allowed itself to be outmanoeuvred in its own country. Having signed a break–through agreement with its pilots unions that, in effect, outsources all flying activities on aircraft of less than 100 seats, Air France finds itself with only two dedicated franchise partners — Brit Air and Proteus — a situation which leaves these two carriers in a surprisingly strong negotiating position with the national carrier. A further consideration for Air France is that it needs to fill the newly available slots at CDG2 with either its own services or those of its allies, otherwise they will be distributed to rivals.
British Airways can actually claim to have the greatest single influence on the French regional market through Air Liberte, which of course is more than a regional airline, and now Flandre Air. In October Flandre Air, based at Lille, announced that it was becoming a dedicated Air Liberte franchisee, dispensing with its own code. This again strengthens the BA/American enclave at Paris Orly.
Perhaps a worse blow for Air France was the decision, also at the end of October, by Montpellier–based Air Littoral to sell a 44% stake to the SAirGroup. Up to the last moment it seemed that the stake would go Air France's franchisee, Brit Air. The Air Littoral investment appears to be one of the more logical moves that Swissair has made in its attempts to expand beyond the confines of its non–EU base by buying minority stakes in a variety of flag–carriers, charters and regionals. It gains partial control of a developed southern French network and gets into Nice, the most important provincial airport in France. Meanwhile, Air Littoral is in the process of relinquishing its former AF and LH joint–codes (Lufthansa's small stake in the airline has gone to Swissair).
Regional Airlines, based at Clermont–Ferrand, has followed a strategy of allying with as many flag–carriers as possible, including Air France, Iberia, Alitalia and KLM. While Regional appears determined to remain independent, the closest links are with KLM: the plan is to launch new feeder services to Amsterdam and Milan Malpensa.
Germany
By contrast Lufthansa has an iron grip on its domestic regional market (though of course there is Deutsche BA operating 737 services from Munich).
CityLine, a wholly owned subsidiary, operates domestic and intra–European regional services with an exclusively regional jet fleet (18 BAe 146s and 31 CRJs). CityLine could claim to be the closest European equivalent to the US mega–regional Comair, but its cost structure, although lower than its parent's, does not seem to be sufficiently competitive at present. Augsburg and Contact Air are the domestic turboprop members of Team Lufthansa.
The other main player in the German regional market, however, is moving into the KLM camp. Eurowings, based at Dortmund, which is also an Air France code–sharer on Paris routes, announced that it had a signed an eight–year cooperation agreement with KLM. The agreement includes participation in KLM's FFP and expansion of franchise service from Amsterdam to 15 German cities. Eurowings has also signed another code–sharing agreement with Alitalia, and so fits into the grand KL/AZ intra–European strategic plan.
The UK
The UK regional market differs from the continental markets in that it is much more compressed, with significantly more inter–modal competition and domestic air traffic very concentrated on the trunk routes to/from London, Glasgow, Belfast, etc. There is not the same scope for developing domestic regional services as in France or Germany.
Nevertheless, it comes as a small surprise to observe the relative size of BA's franchises in the domestic market. BA's move to buy out Gatwickbased CityFlyer is also rather surprising as one of the reasons for keeping franchisees independent is to ensure that their cost structures do not drift up towards that of the parent. Perhaps BA, with its experience of Go, is now confident that it can prevent this happening, and it appears to have decided that CityFlyer is of such strategic importance that it has to be locked into the BA group.
While Air France's links with Gill Airways and Jersey European are limited to a few individual routes to France, KLM has clearly established a substantial offshore airline in the UK. KLM uk, now a 100% subsidiary, is a regional that has evolved into the major carrier at London Stansted and now competes more on trunk than regional routes — a model for Eurowings?
EUROPEAN REGIONALS' JET FLEET PLANS
EUROPEAN REGIONALS' JET FLEET PLANS
Current
Orders
fleet
(options)
Delivery/retirement schedule/notes
CityLine
CRJ
31
23 (7)
Delivery in 2000-2002
BAe 146
18
0
TOTAL
49
23 (7)
Eurowings
BAe 146
10
0
Air Liberte
F28
6
0
F100
11
0
TOTAL
17
0
Air Littoral
CRJ
14
4
Delivery by 1999
F100
6
0
TOTAL
20
4
Brit Air
CRJ
13
13
Delivery by 2001
Flandre Air
Emb135
0
10 (10)
Delivery by 2002
Emb145
0
1
Delivery in 2000
TOTAL
0
11 (10)
Regional Airlines
>
Emb135
0
5
Delivery by 2000
Emb145
6
Delivery by 2000
TOTAL
6
10
British Regional Airlines
Emb145
5
10 (3)
Delivery by 2000
BAe 146
3
0
TOTAL
8
10 (3)
CityFlyer Express
BAe 146
5
2 (2)
Delivery in 1999
Jersey European Airways
BAe 146
17
0
BAC 1-11
1
0
TOTAL
18
0
KLM uk
BAe 146
10
0
F100
15
0
TOTAL
25
0