Airport privatisation - a scramble for private finance December 1997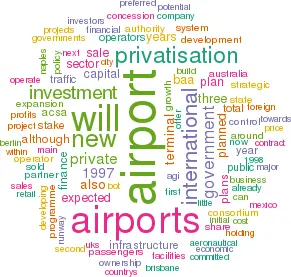 In 1997 airport privatisation went global. Airport privatisation, however, is a different animal from airline privatisation. There is little ideological backing for privatising airports and few claims have been made for the competitive benefits of share sales.
Although 10 years have passed since the pioneering share sale of BAA, privatisation elsewhere failed to catch on. There have been a few exceptions, all heavily oversubscribed — Vienna sold a 48% stake in 1992 and Copenhagen 49% in 1994 — but these were minority stake sales with the public bodies retaining control of airport policy.
It is only in the last 12 months that the concept has become fashionable. Around 50 countries are actively pursuing various forms of privatisation of their transport infrastructure, of which airports play a vital part. So why now?
Basically, airports are finding it increasingly difficult to match infrastructure with demand. Required annual expenditure on airport expansion and development, just to keep pace with the forecast growth, has been estimated at around $25bn a year. At the same time, central government and local authorities, the traditional owners of airports throughout the world, are re–evaluating their asset holdings in the search for non–tax funds. State ownership is often cited by many airports as a barrier to expansion, but public finance problems are now the driving force behind the latest sales.
The catalyst for finding solutions has been the finance markets, which now regard airports as sound new investment opportunities that offer potentially high returns, steady growth and little risk. While income from aeronautical charges does not usually cover the costs of running an airport, profits can be generated by the booming retail sector, as illustrated by the success of retail business at BAA, where it now accounts for 60% of total revenues. Another valuable asset, so far little exploited, is large tracts of unused land within airport boundaries, which can be turned into duty–free zones and light industrial parks.
What type of privatisation?
Several privatisation models are being tried, aiming to satisfy criteria such as government policy and objectives, timescale, regulatory issues, price and potential return on investment. Public offerings were initially the preferred option, providing a broad–based ownership and continued access to additional capital. But trade sales, as in Australia, strategic investments, as planned for South Africa, and private tender are beginning to move ahead. Some plans feature a combination of two or more.
Another form of financing is the Build- Operate–Transfer (BOT) concept, whereby private companies (usually consortia) agree to build, develop and operate a facility on long–term concessions, while ownership is retained by the authorities. At the end of the term, the airport has to be handed back, although a number of schemes offer options — some automatic — for extending the period. BOT can only work successfully if the concession period is long enough for the operator to recoup its investment. The minimum viable concession is 30 years — as at the new Spata International Airport for Athens, being built by a Hochtief–led consortium, and as planned for Argentina — although 50 years, as agreed in Australia and envisaged for Mexico, is the preferred term.
What is most important to airlines is that airports remain monopolies or quasi–monopolies after privatisation — hence the need to introduce some form of regulation. Control over airport charges is included in some of the projects surveyed here, but no one seems to have advocated as clear a solution as the RPI–x formula BAA works under. Airlines are being left to hope that cost savings from more efficient commercial operations will filter through.
Australia's sales bonanza
The Australian government's plan to privatise all 22 airports under the control of the Federal Airports Corporation (FAC) could not have got off to a better start. Having expected around A$3bn (US$2.3bn) for all 22 airports, the sale of the first tranche of three — Brisbane, Melbourne and Perth — alone netted A$3,337m (US$2.56bn). Completed on 1 July 1997, the transaction will result in a headline surplus of more than A$8bn in the present 1997/98 financial year. If this early success is repeated for the other state capital airports in the FAC portfolio, the total proceeds could exceed A$6bn (US$4.6bn), or double the government's initial expectations.
The price paid for Brisbane Airport in Queensland was A$1.39bn, while Victoria's Melbourne fetched A$1.31bn, and the smaller Western Australian airport at Perth was sold for A$643m. These prices, an improvement on the first round of bids, were achieved at an acceptable level of debt, with the winning consortia all geared at a 60/40 debt/equity ratio. BZW, the lead business advisor to the federal government, points out that the prices paid for these airports are between 16–20 times their earnings before depreciation, interest and tax — considerably higher than the lead–in privatisation programmes in Europe. While this represents excellent news for the government, it will put considerable financial pressure on the new operators to achieve a fair return on their investment, especially as they are committed to an aeronautical pricing scheme structured to reduce charges by up to 24.6% over the next five years, and to spend some A$500m on the three airports during the next decade.
All three airports went to different consortia, in line with the government's objective of diversity of ownership and a majority Australian interest. Brisbane went to the Brisbane Airport Corp, a consortium that included Amsterdam Airport Schiphol; Melbourne's successful bidder was Australia Pacific Airports Corporation, which included the UK's BAA; and Perth was won by the Australia Development Group Pty Ltd, a grouping that included AGI — whose shareholders include Lockheed Martin, Soros Capital and GE Capital — and infrastructure investment company Infratil Australia. All have 50–year leases with options for another 49 years at no extra cost.
For BAA, which was advised by NatWest Markets, the Australian venture marks the latest step in its global ambitions — it already runs the Indianapolis airport system, manages the retail business at Pittsburgh in the US and has bought a 70% stake in Naples airport in Southern Italy. At completion, the APAC holding was BAA (25.1%), AMP (49.9%) and Axiom (25.0%), but it is expected that Hastings Fund Management will exercise its option of taking a 10% stake which would come from BAA. APAC will contribute a total of A$354m in equity and shareholder loans, with the balance funded by borrowing facilities. Assuming that BAA's share is reduced to 15.1%, its capital contribution will total A$53m, all of it internally funded.
The government has now announced details of the second phase of its privatisation programme, which includes airports at Adelaide, Alice Springs, Canberra, Coolangatta, Darwin, Hobart, Launceston, Townsville, Mount Isa and Tennant Creek, expected to bring in about A$1.9bn. The sale should be finalised by mid- 1998. Several smaller regional and general aviation fields on offer are expected to be sold outright. This only leaves the much coveted prize of Sydney, which will not be offered to investors until the go–ahead for a new airport at Badgery's Creek is given.
German government bows out
The German federal government owns minority interests in five of Germany's biggest airports. But the pressure of matching expenditure with tax income has forced a re–evaluation of the role of the state as an investor in the economic sector, and in November 1995 the cabinet decided to withdraw totally from participation in airports. Hamburg was to be used as a test privatisation, to be followed by Cologne/Bonn, Berlin, Frankfurt and Munich, but it is the plans for developing the former DDR airport of Schönefeld into the new Berlin Brandenburg International Airport (BBI) that is grabbing the headlines.
The board of directors and shareholders of Berlin Brandenburg Flughafen (BBF), the holding company which owns the city's three airports at Tegel, Tempelhof and Schönefeld, approved plans in September 1997 to privately finance the new airport. The project is expected to cost between Dm5–8bn ($2.7–4.3bn), depending on the final design configuration, and is scheduled for completion by 2006. The airport will get new terminal facilities and a second runway, and will then be able to handle 20m passengers, nearly double the present combined throughput of 11m. Tegel is to be closed in 2002 when work on BBI begins, while historic Tempelhof will handle its last passenger in 2006 or 2007.
Investors will be allowed to bid for a minimum 74.9% stake, with the remainder to be sold at a later date. It is the intention that the new airport will be funded virtually entirely with private money, although the public sector has committed up to Dm1.8bn for the support infrastructure, such as road, underground and high–speed rail connections. Dm1bn has already been pledged by the European Investment Bank (EIB). Expressions of interest were due in November 1997 and the pre–selection process should be completed by autumn 1998.
The tender will be managed by BZW, which calls this particular privatisation model a "hybrid acquisition and project finance". It involves a 50- year concession to plan, build and operate the new facility, while at the same time being contracted to operate the existing three airports until their planned closure. The new owners are also required to assume existing BBF debts, believed to be in the order of Dm700–800m. Doubts about Berlin's ability to produce adequate profits for the new owners continue to be raised and the Berlin example will undoubtedly shape the privatisation of other German airports to follow.
Düsseldorf's Airport 2000 Plus reconstruction and expansion programme has also been secured through a part–privatisation programme. The state of North Rhine–Westphalia, which currently owns a half share in Germany's third–largest airport, along with the city authority, will sell its share into the private sector. It has had no shortage of interest, with most well–established airport operators knocking at its doors, but has selected the Harpen/Airports Group International (AGI) joint venture as the preferred bidder. AGI already manages, among others, Hartsfield Atlanta International Terminal and Terminal 3 at Toronto's Pearson International, while Harpen is a German property development company.
The asking price for North Rhine–Westphalia's 50% holding is likely to be close to the Dm2bn ($1.2bn) required to implement the Airport 2000 Plus project, which would increase Düsseldorf's throughput capacity from 15m to 22m passengers a year.
Argentine legal tangle
The planned privatisation of 38 of Argentina's main airports, in terms of numbers, is the largest in the world. It would also have been one of the quickest, but President Menem's headlong rush towards getting private money to finance the $2bn modernisation of the country's neglected airport infrastructure has run foul of its own legal system. Twice, the courts have overruled presidential degrees designed to force through the privatisation as unconstitutional, but the government still insists that the 30–year concessions will be awarded as planned in December 1997.
These legal tangles have done little, however, to bolster the already shaky confidence of the consortia bidding for the concession (SEA/Ogden, Montreal Airports/Airsys, FAG/ Sideco and AENA/FCC Dragados), nor can indicators of present and future profitability figures offer great encouragement. According to figures submitted to UBS, which is acting as financial advisor to the Argentine government, the entire system of 57 airports generated just $139m revenue in 1996, with operating profits (allegedly) of $97m. The two principal airports serving Buenos Aires, Ezeiza and Aeroparque, alone accounted for $100m in operating profits, suggesting that the remaining airports made a collective loss.
Projections, based on Argentina's strengthening economy, relative political stability, and the positive effects on regional traffic growth of the Mercosur economic grouping and domestic deregulation, indicate a substantial increase in both revenues and profits. Yet, the projected $428m operating profit by 2011 will still come from the two main airports. The investment needs of around $700m for the remaining airport will, therefore, have to be generated by the Buenos Aires airports.
Argentina has set tough conditions to be met by any potential operator. Apart from existing duty–free, bonded warehouse, ground handling and catering contracts, which remain in force until 2009/2010, the new operator will be able to provide all other forms of revenue–generating activities, including the establishment of airport–related businesses on airport land. The level of aeronautical charges, however, will be set by a proposed new regulatory authority, SNA, which will take over responsibility for the 57 airports.
Latin America joins in
Mexico appears to have considered and rejected a trade sale along similar lines to that in Australia, in its plans to privatise 35 out of 58 airports. Instead, the imminent strategy document, being prepared by the Secretaría de Comunicaciones y Transportes (SCT) in association with advisors SBC Warburg and local bank Interacciones, will be opting for a sale through a public offering, using the stock market to encourage wider participation in the airport system. The sale is expected to raise at least $400m, although the government's stated aim is to modernise the infrastructure. Foreign investment has been pegged to 49%, with airline participation limited to 5%.
The SCT document will also provide answers to the question of how the airports are to be privatised. A block sale has been discarded and the favoured option is believed to be splitting the airports into three or four regional groups, each group totalling around 10m passengers — Mexico's total annual traffic will exceed 50m in 1997. Mexico City's Benito Juarez International Airport, which will pass 17m passengers in 1997, will be sold separately, although its future remains in the balance. In addition to considering the construction of a new runway, the state airport authority Aeropuertos Servicios Auxiliares (ASA) is also evaluating the feasibility of a new airport at nearby Texcoco, or possibly Hidalgo.
To make investing in its airports more attractive, the government is placing only the most viable airports into the private sector. While the ASA insists that all 35 are at least breaking even, it is unlikely that any but the six busiest — Mexico City, Cancun, Guadalajara, Tijuana, Monterrey and Acapulco — are truly profitable. The fate of the other 23 smaller facilities, presently cross–subsidised, remains undecided. Investors and potential operators will need to see financial figures, projected traffic growth and investment needs, before parting with their money.
Elsewhere in Latin America, Uruguay plans to privatise Carrasco International Airport in Montevideo as part of its economic liberalisation policy, and to enable the capital to play a more significant role within the Mercosur alliance of states. With the close proximity of Buenos Aires, however, its scope may be limited. A government task force, supported by Lufthansa Consulting and Coopers & Lybrand Germany, is developing a privatisation strategy and technical and economic framework, with the emphasis of attracting foreign investment, led by experienced airport operators. It is expected that the privatisation will be based on a BOT scheme. A memorandum for international investors should be ready by the end of 1997, with the bid process following quickly to meet a planned 1999 date for the hand over of the airport to the new operators.
In response to impressive growth of international traffic, Peru's president Alberto Fujimori has announced that modernisation and expansion work at Lima's Jorge Chavez International Airport, the country's main gateway, will be put out to tender early in 1998, although no details as to the intended type of privatisation have been given. Rehabilitation of the terminal building and a new runway form the central elements of the proposed work. In Colombia, the CODAG joint venture majority–owned by Spanish construction firm Dragados, is building a second runway at Bogotá and will maintain both under a 20–year concession. The landing fees for the term will repay the $116m bond issue.
Airports Group International (AGI) has won a 25–year contract to manage and operate Bolivia's three main airports — Cochabamba, La Paz and Santa Cruz de la Sierra — which account for 80% of the country's air traffic. Under the terms of the contract, AGI is responsible for the management of landside and airside operations and maintenance, and has committed to a $100m investment to improve and expand facilities at the three airports. Around one–fifth of its profit is to be paid over to the Bolivian government. Chile is also ready to jump onto the privatisation bandwagon, while Brazil's Infraero is actively seeking foreign capital for the development of commercial activities at its 67 airports.
South Africa - focus on strategic equity partner
In his government's plan for the restructuring of the Airports Company of South Africa (ACSA), transport minister Mac Maharaj places the emphasis on inviting a strategic equity partner to assist ACSA in developing its operational expertise and to enhance its profitability and market value. The partner will also be expected to contribute to the building up of ACSA's aeronautical business and assist in the management of capital expenditure. ACSA took over the operation of the country's nine main airports in 1994, in a first commercialisation step towards the partial privatisation plan now submitted to the parliamentary Standing Committee.
The nine airports under ACSA control are the three principal international gateways of Johannesburg, Cape Town and Durban, together with provincial airports at Blomfontein, East London, George, Kimberly, Port Elizabeth and Upington. The three gateways are profitable, and ACSA has been able to steer the others close to break–even, reducing the need for cross–subsidy. There is considerable scope for commercial development and better use of surplus land. This, together with a trebling of air traffic since the dismantling of apartheid and continuing growth of business links and tourism, should make this privatisation offer an attractive opportunity for potential investors.
In the financial year to 31 March 1997, ACSA reported revenues of R578m ($122m), with a net income of R159m ($34m). The sale plan for a 49% stake in ACSA includes a 20% initial shareholding for the strategic partner, expected to be an internationally–recognised airport operator, or a consortium or joint venture led by one or more such operators. The strategic partner will also have the option for an additional 10%, which can be exercised on the date of the initial public offering of shares, planned to take place within two years or on the third anniversary of the initial transaction. The South African government intends to select the preferred partner for ACSA, prepare documents and complete the transaction by 31 March 1998.
India plans policy changes
India is facing a mounting bill for the urgently required modernisation and expansion of its airport infrastructure. A draft policy on airport infrastructure proposes a "revolutionary thrust" towards raising revenue from non–aeronautical commercial activities, giving airport operators total freedom, with no government control.
While the Airport Authority of India (AAI) will be directed to focus on projects which will be financially viable, the document also suggests that capital costs and losses sustained by airports being developed to meet social objectives would be reimbursed by the government. Various bid procedures are being discussed. Foreign investment of up to 40% in the domestic air transport sector was approved in April 1997.
Opportunities for private sector investment in airports during the current IXth Plan (1997–2002) include the proposed new airports for Mumbai (Bombay), likely to cost up to $3bn, and the stalled Bangalore airport, which has a price tag of $300m. All greenfield airport projects will be based on the BOT concept. In total, the AAI is responsible for five international airports, 87 domestic airports and 28 civil enclaves within military airfields.
As in India, airport privatisation is only slowly developing in the Far East. The Second Bangkok International Airport will be built with some private input, and the massive investment in airport projects in China, said by the Civil Aviation Administration of China (CAAC) to be in the area of $2–3bn in the current five–year plan to 2000, will also be accomplished with the introduction of foreign investment. This would particularly be applicable to the new Pudong International Airport for Shanghai and the replacement of Baiyun International at Guangzhou.
In Japan, a new airport for Aichi province, planned to be opened in approximately 2005, could become the first in Japan to be operated on a private basis.
Europe leads, the US follows - reluctantly
Of the UK's major airports, only Manchester remains firmly in public hands and has no plans to change the $1, while Birmingham's seven West Midlands councils have sold a majority 51% to facilitate the go–ahead of a £260m ($420m), 10–year development plan. The new shareholders include Irish airport operator Aer Rianta and NatWest Ventures, together holding 40%, with National Car Parks/John Laing having an 8.25% share and airport employees 2.75%.
Luton is looking to the private sector to finance a planned investment of £170m ($220m) over the next 10 years, designed to enable it to handle 8.5m passengers a year. Political necessity has forced Luton Borough Council to opt for a 30–year franchise rather than outright sale, as the Labour councillors were elected on a promise not to sell. The plan has already caused controversy, as the Borough is believed to have ruled out any bid by Luton's major airlines, leaving the door open to TBI and National Express to extend their portfolio. The franchising is being handled by UBS and will take a year to complete. The first phase of Luton's investment programme foresees construction of a parallel taxiway, extra apron space and expansion of its departures terminal.
After the part–privatisation of Rome, Naples has become the second Italian airport to obtain private sector investment, with Milan likely to be the next in line. The UK's BAA completed the acquisition of a 70% stake in Gestioni Servizi Aeroporti Camani, operator of Naples- Capodichino Airport, in summer 1997. The other shares are held by the City of Naples (12.5%), the Province of Naples (12.5%) and Alitalia. BAA is committed to invest $160m in the southern Italian airport, which draws its traffic mostly from tourists, over the next 15 years. Portugal is also making plans to privatise its airport system and is being advised by BZW and local bank BPI on the various options available.
Perhaps the most interesting programme is unfolding in Russia, where St Petersburg's Pulkovo Airport is preparing to build a new international passenger terminal with the help of a loan from the EBRD. The project is run by the International Airport Terminal Pulkovo, a Russian joint–stock company whose members include the City of St Petersburg, State Enterprise Pulkovo and Strategic Partners (Holdings). SPH, partly owned by STV International, will finance, design, construct and operate the new terminal. The $175m, two–phase programme will bring capacity up to 6m passengers a year. The operation of Moscow's Sheremetyevo II, Russia's major international gateway, will be auctioned in 1998, although the government is to retain ownership.
Across the Atlantic, airport privatisation has been slow to leave the ground. This is largely due to easy access to the bond market and the availability of the passenger facility charge, presently limited to $3 per passenger. But decreasing grants from the Aviation Trust Fund are causing airports to seek additional funding. To date, only one major airport system — Indianapolis — is operated on a private basis. The 10–year contract was won by the UK's BAA in October 1995.
The Indianapolis experiment has so far not been taken up elsewhere in the US, but a trend is developing towards the private operation of terminal facilities. In May 1997, The Port Authority of New York and New Jersey transferred operation of the international arrivals building Terminal 4 at JFK International to the JFKIAT consortium. This includes Schiphol USA (40%), a subsidiary of Schiphol Management Services. The contract gives the consortium control at least until 2015. Over the coming four years, the consortium will rebuild the terminal into a completely new threelevel structure, with more gates and greatly enlarged retail areas. The $1bn project is being financed through bond issues from the Port Authority.