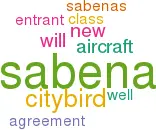 Sabena can claim to be an innovator in coping with new entrant competitors. It cannot live without Virgin Express (VE) and Citybird, and they cannot live without Sabena — for the time being.
Sabena is VE's largest single customer, buying 40% of its seats during summer 1997, and accounting for about 35% of the new airline's revenues. As well as the Brussels Heathrow route, Sabena also block books on Barcelona and Rome services, and so takes advantage of VE's low–cost economics. VE gets to use Sabena's slots which would otherwise be inaccessible, especially at Heathrow.
Sabena sells a range of business class tickets on the code–shared flights while VE is restricted to economy fares. The agreement is renewable every two years from spring 1998.
In November Sabena invested in a long–haul low cost carrier as well. Citybird -"The flying dream" — is a Belgian new entrant operating an MD11 and two 767s from Brussels to Newark, Montreal and Sao Paulo. Sabena has an option to take a 25% stake in Citybird and has signed a five–year agreement with the new entrant. The aircraft will be painted in Sabena's livery and Sabena will block 85% of seats (all of business and economy) while Citybird will operate a third charter class at the very back of the aircraft. As well as benefiting from Citybird operating costs, Sabena's own cabin crew on the aircraft will apparently be on Citybird rates.
This strategy is pragmatic but full of contradictions. Sabena is nourishing the growth of competitors whose ultimate aim must be to annihilate it. In its IPO prospectus VE emphasised its vigorous competition with Sabena on other routes and for passengers on the code–shared aircraft. The Sabena agreement means VE can't replicate Virgin Atlantic's Upper Class product in Europe, which is turning passengers off. Sabena has just ordered 34 A319/320/321s which, presumably, it would like to use on a premium route like London.