Air New Zealand
looks across the Tasman Jul/Aug 2018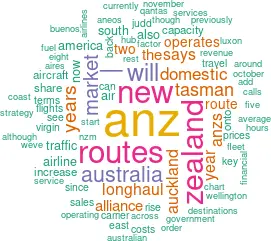 After being rescued by the government at the start of the millennium, Air New Zealand has been consistently profitable ever since — and is now prioritising the trans-Tasman market as it builds up traffic flows onto its long-haul routes to the Americas.
Air New Zealand dates back to 1940 and a carrier called Tasman Empire Airways, but today the New Zealand flag carrier operates to 20 domestic and 30 overseas destinations in 19 countries out of its main hub in Auckland, with secondary bases at Christchurch and Wellington.
ANZ has posted 16 consecutive years of profit at the net level, and in the 2017/18 financial year (the 12 months ending June 2018), ANZ reported a 7.4% rise in operating revenue, to NZ$5,485m (€3.3bn), based on a 6.4% increase in passengers carried, to 17.0m. RPKs rose 5.3% in the year, ahead of a 5.0% rise in capacity, leading to a 0.2. percentage increase in the passenger load factor, to 82.8% (see chart). EBIT was up 2.5% year-on-year to NZ$540m (€324m), and net profit increased 2.1%, to NZ$390m (€234m).
Air New Zealand operates a fleet of 57 aircraft, comprising 30 A320s-200s, nine 777-200s, seven 777-300s and 11 787-9s. The aircraft have an average age of less than eight years, with the eldest model being the 777-200s, which are more than 12 years old on average. On firm order is a single 787-9, and 13 A320neo family aircraft.
Domestic grip
Though New Zealand only has a population of 4.5m, as can be seen in the chart, intra-New Zealand routes are ANZ's most important market and domestic revenue underpins the entire airline. ANZ has an approximate 80% market share of the domestic market, and the only other competitor is Australia's LCC Jetstar Airways (owned by Qantas), which operates between five New Zealand destinations.
ANZ's domestic fleet comprises 17 A320s, all delivered between 2011 and 2016, and they operate on the main routes (where the longest sector is two hours) in a single-class configuration. Smaller routes are served by two ANZ subsidiaries — Air Nelson, which operates 23 DHC-8 Dash 8s, and Mount Cook Airline, which has 27 ATR-72s.
ANZ's domestic grip is helped by an FFP with 2.9m members (giving it an incredible 60% penetration of New Zealand households) and what ANZ calls "a significant market share of government air travel" thanks to a deal signed five years ago. ANZ also benefitted from a 10.2% rise in inbound visitors and tourists to New Zealand in 2017 and a 3.8% increase in 2018 (to 3.7m people). That number is forecast to rise to 5m by 2024, and ANZ points out that international visitors to New Zealand take — on average — two domestic flights during their visit to the country.
Some of the new A321neos will be used domestically, providing ANZ with a 25% increase in seats on trunk routes such as Auckland-Wellington, where it currently operates A320s up to 20 times a day and where it's difficult to add more flights to the schedule.
Tasman battle
With the domestic market in effect sewn up by ANZ, it's focus is turning more to the Tasman market — the Tasman is the sea between New Zealand and Australia, with the shortest distance between the two countries being more than 1,700 km. It's a huge market; in terms of VFR, every year 1.6m Kiwis travel across the Tasman and 1.5m Australians go to New Zealand, and on top of that is a large corporate market.
ANZ currently operates between four New Zealand and eight Australian destinations, and the airline is making a major move in the market by ending an alliance with Virgin Australia that dated back to 2011, but which will cease on October 27th this this year, two years after ANZ sold its 20% stake to Chinese Nanshan Group (owner of Qingdao Airlines).
The very next day ANZ will add capacity onto existing routes of Auckland-Sydney, Christchurch-Melbourne and Christchurch-Brisbane, while from December ANZ will start routes between Queenstown and Brisbane, and Wellington and Brisbane.
Behind the Virgin decision has been a conscious effort by ANZ to build its sales presence on the ground in Australia; previously the airline had reduced its offices in Australia to just one, but now sales offices have been opened across the country. In addition, ANZ's regulatory approval for the alliance was expiring, so it had to decide whether to renew for another three years. Another factor was the withdrawal of Emirates from all Tasman routes this year other than a daily Christchurch-Sydney-Dubai A380 service.
But perhaps the deciding factor is the need to maximise traffic flows from Australia onto ANZ's long-haul routes to North and South America (see below). ANZ wants to put widebody aircraft onto the crucial Adelaide-Auckland route, which ANZ admits doesn't make sense from an alliance point of view in terms of scheduling, capacity and prices, and "is in conflict with what a domestic carrier in Australia is trying to do, which is also trying to build its own services to America".
Nick Judd — chief strategy, networks and alliance officer — says he "feels very confident that we will retain the majority share of the sales that we have in that alliance, as our share of sales in that alliance far outweighed the ASK share that we had".
Also, on October 28th ANZ starts codesharing with Qantas on respective domestic routes in New Zealand and Australia. ANZ believes codesharing with Qantas will give it a "much stronger customer proposition into Australia than what we've had with Virgin".
Some of the soon-to-arrive A321neos will go on busier Tasman routes, such as from Auckland to Melbourne and Sydney, while the A320neos will go onto smaller markets, such as from Wellington and Christchurch to Australia. Widebodies are being added on some Tasman routes, such as Auckland to Adelaide.
Long-haul
On long-haul (which ANZ defines as sectors of more than six hours), ANZ operates the Boeing widebodies.
Its long-haul strategy is no longer centred on routes to Europe, which ANZ now admits other airlines can serve better than ANZ can, but rather on the fact that New Zealand is three hours closer to North and South America than the eastern seaboard of Australia — which means ANZ can operate to the mid-west and east coasts of the US in a way that Australia routes struggle to serve.
ANZ's emphasis on the Tasman market for medium-haul is crucial here, as between 20% to 30% of all passengers on ANZ's long-haul flights are Australian. Most of these come via ANZ's hub at Auckland, where routes radiate out to Vancouver, San Francisco, Los Angeles, Houston and Buenos Aires.
Around 45% of Australians connecting in Auckland travel on to Buenos Aires and approximately 20% travel on to Houston. Altogether 40% of all traffic on ANZ's route to Buenos Aires service originates from Australia (with 40% being South Americans and the rest Kiwis). Judd says that: "The market is growing much quicker than from New Zealand to South America and, being quite frank, we would not have been able to increase our capacity to South America or probably even land that route successfully without having that Australia feeder traffic".
An Auckland to Chicago route will start in November 2018, which NZ hopes will stimulate new demand to/from the US east coast, and ANZ aims to open further routes to the mid-west and east coast USA, and also to the east coast of South America (with Rio de Janeiro and São Paulo of particular interest).
The key to long-haul for ANZ is the right mix of travellers — ie premium leisure and business, and not just the cheapest economy seats. ANZ points out that it previously lost tens of millions of dollars operating routes to China with aircraft that were always full, but which had the wrong mix pf passenger. Or as Christopher Luxon — ANZ CEO — says, "we want to turn New Zealand into Switzerland, not Bali or Cancun".
An Auckland to Taipei route will also be launched in November with five services a week targeting the VFR and holiday markets.
Interestingly Luxon says they now have "ruthless visibility" over route performance and are quick to change routes when they are not performing. He says: "our routes have work like an SKU in a fast-moving consumer goods business — they have to stand up on their own right, rather than saying, well we lose money here because we make money there".
That's why over the last eight years ANZ has withdrawn from what it calls "thin, narrow" long-haul routes (ie loss-making ones) — such as Christchurch-Osaka, and since 2014 has been building up an alliance strategy, in order to "shore up some routes that were marginal, such as Auckland-Hong Kong and built better flow-through traffic and connecting traffic through those", according to Judd. Routes that had previously been cut have been bought back through alliances — eg Singapore, which ANZ exited in 2006 and which it re-entered in 2015 in partnership with Singapore Airlines. ANZ has been a member of Star since 1999, and a third daily service will be added on Auckland-Singapore from November, with ANZ operating the route in April to October and its partner flying it the rest of the year.
As for its key Auckland hub, although there are relatively few spare slots in the key 4pm-9pm time when long-haul flights depart, overall Auckland is not a particularly capacity-constrained airport. Nevertheless, there are plans to add a northern runway by 2028.
In terms of the fleet, ANZ plans to replace its 777-200s between the 2023 and 2025 financial years, with models currently under consideration being the 777X, 787 and A350 families. This order will be awarded around end of FY 2018/19, while in the longer term (5+ years from now), the 777-300s will also be replaced.
The road ahead
In the CEO's words, ANZ "has been through a turnaround situation, been through a realignment phase and is now in in a 'sustaining success' stage". Overall capacity growth has eased back over the last two years, falling from 11.5% in 15/16 to 6.3% in 16/17 and 5% in 17/18, and ANZ says that for the next 3-5 years its ASKs will grow in the range of 5% to 7%, though as it looks forward to FY19 Judd says "we do have a higher end growth rate at the top of that range and the reason for that is that we've come out of the Virgin Australia alliance".
ANZ doesn't appear to be hampered by the fact that the New Zealand state still owns a 52% stake (though it has no direct board representation), a result of the government having to step in and rescue the airline in 2001 despite the carrier being privatised in 1989. The rest is owned by institutional (45%) and retail investors (3%), with the company dual-listed on the New Zealand and Australian stock exchanges.
Management appears to have tight control on costs, although in the short-term it is worried about increasing fuel prices. As at June this year ANZ had hedged around 80% of its needs for the first half of the 2019 financial year — which it says is close to the maxim level of hedging that it normally pursues ie it will always buys a minimum of 20% of fuel needs at spot prices.
Unit costs had fallen since for the four years up to and including FY2016/17, but they rose slightly in FY17/18 (see chart), and the gap between unit revenue and costs is starting to narrow.
The airline employs more than 11,000 staff, all but 6% of which are based in New Zealand, and in May this year ANZ entered into nine-year collective employment framework deals with two unions that represent most of its pilots, which ANZ calls a "strategic partnership with the unions that provides long-term stability in terms of industrial relations and labour costs".
The biggest external threat comes from competitors, although Luxon says that competition is becoming "more rational" (partly due to rising fuel prices) and that on the key Tasman market "we've seen the withdrawal of Middle Eastern carriers," while on Pacific routes "we saw American carriers move to seasonal services to New Zealand. Even out of China we started to see our competition rationalise, and particularly into second tier cities."
ANZ: FLEET PLAN
| | 2018 | 2019 | 2020 | 2021 | 2022 |
| --- | --- | --- | --- | --- | --- |
| 777-300ER | 7 | 7 | 7 | 7 | 7 |
| 777-200ER | 8 | 8 | 8 | 8 | 8 |
| 787-9 | 11 | 13 | 14 | 14 | 14 |
| A320 | 30 | 25 | 19 | 19 | 16 |
| A320/321 neo | | 10 | 15 | 15 | 18 |
| ATR72 | 27 | 28 | 29 | 29 | 29 |
| Q300 | 23 | 23 | 23 | 23 | 23 |
| Total | 106 | 114 | 115 | 115 | 115 |
Source: Company reports.
Note FY to end June