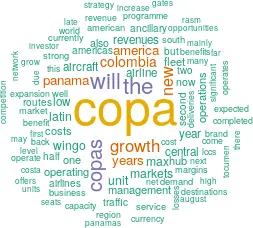 After two tough years, Panama's Copa is seeing its profit margins bounce back as Latin America's economies and air travel demand gradually recover. As a result, Copa is now cautiously returning to the growth mode; its ASMs are projected to increase by 8% in 2017 and in the "high single digits" range in 2018, after only 1.5% and 4.4% growth in 2016 and 2015, respectively.
But Copa will not be returning to the heady growth rates of the past. Its CEO Pedro Heilbron has talked about the long-term growth rate averaging around 6% annually. In the next couple of years at least the growth will mainly come from higher aircraft utilisation and upgauging.
This new expansion phase is seeing several new strategies, which Copa's management discussed in more depth in recent earnings calls and at the company's annual investor day, held on June 1 in New York.
First, there is Wingo — Copa's first foray into LCC operations. The Bogotá-based venture began operations in December 2016 with an initial focus on the Central American market.
Second, the 737 MAX will play a key role in facilitating Copa's growth and keeping its unit costs in check. The airline has 71 MAXs on firm order, with the MAX 9 deliveries starting in August 2018 and the MAX 10 deliveries in 2021. (Copa became one of the latter's launch customers at the Paris Air Show.)
Third, there are attractive opportunities to grow ancillary revenues. Copa has a brand new FFP that can be further developed, while upgrades to its reservations system and IT capabilities will allow it to sell more ancillary products and benefit more from airline partnerships.
The management believes that these new strategies, coupled with cost and efficiency initiatives, will enable Copa to return to its historical high (17-21%) operating margins over the next several years.
Copa used to consistently achieve industry-leading operating margins because of its hugely successful "Hub of the Americas" strategy, which channels traffic between North, South and Central America via the Panama City hub. The business model is very "defensible" because it focuses on underserved thin markets where point-to-point service is generally not an option.
Copa's success is due to many factors, which mostly remain intact or are being reinforced. Panama City's Tocumen International Airport will see a significant increase in capacity in 2018, which will strengthen its role as the region's largest and most efficient hub. Copa has retained its relatively low unit costs and high service quality.
But investor opinion is divided on whether Copa will recapture its former position as an industry high-flyer with 20%-level margins. There are some concerns that the hub strategy is under threat from LCCs coming in and introducing point-to-point services that bypass Panama City. Such incursions have increased in Copa's markets in the past 12 months. Mexican ULCC Volaris has launched a Costa Rica-based unit that competes directly with Copa on some Central American routes and is awaiting authorisation for US-Central America operations. LCCs such as Interjet and VivaColombia are also growing in the region.
Improving results
Copa weathered Latin America's economic and currency woes well, at least compared to its peers in the region. Its operating margin dipped for two years but still remained in double-digits — 11.8% in 2015 and 12.4% in 2016. Furthermore, if fuel hedge losses were excluded, Copa would have reported 16%-plus operating margins for both of those years.
But the net results have seen wild swings in the past three years because of losses or gains associated with currency devaluations and the mark-to-market of fuel hedge contracts. Copa had a heavy exposure to the Venezuelan market (9% of its revenues in 2014), so it was hit hard by the currency remittance issues. A massive $433m currency translation loss related to the Venezuelan bolívar led to Copa reporting a $225m net loss for 2015.
Those headwinds are now behind the airline. Copa has significantly reduced operations to Venezuela and no longer sells in bolívars nor has bolívars on its balance sheet. The out-of-money fuel hedges have rolled off and there are currently no hedges.
So Copa is benefiting fully from the improving demand and yield environment in most Latin American markets. Currencies have strengthened from their worst points in 2015 and, importantly, stabilised. IMF forecasts Latin America's GDP to grow by 1.1% in 2017 and 2% in 2018, following a 1% decline in 2016 and 0.5% growth in 2015.
Although the airline benefits from Panama's use of the US dollar as its currency (which enables Copa to earn significant dollar revenues), about half of its total traffic is connecting, which means that its results also benefit from the positive trends in other Latin American countries.
Copa's unit revenues are now improving — up 6% and 7.5% in Q1 and Q2, respectively. In January-June, traffic (RPKs) surged by 12% and the load factor by 4.1 points to 81.9%. In the second quarter, Copa's revenues grew by 17%, operating margin more than doubled to 14.4% and adjusted net income almost tripled to $63m. The management subsequently raised its 2017 operating margin guidance from 15-17% to 16-18%.
Copa has a history of managing recessions well. This time around, the smartest action was to slow growth. The benefit is clearly visible in the load factor trends: up to and including 2015, Copa's passenger load factor was in the mid-70s, but in 2016 it rose to the 80% level for the first time.
The management noted at the investor day that Copa also benefited from "proactive and dynamic capacity deployment", which meant exiting five markets but adding eight new ones in 2015-2016. When demand collapsed in markets such as Brazil, Copa found good uses for the aircraft in new higher-demand markets (especially to the US).
Another accomplishment was to maintain competitive unit costs in a low-growth environment. Copa's ex-fuel CASM, which had been on a steady downward trend since 2008, fell by another 3% in 2015 to 6.4¢ and remained at that level in 2016.
And Copa has continued to reward shareholders. In addition to paying regular dividends, it has completed more than half of the $250m inaugural share repurchase programme that the board authorised in late 2014. Given the strong cash position and vastly improved earnings this year, the board recently approved an increase in the quarterly dividend from $0.51 to $0.75 per share for the second half of 2017.
This year's ASM growth will come entirely from increased aircraft utilisation. Copa is simply reducing capacity less in the low season (Q4) now that demand patterns are stronger.
In Copa's second-quarter earnings call in early August, the management reassured investors that they had so far seen only rational behaviour from other Latin American airlines in response to the demand recovery in the region. Brazil-US routes have certainly seen airlines bring back capacity, but Copa is not a major player in those markets.
Nor is Copa a major player in the Central America-US East Coast market that Volaris Costa Rica hopes to serve. Those routes account for a relatively small portion of Copa's revenues or network and already have a large number of operators, so the impact may not be material. While Copa is facing some pricing pressure in Central America, the management generally played down the effect of Volaris Costa Rica.
But some analysts disagree, arguing that the ULCC's Costa Rica hub could compete with Copa's Panama hub. In an August 9 report, Bradesco BBI analysts cited increasing competition from ULCCs in Central America as one of two reasons they had an "underperform" rating on Copa's NYSE-listed shares. The other reason was unattractive valuation.
Copa's share price has recovered well from the depths that it plummeted to in 2015-2016, which has reflected Latin America's improved fundamentals and Copa's better profit outlook. Most analysts currently have a "hold" recommendation on the stock, mainly because of the valuation. The sentiment is not helped by the fact that Copa's unit revenue recovery is flattening out in the second half of 2017 due to tougher comparisons (its RASM recovery began in H2 2016).
The Panama hub advantage
One of Copa's greatest strengths is being based in Panama — a stable dollar-based economy with a free-trade zone, low taxes, low labour costs and growing tourism. It is home to many regional offices of multinational corporations and benefits from strong public and private sector investment.
The expansion of the Panama Canal, completed in 2016, has provided an enormous economic boost. Panama continues to be the fastest-growing economy in Latin America, with 5.8% and 6% GDP growth projected for 2017 and 2018, respectively (IMF, April 2017).
Panama's population is only 4.2m, but its steady growth and emerging middle classes have contributed to the growth of O&D traffic, which accounts for half of Copa's total traffic and makes Copa's business model more sustainable in the longer term.
Copa's strategy works because the Panama hub is highly efficient and because Copa offers convenient schedules, high-quality service and excellent on-time performance.
Tocumen is geographically well located, allowing 737NGs to fly nonstop practically anywhere in the Americas. The airport benefits from two sea-level runways and offers easy transfers and short connecting times. Copa accounts for more than 80% of the daily flights there.
Tocumen is one of the few major airports in the region where infrastructure provision has kept pace with airlines' needs. Two expansion phases since 2004 have increased total gates from 14 to 34 and have provided new taxiways and ramp and support areas. The current Phase 2 expansion will add a new south terminal (T2), with 20 additional gates and new areas for customs, immigration, security and baggage handling.
One point of concern, though, is that Phase 2 is running behind schedule. It is currently expected to be completed towards the end of 2018. However, eight remote positions from T2 were activated in 2016 and a "soft opening" of 3-4 gates is expected in Q2 2018.
Copa has been short of gates at peak times already for some years, so the new capacity will come none too soon. However, Copa executives noted in early August that the further delay with T2's full opening may not matter because most of the MAX 9 deliveries, and especially the net increase in aircraft, will not happen until late 2018.
Premium RASM, low CASM
Copa enjoys the very unusual combination of premium unit revenues and low unit costs. The strong RASM reflects a high business traffic content, lack of competition, a high-quality product and a strong brand.
While increasing competition with LCCs may pressure RASM in the future, Copa's management is focused on maintaining what they call a "world class product offering". Operational excellence is a key part of that and Copa has maintained it. This year FlightStats named it "most on-time airline in Latin America" for the fourth consecutive year, while OAG recognised it as "second most on-time airline in the world" for the second consecutive year — amazing achievements for a hub-and-spoke carrier.
Copa's low unit costs reflect a modern streamlined fleet, efficient operations and Panama's low labour costs. The ex-fuel CASM of 6.4¢ is among the lowest in the world for a full-service carrier.
The management is focused on achieving further cost savings. Copa is about half way through a company-wide $50m cost-cutting programme. There are cost reduction opportunities in distribution, maintenance and supplies. The 737 MAX will of course be very helpful in keeping unit costs in check.
Copa's efficiency projects include migrating to a new unified MRO programme, which will allow it to manage maintenance more efficiently for both Boeing and Embraer aircraft and integrate the MAX more easily. Copa also continues to insource more heavy maintenance and is undertaking a $14m hangar expansion due to be completed next year.
Diversifying with Wingo
The new lower-cost unit Wingo, which is part of Copa Colombia, is aimed at reversing losses in Colombia, competing with LCCs more effectively and tapping growth opportunities in Central American leisure markets.
Copa has operated an airline in Colombia since 2005, when it acquired an initial 85.6% stake (now 99.9%) in AeroRepública, now Copa Colombia. Colombia is Latin America's third largest market in terms of population (48.8m in 2016), shares a border with Panama and represents a significant market for many Panamanian companies (for historic, cultural and business reasons).
But Copa has not succeeded in making Copa Colombia profitable, despite replacing the unit's old fleet and later slashing its domestic operations and refocusing it on the international market. The unit's non-Panama international routes had predominantly leisure traffic and low yields, while competition domestically had escalated after VivaColombia entered the scene.
So, most of Copa Colombia's network has been converted to the lower-cost business model. Copa Colombia continues to operate the more business-oriented Colombia-Panama routes, which it took over from Copa years ago.
An added benefit is that it is a lower-risk approach to setting up an LCC. Wingo operates "administratively and functionally" under Copa Colombia (which includes using the latter's operating certificate) but has separate commercial structures, distribution systems, customer service, management, fleet and brand.
By keeping Wingo commercially separate from Copa Airlines and Copa Colombia, which are full-service airlines, the group should avoid brand confusion. But Wingo will benefit from the economies of scale, business culture and support offered by the Copa family, which should facilitate better cost controls and "reliable service and operations".
Wingo's initial fleet consists of four Copa Colombia 737-700s, which it operates in single-class configuration with 142 seats (of which 28 have extra pitch). Copa Colombia operates its 737-700s with 124 seats.
Wingo's current route network (most of which it took over from Copa Colombia), covers 15 cities in nine countries. It includes six points in Colombia and nine elsewhere in South and Central America, Mexico and the Caribbean. The operations are mainly point-to-point and out of Bogotá. In Panama it operates to the city's secondary airport (Pacifico) while Copa Colombia operates to Tocumen.
Wingo offers low basic fares (though not ULCC-level) and charges extra fees for everything except carry-on bags and water. Numerous ancillary offerings make it possible to "fly well" (part of the airline's slogan) if one so chooses. The options include checked bags, express check in, seat selection, seat with more legroom and, of course, food and drinks. Wingo says that it offers its passengers a "cool, friendly and low-cost experience that makes them feel good".
Cost savings will mainly come from a higher seating density on the 737-700s, direct distribution, lower on-board service costs and less complexity generally.
According to Copa executives, Wingo is performing better than expected. It will lose money this year but the losses will be lower than Copa Colombia's in those markets. Back in May CEO Pedro Heilbron said that he expected it would take a few years for Wingo to become profitable.
Wingo accounts for only 2-3% of the group's revenues, so the losses are not material to Copa. The group clearly views the venture as strategically important for the long term, now that LCC growth in Copa's markets is accelerating. According to CAPA, LCCs currently account for only 8% of the weekly airline seats in Central America, which is among the lowest penetration rates for any world region or sub-region.
Growth plans
Copa's network (including the Colombian units) currently includes 75 destinations in 31 countries in North, Central and South America and the Caribbean. Codeshares with Star and other partners extend the coverage to another 146 destinations.
Copa also benefits from an unusually deep strategic relationship with United, which dates back to the late 1990s when the US and Panama signed an open skies agreement and Continental acquired a 49% stake in Copa. The stake was sold a decade ago but the partnership is going strong and last year the agreement was extended through to 2021.
After adding numerous new destinations (especially in North America) over several years, in 2016 Copa added only three new cities. This year will see just two: Denver (its 13th US destination) and Mendoza (Argentina), both in Q4. However, Copa will continue to add frequencies in existing markets.
The strategy is to continue to strengthen the intra-Latin America operations and the Panama hub with more destinations and frequencies. According to the June investor day presentation, Copa has identified 20-plus potentially attractive underserved destinations. There are no plans to operate to other world regions.
Notably, Copa has continued to serve Venezuela even as many other airlines have pulled out due to tough conditions and safety fears as the country's crisis has deepened. Venezuela-Panama demand has held up and the routes remain profitable.
Copa and its Colombian units currently operate a 101-strong fleet, consisting of 66 737-800s, 14 737-700s and 21 E190s. There are firm orders for two more 737NGs for delivery in 2018 and 71 737 MAXs (2018-2024 delivery).
However, significant lease expirations (31 up to 2024) and some 15 owned older aircraft give Copa flexibility to grow its fleet at a fast pace or not at all in the next seven years. "Conservative" fleet growth (at 2% CAGR) would result in only 115 aircraft by year-end 2024, while "aggressive" growth (at 7% CAGR) would give Copa 170-plus aircraft.
In any case, ASM growth will continue because the MAXs will replace many smaller-gauge 737NGs. They will also enable Copa to operate longer routes, potentially opening up the Pacific Northwest/Western Canada and the far south of South America. Of the 71 MAX orders, Copa has so far specified that 15 of the aircraft will be MAX 9s (deliveries in 2H 2018 and 2019) and 15 will be MAX 10s (deliveries in 2021-2022). The fleet is also likely to eventually include some MAX 8s.
Copa expects to operate the E190 at least for the next 4-5 years. By 2018 the E190 fleet will have been brought down to 19 (from 27 at one point), which are all owned and which the airline feels is the ideal number of 100-seaters.
Copa is a good candidate for growth because it has one of the strongest balance sheets in the industry. At the end of June, it had $924.6m in cash or 39% of LTM revenues. Long-term debt was $1.17bn, all of which was aircraft related. Adjusted net debt/EBITDA ratio was only 1.7 times — by far the lowest in its Latin America peer group.
But Copa has also other important projects in the works, notably further developing its new ConnectMiles loyalty programme, upgrading its reservations system and pursuing ancillary revenue opportunities.
Copa only launched its own FFP in July 2015, because it previously participated in partner United's MileagePlus plan. Having its own plan allows it to build a more direct relationship with its customers and develop new revenue streams. The programme has been well received and Copa expects it to boost its operating margin by around one percentage point in 2018.
Having postponed a planned migration to Sabre late last year, Copa has for now instead chosen to upgrade its HP Shares reservations system. That work is expected to be completed in the first half of 2018. The upgrades will allow Copa to do a lot more in terms of selling ancillary products.
The airline is working on a number of ancillary initiatives and considering others that are "consistent with the Copa brand". While most of the benefits will come after 2018, Copa is anticipating $10m additional revenue this year from selling a second checked bag, upgrades and premium seats. Those revenues are projected to grow to $20-40m in 2018 and $40-60m in 2019. New ancillary revenue streams could be instrumental in helping Copa get back to the 20%-level operating margins.