An aviation tour
of Central Eastern Europe Jul/Aug 2015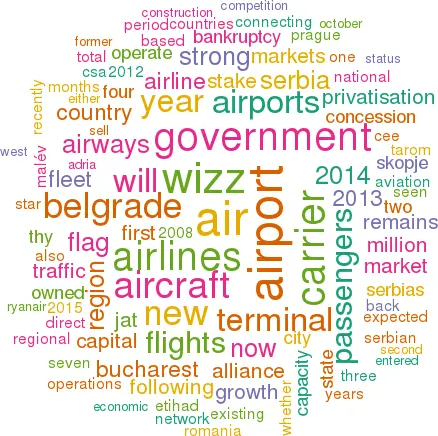 In the September 2008 edition of Aviation Strategy we looked at the developments in the markets in Central and Eastern Europe (CEE). At the time, most of the countries in the region, whether ex Warsaw Pact or former Yugoslavia, had experienced relatively strong economic growth starting in 2000, but 2008 brought about a long and deep recession. This coupled with the strong growth of Wizz Air and more recently the expansion of the Etihad Equity Alliance into the region has had a profound impact to the region's aviation industry.
Wizz Air has even become the de-facto 'national airline' in Hungary. The January 2012 bankruptcy of Hungary's former flag-carrier Malév left Wizz as the largest airline in the Hungarian market. It successfully fought off a strong challenge from Ryanair which moved quickly to base its aircraft at Budapest. Wizz has now secured designation on some of the bilaterally constrained markets, which were once the preserve of Malév, to destinations such as Moscow, Dubai, Tel Aviv, Kutaisi (Georgia) and Baku (though this point was subsequently dropped).
Budapest Airport, once a mini-hub for oneworld member Malév with its modern terminal (SkyCourt) built as a facility to facilitate transferring passengers, now finds itself with virtually no transfer traffic as Wizz does not yet offer a connecting product within its own network, let alone with other airlines. Whether Wizz will continue to remain true to its ULCC (Ultra Low Cost Carrier) founding principles remains to be seen as its fleet growth continues unabated over the coming years and will see it grow from its current fleet of 65 by the end of 2015 to 106 in 2018.
Star Alliance is the dominant network in the region, connecting traffic through hub airports at Munich, Frankfurt, Zurich and particularly Vienna where Austrian has exploited its historical connections especially to the Balkan states. However, Austrian has come under serious competition from THY which has expanded its footprint in the region considerably from its Istanbul Ataturk hub, offering a frequency-driven schedule to feed into its enormous network in the CIS countries of the ex-USSR as well as the Middle East and further afield into Africa and Asia. Istanbul's own rise as an economic and tourist centre has also resulted in a strong increase in point-to-point traffic from the CEE region.
Most countries in the CEE are too small for domestic flights and thus the vast majority of traffic in the region flows across national borders. Notable exceptions are Poland and Romania with populations of 38.5 and 20 million respectively. Romania has a distinct topographical barrier in the Carpathian mountain range that makes road and rail access between Bucharest and the lower Wallachia region of Romania to the northern half of the country in Transylvania and Banat very difficult and time- consuming (a motorway corridor through the mountains could be completed by 2020). These regions have experienced strong economic growth and are home to regional airports like Cluj-Napoca, Sibiu, Târgu Mureş and Timişoara.
Romania
Romania has been a major development market for Wizz which bases aircraft at five cities. It has a sizeable presence in the capital Bucharest where it is vying with national carrier TAROM for the number one position, with seven based aircraft at Otopeni Airport. The second airport in Bucharest which had formerly been home to most LCCs, Baneasa, was closed to commercial flights in 2012 with all carriers forced to relocate to Otopeni which expanded its terminal to accommodate the additional traffic.
TAROM operates a curious mixed fleet of 23 aircraft, consisting of two A310s (once used for long haul flights to New York), eight 737s, four A318s and nine ATRs (both -72s and -42s). It has been the subject of privatisation conjecture over the years with recent reports indicating the Romanian government in talks with THY. It is difficult to see a rationale for Turkish taking a minority stake (as it is non-ECAA, it could not take a majority stake in TAROM) unless perhaps the government were to include the four airports it owns (Timişoara in the west of the country, both Bucharest airports and Constanta on the Black Sea coast).
Romania had been the only CEE country with a regional network carrier, Timişoara-based Carpatair, but Carpatair filed for bankruptcy and ceased scheduled operations in 2013 following a protracted legal dispute with Wizz. Its business model had featured connections at Timişoara from Romania and neighbouring Moldova and Ukraine primarily to Italy where there is a diaspora of about one million Romanians.
Blue Air is a locally owned LCC with an all-Boeing fleet of 15 aircraft (both Classics and NGs) based in Bucharest, Bacau, Iasi plus Larnaca in Cyprus (following the bankruptcy of Cyprus Airways). Its future has also been the subject of much debate as it faces stiff competition from TAROM, Wizz and Ryanair.
Serbia
The past two years has seen a dramatic and unexpected change to the aviation landscape in Serbia, the largest of the former Yugoslav republics by population. Following several failed attempts to privatise or restructure Air Serbia's predecessor, Jat Airways (Yugoslav Airlines), in 2013 the Serbian government managed to sell a 49% stake in Jat to Etihad Airways in a deal believed to include other state owned assets in non-aviation industries. Jat was on the brink of bankruptcy in 2013, facing increasing competition from Wizz's Belgrade operations, while easyJet entered the market with three new routes in early 2013.
Jat operated a fleet of ageing aircraft, 10 of which were 737-300s (Jat was the European launch customer for the type in 1985), and five ATR 72s. Some of the Boeings were being cannibalised to keep the other 737s airworthy. The average age of the aircraft was over 20 years. The deal with Etihad included a management contract whereby Etihad replaced several senior members of the airline's management with its own hires, a complete re-branding from Jat to Air Serbia, and the introduction of 10 Airbus narrowbodies (A319s and A320s). Four of the 733s remain, being principally used for the airlines charter brand, Aviolet. The ATRs received extensive cabin upgrades and two newer 72-500s entered the fleet.
In 2007 the percentage of passengers connecting at Belgrade Airport was just 3%. Since the transformation of Jat Airways into Air Serbia and the focus on establishing Belgrade as a mini-hub, transfer passengers are estimated to have risen to over 30% of the total. Air Serbia's schedule is centred around three banks of flight arrivals/departures during the entire season and four banks (the fourth being in the midnight hours of 00:00-01:00) in the peak summer. This operation has doubled the utilisation of the fleet. The effect on passenger numbers for the first full year of Air Serbia, calendar year 2014, and the contrast with other ex-Yugoslavian airlines is shown below.
During the first seven months of the year, Belgrade Airport handled 2.7m passengers in total, an increase of 6.9% on 2014, with 2015 expected to break the previous record set in 2014, with around 5m passengers, close to its capacity. As a result, the airport has announced plans to expand Terminal 2 with four new air bridge gates capable of handling widebody aircraft and additional bussing gates. This is expected to grow capacity to about 8m. Construction is expected to commence later this year and take between 14-16 months.
French concession and construction company Vinci signed a MoU with Belgrade Airport back in November '14 and recently confirmed its interest in a concession of Belgrade Airport earlier this year. It is still unclear which privatisation model, if any, the Serbian government will adopt. There has been widespread discussion of establishing a state run holding company called "Airports of Serbia" that would manage up to 25 of Serbia's airports, including Belgrade. Apart from Nis airport in the south of the country which has recently succeeded in attracting Wizz Air, none of the other airports operate commercial flights. Indeed, many are GA airports with grass runway strips or military airfields.
Serbia was updated to US FAA Category 1 status in 2014. Prior to that, Serbia's status as an FAA IASA category 2 country prohibited the establishment of any new direct commercial flights between Serbia and the US by a Serbian carrier. There have not been any scheduled direct flights between Belgrade and the US since Uzbekistan Airways ran services from Tashkent to New York City via the Serbian capital in 2004. A bilateral agreement between Serbia and the US was signed in May this year. According to local media reports, the FAA will perform a final inspection checks on Serbia's readiness to handle transatlantic flights this September which would remove the last remaining administrative barrier to flights.
The failure of other airlines in the region to make a success of direct transatlantic flights doesn't bode well — CSA from Prague, Malév and American Airlines from Budapest and TAROM from Bucharest. All three cities are larger markets then Belgrade. The challenge for Air Serbia will be to generate enough feed into its Belgrade hub from regional airports such as Skopje, Podgorica, Sofia, Bucharest, and even Beirut and Tel Aviv, which it serves along with an interline or code share agreement on the US side. The Star Alliance will not take this incursion into what it sees as its "backyard" lightly; a fierce price battle is likely putting strong downwards pressure on yields. It also remains questionable whether flights from Belgrade to either or both of New York or Chicago would attract enough business passengers willing to pay a premium for a direct service that will save them 4-5 hours of total travel time to current one-stop products with Star Alliance or SkyTeam. The other challenge remains the seasonality of the market. At present, traffic flows between Belgrade and North America in the June-August period are 2.5 times greater than during the seven the 7 months between October and April.
Croatia
Despite its flag carrier Croatia Airlines lurching from crisis to crisis, with numerous industrial disputes disrupting its operations, the Croatian government managed to sell a 30 year concession in Zagreb Airport to an Aéroports de Paris (AdP)/ Bouygues led consortium in December 2013. The concession terms required immediate construction of a new terminal to replace the existing one which dates back to the 1960s and operates at over 100% of its design capacity. Partially as a result, Zagreb is somewhat unique amongst EU capital city airports (Croatia joined the EU as its 28th member in July, 2013) in not being served by either Ryanair, Wizz or easyJet. The new terminal which will boost terminal capacity to 5m-plus passengers. By the end of this year, the steel roof and the exterior of the terminal building will be completed with the transition of operations from the existing terminal expected in Q1 2017.
Croatian Airlines, with a fleet of 12 aircraft (2 x A320, 4 x A319 and 6 x Q400), recorded a net loss of €12.8m for the first half of 2015 with passengers totalling 802,559. This compares unfavourably with a €3.9 million loss in H1 2014. With existing Zagreb traffic accounting for about 50% of the capacity of the new terminal, it remains to be seen whether the Croatian government can find a sustainable solution for its flag carrier under private ownership; otherwise the pressure on the concessionaires to attract LCCs will be formidable.
Slovenia
The Slovenian government in 2014 sold its holding in the capital city airport, Ljubljana, to Fraport for a reported €234.4m. LJU handled 1.34 million passengers in 2014. Fraport has enjoyed a strong start to 2015 with pax numbers of 798,297 in the first seven months, an 11% increase on the same period in 2014. Other bidders included Vinci, but Adria's Star Alliance membership and near total domination of the airport by Star Alliance carriers may have tipped the balance in favour of Fraport. For now there are no plans for any major capital expenditure in the airport whose existing runway and terminal should be adequate for the foreseeable future.
Slovenia's flag carrier Adria Airways is itself the subject of a second privatisation attempt. The Slovenian government appointed KPMG as sell side advisors and they issued a call for expressions of interest for a 91.6% stake in the company in July '15. This follows a failed attempt in August 2012. Speculation has centred on a number of potentially interested parties, including: Air India, China Southern, Qatar Airways, Royal Jordanian and THY. Interestingly, Royal Jordanian came second in the privatisation of Bosnia's B&H Airlines, a process 'won' by Turkish back in 2008. China Southern is believed to have proposed a joint bid for Ljubljana Airport and Adria back in 2013. In the meantime, Adria has been busy taking advantage of its EU/ECAA status to base aircraft in niche markets in other parts of Europe where it sees opportunities. It now bases aircraft in Łódź in Poland — a secondary city 130km south west of Warsaw — along with Tirana in Albania.
Bosnia
Bosnia's flag carrier, B&H Airlines, had its AOC revoked in mid-July until October '15, marking the final nail in the coffin of the troubled flag carrier. The Sarajevo-based national flag carrier was established as Air Bosna in August 1994 by the government of Bosnia and Herzegovina and re-branded from its original name of "Air Bosna" in October 2006. During its existence, B&H Airlines was, for a short period, partly owned and managed by THY which purchased a 49% stake in 2008. THY returned the share to the Bosnian state for free in 2012 following disagreements with the government.
Icar Air is now the only Bosnian-registered carrier with a functional AOC. The privately-owned airline, holds a DHL contract and runs freight services between Sarajevo and the Italian coast with a Let L-410. The Federation government of Bosnia and Herzegovina is now considering setting up yet another successor flag carrier, with local media quoting the Prime Minister as being willing to commit the rather modest sum of €2.7m for a new airline that would initially operate with a single leased aircraft. The Bosnian government recently ruled out privatisation of the main airport in Sarajevo.
FYROM (Macedonia)
Turkish airport operator TAV entered the Macedonian market in 2010 having been selected to operate a 20 year concession for the landlocked country's two airports, Skopje (capital city) and Ohrid, a tourist destination in the west of the country. TAV quickly began the process of building a new terminal in Skopje. It also embarked on a process whereby the Macedonian government opened tender procedures for airlines to apply for generous subsidies to operate new routes over a three year period from Skopje, which has not had a based carrier following the 2009 bankruptcy of MAT Airways. Wizz successfully applied for the subsidies and now operates two based aircraft (with a third to arrive soon). With Wizz now the dominant airline in Skopje, TAV has been publicly supporting the business case for a government sponsored flag carrier in order to reduce dependence upon such a price sensitive LCC like Wizz Air. It remains to be seen if there would be any appetite for a rationale investor to enter a market of some 1 million passengers per year in one of Europe's poorest countries where Wizz dominates. The unstable political environment will not help either following months of violent protests aimed at the incumbent government of Nikola Gruevski.
Czech Republic
The Czech Republic was the first country in the region to secure a (minority) investment in its state owned airline. After a series of failed privatisation attempts. Korean Air acquired a 44% stake in Czech Airlines (CSA) for €2.64 million in 2013, and subsequently assisted in a restructuring effort. This saw CSA first exit a number of regional feeder routes and substantially de-hub Prague to focus on connecting bilaterally constrained markets to the CIS nations to the east with those western European markets that have strong O&D of their own from Prague. Korean leased an A330-300 to CSA to operate Prague-Seoul flights previously served its own 777.
Prague airport remains state owned and relatively expensive, and has shown an unwillingness to enter into airline agreements with high growth LCCs. This has acted as a barrier to entry for the likes of Ryanair and has kept Wizz and easyJet's growth in Prague to a minimum.
Balkan Airlines' Traffic 2014
| | | |
| --- | --- | --- |
| Airline (ex-Yugoslavia) | Pax (million) | Change (%) |
| Air Serbia | 2.3 | +68% |
| Croatia Airlines | 1.8 | +2% |
| Adria Airways | 1.1 | +8% |
| Montenegro Airlines | 0.56 | +5% |
| B&H Airlines | 0.04 | +17% |
CEE Airports ('000 pax)
| | | | | | |
| --- | --- | --- | --- | --- | --- |
| Country | Airport | 2014 | 2013 | 2012 | 2011 |
| Czech Republic | Prague | 11,150 | 10,974 | 10,808 | 11,789 |
| Poland | Warsaw | 10,590 | 10,656 | 9,586 | 9,338 |
| Hungary | Budapest | 9,156 | 8,521 | 8,504 | 8,921 |
| Romania | Bucharest Otopeni | 8,317 | 7,643 | 7,120 | 5,049 |
| Latvia | Riga | 4,814 | 4,794 | 4,768 | 5,107 |
| Serbia | Belgrade | 4,639 | 3,543 | 3,364 | 3,125 |
| Poland | Krakow | 3,820 | 3,648 | 3,439 | 3,014 |
| Bulgaria | Sofia | 3,815 | 3,504 | 3,467 | 3,475 |
| Poland | Gdansk | 3,288 | 2,870 | 2,906 | 2,464 |
| Lithuania | Vilnius | 2,953 | 2,667 | 2,208 | 1,712 |
| Poland | Katowice | 2,696 | 2,544 | 2,551 | 2,544 |
| Bulgaria | Bourgas | 2,530 | 2,480 | 2,381 | 2,253 |
| Croatia | Zagreb | 2,431 | 2,293 | 2,342 | 2,320 |
| Poland | Wrocław | 2,084 | 1,920 | 1,997 | 1,657 |
| Estonia | Tallinn | 2,017 | 1,959 | 2,206 | 1,913 |
| Albania | Tirana | 1,810 | 1,757 | 1,665 | 1,817 |
| Moldova | Chisinau | 1,781 | 1,321 | 1,220 | 1,046 |
| Croatia | Split | 1,753 | 1,582 | 1,425 | 1,300 |
| Poland | Warsaw Modlin | 1,703 | 344 | 898 | |
| Croatia | Dubrovnik | 1,584 | 1,523 | 1,480 | 1,350 |
| Poland | Poznan | 1,445 | 1,355 | 1,596 | 1,464 |
| Kosovo | Pristina | 1,427 | 1,629 | 1,527 | 1,424 |
| Bulgaria | Varna | 1,387 | 1,319 | 1,221 | 1,182 |
| Slovakia | Bratislava | 1,356 | 1,373 | 1,416 | 1,585 |
| Slovenia | Ljubljana | 1,307 | 1,268 | 1,168 | 1,287 |
| Macedonia | Skopje | 1,211 | 984 | 836 | 764 |
| Romania | Cluj Napoca | 1,182 | 1,036 | 932 | 1,005 |
| Montenegro | Tivat | 911 | 898 | 725 | 647 |
| Romania | Timişoara | 735 | 750 | 1,036 | 1,203 |
| Lithuania | Kaunas | 724 | 696 | 830 | 873 |
| Bosnia & Herzegovina | Sarajevo | 710 | 666 | 580 | 600 |
| Montenegro | Podgorica | 702 | 691 | 637 | 612 |
| Poland | Rzeszow | 600 | 590 | 562 | 488 |
| Croatia | Zadar | 497 | 473 | 371 | 285 |
| Czech Republic | Brno | 486 | 463 | 569 | 558 |
| Croatia | Pula | 375 | 354 | 367 | 353 |
| Slovakia | Kosiče | 357 | 237 | 236 | 266 |
| Romania | Târgu Mureş | 344 | 357 | 300 | |
| Romania | Bacau | 313 | 307 | 393 | 337 |
| Poland | Bydgoszcz | 289 | 344 | 340 | 280 |
| Poland | Szczecin | 287 | 348 | 356 | 262 |
| Romania | Iaşi | 273 | 232 | 173 | 184 |
| Poland | Łodz | 254 | 354 | 441 | 389 |
| Romania | Sibiu | 250 | 223 | 206 | 190 |
| Poland | Lublin | 188 | 190 | 6 | |
| Lithuania | Palanga | 133 | 128 | 128 | 111 |