Azul: Brazil's regional LCC goes intercontinental Jul/Aug 2014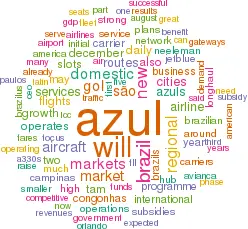 Azul Linhas Aereas Brasileiras, Brazil's third largest carrier, deploys an unusual but successful LCC business model: providing affordable, high-quality, JetBlue-style service in regional markets throughout Brazil with a fleet of E190/195s and ATR72s.
Now, in its sixth year of operation, the São Paulo-based airline has announced plans to diversify its strategy in a significant way: entering long-haul international markets with a fleet of A330s and A350s.
Azul has stated that it will acquire a long-haul fleet of six A330-200s and five A350-900s and that operating leases were in place with ILFC for three of the A330s and all of the A350s. With the initial A330s Azul will launch daily services from its Campinas hub to the US in December. The A350-900 deliveries from March 2017 will mark a new expansion phase that could see Azul add flights to Europe.
Entering the Brazil-US routes poses many risks for Azul. It is a competitive market ruled by much larger carriers and powerful alliances. Because of its regional/small city focus and strategy of avoiding too much overlap with Gol and TAM domestically, Azul has not been exposed to much competition. According to its May 2013 filings with the SEC, Azul was the only airline on 70% of its routes and the frequency-leader on another 10%. Azul is also a total newcomer for the international scene; it is jumping straight into intercontinental operations, without testing the intra-Latin America cross-border markets.
Still, the odds are in favour of Azul being successful in the long-haul markets for a number of reasons.
First, Azul will probably get the traffic, because it has sufficient scale and a huge domestic network to provide feed to the international services. The network is centred on a strategically located hub, with great facilities and room for growth.
Azul operates around 850 daily flights, which represent 30% of the total daily flight departures in Brazil. It serves some 100 destinations – roughly the same as Gol and TAM combined in the domestic market.
Azul's home base and main hub is at Viracopos Airport in the city of Campinas (1m population), just 50 minutes from downtown São Paulo. The airline operates a secondary hub at Belo Horizonte's Confins.
Azul operates from a brand new $1.5bn terminal at Viracopos, from which it currently offers 150-plus daily departures to 51 destinations. Although some of the cities served are small, Azul covers all of Brazil and offers high frequencies in many markets. Its customers have been asking for US services (which will be important also for the success of the carrier's FFP, TudoAzul).
Second, Azul will be successful internationally because it has built a strong brand. Its low fares, nonstop flights, superior offerings (leather seats, more legroom, free LiveTV at every seat) and its customer focus and fresh approach have gone down well in the domestic marketplace. Azul has been voted "best low-cost carrier in Latin America" four years in a row by Skytrax. An offering suitably modified for long-haul operations should position Azul well in the Brazil-US market.
Third, Azul will benefit from having a strong business traveller customer base. Reportedly 65% of its business is corporate travel.
Fourth, Azul will continue growing its domestic market share especially because it is poised to become a major beneficiary of two upcoming government programmes: the planned redistribution of slots at São Paulo's Congonhas Airport and a R$1bn regional aviation subsidy programme.
Fifth, Azul's founder, CEO and majority-owner David Neeleman has a great track record of exploring market opportunities in the airline industry and executing innovative LCC strategies. He co-founded Morris Air in the 1980s (and sold it to Southwest in 1993), co-founded WestJet in 1996 and created JetBlue in 1998. Because of that track record, Azul was able to raise $200m of start-up capital from investment funds in the US and Brazil, making it one of the world's best-funded airline entrants when it began operations in December 2008.
The international plans
Azul received its first A330-200 in June and will begin testing the type on high-demand domestic routes out of Campinas from September 1. Having secured ANAC approval to operate initially 18 weekly frequencies in the Brazil-US market, Azul announced on August 12 that it will launch daily services to Fort Lauderdale on December 1, Orlando on December 15 and New York in mid-2015. Other future US gateways mentioned in the past include Los Angeles and Las Vegas.
FLL is a great choice, because the airport offers easy access to Miami -- the top US destination for Brazilians, just 30 kilometres away – at, according to JetBlue, a quarter of the cost levels of American's MIA hub.
Azul will operate red-eyes to FLL and daytime flights to Orlando, thus giving US-bound customers convenient options. At FLL there would be connections to 60 other US cities on other airlines. At Campinas, in addition to flight connections on Azul all around Brazil, passengers can take advantage of free bus services operated by Azul to São Paulo and Congonhas Airport.
Azul's A330-200s will be re-configured to "establish a new standard of comfort and innovation" featuring lie-flat business class, 34" pitch economy-plus (half of which will feature the ANZ-designed skycouch) and 31" economy. It plans two configurations: a high density 271 seat version (20C, 122W and 129Y), and a lower density 242 seats on two aircraft for longer routes (35C, 52W and 155Y).
In a recent interview with Bloomberg News, Neeleman recently indicated that Azul intends to price aggressively in the São Paulo-South Florida markets. The airline can be expected to undercut Gol, which operates one-stop services in those markets with 737-800s via Santo Domingo. Neeleman also said that he expected Azul's profitability on long-haul routes to outpace that of its domestic network.
At first glance, Azul seems well positioned to compete with Gol's one-stop flights and smaller aircraft. Gol has been in the market since December 2012 and now operates daily São Paulo-Orlando, Rio-Miami and São Paulo-Miami. But there is no guarantee that Gol will stick to the one-stop strategy.
Gol and TAM have strong alliances with US carriers that boost their traffic. Gol is in an exclusive codeshare relationship with Delta on the Brazil-US routes. TAM is now part of Latam, part of oneworld and in a codeshare relationship with American, the leading carrier on US-Brazil routes.
In a surprisingly aggressive response, American will be entering Azul's Campinas hub in December with flights from Miami and New York. The carrier announced it as part of its "winter schedule adjustments". To facilitate this move, American will reduce service to São Paulo's Guarulhos.
There are two interesting things to watch for: how Gol might respond (if at all); and whether Azul will forge an alliance with a US carrier.
Azul could link up with United (Brazil represents a hole in the Star Alliance's global network). But JetBlue would be the most obvious choice now that Azul's initial gateways are known. FLL and Orlando are both JetBlue focus cities. JetBlue is building Latin America service from FLL, but its current aircraft do not have the range to serve São Paulo. Azul could fill that gap. As a bonus, passengers would enjoy similar, very high-quality service and amenities on both carriers.
If and when Azul ventures to Europe, it would then need European feeder partners at its chosen gateways. This year Azul has begun such a relationship on the Brazilian side with Portugal's TAP. (Neeleman has repeatedly stressed that Azul is not interested in bidding for TAP when it is eventually privatised.)
Azul's future is bound to include some international operations within Latin America, but in the short-to-medium term the management probably prefers to focus all of its efforts on making the US routes successful.
Azul has prepared for the international expansion phase also by strengthening its management team. In January Neeleman gave up the president's title so that he could devote more time to strategic issues (he remains CEO). The new president is Antonoaldo Neves (ex-McKinsey, ex-Infraero). In July Azul named JetBlue's chief revenue officer Trey Urbahn "chief strategy officer".
Well-positioned in Brazil
Azul has grown extremely rapidly, helped by the ample start-up funds, a $1.4bn Embraer order (with $1.6bn of options) in March 2008 and a large ATR72-600 order in 2010. By its third year (2011), Azul was achieving $1bn annual revenues. Subsequently, Azul boosted its size by acquiring regional carrier TRIP in May 2012; that deal was completed in May 2014 (when the TRIP brand also ceased to exist).
So, Azul has emerged rapidly as a true "third force" in Brazilian aviation, with a domestic RPK share of 17.7% in June. Azul operates in different domestic markets from Gol and TAM. It has brought affordable air travel to a population segment that was not being served by the two largest carriers.
Azul has proved wrong its initial sceptics who argued that it would not be possible to be a viable low-cost, low-fare carrier with RJs and large turboprops.
Azul stimulates demand by providing frequent and affordable air service to underserved markets. Because it operates smaller aircraft, it can serve cities the larger competitors cannot. These attributes have enabled it to attract both business and leisure traffic, build a formidable network and dominate the markets where it is present.
A leading network position and a good yield management system have enabled Azul to achieve significantly higher unit revenues than the other carriers. The PRASK premium, consistently high load factors, high efficiency and a competitive cost structure offset the poorer economics of smaller aircraft.
But Brazil may be an especially suitable market for this type of business model, because it has a large number of medium-sized cities scattered around the huge country that have much economic power, and hence travel demand, but cannot support regular operations with 150-seat aircraft. Many such regional markets had considerable pent-up demand. And demand has remained strong as many of those regions have continued to see double-digit growth even as Brazil's GDP growth has slowed.
Still, Azul is believed to have attained only marginal profitability. The company has not disclosed financial results for the past five quarters, but its earlier SEC filings provided the information up to and including 1Q13. Azul lost R$194m on an operating basis in its initial two years and then earned R$21.1m and R$8.6m operating profits in 2011 and 2012, respectively (just 1.5% and 0.3% of revenues). The results improved in 1Q13, when the operating margin jumped to 10.3% from 5.9% a year earlier (evidently a seasonally strong period for Azul), but TRIP's heavy losses dragged down the pro-forma consolidated results. Add to that merger integration expenses, continued ASK growth and record-high fuel prices in Brazil, and it is hard to believe that Azul's earnings could have improved significantly from the 2011-2012 level.
But there is more growth and profit potential for Azul in the Brazilian market. The airline will gain access to São Paulo's centrally-located Congonhas Airport in the coming months – something it has coveted for years, after having only one weekly (Saturday afternoon) slot at that airport.
The Brazilian government is looking to break TAM's and Gol's near-stranglehold of slots at Congonhas. The plan is to create some new slots and redistribute existing slots, based on a carrier's domestic market share and operational reliability. The process was expected to begin in late August, with a second phase following in March 2015.
The proposed new rules strongly favour Azul, which has estimated that it could receive 14-16 daily slots at Congonhas. Avianca Brazil would be a lesser beneficiary. Gol and TAM currently hold around 200 weekday slots each, and Avianca Brazil has 12. Avianca Brazil's CEO has been quite vocal in criticising the allocation method as unfair.
Neeleman has indicated that Azul is likely to use the Congonhas slots to strengthen services to smaller cities.
There will also be a regional aviation stimulus programme, under which the Brazilian government will pay subsidies totalling R$1bn ($440m) in 2015 to encourage airlines to develop regional services. The government wants to make air fares competitive with long-distance bus fares. The programme could subsidise up to 20% of Brazil's domestic routes. The broader aims of the subsidies and the massive infrastructure investment programme already under way at regional airports are to ensure that 95% of Brazilians live within 100 kilometres of an airport.
In August Brazil's airlines were still waiting for details of the programme, which also requires approval from Congress. TAM, Gol and Avianca Brazil are all considering entering the regional market, and for Gol at least it would mean acquiring a new aircraft type. But the extent to which those airlines will participate will depend, among other things, on there being a guarantee that the subsidies will continue beyond 2015, given all the political uncertainty in Brazil.
Azul needs such guarantees much less. The airline has said that the programme would provide subsidies in cities that it was already planning to serve, though the subsidies might accelerate its entry to some of those markets and help compensate for high fuel costs.
Azul is best-positioned to benefit from the regional programme, because it already has the right aircraft types and because it knows how to operate to small cities. Azul has said that it could add 6-8 new cities in the first year of the programme.
According to Valor Economico, Azul's president Nevos estimates that the subsidy would reduce Azul's regional fares by 10-25%. Around 25% of the subsidy collected by Azul would come from flights already operated; the rest would come from new destinations, increased frequencies and new direct connections. Nevos estimated that Azul would need 10-20 new E-jets and possibly 10 more ATRs.
Azul's domestic fleet currently consists of about 140 aircraft - 77 E190/195s, five E170s and 58 ATR72s. There are 11 E-jets on firm order. At Farnborough Azul signed an LoI with Embraer for up to 50 E195-E2s (30 firm and 20 purchase options). The E195-E2 is the largest of the updated E-jet family (Azul's will have 132 seats), and Azul will become the type's first operator in 2019. Of course, those aircraft will be too late for the regional stimulus plan.
IPO prospects
In May 2013 Azul filed plans to raise up to R$1.1bn ($484m) in offerings in the US and Brazil, but those plans had to be shelved last summer due to bad economic and market conditions. Brazil was seeing faltering GDP growth, rising inflation, currency volatility and a wave of anti-government protests.
This has been another difficult year in Brazil. The World Cup hassles, anaemic GDP growth (current projections for 2014 range between 0.7% and 2% growth), inflation at 6.5% and October's presidential election have meant that there has not been a single IPO in Brazil in 2014. Azul formally withdrew its IPO registration in July.
Because of the aircraft leasing deals, Azul has no urgent need to raise funds, but after six years it is under pressure from its investors (which include TPG with a 10% stake) to go public. Azul is reportedly looking to revisit the IPO plans in December or January. One potential benefit of this delay is that Azul may then be able to raise more funds, because it will be a larger and more diversified airline.
By Heini Nuutinen
hnuutinen@nyct.net
Brazilian Airlines' Domestic Market Shares
% of total domestic RPKs
June 2014
June 2013
TAM
37.5%
39.7%
Gol
35.1%
36.0%
Azul
12.8%
TRIP
3.9%
Azul+TRIP
17.7%
16.7%
Avianca Brazil
9.0%
6.9%
Others
0.7%
0.7%
TOTAL
100%
100%
Source: ANAC