Lufthansa: new Chief Executive, new strategy Jul/Aug 2014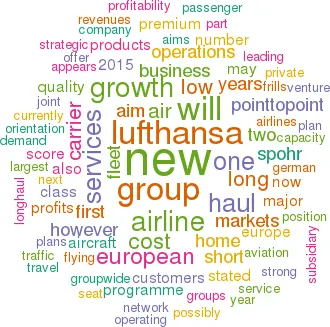 Carsten Spohr, the new CEO of the Lufthansa Group, in July outlined his vision of the new strategic direction for the German aviation conglomerate under the title of "The Way Forward" to staff, investors and customers. With the exception of one or two troubling concepts the new view is not a lot different from the old. The aim is to be "the benchmark again" and therefore the "first choice for customers, employees, shareholders and partners".
The Lufthansa Group is the world's largest aviation group with leading positions in passenger transport in Europe the global leader in the MRO ex OEM market, a strong global position in airline catering, and a leading position in air cargo and IT services to the airline industry.
However, it is facing strong headwinds. Low economic growth in Europe is hampering its ability to generate demand growth in its home markets. As a network carrier without a strong base of true O&D demand at its hubs (because of the decentralised nature of Federal Germany and the low populations of its subsidiaries' home countries in Switzerland and Austria) it is under attack from the Super-Connectors from the Middle East and Turkey. As the largest legacy carrier on intra-European routes it is being attacked by LCC new entrants.
Two years ago Lufthansa introduced its latest restructuring and cost cutting programme under the soubriquet of SCORE. Echoing plans, comments and targets from the other two major European network groups -- Air France-KLM and IAG -- the idea was to be able to produce a group-wide level of profitability in 2015 sufficient to exceed its cost of capital. However, shortly after Spohr took over the reins in April the group issued what amounted to a profits warning: it would not achieve its 2015 target of operating profits of €2.65bn. This is even after abandoning its traditionally conservative depreciation policy -- from 2014 it will depreciate its aircraft assets over 20 years to a 5% residual value instead of over twelve years to 15%. This has the effect of inflating operating profits by €350m over the next two years.
Spohr recognises that restructuring and cost cutting programmes are perennial elements of running a mature legacy carrier. Long term yield decline is a major factor behind growth in the airline industry, so any carrier has to strive continuously to improve productivity to offset this and cost inflation. One of the traditional ways to do this has been to increase capacity (lowering seat unit costs by spreading indirect operating costs over a larger number of seat kilometres). This rarely works at a mature carrier. Lufthansa itself has found this out in the last two years: it increased seat density on long haul aircraft which among other things this year appears to have added downward pressure on yields on the Atlantic (LH increased its capacity on the route by 6% in the second quarter and 10% in July alone). This "overcapacity" is one of the reasons it cited for its profits warning -- and was echoed by a similar complaint from Air France.
In his presentation Spohr outlined the Lufthansa Group's modest goal to be number one: for market position, financial stability and fleet age in order to be the first choice for (and provide equal benefits to?) shareholders, staff and customers.
How they are going to achieve this goal is another matter. Spohr stated "With SCORE we have equipped ourselves with an ability to change, which we now need to use to shape our future. We now aim to continuously devise and develop new ideas for increasing our productivity and safeguarding our competitive credentials".
Constant improvement in efficiency.
The plan is to create a culture of permanent and continuous cost reduction programmes. One of the aims of the SCORE programme is to move the organisation towards process orientation, rather than function orientation, on the basis that optimisation of functions (sales, marketing, finance, operations) per se can be detrimental to the organisation as a whole. As part of this the group is aiming to flatten the levels of management hierarchy to help create faster decision making processes.
This, it is hoped, will lead to the establishment of a group-wide process for generating a constant stream of new ideas and actions. In the short run, more importantly, the company is slashing its original plans for airline capacity growth by half (ie to around 2% a year) and immediately is looking to remove five short haul, three long haul passenger aircraft and two MD-11 freighters from the operational fleet this winter.
Customer orientation and quality focus
Spohr is targeting the prize of getting Lufthansa to become the first European 5-Star airline in the Skytrax rankings (at the moment there are only seven, all Asian or Middle Eastern: ANA, Asiana, Cathay, Hainan, MAS, Qatar and SIA). Currently it is the highest ranked of the western carriers in the Skytrax league tables at number 11. Given the size of its operations within Europe it may be argued that it difficult to improve its ranking: its 66m passengers flying short haul will have a greater influence on the perception of quality than the 16m passengers flying long haul.
Lufthansa is concentrating on upgrading its premium services. It is installing its new First class and business class products across the fleet and from this December will introduce a premium economy class (which can be the most profitable bit of real estate on the aircraft per square foot). It will be upgrading the catering in long haul business class, improving premium check-in at Frankfurt and Munich, and re-emphasising premium transfer and arrival services. In the longer run it will be establishing a group-wide "Quality Circle" (making it one of the CEO's prime focuses and concerns). It has plans to personalise products and services further "to pleasantly surprise" its customers -- with the aim of tripling revenues from ancillary services by 2020.
New concepts for growth
Lufthansa is intensifying its joint-venture partnerships with leading airlines in the major regions. It has the metal-neutral immunised joint venture on the Atlantic with United and Air Canada, and an established jv with ANA in Japan (with whom United also has an immunised jv). It recently signed an agreement with Air China -- currently subject to regulatory approval. The company boasts that the jvs allow it to participate in growth outside its European home markets, exploit synergies and offer the customers "an even better service and quality" (however difficult that may be to believe -- surely the real aim of a joint venture is to remove competition?).
For the other divisions of the group, Spohr stated that he aimed to pursue the growth potential of the MRO business Lufthansa Technik and LSG Sky Chefs -- presumably through further acquisitions in the Asian growth regions. In addition it aims to start exploiting the profitability of its Miles & More loyalty programme (which it claims to be Europe's largest) now spun off into a separate legal entity.
Low Cost Wings
These previous points are hardly a new strategic plan. However, the company also announced its aim to establish a new "low cost" point to point European and a new point-to-point "low frills" long-haul airline under a new "Wings" multi-platform brand.
The rationale for this appears to be that the group has woken up to the fact that 75% of all intercontinental passenger demand and nearly 80% of short haul European traffic is conducted for "private" reasons -- and that private (aka leisure) travel grows faster than the business travel segment, (although it possibly also is to do with the hub-by-pass operations of the super-connectors).
As part of the SCORE programme it had already started the transfer of all point-to-point non-hub short haul services to its "low-cost" germanwings subsidiary. This should be complete by the Spring of 2015; and it now aims to increase the fleet to 60 A320s from the current 51. The Eurowings regional subsidiary will have its 23 90-seater CRJs replaced with an equal number of A320s from April next year, and will develop operations in Lufthansa Group's "home markets" -- not only Germany, but also Austria, Switzerland and Belgium -- with the first non-German base planned to be in Basel.
More contentiously the group stated that it is planning to establish a long-haul low frills airline under the Wings brand (possibly to be called Cont-Wings or Intercont-Wings). It has stated that it has been in discussions with THY, possibly to use the LH-TK joint venture SunExpress (which has a German operation with its own AoC) as a seed for the start-up. The new airline is expected to start services at the end of 2015 initially with seven 767s or A330s flying from Düsseldorf, Köln or Munich. If it is successful it would re-equip and expand the fleet with more modern fuel efficient aircraft.
Spohr tried to explain that this new brand would act as a complement to its existing multi-brand and multi-hub portfolio. It would only operate point-to-point services from the core German, Austrian, Swiss and Belgian markets. It would be an "independent" separate multi platform focusing on price-sensitive leisure travellers. As a result the "combination of hub-based and point-to-point products creates [an] omnidirectional service offer from all Lufthansa Group home markets" which will allow them to offer competitive products to "play a stronger role in the attractive private travel market".
Lufthansa appears to admit that the growth potential is its classic core European business is limited. Currently its network airlines generate 70% of group revenues; and in this area it will emphasise profitability over growth. It expects that by 2020 the service companies and the new point-to-point airlines will grow to account for 40% of group revenues up from the current 30%.
The establishment of a long-haul low frills airline may appear to be a risky move, one that could cannibalise traffic from its own long haul operations. However, Lufthansa is the one major carrier in Europe most exposed to the incursion of the Super-connectors in the Gulf and Turkey (see Aviation Strategy, June 2014), and perhaps it may be able to make some additional returns by retaining otherwise spilled traffic. The start-up of yet another European LCC (and Air France next month is expected to announce further expansion at its Transavia subsidiary as part of its own new strategic plan) to counter further expansion of Ryanair, easyJet, norwegian, Vueling and Wizz is starting to make that sector of the industry look increasingly crowded.
Lufthansa tries to pride itself on its innovation. However, many of the initiatives it has announced are redolent of the corporate actions taken by British Airways over ten years ago.