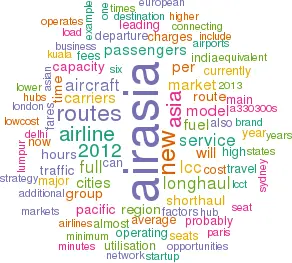 In July, after over a year of delay, AirAsia X completed a successful IPO, listed on the Bursa Malaysia, raising about RM988m ($315m); roughly one-third each for capex, for repayment of bank borrowings and for general working capital.
Investors were persuaded that an airline with no record of real profitability, which had just effected a major change in route structure and with a not fully proven business model had genuine potential. AirAsia X's stated strategy is: to be the leading low-cost, long-haul airline, operating primarily in the Asia Pacific Region, with the lowest unit cost of any airline in the world (CASK of US¢3.74 and CASK ex-fuel fuel of US¢1.90 for 2012), about 70% lower than full service airlines in the region, offering fares 30%- 50% lower than full service carriers, in order to stimulate new market demand.
Of course, AirAsia is a very well-established brand and the leading LCC group in the Asia Pacific region, which made founder Tony Fenandes's and AirAsia X's CEO Azran Osman-Rani's task in promoting the long-haul carrier somewhat easier. Also about one third of the shares were sold as retail, rather than to institutions, and individual shareholders, if they hold on to the shares for specified periods, stand to benefit from free flights.
As the table overleaf shows, AirAsia X has struggled to break even at the operating level over the past three years. And without the benefit of exchange rate gains on borrowing and tax credits, the airline would have reported net losses in every year (the actual profit shown for 2012 was the equivalent of $11m, 1.7% of revenues). The company had been adequately capitalised and as at the end of last year its net asset value was RM580m ($186m)
Retrenchment
Over the past 18 months AirAsia X has withdrawn from high-profile routes to Europe (London and Paris), India (Mumbai and Delhi) and New Zealand (Christchurch), those regions with negative results showing clearly in the table below. The airline's rationale for closing these routes was as follows.
A340-300s were used on the London and Paris routes due to the extended range which could not be met by A330-300s. However, the 10-year old A340-300s were much less fuel efficient, and their economics were undermined by sharp increases in fuel prices at a time when the European market for leisure was depressed. Attempts to increase fares to reflect the higher operating cost demonstrated the high price elasticity of travel, with demand falling. London and Paris were no longer viable, and the two A340s were leased out.
The Mumbai and Delhi routes, which had relatively low load factors, around 72%, came under additional pressure when the Malaysian government removed visa-on-arrival facilities in summer 2010. Then there were massive increases in airport taxes, fees and handling charges; for example, in May 2012, Delhi increased airport fees by 346%. The Indian routes were therefore terminated.
AirAsia India is in the tortuous process of setting up as a joint venture in the sub-continent, the latest start date being December 2013. AirAsia X states that it does not have immediate plans to recommence flights to India, but does foresee the potential of AirAsia India's feeder network, especially as under Indian regulations AirAsia India will have to operate for a minimum of five years domestically before being allowed to launch its own international services.
Christchurch in New Zealand was mainly a leisure destination for Malaysians, but traffic was badly impacted by the 2011 earthquake there.
Expansion
AirAsia X's route expansion strategy from Kuala Lumpur is now focused almost exclusively on the Asia/Pacific region (routes with a flying time of at minimum four hours). The airline states that it has secured the relevant traffic rights (currently unutilised) for new routes, in addition to the unlimited traffic rights under the open skies agreements between Malaysia and South Korea, China and Australia (Melbourne, Sydney, Perth and Brisbane have capacity restrictions but these have been substantially lifted following the revision of the ASA). A key development will be ASEAN Open Skies multilateral, expected in 2015, which should provide long-haul opportunities to and from Southeast Asia, as well as providing opportunities for additional feed. AirAsia X's principles for growth are as follows.
Increase Frequencies on existing core routes. Twelve of their current 14 routes are to major metropolitan cities, such as Sydney, Perth, Melbourne, Tokyo, Seoul, Beijing, Shanghai and Taipei. Each route, which currently has 80%-plus load factors, should support a double-daily service.
New routes in existing core markets. In 2013 Australia is the focus, following the recent further liberalisation of the bilateral, with almost all of the carrier's additional capacity being allocated to this market. Adelaide, a new destination, was announced in late July. Other major cities to be targeted include Nagoya and Fukuoka in Japan, and Chongqing and Xian. The AirAsia brand is known in these cities: AirAsia Japan, the joint venture with ANA, served the Japanese cities, but this operation has now shut down after recording substantial start-up losses; the Chinese cities are served by Thai AirAsia.
Establish routes in new markets in the medium term. AirAsia X's criteria are: market size (catchment and propensity to travel), strength and growth of traffic, diversity of market demand (for example, two-way travel and multiple travel segments) and the competitive environment.
Build new hubs. The idea is to take advantage of the various short-haul hubs and the network connectivity established by the AirAsia Group. Bangkok will be the first new long-haul hub, probably starting in 2014. Indonesia and the Philippines will likely follow. The criteria for establishing new hubs include the hub being located in a marketable destination, a strong catchment, an established short-haul operation and low start-up costs.
The X model
AirAsia X's model is simply to be the lowest cost operator in the long-haul market.
AirAsia X currently operates 13 A330-300s, with an average age of 3.5 years and a maximum capacity of 377 passengers (almost 30% above the average seat capacity for Asia full service A330 operators). On the new aircraft there is a 31 inch seat pitch, plus six premium Flatbed seats. Rapid fleet expansion is planned: 20 new A330-300s are scheduled for delivery during 2013-17 and 10 A350-900, with 425 seats, from 2018 onwards. Actual prices paid have, as normal, not been revealed but it is likely that AirAsia X, as part of the AirAsia Group which is one of Airbus' main clients, will have achieved serious discounts.
Aircraft utilisation is the highest among the top 10 Asia Pacific carriers – 16.2 hours per day in 2012, almost 50% higher than the average. This, however, is below AirAsia X's target of 17.0 hours per day because, as the airline states, it is not always able to secure slots suited to optimal aircraft planning. AirAsia X operates to congested airports such as Beijing, Shanghai and Haneda, while others such as Sydney and Gold Coast have curfew constraints. The strategy is to achieve a build a balanced portfolio of airports without slot constraints to offset congested airports and so achieve the target aircraft utilisation rate.
The full service model relies heavily on business travellers who are sensitive to convenient departure, arrival and connecting times, and so full-service airlines have to design their flying schedules to suit these requirements leading to significant aircraft idle time. AirAsia's X's priority, like that of short-haul LCCs, is fast turn-around – 60 to 75 minutes. During the turnaround time, up to 750 passengers are disembarked and embarked, as well as cargo, compared to say 300 passengers and no cargo in 25-30 minutes for a European LCC. In 2012, the airline achieved an on-time departure rate of 85%, with weather and air traffic control congestion being the two main factors causing delays.
AirAsia X operates from its hub at the LCCT in Kuala Lumpur, about 70 kilometres from the city centre, where the long-haul network connects with an extensive LCC feeder market, with up to 1,400 weekly flights and 73 destinations. The airline was supposed to move to KLIA 2, a brand new terminal, with capacity for 45m passengers a year (against 15m at LCCT) in June 2013, but delays in finishing the construction work mean that the change-over date is now probably May 2014. Passenger charges at the LCCT are about 50% of those at the main KL terminal, but KLIA2, officially a "hybrid" rather than an LCC facility, will have higher charges, though probably still 25% below that the main terminal.
Other elements of the AirAsia business model follow that of the short haul LCC AirAsia, which in turn was originally based on Ryanair.
AirAsia X's most important innovation is the offer of low-cost connecting services: passengers can buy "Fly-thru" allowing them to avoid immigration at Kuala Lumpur and for their baggage to be delivered directly to the final connection. Connection times are a minimum of 90 minutes up to six hours (aircraft scheduling for AirAsia X is still designed for high utilisation not connectivity).
Yield management is based on the same underlying principle as most short haul-haul LCCs: fares, usually 40%-plus below full service carriers', increase as departure time approaches, with the aim being to maximise load factors. When the route matures then yields can be pushed up.
Fares are unbundled, with the result that ancillary revenue is very high – $46 per passenger in 2012. Passengers can for example buy Hot Seats (seats with extra legroom), bid for an upgrade to a Premium FlatBed seat (if they remain empty four hours before departure) or pay to be in the "Quiet Zone" (no children). There are, of course, change fees, credit card charges, baggage fees (in blocks of 5kg), Food is also chargeable and is normally booked in advance (which minimises wastage and catering costs).
The marketing slogan, "Now Everyone Can Fly Xtra Long!" catchily summarises the AirAsia X product. Overall the AirAsia Group is very e-media savvy. The airasia.com website is a top travel-related website in Asia and one of the most active e-commerce platforms in Asia, with over 9 million unique visitors per month. It is also the airline leader in social media promotion, actively using Facebook, Twitter and Weibo.
Long-haul carriers are even more exposed to fuel price escalation than short-haul LCC – fuel accounts for about 50% of AirAsia X's total operating expenses. The size of the air Asia Group gives it a certain competitive edge in negotiating contracts, and 30-50% of requirements are hedged six months forward. In 2012 fuel surcharges, equivalent to 11% of base fares, were applied.
AirAsia X currently has about 1,400 employees (115 per aircraft compared to around 50 for a leading short-haul LCC), but employee costs are just 9% of the total. Malaysian cost of living is lower relative to other major cities in the Asia Pacific Region, and the workforce is nonunionised. Productivity is high; 12.5m ASKs per employee 2012, three times the average of Asian full service airlines.
Success characteristics
It is interesting that the Asian long-haul model has developed fairly rapidly whereas no European equivalent has got close to start-up. But AirAsia X has a number of characteristics that probably could not be replicated across the Atlantic. These include: the seating density, a varied route structure with multiple strong O&D markets, affording more opportunities to maximise aircraft utilisation, a large scale dedicated connecting base and access to low-cost labour. It's a model which has also attracted the attention of the Asian full service carriers with SIA establishing its Scoot subsidiary and others such as Cathay Pacific and PAL developing similar plans.
Air Axia X: Financial Results
| | | | |
| --- | --- | --- | --- |
| Air Asia X: Financial Results | | RM millions | |
| | 2010 | 2011 | 2012 |
| Passenger Revenues | 994 | 1410 | 1283 |
| Charter | 9 | 4 | 69 |
| Fuel surcharge | 2 | 44 | 148 |
| Cargo | 55 | 96 | 79 |
| Ancilliaries | 238 | 307 | 363 |
| Others | -9 | 1 | 25 |
| Total revenues | 1,289 | 1,862 | 1,967 |
| | | | |
| Employee Costs | 125 | 158 | 180 |
| Fuel | 598 | 1018 | 925 |
| Maintenanace and User charges | 229 | 306 | 381 |
| Depreciation | 101 | 104 | 107 |
| Leases | 74 | 146 | 152 |
| Other | 194 | 204 | 180 |
| Total Op. costs | 1,321 | 1,936 | 1,925 |
| | | | |
| Operating profit (loss) | -32 | -74 | 42 |
| Other income | 39 | 14 | 7 |
| Net operating result | 7 | -60 | 49 |
| | | | |
| Finance costs | 53 | 46 | 55 |
| Exchange rate loss (gain) | -144 | 25 | -44 |
| | | | |
| Pre-tax profit | 98 | -131 | 38 |
| | | | |
| Taxes (deferred taxes) | -49 | -35 | 4 |
| | | | |
| Reported net result | 147 | -96 | 34 |
| | | | | | | |
| --- | --- | --- | --- | --- | --- | --- |
| | RM millions | | | | Margins | |
| | Revenues | EBITDAR | Pre-tax result | | EBITDAR | Pre-tax result |
| North Asia | 878 | 145 | 33 | | 16.5% | 3.8% |
| Australia | 758 | 137 | 46 | | 18.1% | 6.1% |
| Middle East | 127 | 56 | 36 | | 44.1% | 28.3% |
| West Asia | 25 | 8 | 5 | | 32.0% | 20.0% |
| Europe | 103 | -35 | -66 | | -34.0% | -64.1% |
| India | 28 | 0 | -4 | | 0.0% | -14.3% |
| New Zealand | 48 | -4 | -12 | | -8.3% | -25.0% |
| Total | 1,967 | 307 | 38 | | 15.6% | 1.9% |
AsiaAsia X: Schedule from Kuala Lumpur (Summer 2013)
AsiaAsia X: Schedule from Kuala Lumpur (Summer 2013)
Destination
Start date
Weekly freqences
Gold Coast
Nov 2007
5
Perth
Nov 2008
9
Melbourne
Nov 2008
7
Sydney
April 2012
7
Hangzhou
Feb 2008
7
Chengdu
Oct 2009
4
Beijing
June 2012
7
Shanghai
Feb 2013
6
Taipei
July 2009
11
Tokyo
Dec 2010
7
Osaka
Nov 2011
4
Seoul
Nov 2010
7
Kathmandu
July 2012
3
Jeddah
Feb 2013
3
Busan
July 2013
4