Mexico's LCCs gear up for significant fundraising August 2013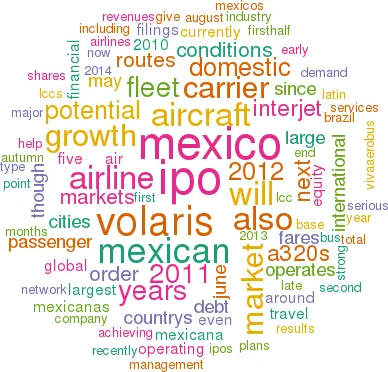 Recent months have seen a spate of airline IPO filings around the world as, after years of global economic malaise and other challenges, LCCs in particular are spotting opportunities to tap the capital markets for growth funds and to provide exits for their initial backers. Although some of the planned IPOs (including Brazilian carrier Azul's) are currently on hold due to local economic or market volatility, or simply because it is August, come September-October-November time and it could get quite lively on the IPO front.
In Mexico, the country's third largest carrier Volaris registered for a global IPO of up to $400m on June 6 – a long delayed move that will help the carrier fund the $3.9bn A320/A320neo order it finalised in January 2012. That deal, too, was put on hold in late June because of a plunge in Mexican stocks, but it is expected to be revived in the autumn as soon as market conditions allow.
The owners of Mexico's second-largest carrier Interjet may also launch an IPO this autumn, having had to shelve earlier plans to go public in the spring of 2011. Interjet recently started taking deliveries of Sukhoi Superjet SSJ100s, continues to add A320s and has plans to triple its fleet to 111 aircraft by 2015.
VivaAerobus, the third sizable Mexican LCC, is reportedly nearing its long-awaited major fleet decision, which is likely to mean a large order for either Airbus or Boeing aircraft to replace 737-300s and provide for growth. Its owners will no doubt give an IPO serious consideration, even though they have spoken of adequate alternatives, such as debt or sale-leasebacks.
The timing could be right for multiple Mexican LCC IPOs. Airline industry conditions in Mexico have improved dramatically since Mexicana, formerly the country's second-largest carrier, filed for bankruptcy and ceased operations in August 2010. The shutdown of Mexicana and its low-cost and regional units Click and Link removed a large chunk of the overcapacity that had developed as a result of five years of intense start-up LCC activity. The seven other smaller-airline failures since 2007 (Azteca, Aladia, Aerocalifornia, Avolar, Alma, Aviacsa and Nova Air) have also helped create a more rational domestic pricing environment.
As a result, Aeromexico, the country's only surviving large airline, was able to stage a financial turnaround in 2010 and complete a $330m IPO on the Mexican Stock Exchange in early 2011. The airline has continued to post strong financial results.
Mexicana's demise also gave the new-entrant LCCs unique growth opportunities, both domestically and internationally. Even though Interjet, Volaris and VivaAerobus only began operations in December 2005, March 2006 and November 2006, respectively, in first-half 2013 those three airlines already carried 60.3% of the country's domestic passengers and 36% of the Mexican carriers' total international passengers.
The domestic market has seen a healthy recovery in air travel demand since the 2009-2010 contraction, no doubt stimulated by the low fares. Domestic passenger numbers grew by 3.9% in 2011, 10.3% in 2012 and 6.8% in first-half 2013.
Air travel demand is also benefiting from the strength of the Mexican economy. After a 6% contraction in 2009, Mexico's GDP expanded by 5.3% in 2010 and by 3.9% in both 2011 and 2012. Although there was a marked slowdown in this year's second quarter and full-year growth is now expected to be a modest 2-3%, the Bank of Mexico expects GDP growth in 2014 to return to the 3-5% range projected for the next ten years.
Mexico is the second largest economy in Latin America (after Brazil). The expectation that it will outperform Brazil in the next couple of years should help boost global investor interest in Mexican equity offerings.
The country's population (around 112m) is estimated to grow by 1.4% annually. Like Brazil, Mexico is seeing a steady increase in the number of middle income households, which have already grown from 5.1m in 1992 to 15.8m in 2008.
There is also potential to attract traffic from long-distance buses (Mexico has limited passenger rail services). According to Volaris' IPO filings, Mexico had 2.8bn bus passengers in 2012, of which 74.4m were "executive or luxury" passenger segments (long or short haul). As Volaris noted, only a small shift is needed to dramatically increase the number of airline passengers.
Socio-economic trends all point to significant long-term growth in air travel. The Mexican aviation market remains underdeveloped. In 2011 total (domestic and international) trips per capita, adjusted for income, were only 0.46, compared to 1.71 in the US, 1.78 in Panama and 0.58 in Colombia.
Volaris said that it believed the substantial investments made in airport infrastructure in Mexico in the last decade will help sustain the growth in air travel. Mexico privatised most of its key airports years ago. Mexico City, though, has serious airport congestion and capacity issues that the government is trying to tackle in the near-term.
The one dark cloud on the horizon is Mexicana's potential comeback. Unbelievably, efforts to reorganise and revive the carrier and its units are still ongoing. As one government official aptly wondered recently: "Why was this not resolved three years ago?"
The answer is unusually determined labour groups (which have vowed to keep the 92-year-old company alive) and a continuing crop-up of potential investors (none of which pan out in the end). Mexicana's fate is in the hands of the bankruptcy court, which is clearly struggling with the decision.
Volaris operates 15 ex-Mexicana routes, while Interjet holds temporary rights to some nine ex-Mexicana routes. The airlines seem resigned to the fact that they will lose those routes and the associated slots if Mexicana returns. But the broader industry implications could be even more serious: disruption of the capacity equilibrium, end of healthy industry conditions, emergence of a lower-cost competitor, etc.
If Mexicana's fate is not resolved by the time the IPOs are launched, the issues and the uncertainty are something that could give pause to some potential IPO investors.
Volaris: Ambitious growth plans
Volaris is planning a global IPO, consisting of Mexican and international offerings, and is looking to list its shares on the Mexican Stock Exchange and on the NYSE. According to the preliminary filings, the plan is to sell up to $100m in ADRs and up to $400m in total. The IPO would make Volaris the sixth Latin American publicly traded airline (after COPA, Gol, Latam, AviancaTaca and Aeromexico).
The proceeds will be used for debt repayment and general corporate purposes, including aircraft pre-delivery payments. Of course, the major benefit will be the ability to tap the large US capital markets (equity or debt) for aircraft funding needs in the future. The IPO will give a potential exit strategy for initial backers, which include William Franke, founding partner of Indigo Partners and Tiger Airways.
Volaris calls itself a ULCC (ultra-low cost carrier) and claims to have the lowest CASM among Latin America's publicly traded airlines. It has high efficiency levels, achieving an 83% load factor, 12.4-hour average daily aircraft utilisation and 35-minute standard turnarounds in 2012. The A320s are operated in a single-class, high-density configuration (174 seats, compared to Interjet's 150).
The airline has been unbundling its fares since May 2012, offering low base fares and selling optional products and services for additional fees. The base fares are priced to stimulate the market and compete with long-distance bus fares. But Volaris also believes that it has developed a strong brand recognition, a loyal customer base and a strong company culture.
Volaris targets VFR, leisure and cost-conscious business travellers in Mexico and selected US-Mexico markets. After the addition of a batch of new services through November, the network will cover 31 cities in Mexico and 11 in the US.
Volaris mainly goes for markets that are large and either underserved or overpriced. It has a substantial market presence in the top five airports in Mexico (Cancun, Guadalajara, Mexico City, Monterrey and Tijuana). As of June 30, it had leading 50%-plus passenger shares on 46 of its 73 routes.
The US cities served are home to some of the largest Mexican communities in the country. The network focuses heavily on the US West Coast, though Chicago and Orlando are also served. Having only entered the US market in 2009, in 2012 Volaris earned 24% of its passenger revenues from the US routes.
Key US routes such as Los Angeles, Las Vegas and Chicago are operated under temporary licences, which Volaris would have to cede back to Mexicana. But the overall growth potential seems promising. Volaris has identified around 180 potential routes within Mexico and 150 internationally that meet its basic criteria.
But Volaris' financial results have fluctuated. After a promising 7.5% operating margin in 2010, the airline plunged back to losses in 2011. Since then it has returned to modest profitability, achieving 3.2% and 2.3% operating margins in 2012 and first-half 2013, respectively. Last year Volaris had a $29m operating profit and $16m net profit on revenues of $897m. Its ASMs grew by 16% and revenues by 32%. It has minimal debt because the current fleet is on operating leases.
Volaris operates a mix of A319s and A320s and projects its year-end fleet to be 44. The airline is receiving A320s from both Airbus and lessors while gradually returning A319s, with the aim of achieving an all-A320 fleet by 2020. Volaris is committed to a single fleet type and a "disciplined ramp-up" in young and efficient aircraft. It has firm orders for 49 A320s, including 30 A320neos, for delivery over the next eight years.
Interjet: Next on the IPO block?
Interjet's chairman Miguel Aleman stated in January that the company planned to raise as much as $1bn in an IPO, realistically after September 2013, after backing away from selling shares in 2011 when market conditions and investor demand deteriorated. But in June Aleman played down the need to issue equity this year or even in early 2014, indicating that Interjet would rather wait for truly robust market conditions in order to get a good price.
Such conditions may or may not materialise this autumn, but because of Interjet's aggressive growth plans, an IPO at some point in the short-to-medium term is likely.
In the meantime, Interjet has been taking on debt to fund aircraft. Most recently, in early August, the carrier issued 1bn Pesos ($77m) of senior notes due in 2021 (at 6.97% interest rate), as the second issue in a $387m-programme over five years. The first SSJ100 delivered this summer secured ECA financing.
Interjet has been the largest beneficiary of Mexicana's shutdown domestically and now serves about 25 cities in Mexico. But it only went international in July 2011 and currently serves only five US cities, though it also operates to Guatemala, Havana, Costa Rica and Bogotá and is now growing at a heady rate. The Toluca-based carrier expects to almost double in size in the next 18-20 months and to operate a 61-strong fleet by the end of 2014.
Interjet is more upmarket than Volaris. It currently operates 37 A320s and has 40 A320neos on order. This summer it received the first of 20 SSJ100s on firm order, becoming the first airline in the Americas to operate the type. It will deploy the 93-seat aircraft on medium-density domestic routes, while using A320s for international destinations.
As a privately held airline, Interjet does not report its financial results, but the management has claimed that it achieves better results than Volaris. It also has aircraft on its balance sheet.
VivaAerobus: Major fleet decisions
VivaAerobus' top executives have indicated in recent months that they are close to a decision on the carrier's next aircraft type, which will also replace the 21-strong existing 737-300 fleet that has an average age of over 22 years. The management has talked of a potential multi-billion dollar aircraft order before year-end.
There has also been some IPO talk. In late June Irish papers reported that the Ryan family, which owns VivaAerobus (via their Irelandia investment vehicle) as a joint venture with Mexican bus operator IAMSA, had hired an investment bank to arrange a $100m-plus IPO in Mexico. However, as yet no filings have been made and the management has continued to stress that adequate alternatives exist to an IPO.
The Monterrey-based carrier currently operates a network covering around 25 domestic and two US cities (Las Vegas and San Antonio). It earlier pulled out of several US markets introduced in late 2011 and is focusing exclusively on the domestic market this year. However, VivaAerobus is looking at Central and South American markets from 2014 and is planning to expand rapidly in the next two years.
VivaAerobus has a Ryanair-style no-frills business model, is debt-free and has claimed four consecutive years of profits (2009-2012). It may not need to raise equity in the near term, but an IPO is certainly on the cards at some point.
Mexican Airlines' Market Shares
MEXICAN AIRLINES' MARKET SHARES
% of total domestic passengers
% of total international passengers
1H2013
2012
2009
1H2013
2012
2009
Aeromexico
35.3
37.7
32.3
63.9
67.0
31.1
Interjet
24.9
23.9
12.7
13.4
9.0
0.0
Volaris
22.6
20.5
12.8
21.5
21.9
2.9
VivaAerobus
12.8
12.5
5.8
1.1
2.2
0.4
Mexicana
0
0
27.2
0
0
65.4
Others
4.4
5.3
9.2
0.1
0
0.2
Total
100%
100%
100%
100%
100%
100%
Source: Volaris' preliminary IPO prospectus (DGAC data)
Source: Volaris' preliminary IPO prospectus (DGAC data)