Aeroflot: state control still firm but privatisation in prospect August 2013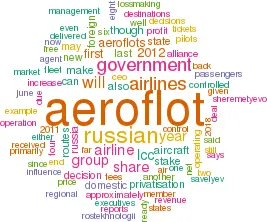 ­
Ninety years old this year, Aeroflot is still controlled by the Russian state – a link that affects every major decision that the airline makes – but privatisation is again on the cards.
In 2012, under IFRS standards, the Aeroflot group posted a 51% rise in revenue to $8.2bn, with the Aeroflot mainline carrying 17.7m passengers last year – 25% up on 2011 – and the group carrying 27.4m passengers, a 27% increase year-on-year. In its current summer schedule the Aeroflot mainline operates to 49 domestic and 75 foreign destinations, with the latter including 49 destinations in Europe, 12 in the Asia/Pacific region, eight in the US and six in the Middle East and Africa. In addition Aeroflot group airlines operate to 113 destinations.
However, in 2012 group operating profit fell 7.9% to $358m and net profit was down a substantial 66% to $166m (well below the consensus forecast of $239m), due primarily to the burden of having to incorporate four loss-making domestic airlines – a decision that, of course, was imposed on Aeroflot by the Russian state.
That government-mandated deal in November 2011 dumped five airlines previously controlled by state-owned corporation Rostekhnologii into Aeroflot (in return Rostekhnologii received a 3.6% stake in Aeroflot) – Orenair, Rossiya Airlines, Sakhalinskiye Aviatrassy (SAT), Saravia and Vladivostok Air. Saravia has since been disposed of to private investors but Aeroflot has had to spend time and resources incorporating the others into its operations. Those four airlines contributed a massive $203m net loss to the group in 2012.
Aeroflot has ambitious expansion plans. During 2012 the group estimates it had a 32.5% share of the Russian domestic market (in terms of passengers carried) and a 41.3% share of the international market, and it aims to increase both shares through to 2018.
That will be achieved by a significant increase in the fleet, from 237 today to 282 in 2018, with passengers carried increasing from 27.4m in 2012 to 47.3m in 2018. Aeroflot's financial target is to increase IFRS net profit to $362m by 2018 (compared with $166m in 2012), according to Vitaly Savelyev, CEO of Aeroflot, speaking at the airline's AGM in June.
The challenge that Aeroflot faces in achieving this growth is being able to make 100% commercial decisions, free from government influence. The most obvious example of this is Aeroflot's fleet.
In 2012 the Aeroflot group added 18 new aircraft (12 European and six Russian types), and today the fleet totals 237 aircraft. However, as can be seen in the table on the page opposite, the group is still lumbered with a variety of assorted Russian/Soviet-era types, and as fast as it gets rid of ancient aircraft it's burdened with more as further airlines are dumped into the group by the Russian government.
New Western aircraft are coming; for example Aeroflot ordered 16 777-300ERs in 2011 and has received four so far this year, which are being used on routes to Bangkok, Phuket, New York and Hong Kong as well as to long-haul domestic destinations. Five A321s are also being delivered this year, and older 737 models are gradually leaving the fleet.
Aeroflot has no option but to buy both Western and Russian models. An order for 30 Sukhoi SuperJet 100s was placed back in 2005 and Aeroflot has received 10 of these so far – though thanks to manufacturing delays these have had to be so-called "Basic" versions, which the airline will sell these back to Sukhoi for approximately $19m each as they are replaced by "Full" versions (with a longer operating range). The first such Full version was delivered in June, with six more due to be delivered in 2013 and three in 2014. Aeroflot executives can't speak openly on the issue, but it's highly unlikely the model would have been ordered given a free choice.
Another example of government interference is on the group's alliance policy. In July a Russian newspaper reported that Aeroflot wanted to leave the SkyTeam alliance, of which it has been a member since 2006. Aeroflot is reportedly unhappy with the terms of its alliance agreement with Delta and would prefer to become a member of Star (which has long been looking for a member airline in Russia), although apparently the alliance (and decision to leave it) is primarily a "political matter" – i.e. a decision for the Russian government to make, and not Aeroflot executives.
Of course, Aeroflot also benefits tremendously from the Russian's state's influence. With a hub at Moscow's Sheremetyevo airport, Aeroflot needs that facility to keep up with its planned expansion by adding a third runway and new terminals. Aeroflot directly owns 9% of Sheremetyevo, and with the Russian state owning another 83% the airport can be relied upon to expand exactly in line with Aeroflot's needs.
Until recently Aeroflot also benefited from the monopoly the Russian carrier had on 34 European routes, while the revenue it receives from overflight fees from foreign airlines operating over Siberian territory will be cut back significantly from January 2014. And last year the Russian government gave more than $35m worth of subsidies to the airlines (60% up on 2011), which are paid to cover losses on routes to the more distant parts of Russia, such as to the Far East.
But another state intervention may be looming. There are rumours and newspaper reports swirling around in Russia that Aeroflot may take over one of its competitors – either Sibir, Transaero or UTair. The government is trying to sell its 25.5% stake in Sibir, but if no buyers can be founded at the mooted $35m price then reports suggest the government may "encourage" Aeroflot to make a bid so that it can gain control of Sibir's routes into China as well as potentially using its fleet of A320s for its LCC plans. Aeroflot executives are believed to be concerned about the potential deal, with management not wanting to consider another merger or acquisition in either the short- or medium-term while it tries to complete the consolidation of the airlines imposed on it in the last government-arranged deal.
Aeroflot would much prefer more profitable/strategic moves – an LCC is top of its wish list. Aeroflot is planning to launch an LCC in the "near future" according to its CEO, and is currently looking for key executives to run the operation. The airline will be based at either Sheremetyevo or Vnukovo airports in Moscow, initially with a fleet of eight A320 or 737s in its first year of operation, with eight aircraft being added annually after that.
However, before a LCC can be launched the Russian parliament will have to pass new legislation as currently a number of standard LCC practices are prohibited in Russia, such as non-returnable tickets, baggage fees and the ability to hire foreign pilots. The last restriction is particularly problematic as the LCC would need at least 40 pilots in its first year of operation. Aeroflot has found potential highly-qualified pilots from Ukraine and Kazakhstan who want to be based in Russia, but the current regulations forbid even CIS pilots from being hired.
Aeroflot has commissioned a brand identity to be ready for the new LCC by September, with a strict stipulation that the name of the airline contains "from seven to nine characters". The LCC would fly domestic and international routes of up to four hours duration (though two hours is likely to be the average). Once the regulations change it's expected that an LCC will be launched within six to 12 months.
Other urgent items on Aeroflot's agenda include an ongoing enquiry into alleged corruption by Aeroflot deputy CEO Andrei Kalmykov, who was suspended in June after being accused of giving favours to companies linked to his relatives. Aeroflot also expects to recover more than $200m that was allegedly "removed" from the airline by entities controlled by late and controversial tycoon Boris Berezovsky in the 1990s.
Earlier this year a state audit report said that Aeroflot had "misspent" more than $440m in a period between 2010 and the first nine months of 2012 in areas such as the purchase of services, buying and selling costly trademarks, and in loans and investment in its subsidiary Aeroflot Finance. These are charges that Aeroflot has denied, though interestingly in its response the airline said that with regards to investing in loss-making regional airlines that it had "a major social responsibility" as a flag carrier and that "it could not simply make mass redundancies without considering the social consequences for the regions and the nation as a whole".
Currently the Russian government owns 51.2% of Aeroflot, with entities controlled by Russian businessman Alexander Lebedev owning 4% and Rostekhnologii 3.6%. Over the summer reports surfaced that Lebedev was negotiating a sale of his stake in Aeroflot, worth approximately $78m. The controversial entrepreneur once had a 25% stake in the airline but he is now getting rid of his last holding as a protest against being charged with assault when he threw a punch at another businessman on a Russian television talk show.
More importantly, there are signs that government dominance of Aeroflot may be coming to an end. Though privatisation of the state's share in Aeroflot has been on the agenda since the late 1990s, the Russian government now says Aeroflot is now "ready for privatisation", and it says that it wants to reduce its majority share in the airline down to 25% plus one share by 2016 at the latest.
Intriguingly, in June CEO Savelyev said Aeroflot would only be ready for privatisation in 2016 or 2017. He argues that "Aeroflot is about 40% underpriced, so what is the point in selling?", and that a foreign investor might not be beneficial to Aeroflot as its service quality "is Europe's best", a debatable point. Aeroflot's decision to pay dividends at the level of at least 25% of its net profit in 2012 will undoubtedly support its share price. Savelyev also warned that the government shouldn't pressurise Aeroflot to cut fares, which would be difficult to do as well as pay dividends.
Results for the first half of 2013 will be released in September, and one analyst – SKRIN Analytics – says that the airline "could surprise investors with higher than consensus profits" thanks to two factors, the first of which is strong growth in the Russian air passenger market, with yields growing faster than the level given by management guidance. This will be due primarily to the recent closure of two regional airlines – Kuban Airlines and Red Wings – which together accounted for approximately 2% of Russian capacity last year.
The second factor is a decrease in travel agent fees (in a country where travel agents account for approximately 70% of all air tickets sold). Earlier this year Aeroflot lowered agent commission from 7% for economy class tickets and 9% for business class to 4% for both, which will have a significant impact on revenue. Aeroflot wants to abolish agent fees completely by the end of the year.
Aeroflot's is also focusing on continued cost-cutting, and that includes staff (given that each government-driven deal brings an influx of poorly-motivated employees).
Improving profitability and share price may encourage the government to reduce its stake sooner rather than later, and a crucial first step regardless of Aeroflot's performance would be the sale of a relatively small stake in order to bring the government share to under 50%. Though largely symbolic (as no-one would doubt the ongoing controlling influence of the government), this would give real hope that the beginning of the end for state control had arrived. The key test for Aeroflot though will be when it is allowed to make commercial decisions (and not political ones) on purchasing Russian or foreign aircraft, or whether to keep operating loss-making regional routes or even subsidiaries. Even if the state's share went down to 25%, would Aeroflot's management really be free to make the decisions it wanted?
Aeroflot group fleet
Fleet (Orders)
Aeroflot
Donavia
Rossiya Airlines
Orenair
Vladivostok Avia
SAT Airlines
Total
Aeroflot group fleet
A319
15
4
12
31
A320
44 (11)
6
50 (11)
A321
21 (5)
8
29 (5)
A330
22
1
23
737
6
1
24
3
34
767
7
3
10
777
4 (12)
3
4 (12)
787
(2)
(2)
DHC 8
6
6
MD-11
3
3
An-12
1
1
An-24
4
4
An-148
6
6
Tu-154
5
5
Tu-204
6
6
Mi-8
3
1
4
Yak-40
2
2
IL-96-300
6
6
Sukhoi SuperJet 100
10 (20)
10 (20)
Total
132 (50)
10
35
27
18
15
237 (50)