airBaltic: The Riga hub strategy Jul/Aug 2010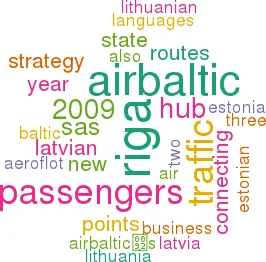 AirBaltic's strategy is to operate a low cost trans–Europe hub and spoke system at Riga, the capital of the Baltic state of Latvia, a city with 700,000 inhabitants. Remarkably, it is succeeding.
Latvia is in the middle of the three Baltic states which, along with Lithuania and Estonia, escaped from the USSR in 1991. After centuries ruled by Russians, Germans, Swedes, Poles, etc these now–independent countries are members of the EU (but not the Eurozone). They have small populations – 3.4m in Lithuania, 2.3m in Latvia and 1.4m in Estonia – and significant Russian/Ukrainian minorities – 20%, 30% and 25% respectively. Latvian and Lithuanian are related languages, and, although of Indo–European origin, very different from Scandinavian or Slavic languages. Estonian is completely different from all other European languages with the exception of Finnish.
The 2000s were characterised by rapid economic growth, with a large speculative element, which came to a crashing halt with the global credit crunch. GDP in all three countries plummeted, by 15–18% in 2009, and unemployment rose to over 25%. A return to marginally positive growth is forecast for this year.
Estonian and Lithuanian air traffic collapsed in 2009, down by about 33% in both cases; the Lithuanian flag–carrier, flyLAL, went bankrupt in January 2009 and Estonian Air, 90% owned by the state and 10% by SAS, retrenched sharply. But, as the graph below shows, Latvian traffic continued to surge ahead, continuing the divergent trend that started in 2004 (when Riga Airport introduced deep discounts on its charges).
airBaltic, which was set up in 1995 as a joint venture between SAS and the Latvian state, responded to the crisis by radically changing its model from a point–to–point semi–LCC to hub and spoke hybrid carrier. The strategy was born out of necessity – O&D traffic to Riga had collapsed. Whereas connecting traffic accounted for 10% of airBaltic's business in 2008, it is expected to be at least 65% this year.
The strategy change was implemented under a new management–owned regime. Following heavy losses in 2008, SAS added the airline to its own divestment programme and sold its stake in January 2009 to BAS – the vehicles used for a management buy–out headed by CEO Bertold Flick, a German national, with a background in consultancy, not Lufthansa. Under the new structure, BAS, the MBO vehicle, owns 47.2% of the airline, the Latvian state 52.6%.
Air Baltic now operates 100 routes, carrying 2.76m passengers in 2009, with a fleet of 32 aircraft, and has reported a pretax profit of Ls14.0m (€10m) on revenues of Ls206m (€147m) compared to a loss of Ls30.1m on revenues of Ls203m the previous year.
The core of the network is the north–south and north–east connecting flows from secondary points in Finland and Sweden to primary points in Germany, France Italy, etc and from those Finnish and Swedish cities to points in the Caucasus. It also serves seasonal holiday destinations in Greece (summer) and Egypt (winter).
airBaltic's hub competitors are the much higher–cost SAS and Finnair. For Finlandoriginating passengers, Riga, offering connection times of just 25 minutes, is a more than acceptable alternative to Helsinki; similarly for passengers flying from Swedish regional cities, transferring at Riga compares favourably with Copenhagen. Interestingly, Flick places THY as one of his main competitors, along with SAS, Finnair and Ryanair. THY collects passengers from the Caucasus and funnels them through its Istanbul hub to Helsinki and Stockholm (18 weekly frequencies to SAS's two).
A key strategic question for airBaltic would be: how many of these essentially niche traffic flows can it consolidate at the Riga hub into a profitable whole? Expansion continues apace. For summer 2010, airBaltic has added 11 new routes from Riga including rather surprising points such as Beirut and Amman. It is also adding same intra–Finland routes, as well as developing secondary bases, primarily at Vilnius in Lithuania but also Tallinn in Estonia. However, the latest traffic numbers are very strong – a 32% increase for June 2010 compared to the same month of last year, which should push the average annual load factor well up from just 68% in 2009.
airBaltic faces a number of specific challenges. On routes to Russia it is currently stymied by the impasse in EC–Russia aeropolitical relations – an open skies agreement seems far away as the EC objects to exorbitant Siberian overflying charges which go to Aeroflot, which in turn is in the process of reabsorbing the fragmented airlines of the Soviet Aeroflot. In Soviet times there were nine daily flights between Moscow and Riga, a favourite resort for the Muscovite bourgeoisie; today there are three, two airBaltic, one Aeroflot, determined by the bilateral. This crowds out the connecting passengers on most Riga–Russia flights.
To the UK and Ireland airBaltic has another challenge. Its traffic consists of a mix of connecting passengers, point–to point leisure passengers and business passengers (for whom it provides a generous business class cabin). But on London and Dublin, airBaltic comes up against Ryanair, the second largest carrier at Riga, which naturally tends to capture most of the Rigabound leisure traffic — Riga's old town has become a favourite, Prague–like, destination for short breaks.
AirBaltic is running into a constraint at Riga in that peak hour terminal throughput is close to capacity, and to add another wave to the current two will necessitate the construction of a new terminal, which airBaltic intends to develop in a joint venture with a contractor.
AIRBALTIC'S FLEET
AIRBALTIC'S FLEET

| | | |
| --- | --- | --- |
| | In fleet | On order |
| 737-300/500 | 17 | |
| 757 | 2 | |
| Q400 | 1 | 7 |
| F50 | 10 | |
| Total | 30 | 7 |