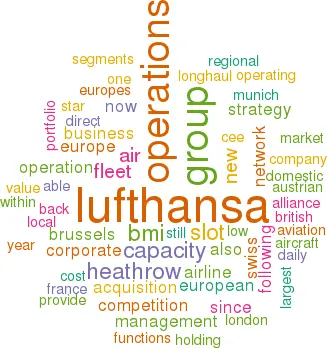 At its annual investor day last month Lufthansa CEO Wolfgang Mayrhuber started off with the question: where are we going?
He answered himself with a "vision": to grow profitably; superior distinction from competitors; strong balance sheet; partnerships through alliances or consolidation; offer products in all segments; remain an Aviation Company and Airline Group; stay flexible, responsive and stable in a changing environment; maintain a leadership strategy that builds on entrepreneurship and a modular setup. Visions may be good for inspiring the troops, but are only an indication of a desired future path. However, he went to pains to emphasise that the Lufthansa Group has – unusually for a network carrier – been able to create value; with €2.1bn cash value added cumulatively generated in the past decade (and incidentally has made operating profits in each year since 1991).
He also emphasised how Lufthansa has been able to change its corporate spots – moving from the monolithic airline of the '80s to a corporate structure of separate business segments in the 1990s (the McKinsey solution of the time taken up by LH, Air France and Swissair); to a "focused aviation group" following the acquisition of SWISS five years ago; to what, following the recent rash of acquisitions, is now described as a "strategic management holding structure". This encompasses a passenger airline division that incorporates Lufthansa core passenger operations (at Frankfurt, Munich and its direct regional services), SWISS, Austrian, SN Brussels, bmi, Lufthansa Italia, germanwings, and Eurowings; and then the old business segments of cargo/logistics, MRO, catering and IT.
This sudden raft of acquisitions by Lufthansa within Europe may give it – as the management avers — a unique multi–hub structure. The main continental competition in contrast has concentrated on intercontinental hub consolidation of major carriers – Air France and KLM joining CDG and Amsterdam; BA and Iberia joining London and Madrid; both touting the possibilities of incremental revenue generation through judicious multi–hub routings and elimination of competition. Lufthansa has gone for smaller targets and, through SWISS and SN Brussels, acquired operations at hub airports that had been significantly downsized following the former Swissair's and Sabena's demise. Its rescue of Austrian brings it an operation that had already severely cut back its long–haul operation. The bmi acquisition meanwhile, despite consolidating a seriously loss making short–haul operation, brings a very strong presence at London Heathrow – still the gateway to Europe and at the heart of Europe's largest aviation market. All three have a greater proportion of business directed to intra- European operations and intra–European feed.
Austrian had found it difficult to digest the poison–pill of its acquisition of Lauda Air in the early 2000s (local folk–hero Niki Lauda had set up a new low cost operation Niki in direct competition – now taken by Air Berlin) and did not quite manage to restructure its new disparate group before the fuel spike crisis of 2008. It had at least developed a new strategy of pursuing a dismantling of non–performing long–haul operations and a concentration on transfer traffic between CEE (Central and East Europe) and mainline European destinations with its "Focus East" policy (incidentally in direct competition with LH trying the same thing through Munich).
Since Lufthansa's rescue last year, the group has developed a new stand–alone strategy within the corporate empire. It is still concentrating on CEE traffic and transfers – but rather than pursuing the dubious policy of developing niche routes with low capacity (and high cost) aircraft has introduced a new market and fleet strategy. It is outsourcing CRJ and turbo operations and repositioning 737–800s from the charter fleet; and has regained a "market" share at its Schwechat base of over 50%.
With an ASK growth cap as a condition of the LH takeover, it is further reducing longhaul capacity. With the LH group now able to take over more of the administrative and back office functions it is continuing to trim staff numbers – aiming to reach total employee count of 6,000 down from 7,750 in 2008. At the same time the MRO and Cargo operations have been easy to slip into the Lufthansa Group business units. With a current cost cutting restructuring plan to generate improvements of €300m pa (on top of the emergency crisis package of €225m in 2009) the company aims to be cash generative in the current year and produce a positive operating profit by 2011.
SN Brussels is still a minority holding with the potential for a majority holding. One thing it could bring the LH portfolio is access into francophone Africa – where Air France has tended to have a monopolistic access since the demise of Swissair and Sabena. The hope is that the SN link will provide substantial inroads into the relatively unrepresented market for Lufthansa.
The point of the original stake in bmi meanwhile was to provide an inroad into Heathrow and its value lay entirely in its slot portfolio. When Michael Bishop exercised his put option against LH he provided them with a carrier in control of 13% of the slots at Europe's prime gateway (and with LH's own and its partners' presence there the second largest agglomeration of slot capacity after British Airways). However bmi was heavily loss–making. It also was a relatively small regional airline with very poor brand recognition outside the UK; had a large domestic network in one of Europe's smaller but highly competitive domestic markets; and through bmibaby had attempted to join the LCC revolution but with a fleet of old generation 737s operating on low utilisation.
Since taking control, the group has sold 18 of bmi's daily 87 slot pairs (conveniently to Lufthansa and SWISS) and leased out a further ten (to other Star Alliance members). It also had to hand three slot pairs back to BA as a consequence of change–of–ownership clauses following bmi's acquisition of British Mediterranean – and as a result now ends up with only 10% of the slot pool at Heathrow. It has disposed of ten of its group fleet of 69 aircraft, terminated loss making long- and medium–haul operations (cutting the A330 operations to Cairo and Las Vegas) and slashed mainline capacity by 25% while shifting capacity to Lufthansa destinations in continental Europe.
Lufthansa is also trying to restructure the loss–making British regional and bmibaby operations as well. Long term, the company suggested that bmi could be a key pillar within the Lufthansa+partner network; as a major connecting feed to Lufthansa and its Star Alliance partners at Heathrow – with 38 domestic frequencies a day feeding 29 transatlantic daily frequencies, 65 Lufthansa group European operations and 11 daily bmi operations to the Middle East and CEE. In one measure this would provide the Star Alliance with 30% of the slot capacity at Heathrow in comparison to BA/oneworld at 49%.
It is a unique portfolio of hubs: Frankfurt, Munich, Zurich, Vienna, Brussels, London Heathrow (and through LH Italia possibly Milan Malpensa) – covering the "blue banana" of European population density and in the first five of which it is the largest operator. It describes the agglomeration of the carriers as being done under a principle of "integrated autonomy" — with the local management having entrepreneurial responsibility for the local brand, operations and P&L while non front–line support functions (fuel, finance, aircraft purchasing, IT services, maintenance, station management) are being delegated to group functions to take advantage of economies of scale. The next steps will be to develop group wide strategic, network, and fleet planning; and most importantly a group sales function to agglomerate the important corporate accounts, cope with multi–brand sales, and ensure the ability to cross–sell the separate airlines' route offerings.