Varig: Will Volo's rescue succeed? Jul/Aug 2006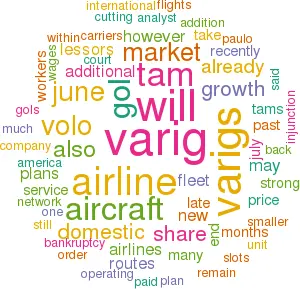 Brazil's old–established airline Varig, which has been in bankruptcy since June 2005, recently averted liquidation when it was sold at a public auction to a local group called Volo do Brasil, which plans to facilitate the airline's "return to its golden age". Is Volo likely to succeed? What impact, if any, will the possible scenarios have on Gol and TAM?
Volo do Brasil, which together with US investment fund Matlin Patterson already owned Varig's former cargo unit VarigLog, acquired Varig for $24m plus a pledge to invest $485m. When the sale was finalised on July 20, much of the $24m had already been paid to keep the airline flying, but Volo was reportedly required to transfer an additional $75m to the airline within 48 hours.
Under the deal, Varig will be split into two companies: an airline–operating unit and a separate company that will assume Varig's R$7bn ($3.1bn) debt and will remain under bankruptcy protection until June 2007. Volo will take over the airline operating unit, namely the brand, routes, airport slots, fleet and FFP, plus R$245m of tickets that have been issued.
The other company, to be run by Varig's long–time controlling shareholder Ruben Berta Foundation, will remain in control of the airline's pilot training centre and various buildings and will also keep one domestic route. Revenues from those assets, including fees paid by the airline, will be used to pay back the debt.
It sounded like a good solution. Volo was the sole bidder and the only remaining hope for the airline, which has seen its situation deteriorate rapidly in recent months. In June Varig had to ground most of its fleet as it ran short of cash and spare parts and as lessors and creditors began repossessing aircraft. It was suspended from IATA for non–payment of monies to travel agents, which meant that other airlines were no longer obligated to fly its stranded passengers. When Volo took over, Varig operated only 13 aircraft out of its former fleet of 65.
The plan is to initially operate as a smaller airline, while paying debts to airports and fuel suppliers and negotiating with lessors for more aircraft. But Varig could rapidly resume growth, rehiring workers, restoring service to all destinations and operating up to 80 aircraft within six months.
Volo is seeking additional investors as equity or strategic partners; to start with, it has held talks with ACE's subsidiary Aeroplan. According to AvNews, TAP's CEO Fernando Pinto has expressed some interest. More companies may be interested in Varig now that it is (in theory at least) debt–free.
Also, Varig recently won a breathing space for restructuring when the US bankruptcy court dealing with its case extended until September 14 a preliminary injunction that blocks lessors from seizing their aircraft. The judge set a hearing for September 13 and said that he may consider making the injunction permanent.
However, there have been some early setbacks. On July 31, a union representing Varig's workers obtained an injunction in a Rio de Janeiro labour court which ordered the airline to use the $75m cash injection to pay late wages. This may jeopardise the recovery plan, because those monies had been earmarked for paying airports and suppliers.
As a separate issue, it is shocking that Varig apparently has not paid many of its workers for three or four months. It is surprising that the consultants and lawyers did not see this coming. And it is amazing that the Brazilian government or the courts did not interfere earlier to ensure that worker wages and salaries get priority.
Volo's initial attempt to temporarily suspend all of Varig's operations except the lucrative Rio–Sao Paulo shuttle, where flights would be more than tripled, did not inspire confidence in the new owners. The proposal was vetoed by Brazil's civil aviation authorities, which ordered the airline to fly certain key routes and resume service on all of its assigned routes within 30 days or lose route authority. At the end of July, Varig was serving seven domestic cities and operating limited international flights to Frankfurt, New York, Miami and Buenos Aires.
At the end of July, the new owners also got their first taste of the difficulty of negotiating with an unhappy workforce. After letters were sent informing workers that Varig would be cutting 5,500 or almost 60% of its staff in Brazil, the airline's employees at Sao Paulo airport went on strike (they were also demanding unpaid wages from the past three months).
It is obviously highly uncertain that Volo will be able to rebuild Varig's operations. In addition to dealing with labour, the company must still fend off creditors, ward off court action and complete difficult negotiations with lessors. It will also be necessary to rebuild image and win back the trust of customers. It will be tough to make a comeback after the sharp market share deterioration; after all, many customers have had a chance to try out competitors.
Are the funding plans adequate? In late June, Merrill Lynch analyst Mike Linenberg estimated that a new Varig owner would need to spend at least $150–200m just to get all the aircraft flying again — making lessors whole, required maintenance, etc. At that time the airline still had 19 aircraft in operation.
The biggest concern that many analysts have is that the rescue plan offers nothing that would solve Varig's problems. Among other things, the airline needs to reduce its costs. Consequently, some analysts take the view that the Volo deal has merely delayed the inevitable. Others feel that Varig will slowly improve but remain much smaller than in the past. That said, Brazil is a strong growth market. With air travel increasing at a double–digit rate, and given Varig's strong brand, the airline may be able to recover some lost ground.
Whether Varig recovers or disappears, does it make much difference to the two high–flyers Gol and TAM? Not really. As Calyon Securities analyst Ray Neidl recently pointed put, TAM's and Gol's models work on their own, regardless of what happens to Varig. Neidl suggested that any share price weakness is an opportunity to buy into these carriers.
Both TAM and Gol have already benefited significantly from Varig's shrinkage over the past year, and any additional benefits even in the event of a shutdown would be of a lesser degree. However, certain assets, such as Varig's domestic slots, would always be appreciated.
The past year's market share gains have been substantial, and the trends accelerated sharply from May to June. Between June 2005 and June 2006, Varig's domestic RPK share plummeted from 24.7% to 10.5%, while TAM's increased from 40.5% to 47.6% and Gol's from 27.4% to 35.1%. Internationally, in the same period, Varig's RPKs declined from 78% to 53.8%, while TAM's increased from 17.8% to 37.9% and Gol's from 2% to 5.6%.
One consequence of Varig's troubles has been more aggressive price cutting this summer. In addition to what one analyst described as "desperation pricing" by Varig, Gol and TAM have also priced aggressively to maximise their market share gains. Gol and TAM apparently also did not want to appear to be price gouging with Varig cutting back. However, now that Varig's market share is dipping below 10%, the price pressures are easing.
TAM and Gol have said that, in the event of a Varig shutdown, they believe that the domestic routes would be awarded to other Brazilian carriers on the basis of their existing market share. However, there was some speculation earlier that the government might favour the smaller carriers to prevent TAM and Gol totally dominating the market.
While both Gol and TAM would benefit internationally, TAM could gain disproportionately because it is the only local airline that already serves North America and Europe. However, both airlines have made it clear that they have their own growth plans and do not find many of Varig's international routes very attractive. American, which already dominates the Latin America region, would be among the major beneficiaries.
Both TAM and Gol have announced service expansion and added to their aircraft order books this summer, to take advantage of opportunities arising from Varig's shrinkage and to cater for strong market growth.
In late June TAM signed an MoU for 37 additional Airbus aircraft (15 A319s, 16 A320s and six A330s), for delivery through 2010. This was in addition to last year's order for 29 A320s and 20 options. The aim is to ensure growth in the domestic market, replace 100–seat Fokker 100s and facilitate "selective profitable growth in the international segment". TAM will operate 96 aircraft by year–end and 127 by the end of 2010.
TAM recently announced plans to add Asuncion (the capital of Paraguay) and Buenos Aires to its network. Daily A330 flights from Sao Paulo to London will begin on October 28. The airline has secured prime slots at Heathrow, allowing immediate connections at both ends, and will be targeting primarily business traffic with the three–class service. TAM's long–haul network already includes Paris, New York and Miami.
Gol also added to its order commitments in late June, announcing that it will take four additional 737NGs in the 2006–2008 period. The aim is to meet strong domestic demand. The fleet is scheduled to grow from 50 aircraft at the end of June to 96 by 2011, and there are 34 options on top of that. This year is seeing dizzying 45% ASK growth, somewhat reducing to 30% in 2007.
Gol is poised to continue expanding its network throughout South America, but the airline currently does not have plans to add widebody aircraft to its fleet. The planned Mexican joint–venture LCC start–up is still awaiting regulatory approval.