Qantas: The Jetstar brands Jul/Aug 2006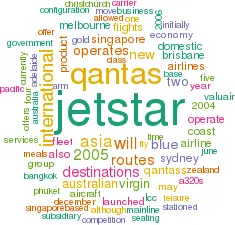 Qantas: The Jetstar brands
Qantas's reaction to Virgin Blue is based partly on improving its mainline product (through cost–cutting and the introduction of selected frills such as complimentary hot meals for domestic economy), but primarily on setting up a series of LCC airlines under the Jetstar branding: — Australian–based Jetstar, Singapore–based Jetstar Asia and the planned Jetstar International, which will operate out of Australia.
Jetstar
Jetstar was established in May 2004 as a low–cost domestic subsidiary of Qantas, and today operates a fleet of 22 A320–200s and six 717–200s domestically and internationally. Jetstar initially flew 717s, but the 717s being phased out and part of a move to all–A320 fleet (with one outstanding A320 on order). Jetstar offers a JetFlex fare, which offers business travellers flexibility, priority boarding and Qantas FFP points. Domestically, the airline operates from five bases — Brisbane, Sydney, Melbourne, Adelaide and the Gold Coast — to 13 east Australian destinations. In early 2006 Jetstar opened a crew base at Adelaide airport's new terminal and stationed two A320s there, with help from "a support package from the South Australian government". Virgin Blue also moved into the terminal at the same time, and competition between them is expected to become fierce. The move allowed Jetstar to add routes out of Adelaide to Sydney and Brisbane from February and to Hamilton Island and the Sunshine Coast from March, adding to the existing routes to Melbourne and the Gold Coast. A similar deal was also done in 2005 at Cairns, where three aircraft are currently stationed.
In March 2006 Jetstar launched a daily Melbourne–Perth service out of Melbourne's second airport Avalon, from which Jetstar also operates to Adelaide, Brisbane and Sydney. Altogether Jetstar operates from the main Melbourne Airport to nine domestic destinations (Qantas operates on Melbourne–Perth), and in July 2005 Jetstar replaced Qantas Airways' regional arm QantasLink on the Sydney–Ballina route, in competition against Virgin Blue.
In December 2005 Jetstar launched its first international routes, to Christchurch from Brisbane (daily), Melbourne (nine flights per week), Sydney (10) and the Gold Coast (two a week), with two A320s stationed in Christchurch. These are direct competition for Virgin Blue's New Zealand subsidiary Pacific Blue, which launched in 2004 and connects Australia, New Zealand and Pacific island destinations. Pacific Blue operates from Christchurch (on a weekly basis) 11 flights to Brisbane, one to Melbourne, five to Sydney and two to the Gold Coast. Christchurch–Gold Coast is a new service for the Qantas group but Jetstar's Christchurch–Melbourne and Christchurch–Brisbane flights replaced Qantas's services, while Qantas has reduced frequency on the Sydney route.
The New Zealand services are operated and piloted by Jetstar staff — except for the cabin crew, who come from Qantas' New Zealand subsidiary Jetconnect — and the flights offer the same product as domestic Jetstar.
Jetstar recorded a US$26.8m profit in the year to end June 2005, compared with a US$14.2m loss in the year to June 2004 (which were largely set up costs). In the year to June 2005, Jetstar flew 4.4m passengers and had an average load factor of 72.4%.
Jetstar International
Jetstar International will launch in late 2006, initially using four A330–200s borrowed from Qantas's domestic fleet. In December 2005 Qantas ordered 45 787- 8/9s (with 70 more on option), of which Jetstar International will receive 10 787–8s from August 2008 onwards (five in 2008), and an unconfirmed number of 787–9s.
Jetstar International will initially operate with 10 aircraft on point–to–point routes to Asia–Pacific destinations, although there are also tentative plans to expand to North America destinations and even Europe at a later date.
The airline is targeting leisure destination such as Phuket, Bali and Honolulu, and will "complement Qantas's mainline international operations", concentrating on routes within 8–10 hours flying time of Australia: "routes that probably Qantas has either withdrawn from over the past 10 years or may have withdrawn off over the last year or so, and also new routes". Essentially Jetstar International will fly routes that "Qantas and Australian carriers do not fly to" — i.e. routes that are marginally profitable at best for Qantas (and are leisure dominated, whereas Qantas caters for business class as well).
Jetstar International will operate initially from Melbourne, Sydney and Brisbane, and its ambition is to grow no bigger than "20%, at maximum, the size of Qantas". The airline also aims to have the lowest cost structure of any international carrier to–from Australia, with a product based on two–class configuration (economy and premium economy class — called "StarClass"); assigned seating (like domestic Jetstar and Jetstar Asia); baggage interlining for international connections; video–on–demand, and complimentary meals in StarClass (with paid–for meals in economy).
While Jetstar International will have a code–share arrangement with Qantas for all international flights, it's not yet known how Jetstar International will affect Australian Airlines, Qantas's existing lower–cost international arm, in the long–term, although Qantas group says it is committed to Australian. Australian Airlines operates mainly to secondary leisure destinations in the Asia–Pacific region with five 767- 300ERs. A clue to its future may come from the fact that its aircraft used to have a single class configuration, but from this summer they changed to a two–class configuration, with premium economy seating. Under agreements with unions, previously Australian Airlines was only allowed to operate 767s to destinations within four hours flying time zone from base in Cairns, although in 2005 new agreements were signed with unions that abolished these restrictions.
Jetstar Asia
Singapore–based Jetstar Asia is owned by a holding company called Orangestar, which is owned 49% by Qantas, 22% by Singapore businessmen Tony Chew, 19% by Singapore government investment arm Temasek Holdings, and 10% by Singapore businessmen FF Wong. The airline launched in December 2004 and currently operates from Singapore to 10 destinations (Hong Kong, Taipei, Bangkok, Manila, Phuket, Kolkata, Yangon, Siem Reap, Bangalore and Phnom Penh). It has a fleet of four A320s — two on lease from Aviation Capital Group and two from Singapore Aircraft Leasing Enterprise. Again, Jetstar Asia does not offer a standard LCC product, as it gives assigned seating and offers paid–for hot meals on its longer sectors.
However, the airline has had a rocky start, and in the year to the end of June 2005, Jetstar Asia made a US$28m net loss, of which Qantas's share was US$14m. In 2005 Jetstar Asia considered leasing out its A320s as it dropped Singapore–Pattaya services due to weak demand and suffered delays in securing landing rights to other countries. Although Singapore regulators granted Jetstar Asia traffic rights to China, India, Indonesia, the Philippines and Vietnam, the airline had to delay launching routes to these destinations because it is waiting on approval for operating permits from those respective countries.
Jetstar Asia has therefore had to "buy" its way into the Indonesian market, and Orangestar purchased Singapore–based Valuair in 2005 for undisclosed sum. Valuair launched in May 2004, but is believed to be loss–making ever since. The two airlines operate separately, but effectively they are merging their operations e.g. Valuair has dropped routes to Bangkok and Hong Kong as Jetstar Asia serves both destinations. Valuair now operates only to Jakarta, Surabaya and Denpasar (Bali), with fleet of four A320–200s. Valuair's brand has been retained only because the Indonesian government does not allow Jetstar Asia to operate to Indonesia as it is a LCC (whereas Valuair is allowed, as is not classified as a LCC).
The Qantas group is trying to leverage its links with Jetstar Asia — Jetstar CEO Alan Joyce is to join the board of Jetstar Asia, and in December 2005 Qantas applied to Australian regulatory authorities for the right to code–share on some of Jetstar Asia's services (to Bangkok, Phuket and Kolkata in India), a move that rival LCC Tiger Airways says is "backdoor way" for Qantas to enter the Singapore market and which will ruin Jetstar Asia's cost base.
Ambitions
Qantas's ambition is that the Jetstar group will comprise more than 60 narrowbody and widebody aircraft by 2010, under three (or more) airlines. To encourage Jetstar's rapid growth, in February 2006 Qantas created two distinct management teams: one for mainline Qantas and one for Jetstar, and each has been given operational independence.
However, there are question marks as to how effective Jetstar will be for Qantas. Currently Jetstar competes only against approximately 20% of Virgin Blue capacity, and the majority of Virgin Blue flights compete against Qantas mainline. Virgin Blue is also apparently changing its strategy to become what it calls a "New World Carrier" — essentially a low–cost network carrier that offers frills (either paid for or as part of core product) and which is targeting higher yield business passengers that traditionally fly with Qantas.
Virgin Blue believes it can offer a better product than traditional LCCs (i.e. Jetstar) and so can afford to nudge up costs slightly — as it starts from a lower base than Qantas — in order to attract significant amounts of business travellers away from Qantas. If this strategy works, the effectiveness of Qantas's Jetstar efforts may be significantly less than management hopes.
QANTAS FLEETS
QANTAS FLEETS

| | | | |
| --- | --- | --- | --- |
| | | | Orders |
| | | Fleet | (Options) |
| Qantas | A330 | 14 | |
| | A380 | | 12 (10) |
| | 737 | 51 | (42) |
| | 747 | 35 | |
| | 767 | 24 | |
| | 787 | | 45 (70) |
| | 146 | 2 | |
| | DHC8 | | 1 (10) |
| | Total | 126 | 58 (132) |
| Jetstar | A320 | 23 | (40) |
| | 717 | 6 | |
| | 787 | | 12 |
| | Total | 29 | 12 (40) |
| Jetstar Asia | A320 | 4 | |
| | Total | 4 | |