BA: Distribution reform and cost cutting Jul/Aug 2006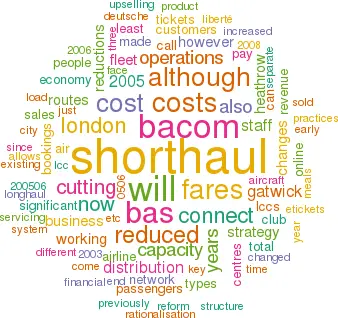 BA's response to the LCC threat has been a combination of network rationalisation (i.e. cutting its exposure to the most heavily loss–making short–haul sectors), distribution reform (essentially copying the direct strategy of the LCCs), product repositioning and — most importantly of all — a continuation of cost cutting.
Network
Short–haul has traditionally made large losses for BA and, in the face of increasing competition from LCCs, in the early 2000s BA decided to make significant changes to short–haul strategy, mainly through network rationalisation and cutting costs.
Previously BA didn't have a seamless short–haul business, but a collection of strategically diverse carriers such as Go, Deutsche BA, Air Liberté, British Airways mainline, BRAL, Brymon and CityFlyer Express, each of which was an independent/ quasi–autonomous business with a separate management and sales structure etc. As part of a strategy to reduce exposure to short–haul, Go was sold (as it cannibalised BA sales and restricted management's ability to cut costs at the core airline), as were other short–haul assets such as Air Liberté and Deutsche BA.
Just as importantly, BA "realigned" capacity with demand — e.g. by replacing 767s on the route to Oslo with A320s or by closing routes to secondary airports on the continent. As a result of these moves, BA's short–haul capacity is now 20–21% of total ASKs, compared with 23% in 2001/02.
After this initial wave of rationalisation, in 2005 BA reviewed its remaining short–haul operations once again. Gatwick routes are becoming "more leisure focused", although they will retain a two–class service (as will Heathrow routes). However, the key changes are to non–London services, and in January 2006 BA CitiExpress — the loss–making UK regional airline — was renamed BA Connect in an effort to make it more "distinct" in the market place.
On all routes apart from out of London City, this includes: single–class cabins; a reduction in one–way fares by 40%, with no seating restrictions; a replacement of Club Europe by a BA Connect Club, with lounge access, choice of seating and FFP points; and no inclusive meals (replaced by a pay on- board service — although Club Europe cabins and free in–flight meals remain on London City routes). BA estimates these BA Connect changes will generate double digit increases in demand, although yield will fall by at least 5%. BA Connect is targeting a load factor of 70% (i.e. not the 85%+ load factors of LCCs), as BA says "frequency is more important than capacity and load factor".
BA Connect is also making modest changes to its network, with some additions and some reductions, particularly out of its main bases at Birmingham, Bristol, Edinburgh, London City, Manchester and Southampton. BA Connect's fleet has also reduced by 40 since 2001, with aircraft types going down from nine to three, and bases from 15 to eight (as of 2005).
The total BA short–haul fleet has already reduced from 234 in 2001 to 179 in 05 and 166 as at early 2006, and total short–haul capacity is approximately 25% lower than at its peak — although this is largely due to exits from Air Liberté, Deutsche BA, Brymon etc. But the strategy appears to be working, while BA short–haul lost £60m in 2003/04 and £26m in 2004/05, in 2005/06 BA's short–haul operations made a small profit.
Distribution
Overall, BA's distribution/selling costs have reduced (as a percentage of revenue) from 18% in 1994/95 to 14.5% in 99/00 and 5.2% in 05/06, with a 57% fall in distribution costs in absolute terms over the 2000–2005 period.
The key to distribution reform was to first sort out fares. Previously, BA's abundance of different short–haul affiliates and subsidiaries "engendered a plethora of fares types and rules". In the 1990s BA had at least 70 selling classes, and as late as 2003 BA still had 25 selling classes and 15 "types of passenger". Since then the fare structure has been simplified (e.g. by abolishing Saturday night stay rules), and altogether two–thirds of fares have been eliminated. Now there three basic types of flexibility — fares that can always be changed, fares that can never be changed, and fares that can be changed for a fee. The fare system is now structured on a "LCC economic basis" — i.e. the cheapest fares are available if booked well in advance, and fares always rise as the departure date gets closer (which was not the case previously).
As the fares structure has been overhauled, the importance of BA.com has increased. BA.com accounted for 3% of BA's bookings in 00/01, rising to 20% in 04/05 and 25% in 05/06. 80% of all direct bookings coming into BA are made on BA.com, with the call centres taking the rest (although the majority of their time is spent on servicing existing bookings, and BA is increasing the functionality of BA.com in order to take those servicing calls out of the call centres).
BA.com also allows customers to manage bookings (by select seats, choosing meals etc) and their FFP (an estimated 85–90% of all Executive Club transactions are online), and including this "servicing", a third of all BA's customers use BA.com. Additionally, BA.com helps BA with marketing and customer contact (e.g. for flight changes) — BA has 85% of web addresses of people who book online, compared with 50% of everyone who books with BA. And BA.com now allows passengers to fulfil API requirement for US government by providing immigration data online.
Within BA.com, the short–haul product is now aimed at three distinct segments: Business/Club — passengers willing to pay for full business short–haul product; Premier Economy — business travellers willing to pay for a separate cabin and extra leg room; and Economy — passengers wanting cheapest flight possible. Within each of these there are two segments — "lowest" and "flexible" fares — giving six core product/pricing categories
BA.com also enables up–selling — telling customers what they can get (e.g. cabin or flexibility) if they pay a bit more. BA is finding that "a surprising number of people are trading up", and although up–selling is at early stage, in 2005 up–selling increased yield by 1.5% on tickets sold through the website. In 2005 BA also introduced online packaging, allowing customers to buy not just air tickets but assemble entire holiday package. This allows higher margin sales of other package components, and BA forecasts significant uplift in ancillary sales over next few years.
Altogether, BA.com has delivered more than £100m in improved bottom line to BA over the 2003 to 2005 financial years, at an investment cost of £42m (which is less than initial estimates of £50m). Most of this upside has come from reduced manpower and distribution costs, with significantly less people at call centres — centres have closed in London, Glasgow, Japan, Sweden and Italy, with 400 call centre jobs going in 2004/05 and 400 in 2005/06.
In 2006 BA is making further "significant investments" in BA.com, including in the area of e–tickets. Around 80% of BA tickets are now e–tickets, which the airline claims is the highest e–ticket use of any network carrier outside the US. e–tickets have reduced costs at BA — in 2003 BA had 80 people in Newcastle printing tickets and sticking in envelopes, but these jobs have now gone.
Crucially, BA.com was "key to reducing travel agency payments", with at least 60% of short haul business in economy and premium economy (i.e. excluding business/club) now made on BA.com. However, BA says there is much room for improvement, and it is aiming for zero percentage distribution/selling costs, thanks to BA.com and elimination of travel agent commission down to zero.
Cost cutting
BA has been cutting costs for many years, well ahead of other European majors. However, 1st half 05/06 results (April- September 2005) saw costs creep up again at BA — despite ongoing cost–cutting — and new CEO Willie Walsh said there was "need to re–energise efforts to deliver a competitive cost base".
Approximately 30% of BA's costs are in payroll, 20% in fuel and 50% the rest, of which distribution has been (and will be) the most significant area of cost reduction (see above). There is a BA–wide target of £300m of employee cost cutting by end of 06/07 FY, and most of this will come from the switch to Terminal 5 at London Heathrow, although £50m will come from cutting 597 senior and middle managers out of a total of 1,715 by end of the 2007/08 financial year.
There is further potential for further reductions in fleet costs. Although the average age of the short–haul aircraft is just under nine years, the fleet will not be added to until after March 2008. However, there could be short–haul reductions, with 11 767s currently on short–haul potentially re–deployable to longhaul. Parallel to this, each of BA's short–haul hubs/units (London Heathrow, London Gatwick and the Regions), are undergoing cost stripping programmes in their own right:
At London Heathrow, the move to T5 in March 2008 (with a capacity of 30m passengers per year) gives BA "once in a lifetime opportunity" to address working practices. As T5 is in middle of existing runways, there are reduced taxi and turnaround times anyway, but BA hired specialist process engineering consultants to help design T5 from the outset, giving "opportunity to develop efficient working practices" and cost–efficient operations. This has included a redesigned customer flow through terminals — the layout has no bottlenecks and cul–de–sacs — and a maximum 15 minutes journey time from luggage entering the baggage system to arriving at the correct aircraft stand. Costs will also be saved by implementing a logistics system for guiding BA equipment and staff through T5, which includes much reduced equipment lines.
New working practices tentatively agreed with unions for T5 include a breakdown of demarcation between different work groups: as short- and long–haul operations are in same terminal — with different peaks and troughs — staff will work across these operations. And all employees, from crew to ground staff, will be based in T5 and not in separate buildings — over the last five years BA has sold half the property it occupied at Heathrow (although in the same period staff stationed there has risen from 2,500 to 4,500).
At London Gatwick BA has set "challenging cost and revenue targets" in a programme launched in September 2005, with £13m of savings at short–haul out of Gatwick by the end of the 2006/07 financial year. This is on top of existing cost cutting and capacity reductions at Gatwick — for example, BA has reduced short–haul capacity out of Gatwick by an estimated 40%-50% since the start of the decade. Tricky negotiations are ongoing with unions and job cuts are not ruled out, but initially management's focus is on more flexible working, reduced recruitment and natural staff turnover. Revenue growth is also targeted, mainly via increased marketing.
At the Regions, initially BA Connect will have lower fares but the same cost basis as CitiExpress, although over next two years BA is looking to take £35m out of the BA Connect cost base. This is to be achieved via reductions in overhead, simplifying fleet, cheaper supplier contracts, elimination of complimentary catering and productivity increases. The 2,000 BA Connect staff will not be reduced. However, BA insists that cost–reduction is not the prime focus here; rather, BA is relying on revenue growth to get BA Connect airline into profit by 2008 — or else it will face sale or closure.
With BA's short–haul operations breaking even in 2005/06 (for the first time in 10 years), BA's response to the LCCs has been — in relative terms — successful. Although BA's short–haul operations will never be as profitable as easyJet or Ryanair, their prime purpose is to provide feed into BA's profitable long–haul, so as long as they continue to do that and at least break–even in the face of LCC competition, BA will consider that strategy a success.
BRITISH AIRWAYS' FLEET
BRITISH AIRWAYS' FLEET
Orders
Fleet
(Options)
British Airways
A319
33
(51)
A320
27
7
A321
7
3
737
33
747
57
757
13
767
21
777
43
BA Connect
Total
234
10 (51)
146
13
145
28
DHC8
8
Total
49