Lufthansa: Network reorganisation and product differentiation Jul/Aug 2006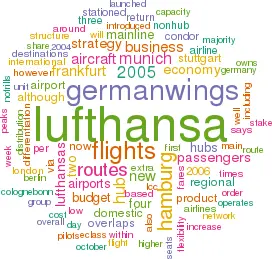 Initially, the response of the flag carriers to the LCCs was mixed, with some recognising the LCC threat and responding, while others went into denial. Today, however, almost all of the world's network airlines have developed sophisticated strategies to combat the LCC threat, and in this survey Aviation Strategy looks at the different responses of three airlines — Lufthansa, British Airways and Qantas.
Lufthansa's response to the LCCs is still evolving, but for the moment is based primarily on network reorganisation (including de–peaking at hubs and regional flights pingponging between non–hub airports) combined with a greater role for Germanwings as part of a strategy of clear product differentiation and lower fares (including "Economy Budget" at the mainline and a no–frills product from Germanwings).
Hub modifications
Starting in 2004, Lufthansa has been smoothing peaks and fattening troughs at its two main hubs — Frankfurt and Munich — via simplifying scheduling complexity and aircraft rotations, as well as reorganising regional flights via its Lufthansa Regional unit, based on waves of feeder flights into Frankfurt and Munich.
However, de–peaking at the two hubs has not been radical — for example, at Frankfurt Lufthansa has moved no more than 20–30 flights per day from peaks around 9am, midday, 4–5pm and 9–10pm to other times, and the vast majority of those have been to times that are on peak shoulders, rather than the least busy times of day. There are three peaks at Munich, but comparable changes have been made there too. This year, Lufthansa is aiming to "maximise profitability" at the Frankfurt hub and grow at its Munich hub, and — overall — Lufthansa has increased short–haul summer capacity by 4.6% this year compared with 2005 (and compared with zero growth for long–haul flights this summer).
Lufthansa's mainline and Regional flights have realigned to a new strategy that assigns 737s on all mainline routes and CRJs on regional routes. Crucially, beginning in 2003 most non–hub flights have been operating a "ping–pong" strategy, enabling aircraft to fly back and forth between two airports all day in a regular pattern, thus minimising crew planning and schedule complexity. Lufthansa says is does not introduce ping–pong flights for scheduling reasons alone — there has to be sufficient city–pair demand as well — but this tactic appears successful: non–hub turnaround times have now reduced from an average of 30 minutes to 25 minutes, and overall productivity is up by 11% thanks to "more efficient use" of cockpit & cabin crew. Lufthansa has backed up this success up via the launch of its largest ever "non–hub" flight marketing campaign.
Combined with this hub/non–hub change in strategy, Lufthansa has revamped its management structure. In 2005 Lufthansa established "hub management" teams at Frankfurt and Munich, dedicated to the needs of each particular hub and with specific regard to quality, costs and suppliers. And from October 2005, all point–to–point services from Lufthansa's other 11 German airports have been run by a separate unit within the airline, analogous to the units at Frankfurt and Munich, with responsibility for everything from pricing to strategy. This unit is also responsible for the commercial and operational running of Lufthansa Regional.
In October 2005 Lufthansa spent €170m in buying a 4.95% stake in Fraport, the operator of Frankfurt airport (Lufthansa's biggest hub), which it increased to 9.1% in March 2006. This gives Lufthansa some opportunity to influence Frankfurt airport strategy. Moreover Fraport owns a 65% stake in Frankfurt–Hahn GmbH, the operator of Hahn airport, which is the German base of Ryanair. Lufthansa has previously complained about the low fees Ryanair pays there, but any attempt to influence the charging structure would provoke the usual temperate reaction from Michael O'Leary.
Germanwings
In December 2005 the European Commission gave approval for Lufthansa to take operational control of Eurowings (it already held a 49% equity stake) — which owns Germanwings — through acquiring a majority of voting rights, but conditional on the surrender of slots at Vienna and Stuttgart.
With a staff of 700, Germanwings is now clearly positioned as the no–frills part of the Lufthansa group, and the airline's operation is based on has four hubs — although most of these are primary airports, so they are not classically low cost.
Cologne/Bonn (the main hub) attracts passengers to/from the west of Germany, with 41 international and four domestic routes. Eleven aircraft are stationed there.
Stuttgart covers the south–west, with 21 international and four domestic routes. Seven aircraft are stationed there.
Berlin Schonefeld is the hub for the northeast, with nine international and four domestic routes. Two aircraft are stationed there.
Hamburg (launched in November 2005), covers the north of Germany, with nine international and three domestic routes. Two aircraft are stationed there.
In addition, the airline is looking at a fifth base, with Nuremberg, Zurich and Basel the prime candidates.
Germanwings is targeting a 30% passenger market share at its hub airports, and the Berlin and Hamburg bases are being expanded significantly, although extra destinations will be added out of Cologne/Bonn and Stuttgart as well. Germanwings' expansion targets are aggressive, and although turnover rose 60% to €400m in 2005 (with a "positive" operating result), it is aiming for another substantial revenue increase in 2006, to €570m. The airline had a load factor of 83% and carried 5.5m passengers in 2005 (57% up on 2004), and expects to carry 7.5m passengers in 2006 and 10m in 2007.
Germanwings operates to 54 destinations with a fleet of 19 A319s, two leased from Lufthansa and the rest from GECAS, and three A320s leased from ILFC. 18 156–seat A319s are on order, for delivery in September 2006 — June 2008, when the fleet will grow to around 40 aircraft (the airline also has 12 A319 options).
Germanwings' main distribution channel is its website (it has no travel agent distribution), although it is looking at other innovative distribution methods, such as via mobile phones. Its fares are typically around €60- €80 per return trip, with 10–15% of seats offered within the €19-€29 range. 40%-50% of the airline's passengers are business customers, many of them attracted by Germanwings' "corporate deals", with reduced fares, the ability to cancel flights (for a fee), and free online flight alterations if companies guarantee a minimum level of business over a six–month period. Another attraction to business travellers is that in January 2006 Germanwings became Europe's first LCC to offer an FFP — called the 'Boomerang Club' — which the airline says is a low cost way of encouraging loyalty.
With such ambitious growth targets at Germanwings, Lufthansa will probably "outsource" more of its operations to the subsidiary. Lufthansa has a presence at all of Germanwings' hubs, and at Cologne/Bonn overlaps on the Munich route (with 65 return flights per week for Lufthansa and 20 for Germanwings), while Condor (of which Lufthansa owns 10%) overlaps on routes to Anatalya, Munich and to Palma (Mallorca). At Stuttgart, Lufthansa overlaps with Germanwings on the Hamburg route (44 return flights per week for Lufthansa, 19 for Germanwings) and Condor overlaps on routes to Anatalya and Palma. At Hamburg Lufthansa overlaps on the route to Stuttgart (48 return flights per week for Lufthansa and 17 for Germanwings), while Condor overlaps on flights to Munich; while at Berlin Schonefeld there is overlap only between Condor and Germanwings flights to Munich.
Outside Germany, there are fewer opportunities for rationalisation. In 2005 Germanwings considered axing Gatwick at its main London airport in favour of London Stansted (it currently operates to both, which it says is "not useful"). Lufthansa, however, operates to London Heathrow and London City.
Differentiation
Nevertheless, rationalisation/outsourcing looks an attractive option, and — helpfully — Germanwings' pilots are covered by a Lufthansa "low–cost chapter" collective agreement with pilot union Vereinigung Cockpit, which includes pilots of Germanwings and Condor. This enables the Lufthansa Group to establish a two–tier pay structure within the Group, and allows mainline pilots with to switch to a more senior position at Germanwings, although on a lower salary structure (e.g. a Lufthansa first officer to captain at Germanwings).Lufthansa's overall strategy is based on product differentiation, with product lines in all segments. It has four classes: Business (with flexibility & extra cabin space); Economy (with flexibility), new Economy Budget (on mainline Lufthansa and differentiated from no–frills), and No Frills (via Germanwings).
The first three classes are designed not to "dilute the [Lufthansa] brand", and Lufthansa has been enhancing these products in order to emphasise differentiation. In Business new seats have been introduced (with one inch extra legroom) in a four abreast layout (instead of six or five abreast as before), as well as fast–tracking of passengers through airports, more lounges at domestic airports, "better on board service" (i.e. catering) and a "Hon Circle" scheme for very frequent fliers.
These changes have achieved results, as business class erosion now halted — Lufthansa's market share of domestic point to- point business class passengers fell from 32% in 2001 to 27% in 2002 and 18% in 2003, but since the revamped seating was introduced in April 2004, the share has remained constant at 18% to the end of 2005. Lufthansa aims to keep up the business passenger push by a whole host of other innovations, including FlyNet (on board internet) and biometric boarding passes.
Economy prices have now been simplified to two levels of flexibility — Flex (refundable, with no rebooking charge) and Basic (non–refundable, with a €25 rebooking charge). While Economy remains the core mainline Lufthansa product, Economy Budget is the new bargain fare concept (also known as E–class), and was introduced on new Economy Budget flights launched out of Hamburg airport in October 2005 under the "BetterFly" tag. Although Hamburg is also a new hub for Germanwings, Hamburg was chosen primarily as an attempt to stop easyJet setting up a hub there. Lufthansa launched six new destinations out of Hamburg (Budapest, Gothenburg, Madrid, Nice, Prague and Rome) — bringing total destinations offered from the airport to 23. The new routes are operated by five 737s released by the restructuring of Lufthansa's European flight operations for this purpose (around 50 aircraft are now stationed at Hamburg). On all these 23 routes "E–class" is available on 20% of each flight's seats and offers €99 return fares inclusive of taxes, with a waiving of almost all conditions. Lufthansa claims the difference in fare between E–class (i.e. Economy Budget) and Budget is relatively low (e.g. €25 on Hamburg–Rome).
Lufthansa says Hamburg has been very successful, with a 40%-50% increase in passengers flown — which is higher than capacity increase — and yields "higher than projected". The proportion of internet sales on Hamburg routes are up from 15% to 40%; and the key aim of Lufthansa appears to have been achieved — easyJet's major expansion plans for Hamburg now appear to be on hold, while Hapag Lloyd Express has withdrawn capacity from Hamburg. Lufthansa may therefore extend the Hamburg "Economy Budget" concept/trial to other non–major hubs, with Dusseldorf earmarked as the first candidate, to be followed by Stuttgart. The draft Dusseldorf plan includes four extra aircraft to support new flights and routes.
It's possible that Lufthansa will allow Germanwings to take over many of Lufthansa's non–hub flights in the future. However, feed to Frankfurt and Munich (Lufthansa's key hubs) is likely to continue to be supplied by the mainline operation — with its inherent higher cost basis — in at least the short- and medium–term in order to secure the majority of business passengers that are — for the moment — not prepared to fly on a LCC.
LUFTHANSA FLEETS
LUFTHANSA FLEETS

| | | | |
| --- | --- | --- | --- |
| | | | Orders |
| | | Fleet | (Options) |
| Lufthansa | A300 | 12 | |
| | A319 | 18 | |
| | A320 | 36 | |
| | A321 | 26 | (6) |
| | A330 | 12 | |
| | A340 | 39 | 7 |
| | A380 | | 15 |
| | 737 | 62 | |
| | 747 | 30 | |
| Lufthansa Cityline | CRJ | | 12 |
| | Total | 236 | 23 (6) |
| | CRJ | 59 | |
| | Avro | 18 | |
| | Total | 77 | |
| Germanwings | A319 | 17 | 18 (12) |
| | A320 | 3 | |
| | Total | 20 | 18 (12) |