North Atlantic traffic trends Jul/Aug 2006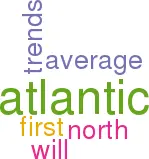 North Atlantic trends
Two trends emerge from the latest, first half 2006, traffic numbers for the North Atlantic. First, while the market is growing only slowly (around 3%), and, despite the 2004 rebound, there is little evidence of a return to the pre–September 11 trend. Second, load factors remain very high — this year will again see average loads on the Atlantic around 82%, about five percentage points up on the late 90s average.
Capacity constraint among the US Legacies and intercontinental hub rationalisation by the Euro–majors lies behind the tight supply/ demand balance, and this is translating into some good bottom–line results. BA's 20% increase in first quarter (April–June) operating profit was attributed to "record load factors and better cabin mix".
Not everyone, however, can make money in this environment. United has just announced the sale of its daily New York JFK — London LHR route to Delta, which will operate it from Gatwick, for a relatively modest $21m. It is perhaps surprising that United has failed to make this prestigious route work, but it has apparently not been able to achieve the same average yields as its competitors, which is partly due to its low frequency compared to the multiple frequencies offered by BA and Virgin Atlantic, an element that business travellers and corporations value highly.
This may also raise a question about the strategies of the new business–only transatlantic operators like Eos and MaxJet, whose offering appears to have been well received, especially by the independent business traveller, but whose low frequencies leave them exposed when they have to cancel or postpone a flight. In the background European and US LCCs are observing the Atlantic market with increasing interest. But it will probably take a technological step to induce them to expand intercontinentally — such as transferring 787 operating economics to a 737 model.