Book review: "Airline Survival Kit" Jul/Aug 2003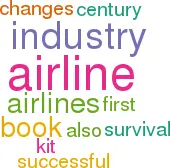 Nawal Taneja argued in his previous book ("Driving Airline Business Strategies through Emerging Technology", published in 2002) that airlines must stop going after profitless growth.
"Airline Survival Kit", however, addresses how the industry can do something about it by first analysing its cost structure, taking advantage of developments in technology as well as its own resources — namely people, property and knowledge.
Airline Survival Kit starts by identifying and exploring the complexity of the airline industry and the gravity of its current difficulties. It also discusses where airlines have been successful and criticises areas where the industry has failed to deliver, especially in relation to pricing strategies, use of very diversified fleet, complex product and inefficient use of airport facilities.
The book identifies areas of opportunity for airlines too, including the trend towards globalisation and evolving demographics patterns, evolving technologies and reshaping marketing and operating practices.
Taneja presents the major difference between the first and the second century of flight. Whereas, during the first century demand was driven by supply, in the second century supply will most likely be driven by demand. So, airline executives must produce products that the public wants and is willing to pay for and makes a return for the airline.
These are tough decisions that require re–configuring the industry resources of management leadership, fleet, networks and so on. Unless radical changes are undertaken some airlines, both conventional and new entrants, will not survive.
It is suggested that a key to successful implementation of such changes is moving from just focusing on planning to concentrating on action. It recommends that airline managers can learn so much from the experience of successful companies, not only in the airline industry but also in other industries.
The book is targeted at practitioners in the industry. It, therefore, urges the industry leaders to move away from introducing incremental changes and think radically in order to reinvent themselves and improve their lean capability at all company levels.
This is certainly a thought–provoking book. It is also very timely, given the crises that the airlines are currently facing. It does not provide all the answers but raises several key questions that need to be addressed.